The moment you read about Fiji, you will set high expectations. Let's look how Fiji honeymoon looks on paper.
Pure Nature, check.
Warm hospitality, check.
Unforgettable sunsets, check.
Azure waters, check.
Romantic atmosphere, check.
The list can be endless! But the best part is that Fiji has the potential to meet all of your expectations, maybe even exceed them.
We visited Fiji & New Zealand for our honeymoon and had a memorable time.
We not only dipped in the beautiful oceans in Fiji but also in the enthralling luxury and heartwarming hospitality presented by our resort. We stayed in Fiji Marriott Resort, an epitome of hospitality and luxury.
Here, I have drafted a 7-day itinerary for Fiji honeymoon. It will help you to experience the best of what Fiji has to offer. Along with the itinerary, I have also covered recommendations for accommodation, Scuba Dive centers and things to do in this island country.
Before we look at the recommended itinerary and the relevant recommendations, let me share a bit about the Geography and history of Fiji. I will keep the history very brief, so that this itinerary doesn't turn into a Wikipedia page.
About Fiji & its Geography
Fiji is an island country with over 300 big & small islands. Ruled by the British folks till 1970, Fiji has a rich culture, predominantly thriving in the tribal areas.
The British brought some Indians to Fiji during their reign. Due to this, Hindi (official language of India), is also an official language of Fiji. I was surprised when the local cab drivers started to talk to us in Hindi!
The country of Fiji is dotted by a lot of luxurious resorts, which is an indication of the attention it receives from the international travelers.
The two major islands of Fiji are 'Viti Levu' and 'Vanavu Levu', followed by smaller islands such as Taveuni Island, Kadavu Island, Beqa Island, Tokoriki Island and many more.
Viti Levu is the biggest island, the name Fiji is derived from 'Viti'. Apparently, the local language pronounces 'Viti' as 'Fiji', and that's what the British heard!
Viti Levu is host to two main cities; Suva & Nadi, the former being the administrative capital and latter is the biggest airport in Fiji with most international connections.
Suva also has an international airport, but it's not as well connected as Fiji. So, when you look for Fiji flights, consider flying to Nadi Airport (NAN).
7 Day Fiji Honeymoon Itinerary
Here, I have presented my recommendations and structured them into a 7 day itinerary which can help you in planning your trip.
Day 1: Viti Levu – Start of Your Fiji Honeymoon
As I mentioned earlier, we will consider Nadi Airport as the entry point for Fiji.
Arrival at Nadi Airport
The airport is pretty small as compared to the international airport standards. But that's okay given the traffic is not very high.
However, the immigration line might be long, so you may be prepared for it.
While standing in the immigration line, we enjoyed a little Fijian musical performance.
I have been to many countries and international airports. But haven't seen such a sweet & simple welcome yet. It felt personal and by experiencing it, I had already taken a dip in the welcoming hospitality that I was going to experience for the rest of my trip as well.
Getting Currency and a SIM Card
Once at the airport, you will see some options to exchange currency, buying SIM card etc. I would strongly recommend to buy a sim card here at the airport itself. The country is widespread and has limited markets where you can find a sim card. So it's best to buy from the airport. I got it for 35 FJD (~15 USD).
Same goes for buying Fijian dollars as well. I didn't find the exchange rates to be strikingly higher like how they generally are at airports.
Getting to Your Resort
For transport to your resort, just go for the Yellow cabs. They are pretty standard metered cabs and you will be approached by the drivers. You have an option of negotiating a fixed price as well.
We were actually bit tired to negotiate and agreed for 50 FJD to from Nadi to our resort which was 45 minutes away. Generally, the yellow cabs charge 1 FJD per KM. So, our actual cost would have been 35-40 FJD. So we didn't pay a very high premium anyway.
Acclimatizing at Your Resort
On your 1st Day, you may consider acclimatizing and taking in the atmosphere after checking in your resort. Relax and fight off your initial jetlag if you have any.
Here, I am recommending stay on Viti Levu Island. If you decide to go to other islands on the 1st day itself, you might add another 2-3 hours before reaching your resort. Given that we have 7 days, you can take a more distant resort for the 2nd part of your trip.
Most of the resorts have beautiful sunset viewpoints and access to beach. So, just relax and maybe take a dip in the ocean on your first day!
Hotel Recommendations for Viti Levu Island
Where you stay will inevitably impact your honeymoon so try and get the resort that has the best reviews and facilities for your budget.
The map below will help you find somewhere nice to stay. The search bar will bring you to any location, and you can use the filters to view different experiences on Viti Levu Island. The icon on the bottom right will even show you a heat map of areas with shopping, nightlife and transit lines there.
Here are also some pre-filtered options for you:
Fiji Marriott Resort, Momi Bay: This was the resort where we stayed. It's a beautiful & luxurious Resort, with breathtaking Sunset views. We took an Oceanside cottage which was bang on the ocean. It gave us our own private beach! They also offer Water Bungalows. Fiji Marriott Resort is frankly one of the very few resorts in Fiji that actually have water bungalows. However, we chose the ocean view cottage instead of the water bungalow as we cared more about our private Oceanside sunset instead of a water bungalow.
Outrigger Fiji Beach Resort: This is also a good option as it's both welcoming and quaint. A lovely sunset view awaits you from almost every other view point from this resort.
Hilton Fiji Beach resort & Spa: Yet another luxurious resort located very close to Nadi airport. It's on Denarau Island, home to many luxurious resorts. Hilton Resort boasts of some spectacular views from the viewing deck.
Day 2: Cloud9 Floating Bar and Snorkeling
Fiji is known for the beautiful beaches, sparkling blue waters and just an overall relaxation vibe. So it's best recommended to spend some time at your own resort as well.
Most of the resorts have their own viewing decks, swimming pools and much more to keep yourself occupied and relaxed. Take a morning stroll in your resort and just spend some leisurely time.
Cloud9 Floating Bar
After spending some time at the resort, you can head to Cloud9 Floating Bar. A unique Bar & Pizzeria in Fiji, it floats in the ocean and is located at a 45 minutes' boat ride away from Denarau Marina Port. It has a fully stacked bar & a wide variety of food awaits you.
In order to reach Cloud9 floating bar, you might have to check which is the best way to reach depending on your resort. Some resort might provide direct options to reach here.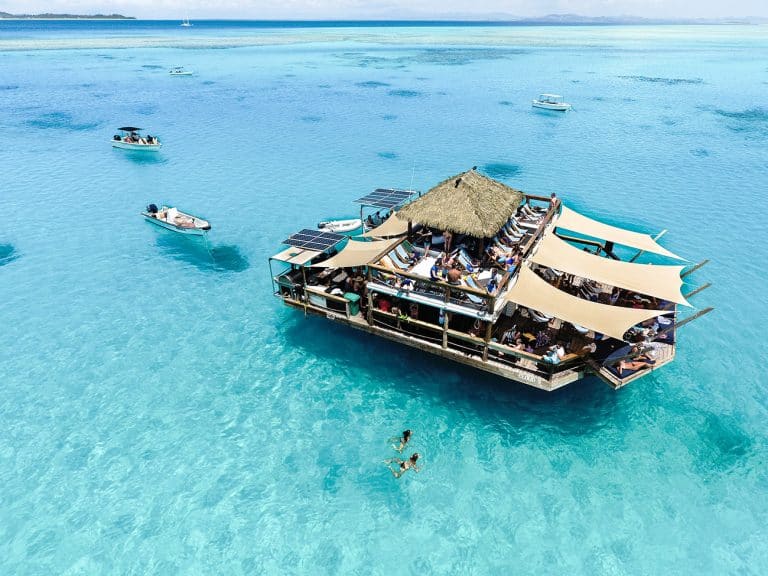 Snorkeling
You can also consider snorkeling while spending time at Cloud9. They have gears available at reasonable rates.
This floating bar in Fiji is definitely worth a visit.
Day 3: Day Hike to the Mountain Top
Apart from the beautiful ocean & lagoons in Fiji, the country also boasts of beautiful hikes in the forest. You get an opportunity to be one with nature and Fiji definitely has one of most untouched natural beauties.
Mount Tomanivi or Mount Batilamu
If you are an adventurous soul, you may consider scaling Mount Tomanivi (1324m), the highest peak in Fiji. You will be able to revel in a gorgeous view of the ocean from the peak's top.
Please consider going with a guide as it's a challenging trek and can get even more challenging in summer if it rains.
If you aren't very excited about an arduous hike, you may consider hiking to the top of Mount Batilamu. It's located in Koroyanitu National Heritage park and will be able to provide views of the ocean.
Both these mountains are in Viti Levu and at a short distance from any of the stays mentioned earlier.
Day 4: Taveuni Island
Don't consider venturing out too early on the 4th day. You might be bit tired from the previous day's hike.
Today, you can opt for leaving the mainland of Viti Levu and going farther in East by taking a flight to Taveuni Island.
As mentioned earlier, Vanavu Levu is the 2nd biggest island of Fiji and home to a yet another spectacle of untainted nature.
Taveuni Island is just next to Vanavu Levu & host to beautiful resorts. But most importantly, Taveuni Island becomes your base for Scuba diving in the Rainbow Reef! More to that later.
Getting to Taveuni Island
There are two ways of reaching Taveuni Island from Viti Levu, fight or ferry.
My personal recommendation would be opting for a flight as it's obviously faster, more reliable and will leave you relaxed for your next day. It will also make you reach Taveuni islands in time to spend a beautiful evening right from your resort's swimming pool or from your room's balcony.
On the other hand, the ferries take more time and are much more impacted by weather aberrations. You can have a look at ways to reach Taveuni here.
Obviously, the flight will cost much more than the Ferry. But, booking a flight in advance may help you shave off some cost. There are limited flights to the Matei Airport in Taveuni from Viti Levu. So make sure you don't keep it for the last minute.
Hotel Recommendations for Taveuni Islands
Once again, important decisions here, so let me help you with some options I'd consider:
Paradise Taveuni Islands: There are very few resorts in the world who can be as offbeat as Paradise Taveuni Islands. It's a family owned resort and only has 16 rooms. The resort offers stunning views of the ocean and many view points to admire the Sun gently fading away behind the horizon.
Raiwasa Grand Villa: Another stunner of a resort to consider while on Taveuni Island. Perched atop a cliff overlooking the shimmering ocean, this resort is a gem of a getaway in itself. However, you might find Raiwasa to be expensive.
Taveuni Dive Resort: Taveuni Dive resort is for exactly what its name suggests: diving around Taveuni Island. The beautiful resort is not very luxurious like Raiwasa, but definitely comfortable & welcoming. This resort only has 8 rooms and gets sold out pretty fast for summers.
Day 5: Scuba Diving at Rainbow Reef
Now this is the main reason why we are visiting Taveuni Island.
There are many Scuba diving sites in Fiji. Each site has its own benefits. Some might let you swim with Turtles, some with Sharks.
However, Rainbow reef will let you see a colorful underwater world which will just transport you to another universe! If you are an experienced diver, you will truly appreciate the uniqueness of this Scuba Dive site.
If you are a beginner, you can opt for the Discover Scuba program which is essentially the 1st day of the Scuba certification. You will be taken into this amazing world of marine life and when you come out, you will be a happy soul!
Either of the above recommended resorts can facilitate this Scuba Dive. In fact, Taveuni Dive Resort and Paradise Taveuni Resort are both home to PADI certified Dive Centers.
The Paradise Taveuni Resort is actually a 5 Star Dive center which means that it might be a better option than Taveuni Dive Resort.
Make sure you have a confirmation from the hotels for these Scuba Dives in advance. Sometimes, they might not be as responsive as you want them to be.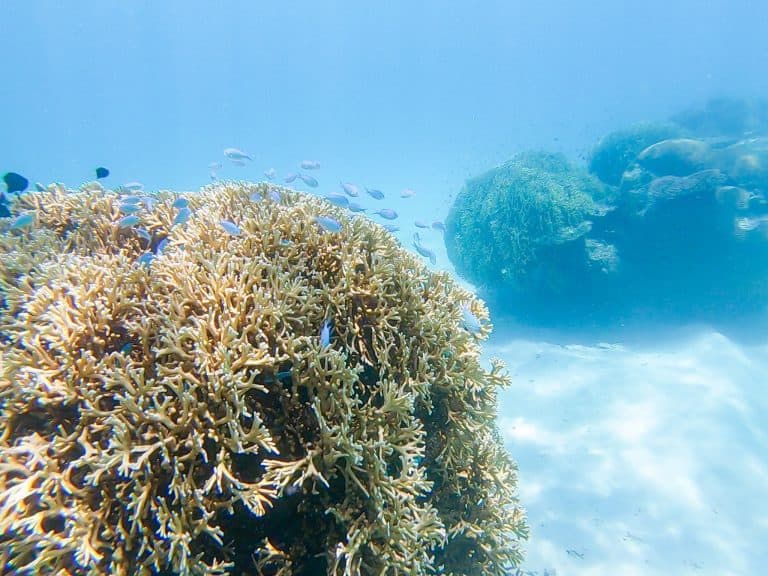 Day 6: Bouma National Park
After a day of relishing the universe under the Ocean, today is earmarked for a stunning escapade amidst the woods.
Bouma National Park covers majority of the Taveuni Island and is home to many wonders to impress your eyes.
Tavoro Waterfalls
You can consider hiking to Tavoro Waterfalls which is around a 3 hour journey. You will see 3 waterfalls while on this hike as you get to experience the beautiful and untouched form of nature.
Lavena Coastal Walk
If not Tavoro Waterfalls, consider Lavena Coastal Walk for a hike. Walk along the coast and be prepared to be left spell bound by the amazing envelope of pure nature around you.
You can expect to see Wainibau Waterfall at the end of this walk. You will also pass a swinging bridge on your way.
The walk is 5 KM long and will leave you enthralled by the lovely surroundings. If you love nature, you would have already fallen in love with Fiji!
Day 7: Check out & Fly back
To return, you will again have to come back to Viti Levu as its the only island having two international airports.
However, do your own research to see which airport has flight connections to your next destination.
All good things must come to an end. But we do create a lot of memories by experiencing these good things. Sometimes, they turn out to be great!
Preparations Checklist
I'm happy you've read this far, it means you are serious about preparing your trip for the best possible memories. Just to make sure you don't forget anything, here's a quick checklist to help you:
I'm sure Fiji would be a great honeymoon destination for you. The country is so stunning with its comparatively lesser exposure to the world.
The people are warm & kind and the sights are truly mesmerizing.
Known as the "Soft Coral Capital of the World", Fiji truly does justice to all the expectations that build in your head upon reading about it.
Feel free to ask any questions in the comments section.