If you are running your own business or doing freelance work (like we do), then you should in most cases have the luxury of being able to choose how you work. If your area of work allows for it then you should be able to pick your own hours, work from wherever you want, and take on as much or as little work as you want to.
One thing that many freelancers like to do is work from abroad and earn their money whilst traveling the world. If this appeals to you or if you are preparing to start your traveling adventure, here is some handy advice on how to best manage your business activities.
Read on to find out more!
#1 Go digital
Invest in software that can help you continue the smooth running of your business whilst on the move, like this accounting software that can help you manage your invoice needs and store your data securely in the cloud. It also can store copies of receipts, help you manage cash flow, and can also be shared with others such as an accountant.
Utilizing the right software to help you manage and run your growing freelance business means you'll have more time to focus on providing high-quality services, managing your workload, and keeping your business financially compliant. The right accounting software should make the running of your business easier and take off the mounting pressure.
#2 Know your optimal working hours
Get familiar with how you work and figure out when you are the most productive. For example, some work better in the evenings whereas others find they get more done first thing in the morning. Choosing when you work is one of the benefits of remote working, so take advantage of it for maximum personal productivity.
If you're unsure of your best working hours then why not have a little experiment? Start working at different parts of the day and you'll soon discover which hours suit you and your productivity levels best. For the best insight into your working day, you could keep a journal to note your findings, or keep track of the hours where you find yourself procrastinating.
#3 Create a schedule
Despite the previous point above, sometimes it might be hard to keep to regular working hours if you are busy traveling or moving between time zones. This is where planning your workload in advance may help. If you know where you are going to be in advance it can be prudent to plan your working week in advance.
There is a variety of ways you can do this. You can keep things simple with a classic diary or use digital aids to help you and make the most of your busy schedule. This approach means you can align your travels, meetings, and daily activities with your working hours, helping you become more efficient and productive as a result.
#4 Take time off
One thing wanderlusters can be guilty of is not taking enough time off. Lack of paid holiday or perceived fear of work drying up if you stop can lead to working more than would be the case in an orthodox 9-5 office role. To avoid this scenario remember to take long weekends or even a week off when you need it.
Being able to make a clear distinction between work and play will help you make the most of your time overseas whilst building a financially stable business that you enjoy running and growing. Remember to schedule regular downtime and stick to it.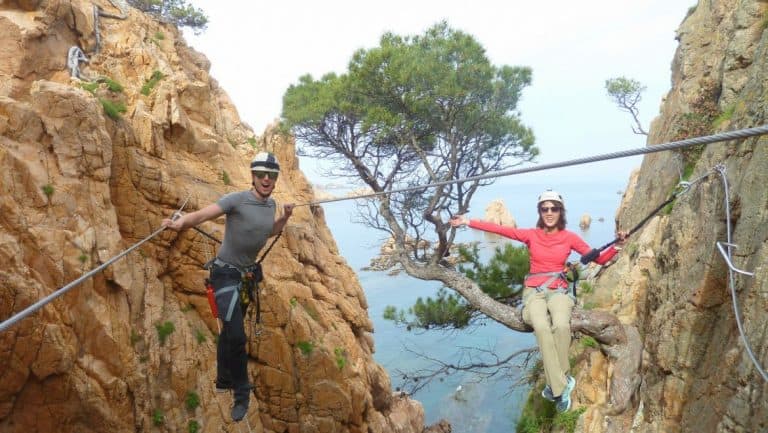 As a traveling freelancer, it's just as important that you enjoy the traveling aspect of your lifestyle as well as being your own boss. Without the right balance of adventures and work, you might as well have stayed at home to build your empire!
#5 Don't be afraid to say no
This can include turning work down when you don't have the capacity or turning down work that is below your minimum rate. Ensuring you have enough downtime is vital, regardless of whether you are working in an office or next to a beach, so remember to put your wellbeing first.
Struggling to say no, could lead you to take on more work than you can handle, which in turn could result in poorer outcomes for your clients and leave you completely burnt out. Saying no isn't always easy, but as an entrepreneur, it's a crucial business skill you should master.
#6 Make sure you get paid
Without getting paid, your freelance business won't last long and your travel plans will quickly grind to a halt. Getting paid on time is one of the biggest issues freelancers face, whether they're working at home or traveling across the globe. So, taking the right steps will ensure you get paid on time and accurately.
Start by creating easy-to-understand and jargon-free payment terms. These should be reiterated to your clients before you take on any work. Ensure your invoices are professional are accurate and sent out on time. Make it easy for clients to pay by accepting a variety of payment methods including bank transfer, Paypal, or via your accounting software.
Don't be afraid to chase payments if they're late. Some simple reminders or a polite email can help you get paid and ensure the international relationships you're forming via your freelance business are positive and have the potential to grow with you, no matter where in the world you might be.
Final Thoughts…
As a traveling freelancer, creating a healthy and positive balance between work and play is not only essential for your income but also important for your overall well-being. Making the most of your time overseas is easier when you have a plan in place that keeps you motivated but able to switch off and enjoy your overseas experience.
The steps above can help you not only manage the demands of running your traveling freelance business efficiently, but help you to build strong business relationships, the potential to grow exponentially, and enjoy your time overseas in equal measures.
And how do you create and maintain a healthy and positive balance between work and play? Please share your experience with us in the comments section below. Sharing is caring! <3