Despite worldwide disruption of travel, due to COVID 19 pandemic, it is now possible to visit some of the foreign countries as their borders are opening up again. This includes travel to Africa for gorilla trekking!
Visiting gorillas in their natural habitat is one of the activities affected as the countries where they are located had to suspend gorilla tracking activity for fear of affecting these endangered apes. But, with more time and officials better equipped to protect tourists and the animals, travel and tourism activities resumed with standard operating procedures to prevent further spread of the virus.
This guide to gorilla trekking in Africa during COVID-19 will thus help you plan your gorilla safari. This is one of the best experiences to consider while on an African continent since it gives you an opportunity to encounter the surviving endangered apes in their natural habitat.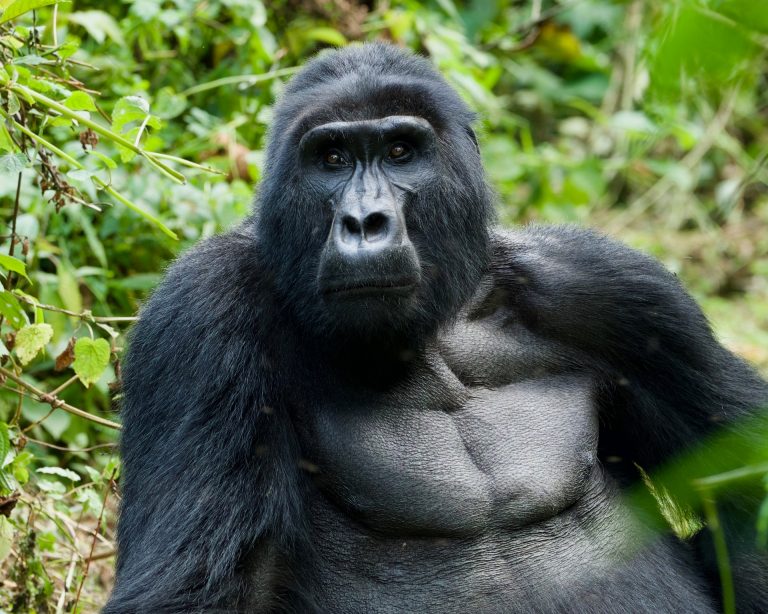 Gorilla trekking during COVID-19 is different compared to how it used to be before the outbreak of Coronavirus due to the said standard operating procedures put in place to prevent the spread of the virus to the endangered apes.
Best Place for Gorilla Trekking in Africa During COVID-19
Mountain gorillas in Africa are only found in Uganda, Rwanda and DR Congo. This is the major gorilla species sought after by visitors. Other ape species include Eastern lowland gorillas found in DR Congo, Western lowland gorillas found in Cameroon, the Central African Republic, DR Congo, Gabon and Equatorial Guinea and Cross river Gorillas found in Cameroon and Nigeria.
Gorilla Trekking in Uganda During COVID-19
Gorilla trekking in Uganda takes place in Bwindi Impenetrable National Park and Mgahinga gorilla national park. In both parks, gorilla trekking is now open following all the set standard operating procedures overseen by Uganda wildlife Authority, the body charged with wildlife conservation and aim at preventing these primates from contracting the virus from humans.
Some of the SOPs include compulsory wearing of face masks for all trackers, keeping a social distance from the gorillas of seven meters, keeping social distance between humans during tracking, trackers must have tested for COVID 19 for the last 24 hours before tracking.
Arrival in Uganda for Gorilla Safari During COVID 19
Several measures are in place at Entebbe airport to prevent the importation of COVID 19:
You must have tested COVID 19 negative within the last 10 days,
Upon arrival at the airport, you must present a COVID 19 negative certificate for the last 48 hours,
You will undergo a screening test by checking the symptoms of the virus such as temperature, fever, dry cough, difficulty breathing or shortness of breath, pressure, loss of speech or movement,
If you show signs and symptoms of communicable disease including COVID 19, you will be taken for further checks and treatment.
Upon arrival, another COVID 19 test will be taken and results will be out in 24 hours. Once it comes out negative, you will be allowed to travel to Bwindi national park or Mgahinga national park for your gorilla tracking adventure.
Gorilla Trekking in Rwanda During COVID-19
Your trek would take place in Volcanoes National Park, one of the 3 parks located in the Virunga ranges. Rwanda Gorilla trekking in this park is now open following all the set SOPs and measures by the Rwanda Development Board to curb the spread of the deadly disease COVID-19.
Volcanoes National Park is one of the best places to see mountain gorillas in Africa, as well as the grave of Dian Fossey. The park is home to 12 habituated mountain gorilla groups making 96 permits available every day before COVID 19. But with the new normal, only 6 people are allowed per group as opposed to 8 people that used to track each family per day. This implies only 72 people can visit the gorillas per day now.
Procedures for Traveling to Rwanda for Gorilla Safari During COVID 19.
As part of the prevention measures to curb the spread of the Corona virus to the gorillas, you must ensure you fulfill some procedures, which starts before you leave your country up to when you go on gorilla tracking.
Before you start, you have to fill the passenger locator form which has to be submitted 120 hours before travel and this includes your passport information, travel details including times and dates, and a hotel booking confirmation from the designated hotels where you will spend 24 hours awaiting results of the COVID-19 test carried out upon arrival and Negative PCR COVID-19 test certificate for a test conducted within 120 hours before departure.
Once you submit, you will receive a confirmation email, which contains your Unique Health Code, which you will present upon arrival in Rwanda. On arrival, you will be picked by the hotel from the airport and transferred to the hotel for COVID 19 test and results will be out in 24hrs. You will proceed for your gorilla tour on the second day after receiving your negative COVID 19 results certificate.
You will wear a face mask and sanitize all the time you are in Rwanda including during gorilla tracking to avoid any contamination and spread of the virus.
How to Book Gorilla Permits for Gorilla Trekking in Africa During COVID-19
Once you have set dates for your gorilla safari, you will need to contact a local tour operator or directly contact UWA for Uganda, RDB for Rwanda and Virunga National Park for DR Congo and book your gorilla tracking permit after confirming availability.
Gorilla permit in Rwanda cost USD1500 for foreign non-resident. In Uganda it costs USD700 and in DR Congo, it costs USD450.
Refunds and Cancellation Policies for Gorilla Trekking Due to Covid-19
Due to Coronavirus pandemic, there was an introduction of flexibility in the cancellation and reschedule policy for all countries due to uncertainties with flights and travel restrictions. Once your booked gorilla trek is affected by travel restrictions due to COVID-19, you have an option of rescheduling to a future tracking date at no extra cost. Cancellation and processing a reschedule of the booked and purchased permits is easy and can be made any time after you have purchased the permits.
Best Time to Visit Africa for Gorilla Trekking During COVID-19
Gorilla trekking in Africa is possible throughout the year given the favorable weather conditions Africa has. The best time for gorilla trekking in Africa is during the dry season months of June, July, August, September and December, January and February every year.