Hello there, fellow adventurers! There's no denying that we're living in a world where the unpredictable can sometimes become the norm, and more of us than ever before are learning the importance of being prepared in case of an emergency. But where do you begin to compile such a kit? And what should it include? Lucky for you, I've spent years studying, experimenting, and accumulating the knowledge that I'm eager to share with you. Today, I will be providing an in-depth review of survival kits that are best in terms of functionality, reliability, and value for money. These reviews are based not only on my personal experiences but also on comprehensive, holistic approaches to health and wellness. Whether your adventures take you into the heart of the wilderness or you're preparing for potential natural disasters, I can help guide you toward the right tools to keep you safe and survive in any situation.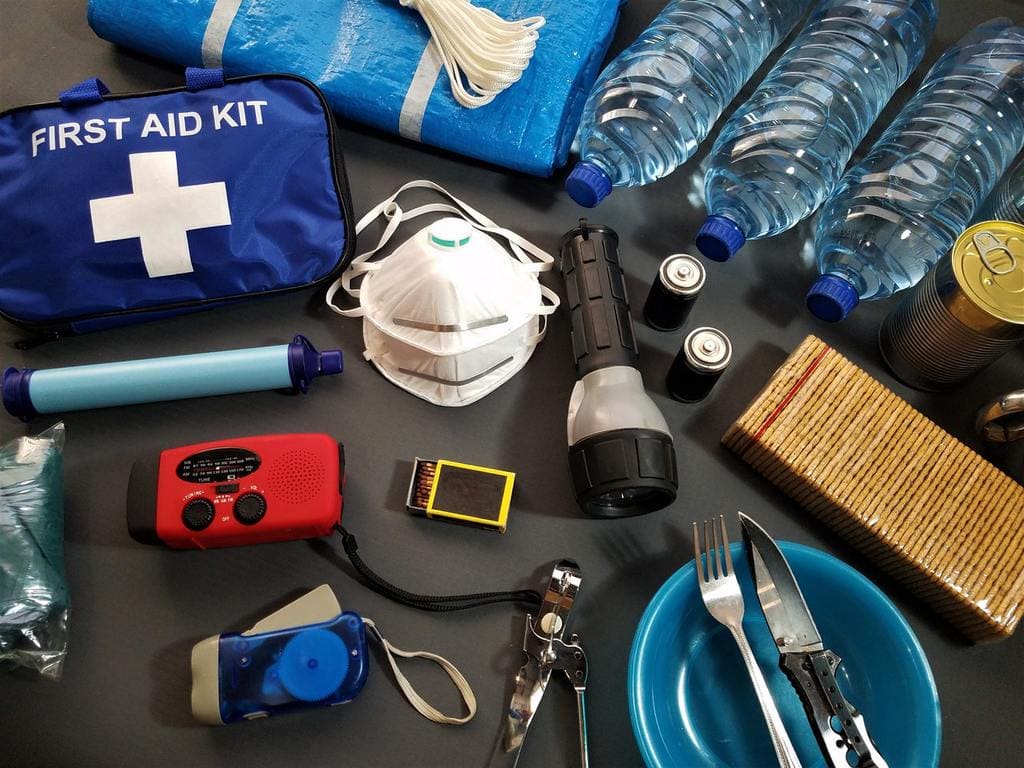 What is the Best Survival Kit?
We have compiled for you the top 5 Best Survival Kit in 2023. In this article we go through the products that we have used ourselves, checked what other users thought about them and we ranked them accordingly.
With years of experience with kit SUPplies for survival and having used several survival kits you can trust our review.
Moreover, you can scroll to the end of this review to see our mini buying guide as well as the answers to some of the frequently asked questions about survival kits.
Specs
Price: 💲💲 (fewer 💲 = cheaper)
Weight: 37 pounds (16.78 kg)
Size: 20 x 12 x 12 inches (50.8 x 30.5 x 30.5 cm)
Supplies for: 72 hours, 2 persons
Food and Water Shelf Life: 5 Years
Of all the survival kits on my list, the Sustain Supply Co. kits are the best survival kits on the market. Not only are their supplies top quality with a 30-year shelf life, but they also provide well thought out items like freeze-dried food that you can warm with the portable stove to give you a little bit of comfort before you find safety. Their survival kits come in three varieties and are all equipped to last 72 hours. Their most basic and lowest priced kit is the Essential 2-person survival kit that features ready to eat food bars and 12 packets of Datrex emergency drinking water that will get you through the first couple of hours before you get a water source. It also comes with a Sawyer Mini water filtration system, which is one of the most reliable water filtration systems for personal use. Also included in this kit is a pack of 8 bath wipes to help you maintain hygiene, an LED lantern and four snap lights for illumination, a MoraKniv knife, reusable blankets and whistles for two people, and a 41-piece first aid kit. The Comfort 2-person kit is an upgrade of the Essential-2 kit and costs a bit more. Instead of food bars, it comes with 12 servings of freeze-dried food packets that you can warm with the portable stove and serve in the silicon bowls provided. The kit includes a Ferrocerium rod to help you start a fire quickly with the InstaFire tinder that also burns in wet conditions. The Comfort 4-person kit comes with extra supplies to cater for four people. All the kits come in high-quality backpacks designed for survival. On the downside, the backpacks are labeled with the company logo, which will make you stand out in a crowd, and mark you as a target. As with the other survival kits in this review, you may want to check our best bug out backpack reviews for a suitable backpack in which you can transfer your survival kit.
Pros
High-quality supplies with a 30-year shelf life,
Includes a variety of freeze-dried food servings,
Comes with a portable stove and utensils,
Includes a MoraKniv knife for survival and self-defense,
Features water packets instead of water boxes
Cons
The labeled backpack makes you stand out,
Heavy to carry
Specs
Price: 💲💲💲💲 (fewer 💲 = cheaper)
Weight: 23 pounds (10.43 kg)
Size: 22 x 11 x 13 inches (55.9 x 27.9 x 33 cm)
Supplies for: 72 hours, 3 persons
Food and Water Shelf Life: 5 Years
When you go looking for an emergency survival kit, it is necessary to know what kind of emergency you are likely to face and so prepare well for it. Redfora provides a complete earthquake survival kit that meets the Ready Preparedness Guidelines for earthquakes. It comes in a variety of sizes, from the 1-person kit to the 6-person family sized kit, all made to last for 72 hours. The difference is in the quantities, but every item is top quality and reliable. The Redfora kit features first aid and hygiene supplies, although they are not as comprehensive as the Emergency Zone kit. For instance, Redfora provides pocket tissues, while Emergency Zone provides a whole toilet paper roll, feminine pads, and bath wipes. Redfora kit comes with food bars, water packets, and 20 Aquatabs water purification tablets. Aquatabs are less reliable than Chlor Floc tablets, but they do meet the WHO standards approval. This kit comes with a hand crank flashlight, radio, and phone charger combination that is a better deal than a battery-operated flashlight and radio. Interestingly, this kit comes with a small notepad and pencil as it would be the last thing I would think to have in an emergency kit. There is a sewing kit, masks, safety goggles, a multifunctional knife, and a 5-in-1 whistle that is also a reliable compass, signal mirror, a waterproof container to store your matches, and a fire rod. The kit comes with a tube tent for shelter, body warmers, sleeping bag, and poncho. The backpack itself features a molle system on the front to attach items like a small pick or ax and is available in different colors and styles. However, it is the one thing about this kit that is not reliable, and you may have to transfer everything to a more durable backpack. Several users have also noted that the water pouches came leaking, but also all the items come packed separately, which keeps the water damage to a minimum.
Pros
High-quality survival kit, Well thought out supplies included,
Versatile use and available in different sizes,
Compact and lightweight for easy carrying,
The backpack provides extra space in the front pockets
Cons
Leaky water pouches,
Poor quality backpack
Specs
Price: 💲 (fewer 💲 = cheaper)
Size: 7.9 x 4.9 x 3.8 inches (20 x 12.5 x 9.5 cm)
Supplies for: 72 hours, 4 persons
Food and Water Shelf Life: 5 Years
Includes: 20 Pcs Survival Tools and 219 Pcs Medical Supplies
Survival situations demand a blend of medical readiness and tactical acumen. To this end, the Monoki First Aid Small Survival Bag is an ensemble of 219 pieces of crucial medical supplies and 20 survival tools packed into a single lightweight and waterproof case. It's compact for easy storage and a perfect fit for any survival backpack.
The kit's prominent contents include top-notch medical supplies from adhesive bandages and alcohol pads to cleansing wipes and cotton sticks. These essentials help treat minor injuries and prevent infection, ensuring you maintain optimal health during your adventure.
Complementing the first aid setup is a set of versatile survival tools to rise to various challenging circumstances. From a sharp knife and multi-function pliers to a user-friendly compass keychain and practical stainless steel saber card, it covers a broad spectrum of survival necessities. A flashlight provides crucial visibility in low light situations, and fishing items provide the option of procuring your own food in a survival scenario.
The Monoki kit strikes a harmonious balance between survival essentials and medical supplies, demonstrates versatility, and promises bang for your buck.
Pros
Compact yet comprehensive,
Medical-grade supplies included,
High versatility for outdoor use,
Excellent value for money
Cons
Limited number of non-medical survival tools,
Absence of certain survival staples
Specs
Price: 💲💲💲 (fewer 💲 = cheaper)
Weight: 23 pounds (10.43 kg)
Size: 19.5 x 15 x 10 inches (49.5 x 38.1 x 25.4 cm)
Supplies for: 72 hours, 4 persons
Food and Water Shelf Life: 5 Years
Born from a family-operated endeavor, Emergency Zone's 72-Hour Survival Kit pioneers in administering essential resources designed to prepare individuals and communities against natural catastrophes such as hurricanes, wildfires, and tropical storms. The kit sporting a discrete red backpack isn't just an aesthetically pleasing sight, but it is a functional accessory offering several compartments for easy organization of items, and even spare room for your personal needs.
One of its highlights is a customized two-person coverage. In case you're planning for a larger group, just add $40 more to your budget and you'll get double the essentials in two backpacks. Thoughtfully picked items like a tube tent, paired with two snug sleeping bags, essential hand warmers, and durable ponchos make it ideal for potential evacuation scenarios.
The kit packs additional essentials like long-lasting food bars and 5-year shelf life water packets. Water purification needs are also met with five Chlor Floc military-grade purification tablets capable of purifying up to five liters of water. Light tools, radio, and an ample 118-piece first-aid kit are included for safety. Worth mentioning is the hygiene kit, which is arguably the most comprehensive on the market. Despite its numerous perks, the kit's food and water supply might be slightly insufficient for the full 72 hours, and some may find the chlorine aftertaste of the purification tabs unappealing.
Pros
Robust backpack with ample storage,
Essential shelter items for evacuations,
Comprehensive hygiene kit,
Includes a multifunctional 5-in-1 survival whistle
Cons
Food and water supply might be insufficient for 72-hour period,
Chlorinated aftertaste in purified water
Specs
Price: 💲 (fewer 💲 = cheaper)
Weight: 19 pounds (8.62 kg)
Size: 16 x 12 x 9 inches (40.6 x 30.5 x 22.9 cm)
Supplies for: 72 hours, 4 persons
Food and Water Shelf Life: 5 Years
The Ready America Survival Kits are the most affordable option on my list. The kits come in three sizes, the 1-person, 2-person, and 4-person kits. It is a lightweight kit, and considering the price, it just offers the bare essentials. You may need to consider boosting it with more necessary items to make it complete. This 4- person kit comes with four packets of food bars and 12 water pouches. One thing to note is that they upgraded from water boxes, which were very unreliable and would leak inside the backpack, and that it does not include any water filters. It is one of the many items you will need to buy if you get this survival kit. For lighting and shelter, the kit comes with four light sticks, ponchos, and blankets, and for hygiene, the kit provides bath wipes and biohazard bags. Other items included are nitrile and leather gloves, dust masks, safety goggles, and a whistle.
While this survival kit is equipped as recommended by the American Red Cross, it is under-supplied to be of good use in a real disaster. For example, the kit lacks a tent to shelter you in case of an evacuation, rope or paracord, flashlights, and communication equipment. You may find that buying all the extra items will cost just as much as buying one of the other more comprehensive kits on this list.
Pros
Affordable starter kit,
Compact and lightweight,
The backpack has some space to add more items,
Easy to carry and store
Cons
Underwhelming number of supplies,
Poor quality backpack
Verdict
To summarize, we have gone through dozens of survival kits and decided that 5 are worth your consideration. Out of these, the absolute Best Survival Kit is Sustain Supply Basic Survival Kit Supplies which we highly recommend as our overall best.
If money is not an issue, you can consider Redfora Complete Earthquake Survival Kit as this is our Premium Pick.
Otherwise, there's no shame in spending prudently, Monoki First Aid Small Survival Bag is the Budget Option.
Our other reviews you may find useful in your research:
What You Should Know Before Buying survival kits
Overview
It's crucial to have a robust survival kit when you're braving the unpredictable wilderness. These kits often mean the difference between a sudden mishap turning into a full-blown disaster and effectively navigating through perilous situations. However, owning a kit and knowing how to utilize it are two different things. That's why it's essential to familiarize yourself with the tools within.
Different people have different needs, hence one can't find a one-size-fits-all solution in survival kits. This especially holds true if you're traveling with children or pets. Whether you're buying a pre-made kit off the shelf or creating one tailored to your needs, there are several aspects to take into account when procuring a survival kit.
Size and Weight
A lightweight survival kit will be easier to carry and store. However, it also means that it will be missing a lot of the items necessary for a survival kit. Compare the Sustain Supply survival kit, which is comprehensively packed and therefore heavy, with the Ready America survival kit that barely covers the essentials. The size of the survival is also determined by the number of people who are supposed to use it. A 4-person kit will be heavier than a 2-person kit, and one way to make it lighter is by distributing the weight into smaller backpacks where each person can also pack their personal items. Overall, you should ensure that every item in your survival kit is necessary, and don't forget to pack for your pets if you have any.
Components
Survival kits feature some basic items which you should consider as the starting point of assembling a complete kit. If you have family, young children, pets, and the elderly, your needs will not be the same as an individual like myself. Therefore, ensure that the kits are sufficient for your particular needs and add any extra items that you think would be necessary. For the basic items, ensure that the food and water packs have enough shelf life left and replace them before the expiry dates. Ensure that the water purification tablets are of good quality and effective in providing clean drinking water. The first aid kit is also critical, and if it is not well stocked, you should consider adding the essential medical items.
Shelter items like tube tents and reusable blankets are necessary in case you need to evacuate your home. Evacuation also means you will need survival tools like knives, whistles, radios, flashlights, lanterns or light sticks, multi-tool sets, paracords, and gloves.
Shelf Life
Before you finalize any selection for your survival kit, take a moment to delve into the shelf life of its contents. Pre-assembled kits of superior quality often include food and water with a lifespan of approximately five years, while other elements can possibly endure for staggeringly impressive 30 years, just like the Sustain Supply survival kit's non-food items. Don't forget! Over the course of time, these kits should be reviewed and refreshed to ensure optimal effectiveness. If your kit carries battery-run gear like a flashlight or radio, ensure it not only comes with the required batteries but also that you can easily source replacements. Alternatively, think about opting for a hand-crank flashlight and radio combo, taking the fuss out of battery replacement and solar charging concerns.
Durability
Finally, the durability of the survival kit is an essential consideration because when that time comes, you will want to be sure that your kit is reliable during the disaster. Consider getting your kit from a reputable brand, and ensure the contents of the kit are also from reputable brands. Also, consider transferring your survival kit to a heavy-duty backpack that provides more space for personal items and can carry the weight.
Questions and Answers About survival kits
What is a Survival Kit?
Also known as an emergency kit or disaster kit, a survival kit is a pack that contains all the essential items one would need to survive natural disasters like floods, earthquakes, or wildfires. American emergency agencies like the American Red Cross recommend that survival kit supplies should last at least 72 hours.
Why are survival kits important?
Survival kits help you prepare for an emergency or disaster. While it might look unlikely to happen to you, natural and manmade disasters have become more frequent in recent times. Where such disasters were unlikely occurrences a few years ago, it is now common to watch people get evacuated from their homes because of floods, wildfires, earthquakes on the news. Most of these people were unprepared for evacuation, which made their situations even more desperate as they waited for assistance. Therefore, a survival kit helps you adjust quickly to unexpected situations and gives you the equipment you need to survive and stay safe until you get assisted.
What are the top 10 essential Survival Kit items?
A well-stocked Survival Kit must include these top 10 essential items: First off, you need to ensure you have non-perishable food rations that can last up to 72 hours. Secondly, have a store of clean drinking water, along with a water filter to purify additional water if need be. Also, consider that access to news and updates can be crucial in survival situations, so a hand-crank or battery-operated radio is essential.
For nighttime or low-light conditions, include a flashlight or lantern and some 12-hour light sticks. A comprehensive first aid kit is crucial for treating injuries and illnesses. Include a high-quality whistle for signaling help in desperate situations. Additionally, ensure your kit has basic shelter items like a tube tent or plastic sheeting and duct tape to facilitate making a rudimentary shelter.
Hygiene can affect your health in survival situations, so pack bath wipes, toilet paper, and personal hygiene items. Lastly, equip yourself with survival tools like a multi-tool set, knife, wrench, or pliers and dust masks to protect against contaminated air.