The former capital of the Belorussian Soviet Socialist Republic, Minsk is a city which has made its mark on history. Largely destroyed during the second world war, the city was rebuilt during the 1950s in the image of Stalin – making it one of the most fascinating places to visit for those interested in Soviet history.
Moreover, with new regulations in effect for travelers, a lot of people can now enter Belarus for 30 days without a visa. At the time when we were writing this article for the first time, it was only 5 days.
Good news, huh? Not only have we updated the article in 2020, we've also planned a great 5 day itinerary for you and you can stay longer afterwards to explore Belarus more.
So, for those of you wishing to visit Minsk, here's our guide to what you can do and what you need to bring and show upon arrival. It's not that complicated to get in, but you can truly feel lost once you've arrived due to the huge number of things to see and do here. We're sure this guide will help you planning and executing a satisfying stay in Minsk.
How to Visit Minsk Without a Visa
Citizens of up to 74 different states can stay in Minsk for 30 days without a visa. All you need to do is make sure to bring a couple of documents with you when you arrive, and that you meet some conditions which have been set up by the local government.
Those documents and conditions are:
Bring your passport or another accepted travel document.

Make sure to have insurance which covers you for up to €10,000 in damages. See our travel insurance page if you're not sure which one to get.

Hold enough money to cover your stay whilst in Minsk or be able to prove access to suitable funds.

Minimum 49 Belarusian Rubles.
Citizens of some countries may have to show a return ticket and hold a EU visa.
That means that if you wish to visit Belarus for up to 30 days, then all you need to do is make sure that you are flying into Minsk airport, have the documents listed above and enough money to support your stay. Having additional proof of booked accommodation will also help but is not required.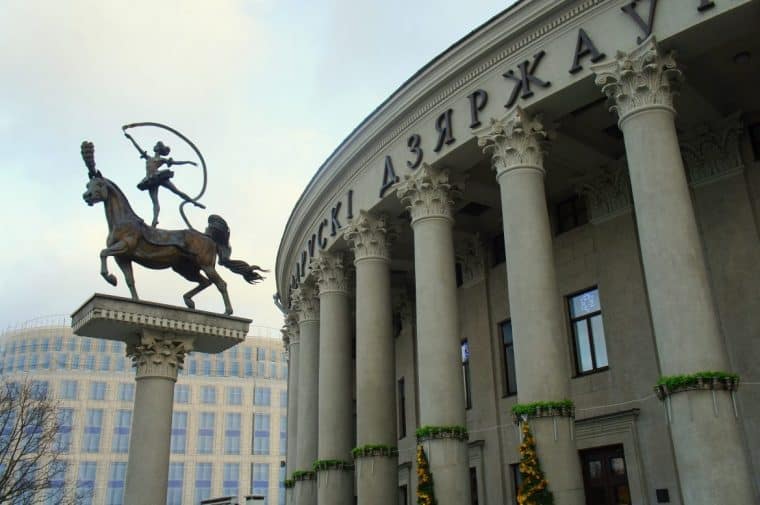 How to Get Around in Minsk
The people of Minsk are not known for speaking English. It's best to learn a couple of basic Russian phrases before you land – or at least make sure you've got them written down. This will help you a lot.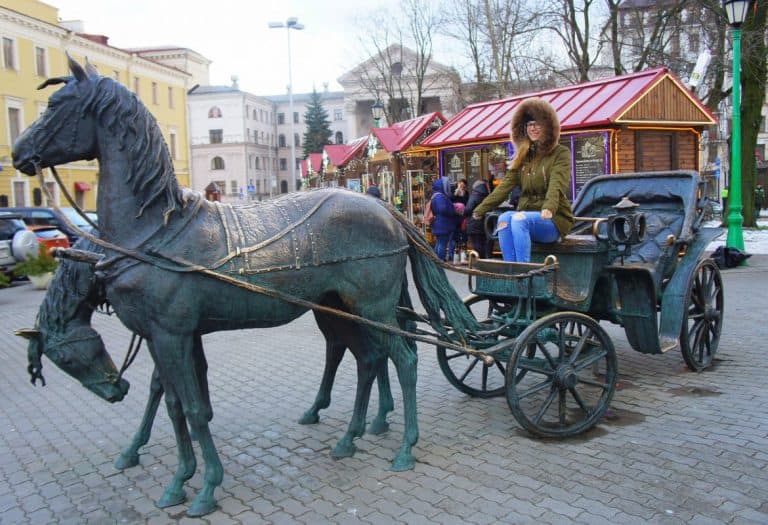 As for getting around the city, there are several public buses which you can jump on to your heart's content. A single bus trip within the city should cost you around 0.65 BYN ($0.26 USD) and 0.70 BYN ($0.28 USD) for the metro.
The buses are convenient and many of the main tourist attractions offer direct connections between them. Just make sure to check out where you can find them on the map.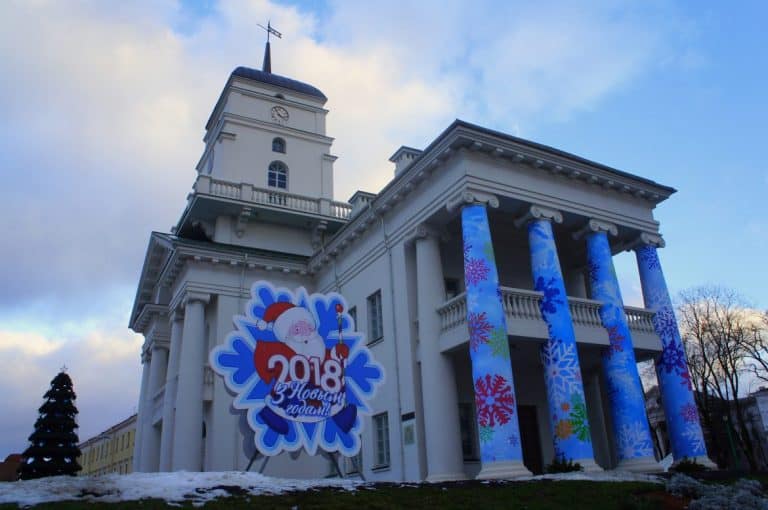 Alternatively, you can take the metro. Minsk's metro system is said to be the most reliable metro system in the world. There are two lines which cross the city, which gives you access to many of the main places of interest. If there is something not on a metro line, you can always either walk or take a public bus instead.
You can now download this article as an app and get an offline map so you can go and see these places yourself.

Alternatively, check out other GPS-guided walking tours in Minsk!
Things to Do in Minsk
Plošcha Niezaliezhnasci
A good place to start your Minsk tour is at the Lenin Monument here. From the monument, you'll be able to see the Belarus State University, along with the adjoining government house. Government house was built back in the 1930s and somewhat defines the shape and style of the city, being an iconic landmark. Remember, whilst the statue is an interesting thing to see, you're not allowed to take pictures of it, so stow your cameras and keep walking!
KGB Headquarters
If you've ever seen a spy movie or been into James Bond, then this is the place for you. Located conveniently in the center of the city, the KGB Headquarters is the perfect place to catch a bit of something you're not really supposed to. You can't head inside – obviously – but you can admire the building from afar and tell your friend that you've seen it.
National Art Museum of the Republic of Belarus
The National Art Museum of the Republic of Belarus is an excellent place to absorb some of the local culture. The exhibits are mostly covered in English and contain works dating back to the 16th century. You'll also find a large collection of Russian art here and a collection of works which represent the Socialist Realism movement perfectly. There are some more modern works here as well. The museum is open from 11 am – 7 pm Mondays to Fridays and will cost BLR 50,000 ($2 US) for a ticket.
Vierchni Horad
Vierchni Horad is Minsk's historic center and the location of more than a few buildings which have made Minsk what it is today. The Holy Spirit Cathedral is one of those buildings. Having been built between the dates of 1633 and 1642, the structure has long stood as a monument to Russian Orthodox churches and their importance in this area. You'll also find the Minsk Town Hall nearby.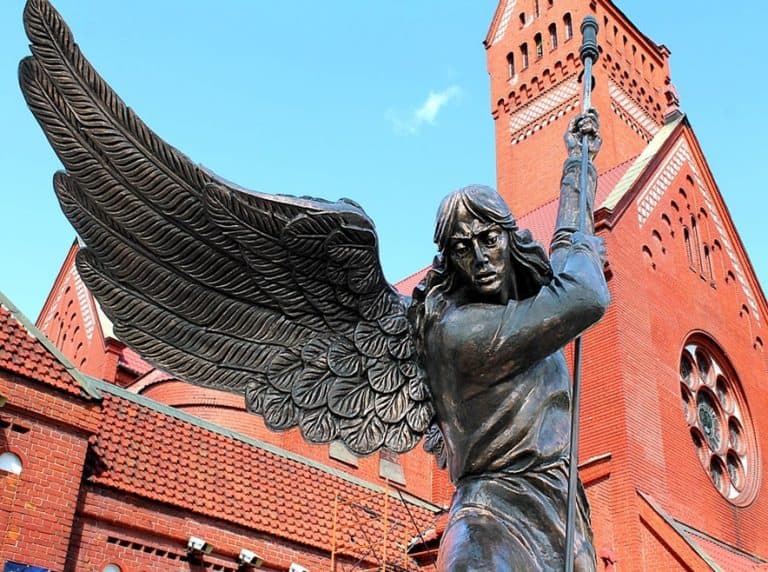 Construction in 1600, the town hall is an impressive building built in order to honor the fact that Minsk received the Magdeburg Rights. Whilst it fell into disrepair for several years, it was restored in 2003 with acute attention to the details in the original plans.
Palace of Independence
The Palace of Independence – located quite far from the other attractions on this list – was primarily built in order to host important conferences and exhibitions. The total size of the area is just over 50,000 square meters and the palace itself contains several hundred rooms. Whilst the building might not be the biggest location in Minsk, it's a great place to have a look at, especially if you want to see and take a walk in Victory Park.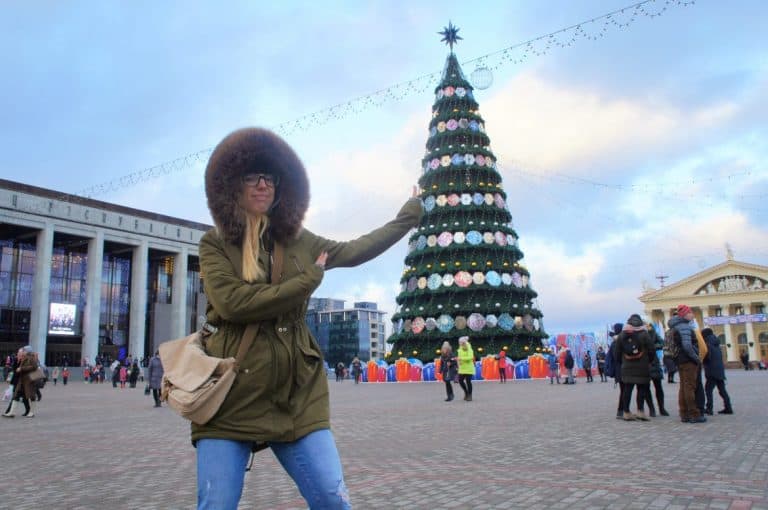 Victory Park
Located just next to the Palace of Independence, Victory Park is one of the city's best public spaces for nature. In the center of the park is a large lake with a small 'beach' area for those visiting. You'll also find the Great Patriotic War Museum at the southern end of the park.
Independence Street
Take a walk down Independence Street – named after Belarus's successful gambit for independence. The street is lined with several buildings which represent different parts of Belarus's history. There are several Soviet-era monuments here for you to look at as well. In fact, Independence street comes right off of the Plošcha Niezaliezhnasci city square, which is where you'll find the famous Lenin monument.
The National Library of Belarus
One of the country's most proud buildings, as many of those who live in Belarus, pitched in financially in some way or another. The National Library of Belarus was rush built back in the early 2000s, becoming an icon of the country and its community. There is a viewing point from the top of the building which will allow you to look over the whole of Minsk, there is also a tour available if you want to know more about the building.
Minskaje Mora
The "Minsk Sea" is a huge water reservoir located 5 km to the north of the city. The reservoir includes a free public beach and you can even rent a boat to take out on the water. The area is a good place to gather during the summer months and offers visitors a seemingly city-scaped beachfront. If you're there during the summer months then a well-deserved lounge should definitely be on your agenda. If you're there during winter, then a nice brisk stroll might be the better option.
Where to Stay in Minsk
Minsk has plenty of accommodation options waiting for you. One of the quickest way to find them is through this map below. Type in any location you want to stay in and it will give you the best options you can choose from.
Tip: The icon on the bottom right of the map will show you a heat map of areas with shopping, nightlife and transit lines in Minsk. You can use it to make sure you're staying in the best spot of the city.
Where to Eat and Drink in Minsk
Union Coffee
Union Coffee is a great place to go for a meal out. They have a good range of different coffees and some pretty good meals too. Make sure to try their Potato Bread with different sauces. It tastes great and is a great example of some local good.
Manufactura Café
Manufactura Café is the best spot if you're looking for a place to kick up your feet and relax. With some quick Wi-Fi, great atmosphere, and good coffee, we think you'll probably find that you're able to stay here for more than just a little while.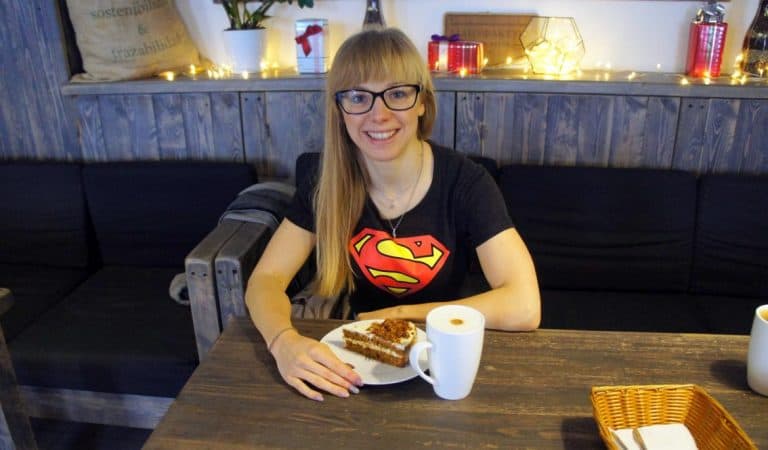 My Dear Kebab
My Dear Kebab is one of the best places for grabbing a quick, but healthy, bite to eat in Minsk. With the best falafel in the city and some amazon Kebab options, you're able to load up on calories and grub to keep you fueled for all the exploring you're going to be doing.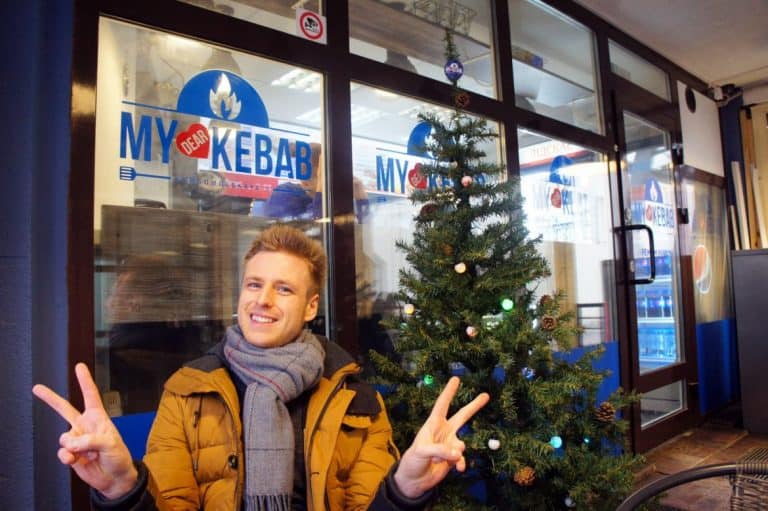 You can even take it on the road with you.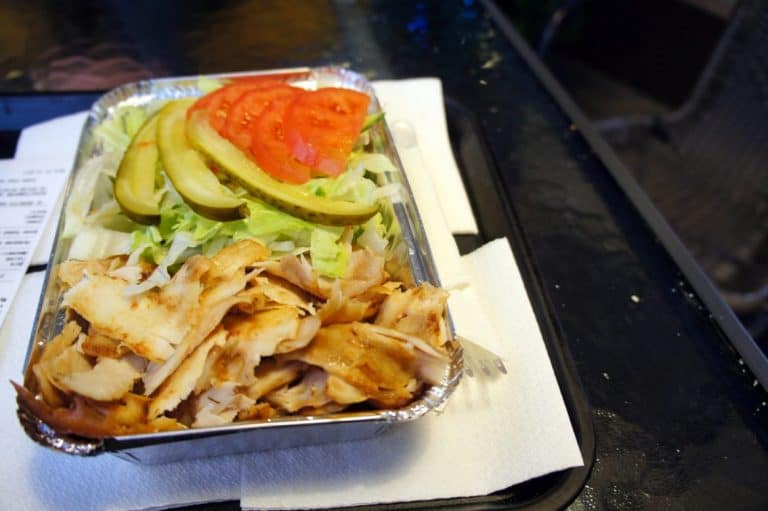 Vasilki
If you're very interested in traditional local cuisine, then Vasilki is the place you should go. With a couple of restaurants dotted throughout the city, it's usually easy to get to and convenient. The interiors are all decorated in a rustic and traditional style, and they serve the food on high-quality plates. A great place for a 'true' and authentic Minsk Dining experience.
Gray
Gray is a unique restaurant with a modern twist on traditional Belarusian food. Located in a renovated 18th-century building, and with Malevich paintings on every single plate, Gray is one of the best dining experiences in the city, and well worth a visit.
What Do You Like the Most About Minsk?