If you've never been wild camping, you really need to give it a try. Wild camping is one of our favorite outdoor activities as avid campers, and it's a great way to really immerse yourself in nature.
Wild camping involves camping in open and remote nature spaces without traditional amenities which we will elaborate later. It may sound challenging, but doing it successfully feels really empowering.
In this beginner guide to camping in the wild, we'll share everything we know from our experience about wild camping safely and successfully.
Traditional Camping vs. Wild Camping
Wild camping is different from traditional camping. Traditional campsites offer campers amenities like showers, plugs, and parking spots.
While this sounds nice, it doesn't give campers the full experience of being one with nature unobstructed. Plus, it's often more expensive than wild camping due to these paid amenities.
Wild camping is quite literally that – wild. You're out there with no amenities, just the gear you bring with you. It's extremely liberating and you'll often find yourself connected to nature in ways you didn't expect. It's also free, so you can save your money for food and gear rather than spending it on a campsite.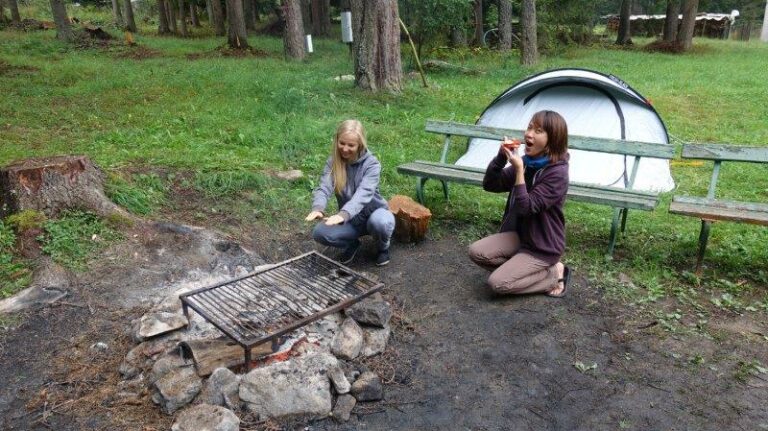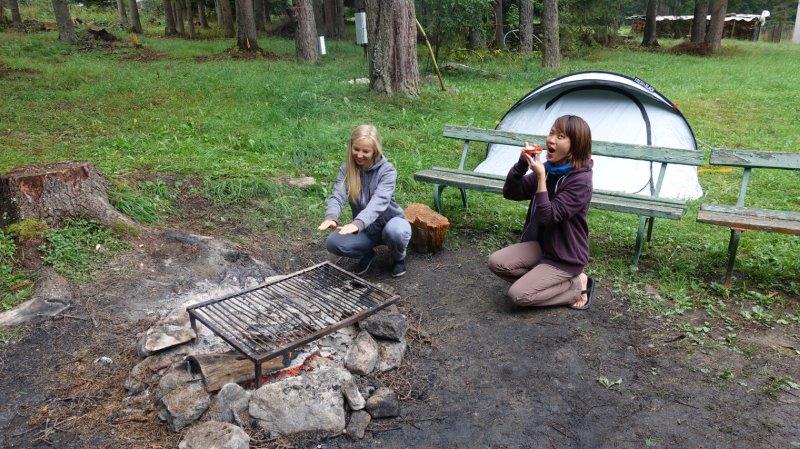 Is Wild Camping Legal?
The legality of wild camping varies from one country to another. Each country has different regulations.
For example, The United States and Canada permit camping on several national parklands and grasslands unless otherwise noted, while Sweden permits wild camping for a maximum of 2 days.
Check your region's laws on wild camping before planning out your trip. Some national parklands like Yellowstone National Park in the US don't allow wild camping, and you need to be sure you're following regulations. 
Wild Camping Guidelines
Though wild camping is free, there are still guidelines you need to follow. The only reason it is still legal is because of campers who respect nature and follow the rules.
You don't want to contribute to wild camping becoming illegal by breaking the rules!
Wild camping guidelines have been long-established to promote care for the community, environment, and yourself. They also protect the species native to the region by eliminating the ability to leave trash, take resources, and introduce new species to the environment.
The main wild camping guidelines include:
Leave no trace of your presence
Move from the premises when asked (on private land)
Keep the size of your party small
Camp within 200 feet of a water source
Keep noise levels down
Respect the wildlife and environment
When wild camping, the goal is to go undetected. You don't want other people or animals to notice you. Going undetected eliminates unwanted attention and creates a safe yet comfortable experience for everyone.
Locations for Wild Camping
When picking a location for wild camping, you should consider your preferences, the weather, and the terrain surrounding you.
Finding Wild Camping Areas
You should consider multiple factors before you pick a camping spot. Here are some of our best tips from past experience:
The area should be relatively flat for easy setup
Do not camp on the top of a hill to minimize the chance of lightning strikes
Do not camp on a slope or valley, as you may have issues with flooding or rain flow
Recognize the dangers of wildlife: do not camp near a beehive or cave
The area should have access to open space where you are visible from the air
The most secure places to wild camp are on public lands such as national parks, grasslands, and woodland areas.
Wild campers who camp on nature reserves, farmland, or privately-owned land have to move whenever asked, so it is not recommended.
If you plan on wild camping in an unfamiliar area, GPS or Google Maps are great tools for taking a look at the scenery from a top view before arrival.
On the maps app of your choosing, search for hidden areas in residential or remote locations. This will help you find a nearby and ideal spot to set up camp.
Best Countries and Destinations for Wild Camping
Here are the top 11 countries and destinations that offer wild and freedom camping. Please note that these are ranked alphabetically, and not by their ranking on wild camping availability.
Alaska – Denali National Park
Canada – Little Bear Bay on North Vancouver Island
Greece – Samothraki
Estonia – Vosu, Lahemaa National Park
Japan – Shimo Lake in Shojiko
Mongolia – Gorkhi-Terelj National Park
New Zealand – Stewart Island
Norway – Odda Camping
South Korea – Jinha Beach
Sweden – Tyresta National Park
Turkmenistan – Darvaza Gas Crater
There are also some great Facebook groups that offer tips and locations ideal for wild camping. Joining a group can be a great option if you plan on taking a wild camping trip and have time to search for a location. We've gotten some great tips from other wild campers on social media!
Weather Conditions for Wild Camping
The weather can affect your trip greatly. Most campers should postpone any camping until after the monsoon season or heavy rainfall. However, some individuals love the therapeutic feeling of camping during inclement weather.
If you plan on camping in a season with foreseeable rainy or windy weather, consider purchasing an all-weather tent. Rainy campers should also avoid setting up camp in valleys, canyons, and large water sources in the event of a flash flood.
If you have a moving vehicle, carry the necessary tools to get your vehicle unstuck in the event of snow or sinking mud. Foldable shovels and snow chains should always be kept on hand in case of an emergency.
Analyze the Terrain
The terrain you choose can impact whether your tent is likely to be the victim of a natural disaster. The key to avoiding disaster is analyzing the surrounding environment and picking the safest spot.
Even if you have never gone wild camping or camping in general, taking a look at your surroundings could save your life. In general, avoid hills and valleys and stick to flat ground.
Water Levels
Campers should avoid setting up camp in swampy areas such as marshes. Marsh water levels rise at night and can flood your vehicle, tent, and resources. Always try to look at reviews of certain locations before heading out yourself.
Highest Points
Avoid setting up camp near the highest landscape. While the photos could come out lovely, lightning strikes at the highest point on a landscape, leaving you more likely to be struck.
When lightning storms occur, position your camp low and out of a flood-risk zone.
Falling Objects
A good rule of thumb for all campers is to set up camp away from anything that can fall. This includes rock and snow avalanches and trees.
Camping near cliffs or trees has an increased risk of falling objects, such as rocks or branches. During windy seasons, avoid camping in these areas as you may encounter an increased amount of falling or blowing debris.
What are the Necessary Supplies when Wild Camping?
No one wants to be the panicking camper who came unprepared. In order to avoid being unprepared, go through your daily routine in detail and think of all the items you would find essential on your camping trip.
Don't forget the essentials, including:
Food
Water
Clothing
Camping tools
Safety equipment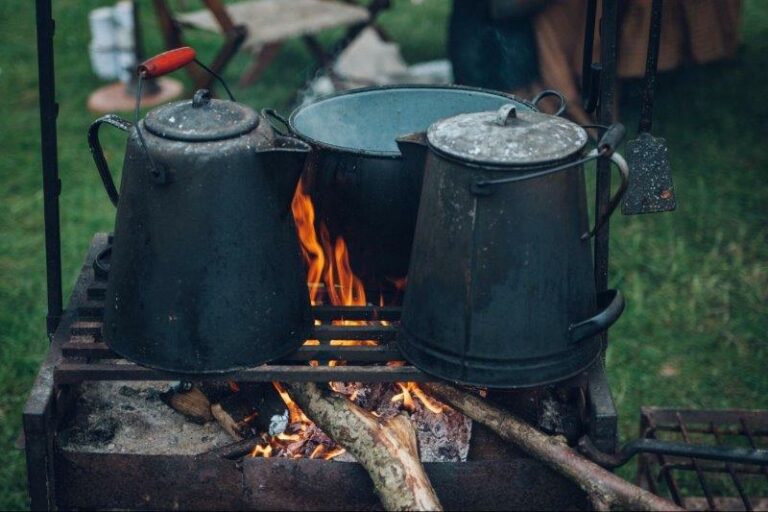 Must-Have Wild Camping Equipment
Take note of all the necessary supplies listed below to help guide your camping checklist.
Tent
Sleeping bag
Rainjacket
Matches
Headlamp
Knife
Powerbank and cable
Toilet paper/baby wipes
Trash bag
Spare clothing (thermal socks, tops, bottoms, and underwear)
Water filtration bottle or system
Portable stove & gas
Pot
Toothbrush
Toothpaste
First-aid kit
Choosing a Tent
Your tent should be packed according to the weather conditions. If you know that your entire trip will consist of perfect weather, a standard tent should be fine. If not, you should postpone your trip or take a weatherproof tent. 
Choosing a Sleeping Bag
Sleeping bags should be packed according to the weather conditions as well. Sleeping bags are categorized by the level of warmth they provide, so pick yours accordingly. If you get cold easily, a thermal sleeping bag can be a great investment.
Choosing the Right Garb and Gear
Take the appropriate clothing for the weather and environment. In areas such as the Amazon where bug bite illnesses are prominent, wear pants and long sleeve shirts.
If unsure about the weather, prepare for both hot and cold temperatures as temperature drops could catch you off-guard at night.
Packing Meals
Cold meals and preserved meals are best for portability when wild camping, pick the most convenient option for yourself.
Packing cold options such as peanut butter and jelly sandwiches are great camping meals that require no particular form of storage and provide the necessary nutrients for a day of camping.
If you plan on cooking, oatmeal, grains, vegetables, and noodles are versatile options that can be turned gourmet in an instant. Oatmeal can be stored in dry spaces along with noodles and grains.
Fruits and vegetables also provide the convenience of not needing a fridge, as long as they don't go bad.
It is also important to note that wild camping also brings the risk of encountering wildlife. If you plan on bringing food, secure the food safely in resealable bags and squeeze out the air. This method guarantees your food's freshness and seals the odours within the bag. 
Sanitation and Disposal
When doing freedom camping, there are rules in certain premises or national parks on how to dispose of trash or drain off washing solutions and waste like shampoo, detergents, and more.
In more protected areas in New Zealand, you will need to adhere to clear rules and regulations and potentially bag your personal waste and bring it along with you back to base.
Final Thoughts
Whether you decide to enjoy your wild camping experience at a national park far away or at a local site, make sure you have the essentials and avoid setting up camp in natural disaster-prone areas.
Remember to take a look at wild camping guidelines and verify the legality of wild camping in your area prior to venturing out. Most importantly, have a great time.
If you're still gathering gear for your trip, check out our review of these 7 essential gadgets for your next camping trip.