There's little doubting the wildlife pedigree of the enormous continent of Africa – humankind has been fascinated by it for centuries. That's why experiencing one of two breathtaking gorilla safaris will be the most memorable adventure you could have while paying a visit to these mysterious shores.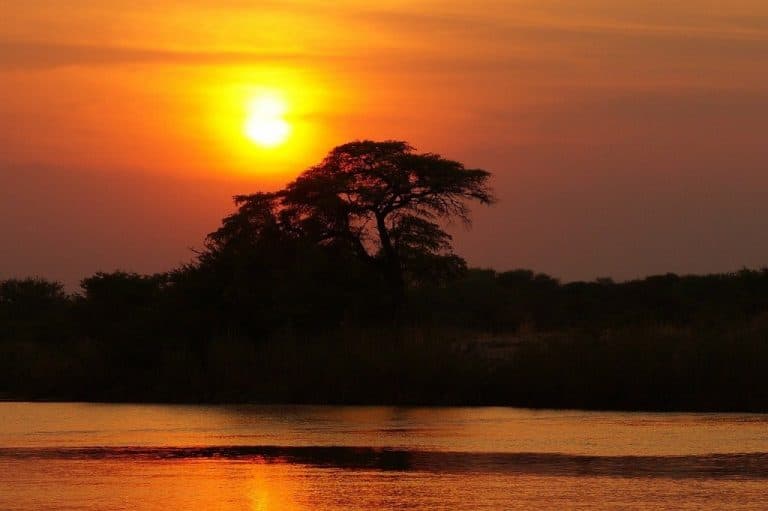 The best places to see these magnificent creatures in their natural habitat is either Rwanda or Uganda – but which of these stunningly beautiful and culturally rich countries should you choose? We'll hear the case for each and then you can decide for yourselves – but first, why do a gorilla safari at all?
Gorilla Safari – What's in it for Me?
You've got to admit that zoos are pretty horrible places. Yes, we can bang on about animal conservation and the good work they do, but at the end of the day, they still have animals in cages and pens, usually in an environment and climate that is alien to them. The poor creatures always look so sad, too; but all of that changes when you see them up close in the wild.
There really is nothing on earth like looking into the soulful eyes of one of our closest animal relatives (we're as closely related to them as horses are to zebras) as they emerge from their jungle home on a misty morning in Africa. It's a breathtaking experience you'll never forget, powerful, humbling and bucket-list worthy. Gorilla trekking is one of the world's greatest adventures.
Rwanda – What to Expect
One of the safest countries in Africa to visit, Rwanda is famous for its welcoming, friendly and hospitable people. It is known as the "land of a thousand hills" blessed with sweeping vistas of rolling mountains, dramatic volcanoes, safe, cosmopolitan cities and, of course, one of the last retreats of the mountain gorilla. All this, set within picture-postcard scenery up there with the best in Africa.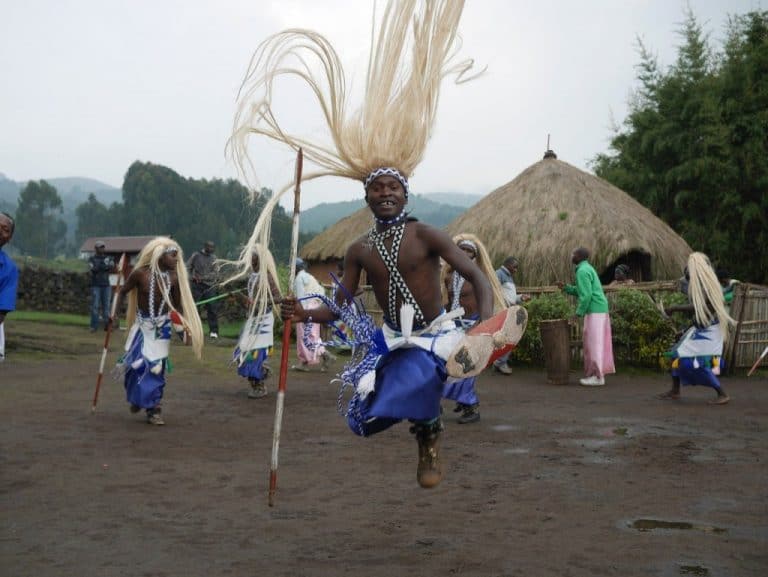 It's come a very long way since the dark days of the infamous genocide, and the tourist industry is booming with the government earmarking more funds to the infrastructure. The country throws its doors open wide to visitors, and a Rwanda tourist visa costs just $30 and is valid for 30 days – plenty of time to experience a memorable silverback gorilla safari.
Rwanda Gorilla Safari
You need a gorilla permit in both countries to visit the primates, and unfortunately, the Rwanda Development Board has just raised the price to $1500 for just one hour with the animals. While this is considerably more expensive than Uganda, the aforementioned tourist infrastructure simply makes it more accessible to visitors. Your money goes to helping the conservation projects in the region.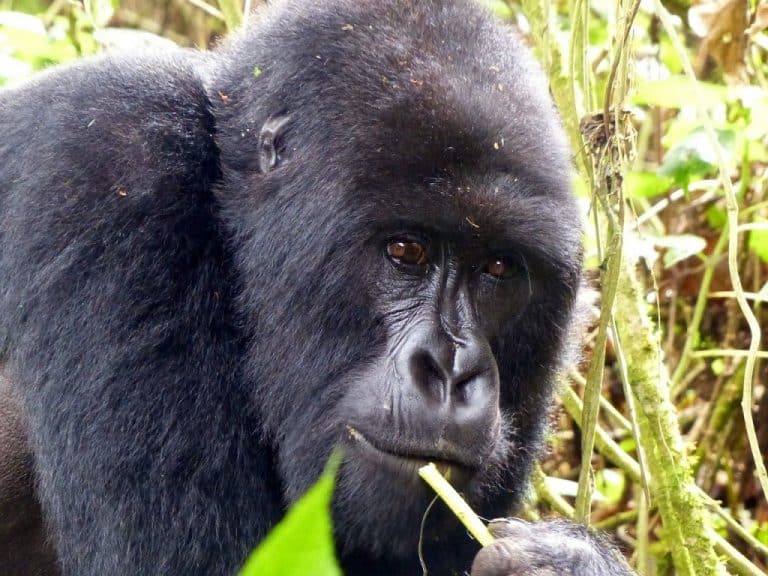 You'll be trekking in the Volcanoes National Park which is around 114 kilometers from the capital Kigali. It takes less time to reach the 150 gorillas here than it does in Uganda, and the standard of accommodation is far superior. The terrain is more open, too, easier to navigate – so you have a much better chance of spotting the silverbacks with minimum effort.
Here, you can also visit the Dian Fossey Foundation and its scientists, as the famed US primatologist and conservationist conducted all her research here. Watch the celebrated movie Gorillas in the Mist for inspiration.
Uganda – What to Expect
A small, safe and culturally rich nation, Uganda – the "pearl of Africa" according to Winston Churchill – has a welcoming spring-like climate, and a colorful and vibrant tribe orientated population speaking over 40 different languages. It packs in 10 national parks, each home to an abundance of exciting flora and fauna – including just over half the world's population of mountain gorillas.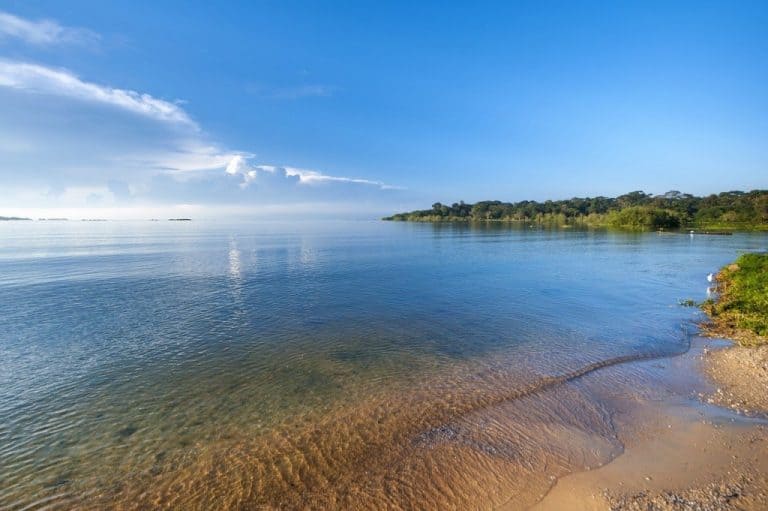 The landscape is stunning, including the highest mountain range in Africa, the source of the longest river in the world ( that's the Nile – complete with ample rafting opportunities) and young, outgoing and optimistic locals who enjoy a jumping nightlife. A single-entry tourist visa will set you back $50 – a little more expensive than Rwanda – but the gorilla permit is much cheaper.
Uganda Gorilla Safari
As mentioned, the biggest advantage Uganda has is the $600 gorilla permit which puts 900 bucks back in your pocket against Rwanda. However, the infrastructure isn't as sound, in spite of the fact that there are more accommodation options to suit all budgets. Yet Uganda also boasts about 480 silverbacks, the largest share of the gorilla population in the world.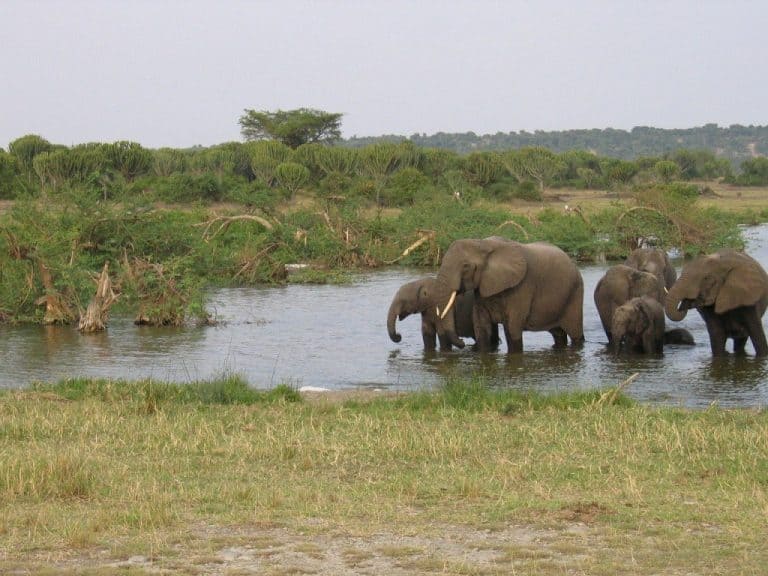 You'll be searching for them (correction – finding them) in Bwindi Impenetrable National Park, so-called because of its dense vegetation, which can be challenging as it rains heavily and often. It's generally trickier and takes longer to get to these gentle giants here. Therefore, it's a good idea to take a 3 days gorilla safari in Bwindi. There are plenty of other options as well though, including other excellent safari circuits, and the chance to experience a "gorilla habitation" and spend four hours with them for the same price as one hour in Rwanda.
Ultimately though, with more gorillas spread over 17 groups, Uganda has the edge for seeing higher numbers of these peaceful primates.
Gorilla Trekking during Coronavirus Pandemic
While the issuance of permits was briefly paused in 2020, it is once again possible to visit the great apes in their natural habitat. Here's our Guide to Gorilla Trekking during COVID-19.
Summary
Decisions, decisions. It seems that the greatest factor in selecting which country does the best gorilla safari comes down to money. But in short, if that isn't an issue, you want a more professional approach and better accommodation, then Rwanda is your best bet. For a more diverse experience of the country as a whole and with budget-friendly pricing, choose Uganda.
Whatever you rest on, spending time exploring these beautiful, hospitable countries amidst their unforgettable gorilla populations is a must for anyone visiting Africa. Both Rwanda and Uganda have come a long way in recent years, leaving turbulent pasts behind, so treat yourself to a visit to either and see what all the fuss is about.
Or, you could go to the Democratic Republic of Congo instead!
Which country would you choose – Rwanda or Uganda?