The Himalayas attract more than 200,000 trekking enthusiasts each year with its legendary snow adventures and mesmerising beauty and present 9 of the 10 highest peaks on the planet, including the iconic Mt. Everest. While mountain climbing might be best left to the Edmund Hillarys of the world, even the laziest of travelers can get closer to the closest representation of Shangri-La through simple yet challenging treks.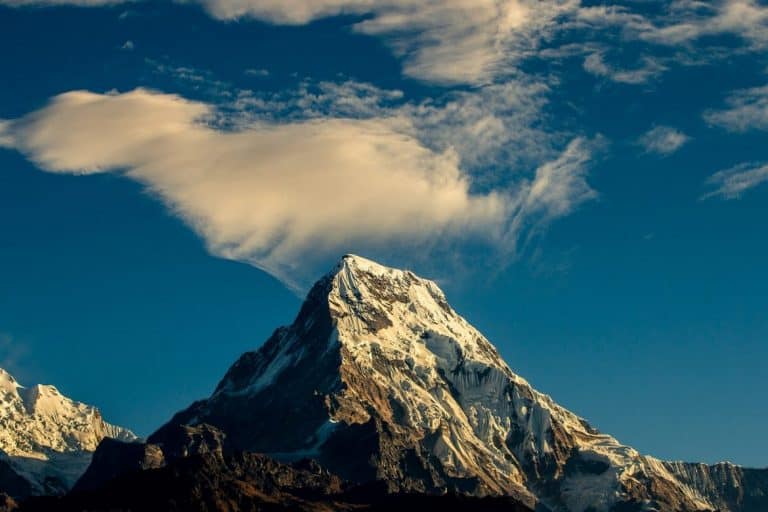 Bright prayer flags, a remote culture, ancient monasteries, spiritual destinations and pearly white mountain tops surround your view, each step taking you closer to paradise. But before you pack your bags and depart on an adventure of a lifetime, here's a brief Nepal trekking guide to introduce you to the region and its key highlights.
When to visit Nepal
After you've decided that you wish to visit Nepal a key question remains, when is the best time to visit Nepal? The main trekking season in Nepal starts around September and lasts until May. The months of September to November present fall weather at its beautiful best, as natural beauty engulfs the region in a plethora of colors.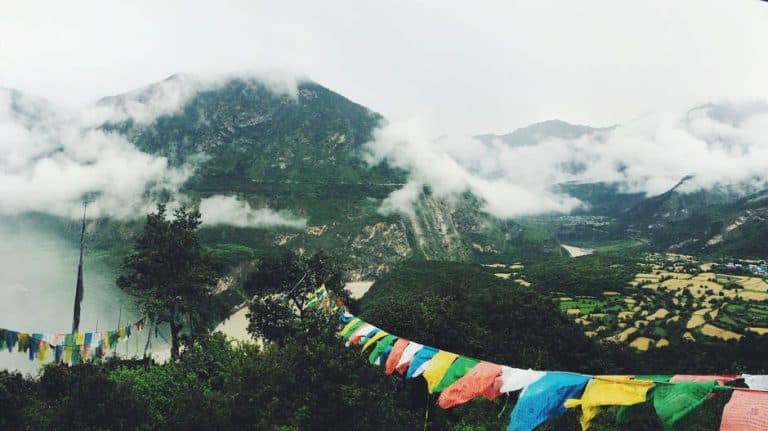 A similar experience awaits you during the spring months of March to May, which not only sees higher temperatures but also covers the entire area with beautiful wildflowers and colorful blooms. Nepal does offer some winter treks as well, but certain trails might become inaccessible, to be sure to double check before booking your itinerary.
Best 4 Treks in Nepal
Probably the best place in the world for any adventure lover, Nepal presents a plethora of mountain treks, each offering something that could easily make it the best experience ever. Guided treks are quite papular in Nepal. All the tour operators arrange everything booking transportation, flight, permits, accommodation, etc. The prices vary depending on the trip you choose. For example, a popular local tour agency Nepal Hiking Team offers any of the treks for under $1300. While the ideal trek depends on your budget, duration of tours, personal preferences, and skill, these are the best 4 treks in Nepal.
Annapurna Base Camp Trek
Trekking Annapurna Base Camp not only brings you closer to one of the greatest mountains on the planet, it also presents one of the most realistic and untouched trekking experiences in Nepal.
It offers a great overview of the Himalayas in a short period of time and its proximity to Pokhara also makes it an attractive option. This trek presents the perfect blend of nature and culture, and it is as close as you can get to 8000 m high peaks in the Himalayas in such a short amount of time.
Time Taken: 9 – 10 Days

Number of Annual Visitors: 100,000

Difficulty: Medium

Max. Elevation: 4320 m (Annapurna Base Camp)

Accessible between December – January: No

Key Season: March – May, September – November

Costs: Low

Remoteness: Not remote
You can also do a nearby Poon Hill Trek as part of Annapurna Circuit or separately. It is even possible to trek Poon Hill with a baby, although it's not recommended in the winter.
Everest Base Camp Trek
A trip to Everest is without a doubt the crowning glory of all treks in the Himalayas. Known for offering the best and closest (via a normal trek, not climb) views of the stunning Mt. Everest, this trek lets you enjoy the world unlike any other. From the Sherpa capital of Namche Bazaar and ancient Buddhist monasteries to serene surroundings and stunning peaks, the rewards that the Everest Base Camp trek has to offer are plenty.
Apart from the iconic Everest (that we've managed to do a flyby too), you also get to see unparalleled views of other popular peaks such as Lhotse and Nuptse.
Time Taken: 12 – 13 Days

Number of Annual Visitors: 25000

Difficulty: Medium

Max. Elevation: 5600 m (Kala Patthar)

Accessible between December – January: Yes

Key Season: March – May, September – November

Costs: Medium

Remoteness: Not remote
Manaslu Trek
The Manaslu Circuit trek is easily one of the most fascinating treks in Nepal. Crossing the Larke Pass is probably the most adventurous part of the journey, but each section is remote and secluded and feels so unique, you'll probably stay entertained throughout the trek.
Better yet, the trail keeps changing as you're walking in a circuit, so there's more to see and explore.
Time Taken: 15 – 16 Days

Number of Annual Visitors: 6500

Difficulty: High

Max. Elevation: 5115 m (

Larke Pass

)

Accessible between December – January: Yes (mostly)

Key Season: March – May, September – November

Costs: Medium

Remoteness: Remote
Kanchenjunga Trek
A trek to Kanchenjunga could very well be the adventure of a lifetime. This is one of those places where you can explore nature at its raw and untouched best, without ever having to come across another soul during your entire journey.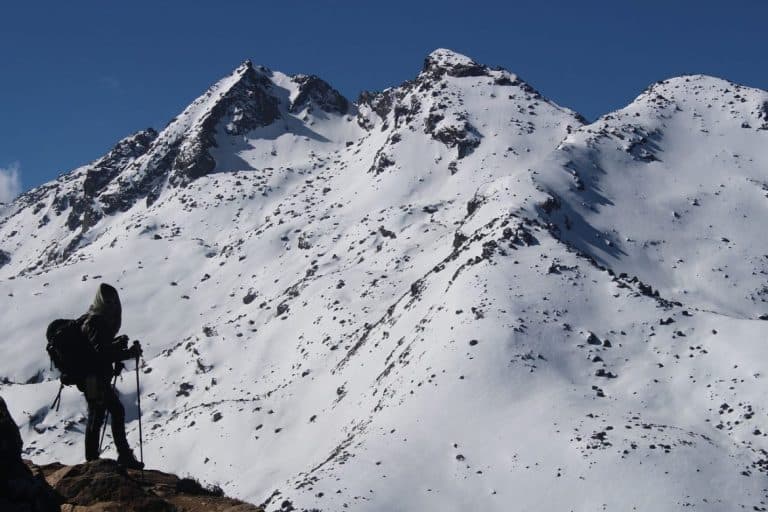 This is one of the most rural destinations in Nepal and the journey is certainly long and tiring. What you do get in return is the most gorgeous views of Mt. Makalu and Mt. Kanchenjunga and the best of nature, adventure and natural beauty that the world has to offer.
Time Taken: 20 – 22 Days

Number of Annual Visitors: 650

Difficulty: High

Max. Elevation: 5160 m (Lapsang Pass)

Accessible between December – January: No

Key Season: March – May, October – November

Costs: High

Remoteness: Very Remote
Everything You Need to Know About Altitude Sickness
Altitude sickness usually occurs when you're ascending rapidly, not allowing your body enough time to adjust to the reduced levels of oxygen and changes in air pressure. Common symptoms include lethargy, insomnia, drop in performance, headache, lack of coordination, dizziness, loss of appetite, vomiting and nausea.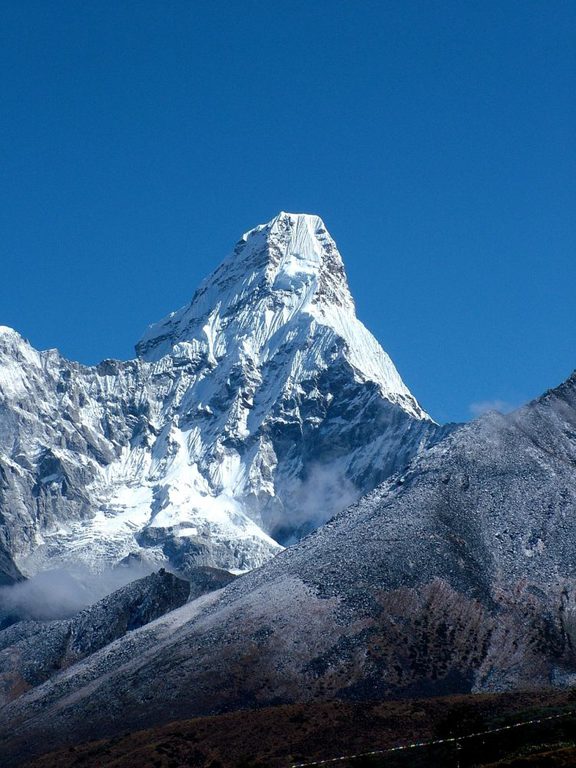 Most treks in Nepal take you to high altitudes and there is always a risk of being affected by altitude sickness. However, with proper planning, basic preparation and the right itineraries, it is possible to avoid falling sick altogether. The mantra to avoiding altitude sickness is "to acclimatize".
Always follow the secret rule of climbing high and sleeping low. This makes the acclimatisation process faster and easier.

Drink plenty of fluids (4 litres of non-alcoholic liquids are recommended) every day.

Rest for the first few hours once you reach a higher altitude.

Do not hurry through the trek. Take your time, allow the body to adjust to the changing altitude, and also enjoy the beauty all around you.

If you suffer from pre-existing conditions such as heart problems, please seek expert advice before booking your tour.

Climb with experienced guides only. They could be lifesavers in case of emergency.

Avoid alcohol and cigarettes.

Avoid using sleeping tablets.