Who says hunters can't be stylish? While many hunting boots come in traditional black or camoflauge varieties, some boots have more unique looks. In particular, western hunting boots are an excellent choice for men looking for style and comfort in their hunting boots. From camel to chocolate brown, you can find a look that's right for you. Take a look at the list of western hunting boots we've compiled below to find a pair that's right for you.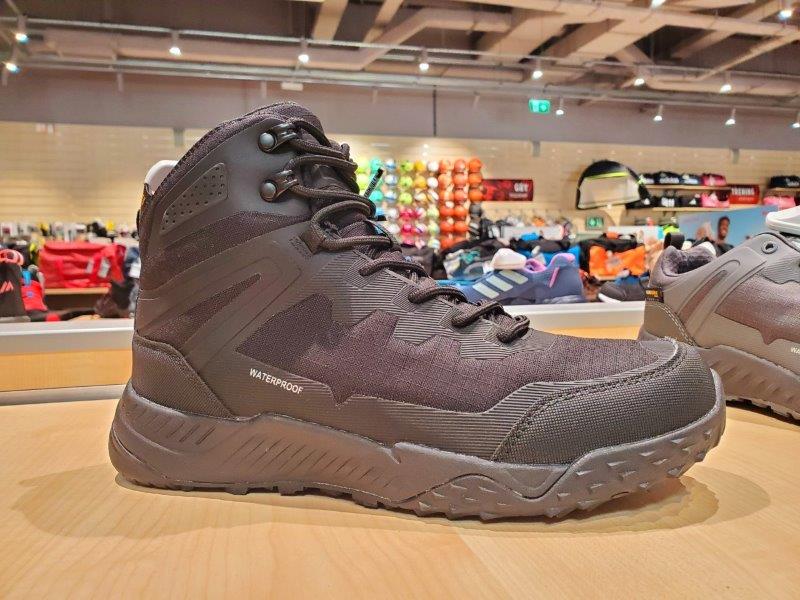 What are the Best Western Hunting Boots?
We have compiled for you the top 7 Best Western Hunting Boots in 2023. In this article we go through the products that we have used ourselves, checked what other users thought about them and we ranked them accordingly.
With years of experience with western boots for hunting and having used several western hunting boots you can trust our review.
Moreover, you can scroll to the end of this review to see our mini buying guide as well as the answers to some of the frequently asked questions about western hunting boots.
Specs
Price: 💲💲 (fewer 💲 = cheaper)
Weight: 2 pounds (0.91 kg)
Support Height: Calf height from arch
Waterproof: Yes
Material: Premium leather, EVA, rubber
Insulation: No
The Timberland PRO Men's Pull-on Work Boots Industrial features a calf height shaft made of premium leather. These come with a composite toe made with Carbon Shield technology for protection. They also have a polyurethane footbed that helps absorb shock for comfort. There is a fiberglass shank to provide more support. The Exospine is made to help support and protect the heel. These boots come in three different colors. They can be difficult to break in and they run large so be sure to check the size chart. This boot is waterproof to keep your feet dry in all environments. They have two pull tabs on the top of the shank to help get them on and a kick plate on the heel for easier removal.
Pros
Durable premium leather,
Waterproof to keep feet dry,
Heavy duty composite toe,
Comfortable for all day wear
Cons
Can be difficult to break in,
Runs large
Specs
Price: 💲💲💲💲 (fewer 💲 = cheaper)
Weight: 2.11 pounds (0.96 kg)
Waterproof: No
Material: Leather
Insulation: No
Snake Protection: No
ARIAT Men's Western Boots boast an attractive design suitable for use in a variety of settings. With a 14 inch round opening, these boots are easy to wear and take off regularly. The use of Goodyear leather and Duratread sole provides for added durability and performance. For comfort and stability, these boots use ATS technology that helps maneuver rough and treacherous terrains without much effort.
Ariat's Western boots, however, come with sizing problems that make them difficult to use. Moreover, the actual thread color may be a bit different from what can be seen online in the product listing.
Pros
Attractive design suitable for use in various settings,
14 inch opening makes it easy to wear these shoes,
Goodyear leather welt and Duratread sole provide good durability,
ATS technology provides comfort and stability in rough conditions
Cons
Sizing is tight so difficult to use,
Thread color may not appear as shown online
Specs
Price: 💲 (fewer 💲 = cheaper)
Weight: 4.9 pounds (2.22 kg)
Support Height: Calf height
Waterproof: No
Material: Full grain leather, rubber
Insulation: No
Snake Protection: No
The Rocky Men's Fq0001108 Western Boot comes with a full grain leather shaft that comes up about mid-calf height. They are constructed with a double row all around welt for durability. The eight layer Rocky Ride comfort system allows for comfortable wear all day. They come with an oil resistant rubber sole to prevent slipping and falling. The rubber sole also has a heel for stabilization and a removable double layer polyurethane footbed. The pull tabs at the top of the shaft and the 15 inch opening help to make putting these on a breeze. You might notice that these are a bit heavy, and they take a bit of breaking in to get the perfect fit. They do tend to run true to size and are available in wide widths.
Pros
Durable full grain leather,
Comfortable insole,
True to size,
Made in the USA
Cons
They are heavy,
Can take awhile to break in
Specs
Price: 💲💲💲💲 (fewer 💲 = cheaper)
Weight: 1.69 pounds (0.77 kg)
Waterproof: No
Material: Leather with Rubber Outsole
Insulation: No
Snake Protection: No
Ariat Men's Legend Phoenix Western Cowboy Boots are designed for both durability and comfort. The boots come with a four-row stitched leather exterior. Oil and slip-resistant Duratread rubber is used in the outsole for optimum grip and durability. With Ariat's Advanced Torque Stability, these boots can handle rough terrain ensuring ample support and stability. The 13″ round opening ensures that wearing and taking off these shoes is a breeze. However, these shoes do have pose issues including improper sizing that makes them difficult to wear and walk in. Moreover, the leather may catch scratches easily as it is a little too soft.
Pros
Durability and comfort with full-grain leather having decorative four-row stitch pattern,
Oil and slip-resistant Duratread rubber outsole provide good grip and durability,
Ariat's Advanced Torque Stability means these boots provide ample support and stability,
13-inch around boot opening makes wearing and taking off the boots easy
Cons
Improper sizing may make it difficult to wear,
Leather is a bit too soft and thin so may catch scratches easily
Specs
Price: 💲 (fewer 💲 = cheaper)
Weight: 5.13 pounds (2.33 kg)
Waterproof: No
Material: Leather, rubber
Insulation: No
Snake Protection: No
The Justin Original Men's Stampede Pull-On Square Toe Work Boot is made with an all leather shaft that has loops to pull them on over your foot. They come in three different colors and designs. These work boots normally run true to size for most and they do come in some wide widths if needed. They have a rubber heel that is about 1.25 inches high. The square toe allows for space in the toe box to prevent blisters and give room for thick socks. The steel shank lends to the durability of these boots, and while they can take awhile to break in, the workmanship should make these boots last a long time.
Pros
Durable leather upper shank,
Removable insole,
Comes in 3 colors,
True to size
Cons
Can take awhile to break in,
The top of the shaft can rub and irritate your legs
Specs
Price: 💲💲 (fewer 💲 = cheaper)
Weight: 4 pounds (1.81 kg)
Waterproof: Yes
Material: Leather and Suede
Insulation: No
Snake Protection: No
Ariat Terrain Waterproof Hiking Boots come with a 14-inch round opening that makes it easy to wear them. The use of Duratread outsole makes these shoes ready to be used on slippery and rough terrains. EVA midsole and ATS technology provide for a comfortable and fatigue-free use. Waterproof pro technology ensures that the feet remain dry in wet and muddy conditions. Ariat Terrain boots, however, may not be suited to everyone in that the design is a little tight which may cause pain and discomfort. Moreover, substandard manufacturing means that the waterproofing in these shoes may not last long.
Pros
14 inch around opening for easy use,
Waterproof pro technology for good performance in wet and muddy conditions,
Duratread outsole provides good traction,
ATS technology and EVA midsole provide comfort and stability
Cons
Tight design makes for an inconvenient experience,
Waterproofing may not last long
Specs
Price: 💲💲💲 (fewer 💲 = cheaper)
Weight: 1.94 pounds (0.88 kg)
Waterproof: No
Material: Leather, rubber
Insulation: No
Snake Protection: No
The Justin Original J-Max Pull-On Work Boot is crafted with distressed natural leather. The loops on the shaft allow it to be pulled on. It has a removable insole if you need more space or to place your own insole in. The dri-lex lining can help keep your feet dry, but they will need to be treated for water resistance as these don't come waterproof. The rubber outsole provides slip resistance. These work boots are durable and come in two different colors, Rugged Tan Gaucho and Rugged Bay Gaucho. The sizing can be tricky for some, but they do come in a wide variety of sizes including narrow and wide.
Pros
Easy to pull on and take off,
Leather can be treated for water resistance,
Slip resistant rubber outsole,
Removable sole
Cons
Sizing can be tricky,
Can take awhile to break in
Verdict
To summarize, we have gone through dozens of western hunting boots and decided that 7 are worth your consideration. Out of these, the absolute Best Western Hunting Boots is Timberland PRO Men's Pull-on Work Boots Industrial which we highly recommend as our overall best.
If money is not an issue, you can consider ARIAT Men's Western Boot as this is our Premium Pick.
Otherwise, there's no shame in spending prudently, Rocky Men's Western Boot is the Budget Option.
Our other reviews you may find useful in your research:
What You Should Know Before Buying western hunting boots
Support
If you don't want your joints and ligaments to suffer, buying boots with good ankle support is fundamental. Boots that offer good support are those that fit snugly around your ankle without digging into your skin. Additionally, the level of support your feet need also depends on the activity you want to perform. If you plan on buying work boots, look for something lightweight. But, if you plan to go hiking or hunting, heavy boots will provide your feet support and comfort on the rough terrain. Although, we don't recommend wearing heavy boots daily as doing so will stretch your ligaments.
Flexibility
When buying boots, keep your purpose and shoe preferences in mind – including whether you are more comfortable in stiff or flexible boots.
If you plan to go hiking, on-trail, a lighter, more flexible boot might appeal to you. Whereas a hunter, who is often off-trail, might prefer a heavier and stiffer boot. It all depends on the weather, terrain, and activity.
But, the best option would be to go with a boot with medium flexibility. One that isn't too bendy or too stiff. These will give you almost the same support and solid footing as rigid boots; while still making it easy to move on a steep area.
Boot material
The type of materials used in crafting your boots determines their comfort and durability. You will find all kinds of boots made from different materials like neoprene, rubber, and leather. Each serves their own purpose, and the right material depends on what use you have for them, all year round.
If you plan on buying hunting boots, you can either opt for field boots or rubber boots. Both have their merits depending on the situation and the terrain and climate you are walking in. If you're looking for breathable boots, field boots (leather boots) are the way to go. But if waterproofing is what you want, get rubber boots.
Rubber
Rubber boots are also a popular choice among hunters. Why? Because it is waterproof, easy to clean, and durable. Moreover, rubber boots don't have a scent which makes it ideal for hunting and staying camouflage. While rubber boots do a good job of keeping your feet dry, it is better to get some that have an insulation lining. The lining can be made of fabric or padding – which adds to the comfort of the boot.
However, if you plan to walk steep, rough terrains or long distances, you might find these rubber boots uncomfortable. But if you're going to be walking shorter distances and prioritize a lack of scent in your shoes, rubber boots are a good option.
Leather
Leather boots are comfortable and stylish – making them the choice of many. But, that comfort comes at a price – these boots are heavier than the rubber-based boots.
Leather boots are great for outdoor activities like hunting and hiking as they are durable and odor absorbing. The weight can also help provide support to plunder through the overgrowth. However, these boots will eventually exhaust you if you plan on covering large distances.
If you are looking for a breathable or waterproof pair of boots, thick leather may not be the best option. However, boots made from ligther leather are more breathable but still not waterproof.
Questions and Answers About western hunting boots
How heavy should hunting boots be?
Weight depends on the season in which you will be hunting. If you're going to be hunting in the summer or walking a lot, then two to eight hundred grams will work and anything heavier will be a drag. But in the winter, you will need insulation on your hunting boots to keep warm. In this case, get tough and heavy duty boots that weigh at least a thousand grams. However, do not get too heavy a pair if it will tire you out too easily while walking due to the immense weight.
How do I keep my feet dry when hunting?
Keeping your feet dry and warm is crucial during a hunt. One obvious option is waterproof boots or applying a waterproofing treatment. Another tip is to wear two layers of socks. Wear moisture-wicking socks first, and then wool socks as a second layer. Try to avoid cotton socks. Make sure that wearing two socks doesn't tighten your feet in your boots, as this can constrict blood supply.
Do leather boots keep you warm?
A conventional and typical pair of leather boots don't keep your feet warm during the harsh winter. They might be okay at the beginning of the fall season, but not in the middle of winter. What's more, your leather boots might crack in the snow and salt. However, if you have insulated, waterproof leather boots, then they will keep you warm enough.
How should western style boots fit?
If you have to force your feet into the western style boots, you have the wrong size. You want the vamp, the top of the boot, to fit snugly, not too tight, nor too loose. The vamp is what determines if you have the right size or not. The next thing to consider is the heel. In the beginning, your foot might slip about half or a quarter of an inch. This space is needed as the boot will slowly mold to your feet. The forefoot or the ball of your feet should rest on the broadest portion of the boot.