Duck hunters know that a pair of high-quality hunting boots are essential to a great hunting trip. Duck hunting usually involves trekking in wet, muddy, and mucky areas since ducks frequent these sorts of environments. A good pair of duck hunting boots will keep your feet dry from water and mud and make it easy for you to navigate through these conditions. Take a look at our list below of some of the best duck hunting boots available online.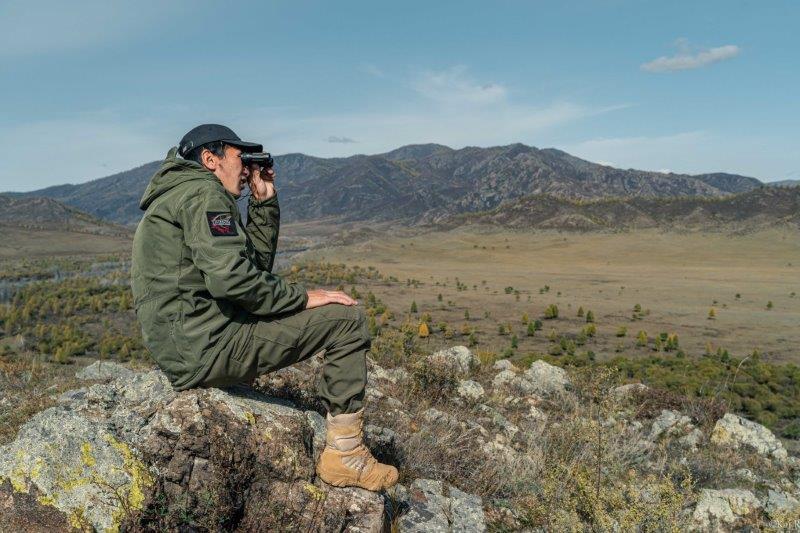 What are the Best Duck Hunting Boots?
We have compiled for you the top 8 Best Duck Hunting Boots in 2023. In this article we go through the products that we have used ourselves, checked what other users thought about them and we ranked them accordingly.
With years of experience with boots for duck hunting and having used several duck hunting boots you can trust our review.
Moreover, you can scroll to the end of this review to see our mini buying guide as well as the answers to some of the frequently asked questions about duck hunting boots.
Specs
Price: 💲💲💲💲 (fewer 💲 = cheaper)
Weight: 3 pounds (1.36 kg)
Waterproof: Yes
Material: Rubber
Insulation: Yes
Muck Wetland Rubber Premium Men's Field Boots offer calf-high rubber coverage that protects the user against scratches. The boots are suited for a variety of temperatures and weather conditions as they use breathable lining material that provides ample insulation while letting some air pass through. EVA midsole is excellent for dispersing weight evenly, making these boots ideal for regular use. The shaft is easy to fold down when needed.
Although Muck Wetland Rubber Premium Boots are designed for rough conditions, they do not last long due to quality control and manufacturing issues. Some people may find it difficult to find the right size for their feet as these boots do not come in half sizes.
Pros
Calf-high rubber coverage provides protection against scratches,
Breathable lining makes these boots suitable for a wide range of temperatures,
Added comfort with EVA midsole that disperses weight,
Easy to fold down when needed.
Cons
No half sizes available,
Substandard craftsmanship means that the boots are not very durable.
Specs
Price: 💲💲💲💲 (fewer 💲 = cheaper)
Weight: 2.71 pounds (1.23 kg)
Support Height: 1.0 inches
Waterproof: Yes
Material: Rubber
Insulation: No
Snake Protection: Yes
LaCrosse Men's 4xAlpha Snake Boot offers protection and premium quality. The 16″ snake guard protects against snake bites and debris, while multilayer rubber on the toe, shin, and heel provide additional protection.
This layering also improves the durability of the boot. The mix of rubber and neoprene makes the boot robust and waterproof but lowers its breathability.
These hand-made boots can keep you warm in lower temperatures without constricting your feet. It is also flexible with good traction on all kinds of terrain.
The outsole is shock absorbent; you can cover long distances on rough terrain in maximum comfort.
Overall, this hunting boot values protection and comfort.
Pros
Snake proof boot,
Additional protection on toe, heel, and shin,
High-quality rubber build,
The rugged outsole provides good traction
Cons
They are hard to take off,
Low ventilation
Specs
Price: 💲 (fewer 💲 = cheaper)
Waterproof: Yes
Material: Rubber, Neoprene, Ethylene Vinyl Acetate
Insulation: 5mm neoprene/ 400G
Snake Protection: No
The Heisa Apollo Pro hunting boot might appeal to most hunters. This practical boot delivers comfort and functionality at a very reasonable cost. With this boot, you can comfortably hunt fish and fowl alike with little resistance. A breathable inner mesh wicks away moisture and sweat, providing additional comfort.
Comfort is not all; the boot protects against obstacles, and the memory foam sole supports the ankles. The boot also has neoprene insulation at the claves, unlike others. You will also find an adjuster on the calves to fit your size.
The boot is scent-free for completely camouflaged when hunting. The quality of the camouflage print is a bit low but compared to how warm and comfortable the boot is, it can be dismissed.
Pros
Well insulated against the cold,
Exterior Rubber Heel cup for support,
Additional neoprene insulation for calves,
The lightweight, rugged sole provides traction
Cons
Might need additional insole,
Has low grip on wet rocks
Specs
Price: 💲 (fewer 💲 = cheaper)
Weight: 6.17 pounds (2.8 kg)
Waterproof: Yes
Material: Neoprene, Rubber, Ethylene, Vinyl Acetate
Insulation: Yes
The TIDEWE Rubber Hunting Boots are equipped with 800g insulation and a durable 6 mm neoprene and rubber outer material providing both warmth and waterproof protection in cold weather. They have a contoured anti-slip sole that allows for traction when walking through various terrains without difficulty. The inner fleece liner helps to keep feet from sweating, adding to the comfort of these boots. The flexible sole aids in maneuverability while walking. Be sure to follow the size chart to ensure the proper fit as they can run big for some. The wide opening allows for pants to be tucked in but do note that the shaft height is not knee high. There is also not much support for the ankles, so if you plan to do any hiking or climbing, there might be a better choice for you.
Pros
You can walk for miles and feet remain comfortable,
Insulation provides adequate warmth for cold climates,
Waterproof outer material blocks moisture from the elements,
Tread allows for traction and prevents snow and mud buildup on soles
Cons
These may run big,
Not much support for ankles
Specs
Price: 💲💲💲 (fewer 💲 = cheaper)
Weight: 4.25 pounds (1.93 kg)
Waterproof: Yes
Material: Rubber with Neoprene Insulation
Insulation: Yes
HUNTSHIELD Men's Neoprene Muck Boot are a nicely designed offering with camouflage pattern that blends into the surroundings easily. The boots can cope with cold weather thanks to neoprene insulation that retains body heat. The elastic cuff makes for a hassle free day to day use, providing a secure seal and added protection. The boots come with a polyurethane insole and EVA midsole offering ample shock absorption and stability. However, the shoes have some sizing issues making it a hassle to find the right fit. There is also room for improvement in manufacturing to make them more durable and long-lasting.
Pros
Camouflage pattern blends into the surroundings,
Elastic cuff for a secure seal and added protection,
Neoprene insulation provides excellent heat retention,
PU comfort insole & EVA midsole provide extra stability & shock absorption,
Added comfort and warmth with scent free fleece lining.
Cons
Smaller than normal sizing make it difficult to fit,
Poor manufacturing means that the boots do not last long.
Specs
Price: 💲💲 (fewer 💲 = cheaper)
Weight: 2.7 pounds (1.22 kg)
Waterproof: Yes
Material: Rubber, Neoprene
Insulation: 1000 gram Thinsulate
Snake Protection: No
The Rocky Men's midcalf boot delivers comfort and support for versatile tasks. From hunting to everyday wear, these boots perform well. The heavy insulation on the boot offers protection from the cold without constricting your calf.
The rubber outsole is aggressive enough to provide good traction on rougher terrains, making them a bit heavy. However, the main issue with this boot is the thin neoprene sides lowering the boot's durability. The boot performs best in milder terrains and everyday chores. They are comfortable for long walks despite their bulkiness. Overall these shoes are highly functional for outdoor activities in the winter.
Pros
Scent-proof boots for camouflage hunting,
Easy to slip on and take off,
1000G insulation for extreme weather,
The rugged outsole provides good traction
Cons
The sides of the boot are of thinner neoprene and might tear,
Boots are on the heavier side
Specs
Price: 💲💲💲 (fewer 💲 = cheaper)
Weight: 4 pounds (1.81 kg)
Support Height: 16 in
Waterproof: Yes
Material: EVA, rubber
Insulation: No
Snake Protection: Yes
The Rocky Men's 16 Inch Snake Boot has a 16-inch shaft of durable material that keeps your feet and legs protected from snake bites. There is a zipper on the side to help with getting the boot on and off. The material is also waterproof to protect your feet from getting wet when walking outdoors. They come with a mossy oak pattern to help blend in outdoors. Be sure to follow the size chart and order a size up if needed as they can run small. The snug fit of these boots provides a decent level of support. If you are walking outdoors in an area where snake bites would be a concern, these boots would likely be a good choice.
Pros
Waterproof material keeps your feet dry,
Sturdy and well made snakebite proof material,
Inside zipper allows for easy on and off,
Easy to clean
Cons
These run small,
The zipper tends to get stuck
Specs
Price: 💲 (fewer 💲 = cheaper)
Waterproof: Yes
Material: Rubber
Insulation: 2,400 gram Thinsulate
Snake Protection: No
If you are not afraid of hunting in the biting cold, the Guide Gear Men's ankle-fit boots might be for you. These boots come with Thinsulate insulation of 2400G, warm enough for freezing temperatures. With these shoes, you won't have cold feet while sitting in a stand.
The shoes provide added comfort thanks to the cushioned sole, which is also environmentally friendly. Additionally, the boots also provide decent ankle support.
The boot's construction is thick and strong enough to bear wear and tear. The camouflage lining of the boot seems a bit poor, but the overall production is durable. Overall, it is warm, strong, and comfortable for winter hunts.
Pros
Calf expands to fit your size,
Insulated for extremely cold weather,
Shin guard protects from obstacles,
Scent-free for camouflage hunting
Cons
Not insulated from the heel and up,
The camo layer might peel off
Verdict
To summarize, we have gone through dozens of duck hunting boots and decided that 8 are worth your consideration. Out of these, the absolute Best Duck Hunting Boots is Muck Wetland Rubber Premium Men's Field Boots which we highly recommend as our overall best.
If money is not an issue, you can consider LaCrosse Men's 4xAlpha 16 Inches Snake Boot as this is our Premium Pick.
Otherwise, there's no shame in spending prudently, Hisea Apollo Pro 400G Insulated Men's Hunting Boots is the Budget Option.
Our other reviews you may find useful in your research:
What You Should Know Before Buying duck hunting boots
Flexibility
When buying boots, keep your purpose and shoe preferences in mind – including whether you are more comfortable in stiff or flexible boots.
If you plan to go hiking, on-trail, a lighter, more flexible boot might appeal to you. Whereas a hunter, who is often off-trail, might prefer a heavier and stiffer boot. It all depends on the weather, terrain, and activity.
But, the best option would be to go with a boot with medium flexibility. One that isn't too bendy or too stiff. These will give you almost the same support and solid footing as rigid boots; while still making it easy to move on a steep area.
Insulation
Insulation is what keeps your feet warm. While there are many insulating materials in the market, the most common are shearling and thinsulate. If you are going to be walking through snow, then insulated boots containing these materials are the way to go. You can find out if a boot will keep you warm in the cold by looking at the grams of insulation. The thicker the insulation on the boot, the higher the gram value. You can find insulation ranging from 200 to 2000 grams based on your seasonal needs. Boots with 200 grams of insulation are best suited for the mild cold, whereas 2000 grams is for extremely cold weather conditions. Keep in mind the more insulated the boot is, the heavier it will be and the more difficult it will be for you to walk.
Comfort
Comfortable boots can save your feet from a world of pain. When buying boots, comfort should be the first box you check. Always buy a size that fits your feet. Don't make the mistake of buying a smaller or larger size. Also, make sure that the size will remain comfortable even after wearing thick winter socks. Additionally, check the flexibility of the insoles and toebox. Bend the show outwards to inspect flexibility. The shoe should bend just slightly if it has good support. Try on the pair of shoes you like and walk around the store. Stand on the tip of your toes and check if there is enough space for your toes to expand. They shouldn't touch the tip of the shoe. In the same position, check if the heel is digging into your feet.
Waterproofing
Waterproof boots are a must-have for rainy conditions or hunting in wet areas. Waterproof boots will keep your feet dry even when fully submerged. Luckily, most boots come with a water-repellent coating. If you don't have waterproof boots or if the coating has worn off, you can waterproof them yourself. You can waterproof your new boots with a silicone spray and your old boots by applying a wax sealant. Buy a spray that is appropriate for the material of your boots. Make sure to thoroughly clean and dampen your boots before treatment.
Questions and Answers About duck hunting boots
Do I need camo boots for duck hunting?
For most people, duck season usually rolls around during the colder months. For hunting waterfowl such as ducks, camo boots are a good idea but not an absolute necessity. These help you remain hidden from the flock, but there is a good chance your feet will be underwater and thus hidden anyways. You can browse footed waders if you decide on wearing a camouflage outfit.
Is it better to buy boots bigger or smaller?
Your boots should neither be too big nor too small – instead, they should be the right size. If your feet are too large for the shoes, it will cause blisters. But, a full size larger may not be fitting enough and might cause you to fumble and trip. However, if you have wider feet than the average folk or are in between sizes, opting for bigger is better than smaller. You can't adjust a tight fit with a bigger size, you can also use insoles or even socks to make the shoes fit comfortably.
How long should hunting boots last?
High-quality hunting boots, albeit expensive, can last a lifetime. Even if the hunting boots aren't exactly top tier, a good pair can last a decade. In the end, it depends on the quality, maintenance, and frequency of usage. However, proper care and storage is required to keep the hunting boots in good condition. You might have to replace the sole from time to time.
How heavy should hunting boots be?
Weight depends on the season in which you will be hunting. If you're going to be hunting in the summer or walking a lot, then two to eight hundred grams will work and anything heavier will be a drag. But in the winter, you will need insulation on your hunting boots to keep warm. In this case, get tough and heavy duty boots that weigh at least a thousand grams. However, do not get too heavy a pair if it will tire you out too easily while walking due to the immense weight.