Hunting boots are an essential piece of gear for all hunters. Without high-quality boots, hunters would be unable to travel across unstable terrain or wait for game in cold or wet regions. However, some hunting boots can easily become heavy over time due to the several layers of insulation and thick soles many have. Luckily, not all hunting boots are heavy. We took a look at some of the best-rated lightweight hunting boots on the market right now and have listed them below.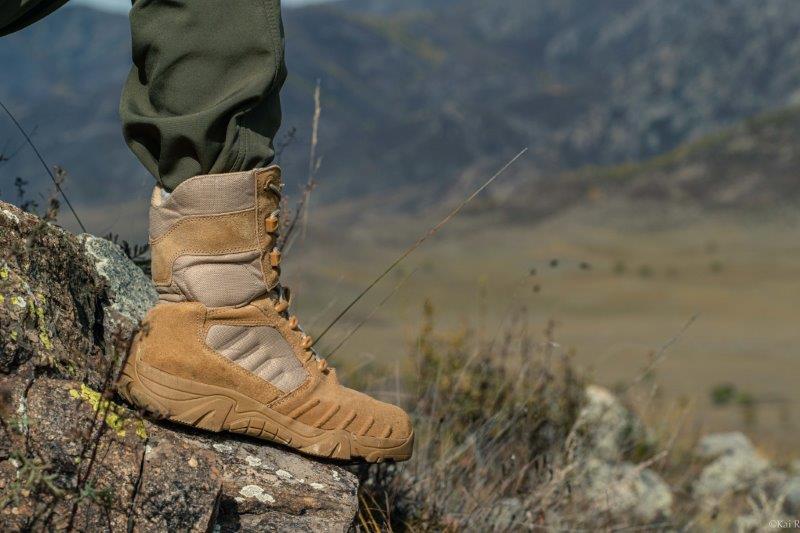 What are the Best Lightweight Hunting Boots?
We have compiled for you the top 7 Best Lightweight Hunting Boots in 2023. In this article we go through the products that we have used ourselves, checked what other users thought about them and we ranked them accordingly.
With years of experience with boots lightweight for hunting and having used several lightweight hunting boots you can trust our review.
Moreover, you can scroll to the end of this review to see our mini buying guide as well as the answers to some of the frequently asked questions about lightweight hunting boots.
Specs
Price: 💲💲 (fewer 💲 = cheaper)
Weight: 4.28 pounds (1.94 kg)
Waterproof: Yes
Material: Polyurethane with Neoprene Insulation
Insulation: Yes
TIDEWE Waterproof Hunting Boot for Women are made using highly durable polyurethane material. The boots are tough and suitable for rugged outdoor use. These come with self-cleaning outsole wraps that make them ideal for snow and muddy conditions. The upper mesh is made using breathable materials so the boots can be used in dry and warmer weather as well. 6mm neoprene insulation provides optimum waterproofing.
The TIDEWE Waterproof Hunting Boots for Women do have some design defects. The boots are tight around the calf area that make them uncomfortable to wear. Moreover, substandard manufacturing practices mean that the shoes do not last long.
Pros
Self cleaning outsole wraps ideal for use in mud and snow,
Highly durable polyurethane material provides optimum performance in rough conditions,
Better air circulation and temperature regulation with breathable mesh,
6mm Neoprene insulation make these boots tough and waterproof.
Cons
Boots do not last long due to substandard manufacturing,
The design is a little tight around the calf causing discomfort.
Specs
Price: 💲💲💲💲 (fewer 💲 = cheaper)
Waterproof: Yes
Material: Neoprene, Rubber
Insulation: Foam, Fleece, and 8mm Neoprene
Snake Protection: No
With an 8mm neoprene build and a 2mm foam lining under the footbed, the Muck Arctic Pro Snow Boot is designed to keep you fully warm. Apart from keeping the cold out, it keeps the heat in, ensuring you stay warm.
Despite the layering, the boot is flexible and adjusts its shape according to your feet to prevent blistering. The tough Spandura protects the boot against wear and tear, but the camouflage print quickly fades. Apart from that, the boot is highly durable. The Bob-Tracker outsole adds to the boot's durability and provides a good grip on most terrain.
In our opinion, this lightweight boot can satisfy most hunters.
Pros
Well insulated against low temperatures,
Cushioned sole for comfort,
Provides good traction,
Reinforced in the instep, heel, and Achilles area for support
Cons
Camouflage print wears off,
Not comfortable for wide feet
Specs
Price: 💲 (fewer 💲 = cheaper)
Weight: 1.85 pounds (0.84 kg)
Support Height: 6 in or 8 in
Waterproof: Yes
Material: EVA, rubber
Insulation: No
Snake Protection: No
The Manfen Women's Hiking Boot feature a molded ankle support and a choice of a 6-inch or 8 inch shaft from the arch. The material is constructed with a waterproof technology to keep feet dry in wet environments. They are made from EVA which makes them lightweight and durable. They have a rugged rubber sole to grip onto all types of terrain and a rubber toe cap for added protection. These boots come in a variety of colors and even a camouflage pattern. Due to the durable nature of the material, they can be quite stiff until you have had a chance to break them in. It is also recommended to get a size larger than you normally wear as they run on the smaller side.
Pros
There is adequate arch support,
They are available in a variety of colors and patterns,
Waterproof and breathable material,
Excellent traction
Cons
Runs small,
Material is very stiff
Specs
Price: 💲💲💲 (fewer 💲 = cheaper)
Waterproof: Yes
Material: Rubber, Neoprene, Ethylene Vinyl Acetate
Insulation: 5mm neoprene/ 400G
Snake Protection: No
The Heisa Apollo Pro hunting boot might appeal to most hunters. This practical boot delivers comfort and functionality at a very reasonable cost. With this boot, you can comfortably hunt fish and fowl alike with little resistance. A breathable inner mesh wicks away moisture and sweat, providing additional comfort.
Comfort is not all; the boot protects against obstacles, and the memory foam sole supports the ankles. The boot also has neoprene insulation at the claves, unlike others. You will also find an adjuster on the calves to fit your size.
The boot is scent-free for completely camouflaged when hunting. The quality of the camouflage print is a bit low but compared to how warm and comfortable the boot is, it can be dismissed.
Pros
Well insulated against the cold,
Exterior Rubber Heel cup for support,
Additional neoprene insulation for calves,
The lightweight, rugged sole provides traction
Cons
Might need additional insole,
Has low grip on wet rocks
Specs
Price: 💲💲💲💲 (fewer 💲 = cheaper)
Weight: 4.25 pounds (1.93 kg)
Waterproof: Yes
Material: Rubber with Neoprene Insulation
Insulation: Yes
HUNTSHIELD Men's Neoprene Muck Boot are a nicely designed offering with camouflage pattern that blends into the surroundings easily. The boots can cope with cold weather thanks to neoprene insulation that retains body heat. The elastic cuff makes for a hassle free day to day use, providing a secure seal and added protection. The boots come with a polyurethane insole and EVA midsole offering ample shock absorption and stability. However, the shoes have some sizing issues making it a hassle to find the right fit. There is also room for improvement in manufacturing to make them more durable and long-lasting.
Pros
Camouflage pattern blends into the surroundings,
Elastic cuff for a secure seal and added protection,
Neoprene insulation provides excellent heat retention,
PU comfort insole & EVA midsole provide extra stability & shock absorption,
Added comfort and warmth with scent free fleece lining.
Cons
Smaller than normal sizing make it difficult to fit,
Poor manufacturing means that the boots do not last long.
Specs
Price: 💲💲 (fewer 💲 = cheaper)
Waterproof: Yes
Material: Ethylene Vinyl Acetate (sole)
Insulation: 400 gram Thinsulate
Snake Protection: No
If you prefer agility during your hunts, the R RUNFUN Lightweight boot might be to your liking. The boots are highly comfortable right out of the box; you won't need to break them in.
The waterproof feature holds true, but only up until the lining; if water rises beyond that, you will have soggy feet.
The 400gram Thinsulate insulation will keep your feet warm in 30-40F. Along with protection from the cold, this hunting boot also offers protection from falls. The boot's construction is good for the price, but it would be best to use it for milder terrains as the stitching might not hold on rough terrains.
This boot might be good for early-season hunting.
Pros
Breathable materials for comfort,
Anti-slip outsole for protection,
Durable construction for bushy terrain,
It comes with a long-term warranty
Cons
Weak in-soles,
Stitches might not hold on rougher terrain
Specs
Price: 💲 (fewer 💲 = cheaper)
Waterproof: Yes
Material: Rubber
Insulation: 2,400 gram Thinsulate
Snake Protection: No
If you are not afraid of hunting in the biting cold, the Guide Gear Men's ankle-fit boots might be for you. These boots come with Thinsulate insulation of 2400G, warm enough for freezing temperatures. With these shoes, you won't have cold feet while sitting in a stand.
The shoes provide added comfort thanks to the cushioned sole, which is also environmentally friendly. Additionally, the boots also provide decent ankle support.
The boot's construction is thick and strong enough to bear wear and tear. The camouflage lining of the boot seems a bit poor, but the overall production is durable. Overall, it is warm, strong, and comfortable for winter hunts.
Pros
Calf expands to fit your size,
Insulated for extremely cold weather,
Shin guard protects from obstacles,
Scent-free for camouflage hunting
Cons
Not insulated from the heel and up,
The camo layer might peel off
Verdict
To summarize, we have gone through dozens of lightweight hunting boots and decided that 7 are worth your consideration. Out of these, the absolute Best Lightweight Hunting Boots is TIDEWE Waterproof Hunting Boot for Women which we highly recommend as our overall best.
If money is not an issue, you can consider Muck Boot Men's Arctic Pro Snow Boot as this is our Premium Pick.
Otherwise, there's no shame in spending prudently, Manfen Women's Lightweight Hiking Boots is the Budget Option.
Our other reviews you may find useful in your research:
What You Should Know Before Buying lightweight hunting boots
Boot material
The type of materials used in crafting your boots determines their comfort and durability. You will find all kinds of boots made from different materials like neoprene, rubber, and leather. Each serves their own purpose, and the right material depends on what use you have for them, all year round.
If you plan on buying hunting boots, you can either opt for field boots or rubber boots. Both have their merits depending on the situation and the terrain and climate you are walking in. If you're looking for breathable boots, field boots (leather boots) are the way to go. But if waterproofing is what you want, get rubber boots.
Neoprene
Neoprene is a synthetic rubber commonly found in the linings of wet suits. You will also find many boots made from neoprene. The material is like that of rubber boots, but better. Neoprene is more durable than rubber and will keep your feet warm in the harshest winter. This material is efficient in performing its function of keeping the cold and water out and warmth in. Not only that, but it also makes for comfortable boots for long days of walking and hiking. The outsole on these boots is usually slip-resistant – ideal for snowy and icy conditions.
Leather
Leather boots are comfortable and stylish – making them the choice of many. But, that comfort comes at a price – these boots are heavier than the rubber-based boots.
Leather boots are great for outdoor activities like hunting and hiking as they are durable and odor absorbing. The weight can also help provide support to plunder through the overgrowth. However, these boots will eventually exhaust you if you plan on covering large distances.
If you are looking for a breathable or waterproof pair of boots, thick leather may not be the best option. However, boots made from ligther leather are more breathable but still not waterproof.
Rubber
Rubber boots are also a popular choice among hunters. Why? Because it is waterproof, easy to clean, and durable. Moreover, rubber boots don't have a scent which makes it ideal for hunting and staying camouflage. While rubber boots do a good job of keeping your feet dry, it is better to get some that have an insulation lining. The lining can be made of fabric or padding – which adds to the comfort of the boot.
However, if you plan to walk steep, rough terrains or long distances, you might find these rubber boots uncomfortable. But if you're going to be walking shorter distances and prioritize a lack of scent in your shoes, rubber boots are a good option.
Flexibility
When buying boots, keep your purpose and shoe preferences in mind – including whether you are more comfortable in stiff or flexible boots.
If you plan to go hiking, on-trail, a lighter, more flexible boot might appeal to you. Whereas a hunter, who is often off-trail, might prefer a heavier and stiffer boot. It all depends on the weather, terrain, and activity.
But, the best option would be to go with a boot with medium flexibility. One that isn't too bendy or too stiff. These will give you almost the same support and solid footing as rigid boots; while still making it easy to move on a steep area.
Questions and Answers About lightweight hunting boots
How do you keep hunting boots waterproof?
Waterproof boots are an excellent choice when you are hunting in wet areas. However, you must look after your boots to maintain this feature. Over time, dirt and grit will cause the boots to lose their waterproof layer.
To avoid this, clean your shoes as soon as possible. If you notice water leaking through the seams, clean them as soon as possible and apply wax.
Before applying wax, heat your shoes using a hairdryer, making sure to keep it at a distance of at least 6 inches. Sparingly evenly layer the wax, and let it dry for an hour. Then, buff off the boots using a clean cloth.
Why should I need lightweight hunting boots?
Hunting boots are usually on the heavy side. Factors like the material and insulation on the boot can affect how light or heavy the boot is. But, if you like to be light on your feet when hunting, you might want lightweight hunting boots. Lighter hunting boots are also a good choice for the summers or when you will be walking for long stretches. However, if you are hunting in the fall or winter season, don't forgo insulation for lightness. You must have some insulation to keep your feet warm in the colder seasons.
How do I keep my feet dry when hunting?
Keeping your feet dry and warm is crucial during a hunt. One obvious option is waterproof boots or applying a waterproofing treatment. Another tip is to wear two layers of socks. Wear moisture-wicking socks first, and then wool socks as a second layer. Try to avoid cotton socks. Make sure that wearing two socks doesn't tighten your feet in your boots, as this can constrict blood supply.
How long should hunting boots last?
High-quality hunting boots, albeit expensive, can last a lifetime. Even if the hunting boots aren't exactly top tier, a good pair can last a decade. In the end, it depends on the quality, maintenance, and frequency of usage. However, proper care and storage is required to keep the hunting boots in good condition. You might have to replace the sole from time to time.