Continuing our adventures in Sydney, our next stop was visiting the Blue Mountains, courtesy of the ridiculously awesome team at Coast Warriors – a budget backpacker tour company operating out of Sydney.
The Blue Mountains are located at the edge of the city's metropolitan district, consisting of a range of peaks that have a distinctive blue haze surrounding them when viewed from distance.
There is a complex scientific explanation which would bore you to tears, but it is from this natural phenomenon that the region takes its name.
It was time for us to flee the hustle and bustle of Sydney, and get a good, solid fix of nature. And heaps and heaps of fun.
Giggling silly!
As long as we've been on the road – and indeed arguably for the vast majority of our lives – we don't think we've ever laughed as hard as the day we boarded Trudy – the trusty tour truck. Well, she's actually more of a bus – but that wouldn't have sounded as good.
We then proceeded to giggle until our sides ached, as the team at Coast Warriors ensured ourselves and other guests had an unforgettably entertaining day. The hilarious stories and anecdotes kept coming for the duration of the tour and long into the evening. These guys know how to put on a show!
Coast Warriors!
Two brothers and a best friend decided that the rat-race wasn't for them, quit their day jobs and set up the Coast Warriors. You only have to read their bios on their website to appreciate how fun these guys are, so you know you're in for a good time.
Brothers Zac and Nico spent the whole day on the tour with us, and we met Trent in the evening for drinks.
The boys run five tours, including weekend-long excursions, beach tours, and even a 22-day monster road trip.
We chose the Blue Mountains option and set off from central Sydney at 0730 hours.
Trusty Trudy and Vegemite!
Our mode of transport came in the form of Trudy, their awesome camper van. She's kitted out with everything the group would need for the trip, and decorated in dozens of Australian flags (as you might expect) and stickers of national landmarks. Snacks and drinks were stored in the back, and the guys gave us our first experience of Tim-Tam cookies and Vegemite!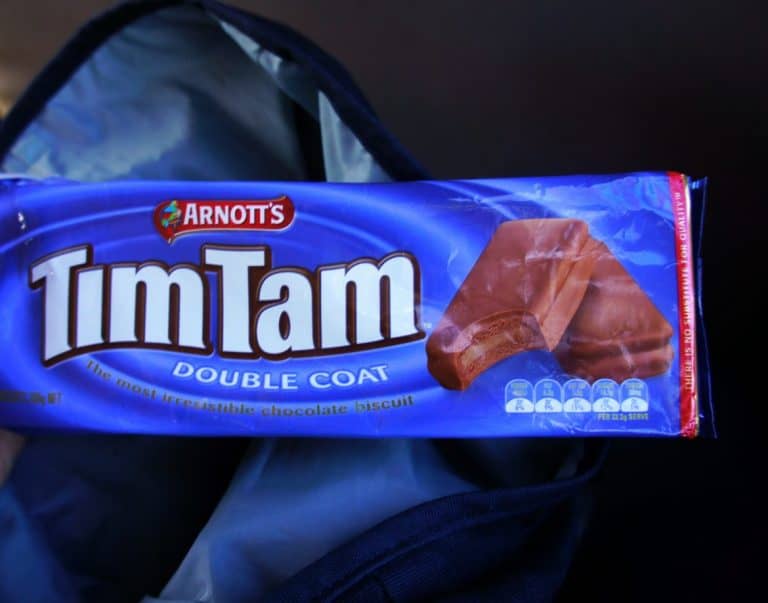 Vegemite is similar to Marmite – which is from the UK – and is a yeast extract. You either love it or you hate it – and Cez thought it was abominable. Agness found it a little tastier, but wouldn't eat it on a regular basis. It was actually used as a forfeit in some of the games!
Fellow guests!
Once we'd settled comfortably on board our speed, we introduced ourselves to our fellow guests. There were three girls from the US who were co-workers in a hospital, and it was their first trip together. An Aussie guy who shared our passion for keeping fit, hiking and all things gym. A South African who had relocated to Perth and enjoyed a party with Cez that evening.
And last but not least a young German who had spent the past 10 months traveling all over Australia – and he was only 19! It was to become one of the coolest groups of travelers we've ever had the pleasure of sharing a day with – and we normally shy away from organized tours. Into the mix was Nico and Zac, our guides, and they made sure everyone got on like a house on fire.
Roos!
Around 1 hour into the drive, we came to a spot with an opportunity to see Kangaroos!
Being from Poland, we've obviously never seen one in the wild, so it was a real thrill for us to experience them for the first time.
Similar to an Australian never having seen snow! Some of the animals were quite shy and bounded away as we approached, but there were plenty who wanted to be the center of attention and posed for pictures. While we didn't touch them, we were still able to observe from a close distance, and it was amazing. We even got an opportunity to throw a boomerang while we were there, before having breakfast and delicious coffee (we're kindred spirits with Aussies here – they love their java). When we were all fully fueled up, we set off on the hike.
Mountains!
And what a hike it was. We had the opportunity to see the famous Eucalyptus trees hanging dramatically from the slopes of the Jamieson Valley.
We gasped at the stunning beauty of the dividing mountain range. It was thrilling to witness the iconic Three Sisters peaks at Echo point (the classic picture-postcard of the region) and we even made it up to the 187 meters tall Wentworth Falls and Katoomba Cascade.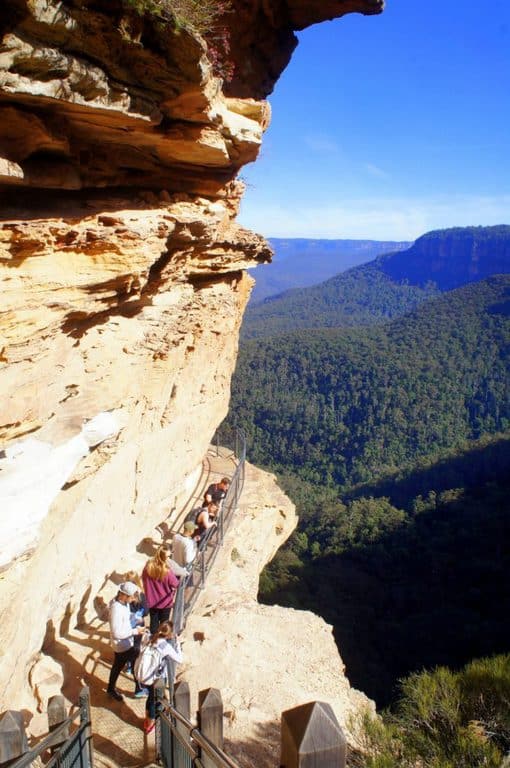 It was a packed day of adventures; all accompanied a hilarious soundtrack of stories and jokes, which made for an incredibly entertaining tour.
The hike itself wasn't strenuous and was actually spread out over the whole day. There was certainly more emphasis on fun rather than fatigue!
Shaggy Dog Stories!
Australians are known for their tall tales – because much of the rest of the world truly believes they all ride kangaroos to work. Zac and Nico kept us laughing constantly with their yarns, some of which were true, others not so true. Agness was falling for everything – and it's lucky she's got Cez around to tell her right from wrong – because she believed every single word!
As well as their tall tales, the boys were extremely knowledgeable about their country and fed our brains with interesting facts and stories as we traveled through each mountain town. You just had to figure out what was real!
Barbecues!
All this laughter and hiking had worked up everyone's appetite, and Coast Warriors did not disappoint.
We were treated to the world famous Aussie barbecue, with all the trimmings – including our first taste of kangaroo! It wasn't as chewy as we thought it might be and actually really delicious.
But of course, the boys couldn't resist joking that it was from the kangaroos we saw in the morning – they'd stop at nothing to get a laugh! But worry not veggies – for if you don't eat meat, you can request delicious alternatives, and plates were always well stocked with grilled greens.
Games!
There was never a dull moment in the van, as we ate up the kilometers playing game after game, with the odd quiz thrown in for good measure. One of our favorites, involved three people each telling a separate story, but only one of them was telling the truth. We learned some extremely interesting things about our hosts and fellow guests – and not all of it is printable!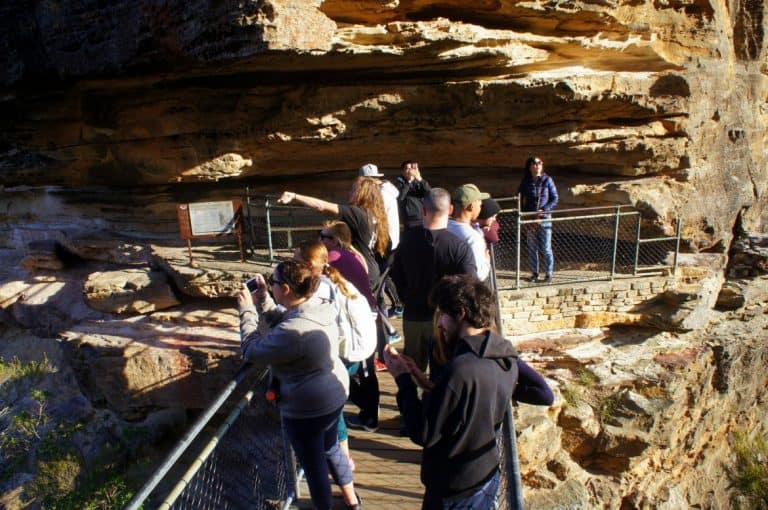 Maybe we'll tell you if we meet you in person. It was particularly hilarious when a story was so unbelievably fake – but then it turned out to be true. As you can imagine, Agness was terribly confused!
Beer o' Clock!
To wind down our incredible day, the boys took us to a bar back in Sydney, and while we were utterly exhausted, we still enjoyed free portions of fried potato wedges and chicken wings. As if we hadn't already eaten enough! We exchanged contact details with everyone, and although Zac and Nico asked if we wanted to go on another tour with them – we had to reluctantly decline – as travel plans did not permit.
Still, it was one of the best days in Australia, with some outstanding company, and it will live long in the memory. The food and drinks to round off the day were the icing on the cake.
Reflections
We parted ways with our new found friends and returned to home base. It was a tour unlike any other, extremely well organized and run, with guides more akin to friends than they were guides. We clicked with all our fellow guests and felt so integrated with everyone, that it was as if we'd known them our whole lives. It's going to be hard to top a day like today, but don't worry friends – we're going to try!