No doubts, Hong Kong is a city which quickens the pulse. These all skyscrapers, neon lights
, five-star hotels and luxury shops make you feel posh. However, for some reason, I didn't enjoy it as much as Xi'an or Beijing. I think because I didn't neither go shopping nor dine out in expensive restaurants and that's the main attraction of this city. I went to Hong Kong as I needed to sort my Visa out however I went sightseeing as well. I spent there only 4 days but days full of adventure and fun. Surprisingly, HK is not as far away as I thought. On Friday evening I took an overnight train from Xiushan to Guangzhou and after 16 hours I was there. Taking into account that last time my Shanghai trip took about 25 hours, 16 hours was not that long. When I got to Guangzhou I had to take a taxi to another train station and take a fast speed train to Kowloon. The train was very fast and comfortable so after 2 hours I was in the city centre of Hong Kong. The weather was great, sunny, not too hot, and not too humid. It was November so I took some warm clothes which I didn't need at all. In terms of language and history, HK is so different from China. All teachers in my school say that are so proud of HK being a part of China but honestly it's like a different place and looks like it has nothing to do with China. Almost 95% of Hong Kongers are Cantonese- speaking Chinese but you can see that everyone can speak English, even people who sell some stuff on the street so there was no problem with communicating with people at all. There were also many exchange points everywhere if I needed to exchange Chinese Yuan to Hong Kong dollars.
Hong Kong is divided into four main areas: Hong Kong Island (the one I visited), Kowloon (my train destination), the New Territories and the Outlying Islands. Most of HK's sights, the ones I have seen, were distributed in the northwestern part of Hong Kong Island and southern Kowloon Peninsula. I spent only one day on Hong Kong Island and visited Man Mo Temple (a place of worship and a court of arbitration for local disputes) and Hong Kong Park (a peaceful place to relax and chill out). Most of my time I spent in Kowloon. It is considered to be the most charmingly eclectic district for the sake of its population comprising Indians, Chinese and Filipinos. My first destination here was Tsim Sha Tsui East Promenade and Star Ferry which really reminded me of Shanghai Bun Promenade. Just the opposite there is an old Kowloon-Canton Railway clock tower, a landmark of the Age of Steam. I have also passed Hong Kong Cultural Centre and the Avenue of Starts while strolling. This day was very hectic for me as I wanted to see as much as possible planning to go to HK Disneyland for all day and then go to HK Island to see the Peak Tram (unfortunately I didn't ménage to visit it as there was no much time left). The Disneyland was quite small in comparison to the ones in America or Paris but I had a great time and felt like a kid. I will never forget it. I had such a good time! At night I visited Temple Street Night Market and practice my bargain skills :-). I tried some local food, mostly seafood.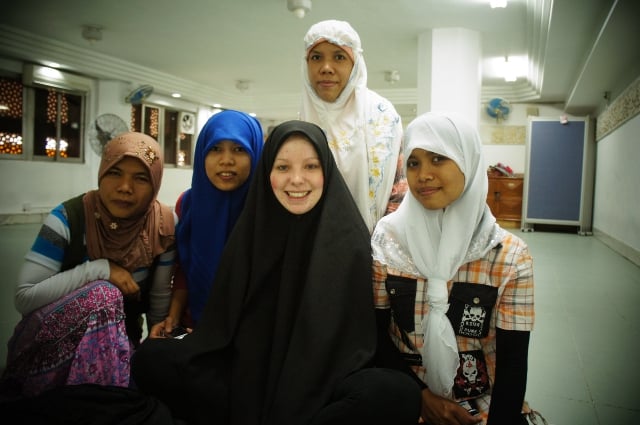 Next day in the morning I went to Kowloon Park to read my Lonely Planet book and make up my mind where I was going to go. Firstly, I visited Tin Hau Temple, a large sanctuary, one of the most famous temples in Hong Kong, followed by Hong Kong Space Museum and the Art Gallery. The most interesting for me was Kowloon Mosque and Islamic Centre though. I spent there hours and hours talking to Islamic girls who explained me the principles of their religion. Before I entered the mosque, I was asked to take my shoes off, then a man who was in charge of the place showed me around, let me go to every single room and at the end of our trip he asked some Islamic girls to look after me till 1pm as it was a pray time and I was so excited to see people pray. The girls were nice and friendly. They covered my face with a piece of a black material so that I could look more like them. We had fun, I told them some adventurous stories which happened to me in China, we took some pictures and exchanged our details. We are still in touch and I promised them to visit them again when I go to HK next time.
At night, I visited the promenade again to see the light show and enjoy HK at night. The view was of course amazing. Unfortunately, it was my last day in Hong Kong. Before I departure, I bought some nice souvenirs for my students and teachers such as chocolates, wine, cigarettes and t-shirts.
When I went back to school my students were so happy to see me. They were all screaming: "Teacher, teacher, I love you", "Teacher, I miss you" and "Teacher back"! They just made me laugh. Junior 1 leader booked a dinner in a restarant for me and teachers to celebrate my Hong Kong return :-). That was so nice! Hong Kong trip was good but I was more than happy to be back home. There are some pictures available in the gallery.
Cheers,
A.