Do you get excited when you travel? Do you feel an urge to explore more and more of each and every culture and the different cities you visit? If so, maybe this rooftop guide will help you find the best place to dine and mingle with your travel buddies, or even meet new exciting local people on the spot. Here are the 7 best rooftop bars.
#7 Marina Bay Sands Skypark – Singapore
Did you know that you can find the world's largest infinity pool in Singapore? Fun fact, it's part of the Marina Bay Sands Skypark interior, where a breathtaking view overlooking Singapore is accompanied by an impeccable list of drinks and a great menu to grab a bite from. Mark this place down with a visit and make your reservations ahead. Be sure to bring a swimsuit with you. To use the pool, you should be a guest of the hotel, so keep that in mind as well.
#6 The Presslounge – New York
New York never sleeps. Never. So does the Presslounge. Set a date and join the fun on the rooftop, where you will be able to relax while watching the Hudson river. The majestic skyline is a small part of all the fun you will be experiencing while the professional staff takes care of your needs. The modern finish of the terrace makes it perfect for party events.
#5 Wooloomooloo – Hong Kong
China is colorful and full of excitement. The Asian country hides amazing spots and sure does have a view to take your breath away.
If you are wondering what to do on a hot night in Hong Kong, and you are in a mood for a good time, then the Wooloomooloo rooftop bar is the place for you. Situated in the middle of a skyscraper cluster, Wooloomooloo offers a great view and one of the best steakhouses a floor down.
#4 Majestic – Barcelona
It is exactly as it sounds – majestic. This rooftop bar is a notable option between a bunch of others, all of them great.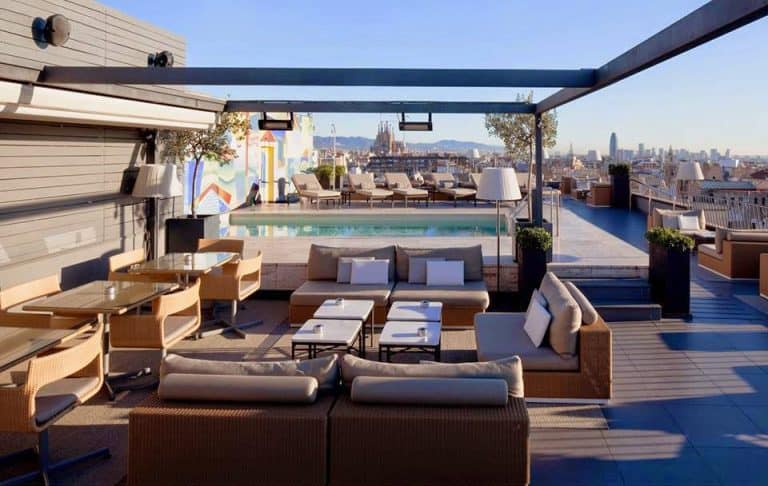 It has a wonderful atmosphere that the live DJ sets offer to the bar's visitors. You can definitely indulge on some relaxing time in the pool if you are a guest of the hotel. A huge plus of this rooftop bar is that the terrace is open all year round, so if you are still wondering where to go on New Year's Eve, be sure to check this place out.
#3 SushiSamba – London
The British capital has a list of places that are absolutely mandatory if you are doing a bar crawling around the city. SushiSamba is a rooftop bar with a dazzling view and the highest rooftop bar in Europe. Surrounded by historical buildings and monuments, SushiSamba offers a first-class Asian cuisine and great service. It's perfect for afternoon drinks or a business lunch. If you are looking for the perfect spot to take a London skyline picture, stop by this one.
#2 Le 360 – Cannes
France is the country of love and the second most popular city right after Paris is probably Cannes. This amazing and picturesque city offers an endless skyline of beautiful and historical buildings, as well as a large entertainment list to choose from. Le 360 is a super classy rooftop bar, offering a 360-degree view of the city, overlooking the Mediterranean Sea. The spacious terrace often hosts jazz events and is known as the best possible viewpoint of Cannes.
#1 Flair at Ritz Carlton – Shanghai
When visiting Shanghai, be sure to stop by Flair at Ritz Carlton. This place ranks amongst world's coolest rooftop bars and sure does have a lot to offer.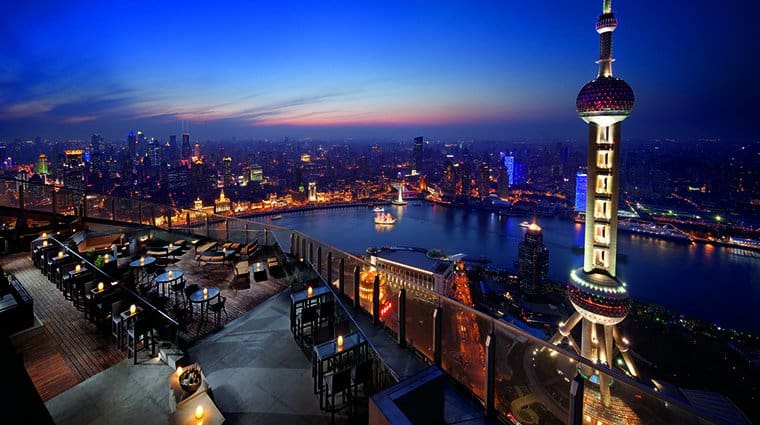 With its stunning views over the skyline of Shanghai and an impeccable service, you can rest assured you will enjoy your time spent there. Book your visit in advance, as it is quite popular and impossible to find a table without a reservation.
In which of these rooftop bars would you like to have a drink?