You can now download this article as an app and get an offline map so you can go and see these places yourself.
Cancun is a coastal resort in Mexico and it is delightfully labeled the 'Mexican Caribbean'. The eastern coast is incredibly popular with tourists looking for a sunny break. The area is known for its stretches of white, pristine beaches and customer amenities that really cater to all who visit its delectable shores.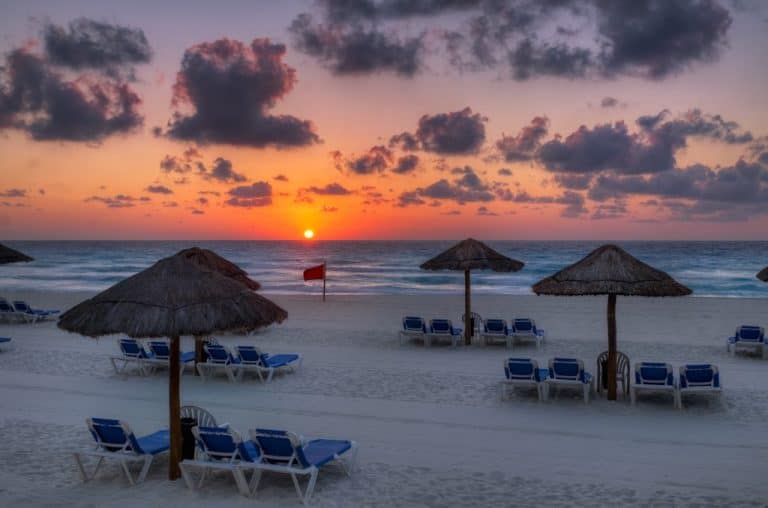 So what is there to do after enjoying your Cancun flights? Firstly, you'll need somewhere suitable to stay and considering Cancun is a vast resort town, there are plenty of options.
T

he Casa Magna Marriott Cancun Resort
It is one such option, high in luxury and class, offering guests a variety of rooms with balconies and other services, such as on-site restaurants and a steakhouse.
The Oasis Cancun is a cheaper option with the tight budget, popular with a younger generation seeking a break. It can get busy during the peak season but has a lot to offer, including a large pool with a swim-in bar. There is an area in Cancun aptly labeled the Hotel Zone. This town is the primary sources of thriving entertainment. Inside is a choice of diverse restaurants, serving local delicacies as well as fast-food offerings such as pizza, pasta and burgers. Restaurants elsewhere within this bustling place include Mikado, a Thai and Japanese-styled establishment, and The Cove Cancun which specializes in seafood, making the most out of the town's coastal site.
Beaches: where to go?
For many, they took the full package including their flights to Cancun, Mexico. Usually equate to one thing and one thing only: beaches. Seeking out the best beach, it is not hard considering. They all have their own advantages.
Playa Las Perlas
Many like to choose Playa Las Perlas as it sits opposite Isla Mujeres as this is the heart of the resort and usually offers a calm aquatic experience with plenty of beach fun. This Pearl Beach is the first heading east from El Centro along Boulevard Kukulcán. It's very small and cozy thus can be a perfect spot for families. It has a lot of restaurants lining the sand and there is a small store beside that resort where you can buy sandwiches and drinks.
Location: Hotel Zone – Boulevard Kukulcán – km 2.5
Getting There By Bus: Blue Line Stop #84, Green Line Stop #89
Playa Linda
Other travelers and holiday maker favorite Playa Linda, which offers abundances of boating tours around the popular coastal area, and Playa Caracol which is ideal for younger families.
Location: Hotel Zone – Boulevard Kukulcán – km 4
Getting There By Bus:Blue Line Stop #80, Green Line Stop #81
Aside of these tantalizing beautiful beaches, plenty of other exciting activities to get up to during Cancun holidays, and The Moon Spa and Golf Club are a wonderfully whimsical golf course that mixes a traditional golf course with the native terrain and vegetation, creating something wholly unique for budding golfers. Dolphin tours are also available from some local ports and organizations such as Delphinus Dreams. Cancun Scuba Diving offers classes and introductions to beginners and pro's alike. It's crystal blue water, a clear shade of turquoise and a whole host of exotic, vibrant sealife to be seen. A must for anyone looking forward to making the holiday.
Who wants to go to the beach now?