Fresh from our recent escapades in the beautiful Maldive islands, there's no rest for the wicked as we touch down in Sydney, Australia for the next leg of adventures. Sydney is one of the most recognizable and popular cities in the world, and – interestingly enough – rapidly becoming one of the most romantic.
Resulting from in-depth research in 2016, Sydney came second as the most popular place on earth to propose! Perhaps this is why several of our fellow passengers mistakenly believed myself and Cez to be on our honeymoon!
What's going on?
Allow me to explain. We were visiting Sydney to see the city away from the queues and crowds and from the special vantage point of the harbor bay water.
We'd enlisted on the 52 foot motor yacht, which sails under the flag of Sensational Sydney Cruises – who offer specialized, boutique boat trips to experience the city a little differently. Before embarking, you meet your captain and host, as well as your fellow passengers who were going to share the day with us. We had to convince them we were not married and just traveling as friends!
Setting sail
But this is certainly something you could consider doing as a romantic gesture with a special someone. It was a wonderful day and we met some lovely, lovely people.
We set sail at 12.30 in sunny weather, and spirits high. Our fearless captain, Shane, and our friendly host, Margie, gave us all a very warm welcome and we embarked from a floating pontoon between the Overseas Passenger Terminal and the Park Hyatt.
Anchors aweigh!
Unlimited refreshments!
After a short safety introduction – we didn't want to be losing anybody overboard – we enjoyed some refreshing drinks and got to know everybody. There was a nice selection of local beers and wines, as well as fizzy drinks and water for those who didn't want to take advantage of the unlimited bar – but everything was included.
Margie was a really genuine host and guide, always making sure everyone's glass was full and people were having a good time. The hostess with the mostess!
Telling stories
And boy could Margie spin a yarn! She captivated every passenger with her stories of Sydney, prices of boats and houses, where certain celebrities live, who owns what and where. It was fascinating, informative and extremely entertaining.
Maybe one day we'll own one of these boats too and Margie can talk about etramping!
Seeing the sights
We toured all the sights over the course of the next two hours (out of four hours we had with them in total), including fantastic views of the world famous floating opera house and Sydney Harbor Bridge, which was truly spectacular.
But all this sitting around enjoying ourselves with free drinks had worked up an appetite, and we dropped anchor for a delicious lunch, prepared for by Margie, while Shane cooked up a storm on the barbecue.
We gorged on a three-course dining experience of fresh shrimp and rocket salad, grilled beef steak, and salmon, rounding off with a local cheese board with grapes and all the trimmings.
My mouth is watering as I write this – and I bet yours is reading it!
Afternoon activities
After lunch, we could get up to our own devices.
Some people relaxed in the sun with drinks and told some tall tales, some opted to go kayaking, while others decided to try their hands at fishing with the captain. Cez gave this a go – but he couldn't catch a cold! Still – it's the taking part that counts right?
We usually enjoy a swim too – but we didn't bring any gear with us because it was going to be too cold. Still, our hosts really had thought of everything, and there were swimming suits available if required.
But it was just really nice to sit and enjoy the weather, refreshments and to exchange stories with our fellow passengers.
Meeting our shipmates
There was a total of eight other people on the trip – not including ourselves or our hosts. The team sheet included an older couple from Canada and a younger couple from Germany, and the rest were made up of retired U.S citizens.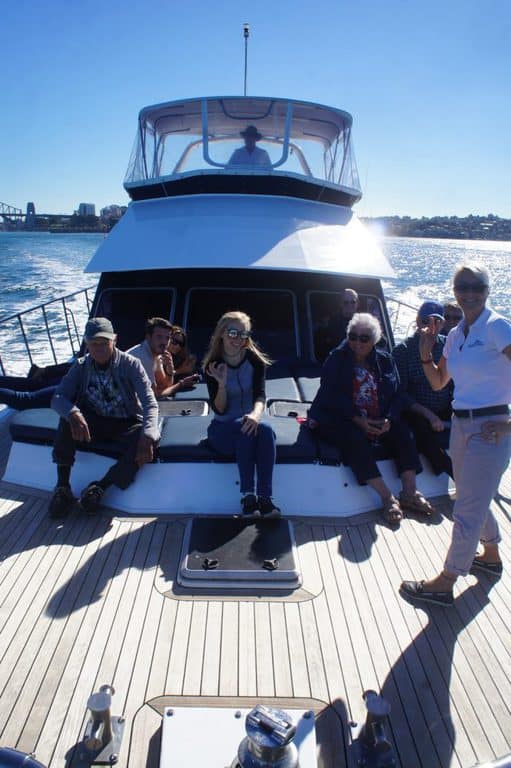 We found ourselves in a wonderful company because everyone was an experienced traveler – and some of them had even managed to visit all continents.
But don't worry friends – that's something that is certainly on our "to do" list!
In the business
Interestingly enough, everyone on board was also connected to the travel industry in some way – so there was never a dull moment or awkward silence. We whiled away the hours exchanging stories, advice, tips, experiences and memories.
And although most of our companions were much older than us, we discovered that it mattered not, and we all really clicked. Age is but a number – and we made some wonderful friends. We just found it utterly hilarious that they all thought we were on our honeymoon!
Back on dry land
But all good things must come to an end, and we docked later in the afternoon. Before parting ways, we all exchanged contact details so we could meet up one day somewhere else in the world and continue making connections and enjoying the company.
Margie was even kind enough to give us some expert, insider tips for where to go out in the city before the captain invited us to join the Sydney cruise should we ever etramp this way again. After a day like today – that's a seriously tempting offer.
How do you like this way of exploring Sydney?