As a country with both unbelievable beaches, breathtaking heritage, and incredible cities, Malaysia is a place you want to visit. And where better to explore the country's history than in its heart: Kuala Lumpur. With its skyline seemingly revolving around the Petronas twin towers, Malaysia's capital is a sprawling hub of modernity and tradition.
Due to Malaysia's location in Asia, cultures and people from across the continent (and the world) have been making their way into this beautiful country for centuries. The result is seemingly a smorgasbord of style and multicultural modernity. The Renaissance by Marriott is an entirely apt name for a hotel in a city like Kuala Lumpur, where cultures seemingly fuse together to create new forms and styles every day.
We went to take a look around Kuala Lumpur and the Renaissance by Marriott hotel, so we could share our experiences with you. To summarize, the hotel not only offers a great location, with access to a bunch of the city's main attractions, but the inside also exudes luxury and class. Keep reading to see what else we thought about this luxury escape.
A Classical Greeting
You'll see the hotel's class as soon as you see the hotel and you're immediately drawn in by the main entrance. Standing out from the rest of the building, the traditional stone pillars looks like they belong in ancient Rome, whilst the large entrance lobby highlights the luxury experience you're about to encounter.
Looking upwards, you'll find a large chandelier hanging from the ceiling, whilst black marble and a classical aesthetic continue to pervade everywhere you look.
The staff are friendly and provide a warm welcome, helping you to get setup and know where everything is. Of course, the hotel is situated in a great location for exploring the city. The Petronas Twin Towers are within walking distance, at just over 1 km. You'll also be able to easily pick up a local taxi and head over to either Kuala Lumpur's famous Chinatown, or down towards one of the city's many other attractions.
The Best-equipped Gym We've Seen in Asia
Once you sign into the hotel and have put your bags in your room, you'll find you have access to one of (from our experiences) the best-equipped gyms in Asia. You'll find a huge array of different exercise machines. There must be something here for you, no matter how you normally work out.
There is a host of treadmills available (it's unlikely you'll ever find none of them free), a huge assortment of weights and barbells, along with some other really professional equipment. If you want to make sure that you still have access to exercise equipment whilst you're out traveling, the Renaissance by Marriott is the place to go.
Olympic Sized Swimming Pool
On top of a brilliantly equipped gym, you'll find the hotel also provides access to an Olympic size swimming pool. The pool twists through the hotel's gardens quite elegantly. After the sun sets, you can see the garden's lighting reflecting off the pools clear, blue water. Palm trees decorate the area, whilst sun chairs and a tropical-styled pagoda overlook the swimming pool. It's a slice of paradise inside Kuala Lumpur's cityscape.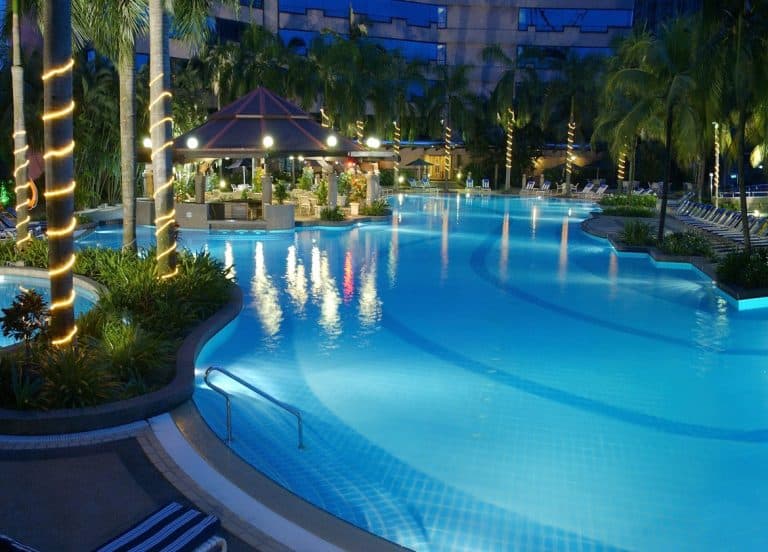 If the Renaissance by Marriott doesn't have enough swimming for you, then head over to Aquaria KLCC for an opportunity to dive with sharks (certified divers only). It's an experience you're unlikely to forget, and it's within walking distance, at just 1.5 km.
Incredible Views
Malaysia is known for its incredible views. Usually, these take place over the ocean, or at least large bodies of water. Kuala Lumpur, however, offers a different type of view. Heading into the Renaissance by Marriott's Lifestyle Club Lounge, the view is incredible. From the hotel windows, you're able to see the Petronas twin towers (and several of the city's other main attractions).
If you do decide to head over to the Petronas twin towers, as already said, it's only a short walk. Head east and you'll be able to go up to the tower's observation deck. Make sure you don't plan this on Mondays because it's closed then, but any other day of the week (except holidays) and you're golden. The towers stand a total of 442 meters tall, and it will cost a standard adult RM85 to get up there. Make sure to book your entrance ticket in advance as only a limited number of visitors is allowed at a time (we had to go twice because all tickets were sold out on our first attempt).
Comfortable and Classy Rooms
Back to the hotel and the rooms themselves are incredibly well presented. A savvy Urban traveler aesthetic seems to inhabit the whole living space, with sleek lighting, sophisticated furniture, and a tasteful coffee maker.
A highlight of these newly renovated rooms is certainly the bathroom with its halo-mirror and brand-new appliances. The beds are super comfortable, with Marriott making them feel extra lavish.
Lying on the bed, it's easy to just sink in and find yourself lost in your thoughts and the comfort…
Heading out in Search of Kuala Lumpur
Elsewhere in Kuala Lumpur, there's still a lot to do. Especially if you want to experience the city's rich food palette! You can head into the city center to experience some of the best dining the city (possibly country, depending on your tastes) has to offer. The Dynasty Restaurant is particularly popular (and close: Eastwing 1st floor ), serving up classic Chinese cuisine with a twist.
For lunch, the all-time favorites are Chinese dumplings or Dim Sum (pro-tip: try the fluffy Charsiew Pau or the crispy Golden Yam Puff). For dinner, we would recommend to treat yourself to an amazing Beijing Duck or other Chinese specialties from the a la carte menu. Alternatively, for a really unique experience, you can head to TEMPTationS, an Asian Malaysian fusion all-day dining restaurant. This place seems to keep the same aesthetic as the Renaissance by Marriott Hotel; classy, sleek, and sophisticated and surprises with a wide array of Malaysian flavors.
Elsewhere, you can visit the Kuala Lumpur city park, go for a stroll, and see the locals going about their daily business. You've also got access to the Kuala Lumpur Tower Mini Zoo. Here you'll find a range of exotic birds, which you can hold and pet to your heart's content.
Once you've finished your stay in the Renaissance by Marriott, you can always head out somewhere else in Malaysia. Might we suggest a visit to Langkawi island?
Where do you think the best place in Kuala Lumpur is?