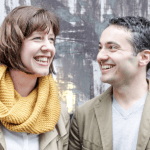 We're happy to introduce you to a lovely duo – Drew and Julie of Drive on the Left – serial American expats. After three years living in London, they are now beginning a new expat adventure in Shenzhen, China. Together, they travel the world and share their experiences. When the suitcases are put away, you can find them scouring local food markets, binge watching shows on Netflix, and doing endless research for their next journey. They are going to share with us a complete food guide to London's best dishes so get ready for the real food porn. Don't forget to follow Drew and Julie on Instagram, Facebook, Pinterest and Twitter and enjoy reading!
We are Drew and Julie of the travel blog Drive on the Left. A little more than nine months ago, we moved out of London, which seems like yesterday to us (we've had a busy few months!). We relocated there as American expats back in 2013, not knowing what to expect about our first time living abroad. After three years, we fell in love with London. Our time there was full of fun, excitement, travel, and to many peoples' surprise, amazing food.
We've been back to London three times since we've moved, we love it that much. London still feels very much like home to us. So as we sit here, beginning our new expat adventure in Shenzhen, China, we've been reminiscing about our favorite dishes in London. And thanks to our recent return trips, which have been packed with as many meals as possible, both new openings and old favorites, the list is ever changing.
Frankly, we had trouble editing this list. Our initial compilation numbered well over 100. That seemed a touch self-indulgent, so we decided to make it a more manageable 25!
These are the dishes that we absolutely love. Some are a bit posh, others are essential cheap eats. Hey, variety is the spice of life, right? And these 25 dishes certainly run the gamut!
Oh, and here's a map of the places where you can find these amazing dishes.

#1 Pork Ribs – SmokeStak, Shoreditch
Our love for the London street food scene began to our inaugural visit to Dalston Street Feast shortly after we arrived in London, and SmokeStak was the first stall we spotted after we passed through the entrance. The brisket is good, but, man, those smokey, meaty pork ribs. Perfectly lacquered in sauce, with a healthy dose of fat to keep the ribs juicy and tender.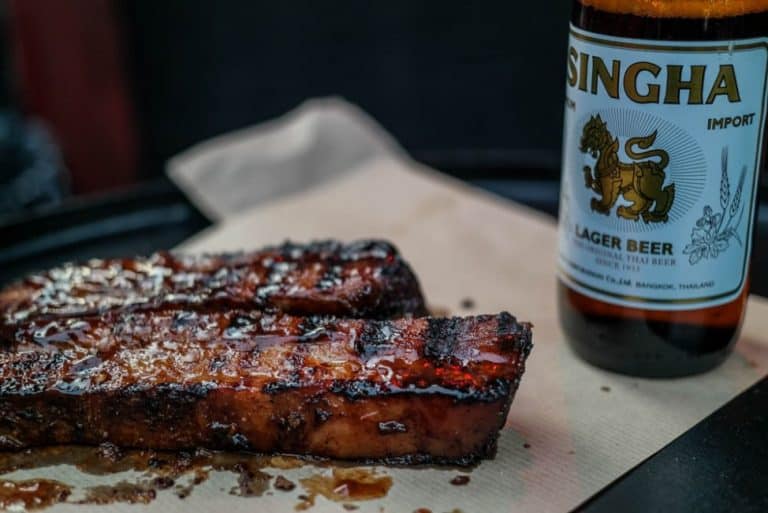 #2 Langoustines, Kaffir Lime & Sweet Mint – Kiln, Soho
This dish is simple but packed with sweetness, sourness, and heat. The generous portion of langoustines is split and served room temperature, topped with kaffir lime leaf, sweet mint, and a handful of finely chopped chiles. For £8, this might be the most affordable langoustine dish in London.
#3 Bacon Naan – Dishoom, Covent Garden
The best time to visit Dishoom is at breakfast when the crowds are typically a little more manageable. Their spin on the British classic sandwich, the bacon buttie, is a genius, with smokey bacon, chili jam, and a smear of cream cheese on a freshly baked naan bread. Certainly not traditional, but who cares when it tastes this good!
#4 Filled Doughnuts – Bread Ahead, Borough Market
The filled doughnuts at Bread Ahead are a bit of a hidden gem to the casual visitor to Borough Market. Their stall is piled high with slabs of focaccia, baguettes, and rustic sourdough loaves, which distract from the small display of filled doughnuts on the table. These are the best doughnuts in London, without a doubt.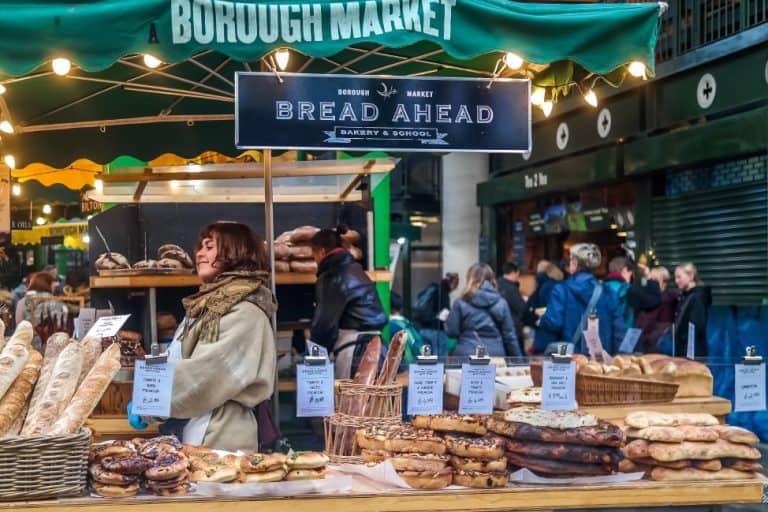 #5 Jerk Chicken – Fish, Wings & Tings, Brixton
Jerk chicken has been a favorite of ours for years, and if you want some Caribbean flavor, you need to head to South London, home. The jerk chicken at Fish, Wings & Tings (extra points for the name) is coated in a sweet and sour tamarind sauce, with just a mild lingering heat. If like us, you like it a little hot, the fruity scotch bonnet pepper sauce on the table will do the trick!
#6 Pappardelle with Beef Shin Ragu – Padella, Borough Market
This tiny pasta restaurant has been packed ever since it opened, offering handmade pasta dishes, all for under £10. The rich beef shin ragu served tossed with the broad pappardelle noodle, is one of their staple dishes and our favorite.
#7 Aged Cheeseburger Taco – Temper, Soho
A cheeseburger taco seems like the ideal drunk food (which it is), but at Temper, they aren't messing around. The rich, fatty beef patty, sourced from British rare-breed cattle, is served on a house-made corn tortilla and is then covered in super melty cheese. Our advice? Order a bunch of these.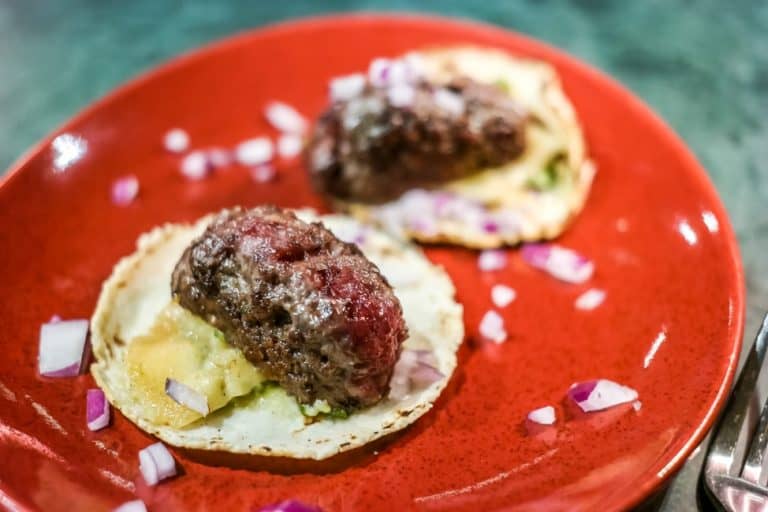 #8 K-Pop Bun – Chicken 'N' Sours, Covent Garden
Chicken 'N' Sours has become the go-to spot in London for everything fried chicken. Our favorite is the K-Pop Bun, a Korean fried thigh with gochujang mayo, chili vinegar, and Asian slaw. Perfectly crispy and juicy fried chicken with just the right amount of heat.
#9 Dirty Fried Mejadrah – Berber & Q, Haggerston
Sadly, we did not discover the genius that is Berber & Q until right before our move out of London. Boy was that a mistake. They specialize in a modern take on Middle Eastern food, with open flames and plenty of exotic spices. While the cauliflower shawarma ranks high on our list, the dirty fried mejadrah, a combination of rice, lentils, sumac, onions, and barberries served in a mini cast-iron skillet, was so good, we fought over the last few crispy bits at the bottom of the pan.
#10 Hot Butter Devilled Shrimps – Hoppers, SoHo
Soon after we visited Sri Lanka and got to sample its cuisine, Hoppers opened, providing us with easy access to authentic Sri Lankan food in London. While the namesake dish, hoppers, are perfect, we go back specifically for the hot butter deviled shrimps. The sauce is complex, with a bit of sourness and heat, and is the best way to begin a meal here.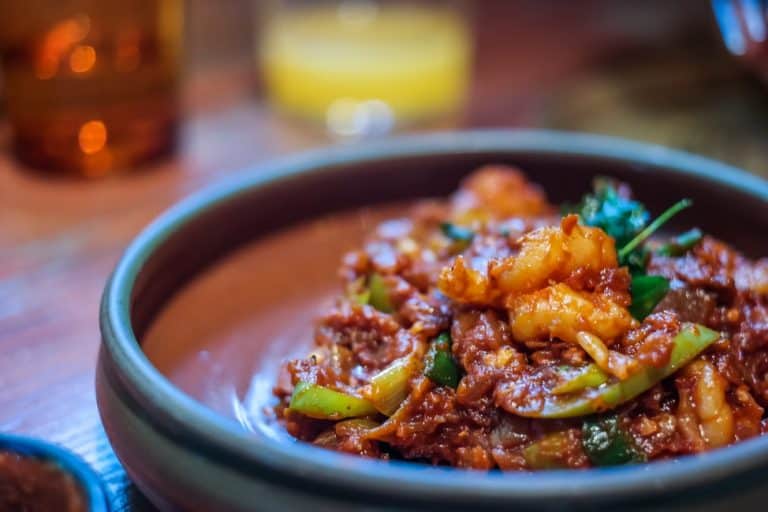 #11 Classic Tortilla – Barrafina, SoHo
I'm sure anyone who has ever been to a tapas restaurant has had a tortilla, the Spanish egg dish that is similar to a frittata and typically served room temperature. Never the most exciting order. At Barrafina, they take the humble tortilla to another level. You can watch as the cooks in the open kitchen whip up them up to order, served piping hot in single-serve pans with a slightly runny middle.
#12 Flavor of the Month – Udderlicious, Islington
Nothing beats your a good neighborhood ice cream parlor, and Udderlicious is an exceptional neighborhood spot. The ice cream is rich and creamy, and they have a constant rotation of fun flavors. Then even hold a flavor of the month contest, allowing customers to submit new ideas. The suggestions are always fun and whimsical, like apple crisp or Pimm's Cup, the famous British summer cocktail.
#13 Grilled Lamb Leg – Hill and Szrok, Hackney
This unique East London restaurant is a normal butcher shop during the day, but around 5 pm, they turn the butcher counter into a communal table, and it becomes a casual steakhouse. The beef is stellar, and many of the sides are flawless too, but the lamb leg is something that is always on the menu, totally delicious, and a solid value. It's served medium rare and is incredibly tender. If you want to go all the way, add a fried egg on top because you can!
#14 Yuca Frita – Petare, Hawker House
Unfamiliar with yuca? That's fine, so were we. Little did we know, that if you cut yuca into thick chips, deep fry them, and top them with whipped feta, avocado, and coriander, it results in something that could be tastier (and crunchier) than even the best french fry in London.
#15 Classic Bao – Bao, SoHo
We are not ones to queue typically for a restaurant, but the line at Bao is worth it. The whole menu of small plates are excellent, but the classic bao is a must order. Stuffed with tender pulled pork, dusted with peanut powder, and topped with fermented greens and coriander, the classic bao is worth the wait.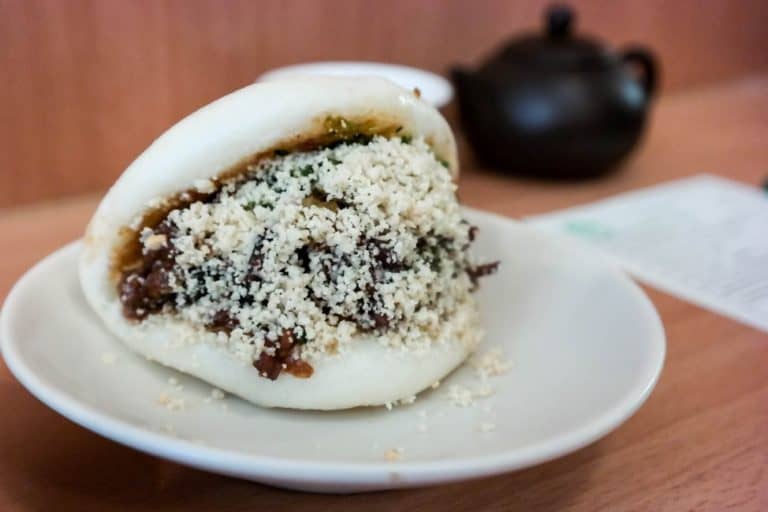 #16 Shakshuka – Ottolenghi, Islington
Shakshuka is a Turkish baked egg dish that we fell in love with when we visited Istanbul. It is served with peppers, tomatoes, and labneh. The version at Ottolgenhi is the closest to the real thing in Turkey. That is high praise indeed!
#17 Apple Tart Tartin – Bistrot de Luxe, Marylebone
There are few dishes as beautiful as a properly made apple tart tartin. The dark, caramelized apples, layered perfectly, the flaky, buttery puff pastry crust below. The Bistrot de Luxe makes the quintessential apple tart tartin, served piping hot with a dollop of creme fraiche. It is worth a visit just for this dessert.
#18 Chili Dog – Meat Liquor, Islington
Meat Liquor is not subtle in any way. The music is loud, the interior industrial and covered with graffiti, and the menu is made up mostly of things that are fried and go well with pitchers of beer. Most people go for the hamburger, but the chili dog is one of the best hot dogs in all of London. The smoked beef frank is smothered in chili and piled high with shredded cheese and onions.
#19 Duck and Waffle – Duck and Waffle, The City
If you name a restaurant Duck and Waffle, and then serve a dish called Duck and Waffle, it should be good. Thankfully for them (and us), it is. It is a take on the American classic fried chicken and waffles, but with a fried duck confit leg in place of the chicken. The mustard-maple sauce served alongside is the perfect blend of sweet and savory.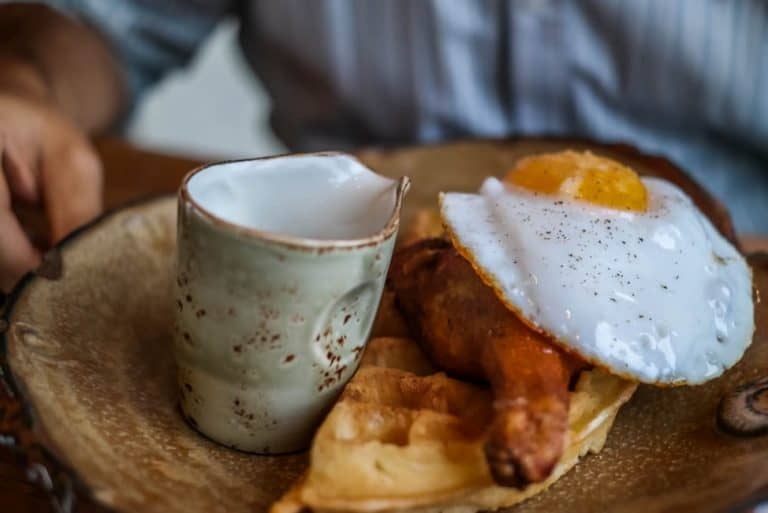 #20 Lamb Chops – Tayyabs, Whitechapel
Tayyabs is a London institution, a Punjabi restaurant that sits in a mostly Middle Eastern section of East London. We'll be honest, you don't go here for the atmosphere and the warm service. But you have to look past that and just focus on the amazing grilled meats. The lamb chops are the house favorite, which are dusted in spices and presented on a sizzling platter. The lamb is tender and delicious, and one of the best values in all of London.
#21 Huevos Rancheros – Sunday, Barnsbury
Sunday flies way under the radar, thanks to its residential location on a quiet side street, a good 15-minute walk from the nearest Tube. Despite that, a queue forms every weekend morning even before they open, it's that good! The menu is large and has a ton of interesting dishes, but we tend to go with the Huevos Rancheros, poached eggs over corn tortillas, black beans, chorizo, and avocado.
#22 Grilled Cheese – Kappacasein, Borough Market
Grilled cheese sandwiches simply don't get better than this. Shredded Montgomery Cheddar and Ogleshield, along with garlic and leeks, are sandwiched between slices of top notch sourdough and griddled to golden brown perfection. The queues may be long, but this grilled cheese is worth it.
#23 Roast Bone Marrow – St John, Smithfield
This is the bone marrow dish that helped jumpstart the modern chefs' love affair with the off-cuts of the animal. With something as rich as bone marrow, simplicity is the key. The marrow bones are served with warm, grilled country bread, a parsley and caper salad, and an adorable little spoon for getting all of the goodies out of the bone. Sometimes, the original is still the best.
#24 Roti Canai – Roti King, Euston
A total hidden gem and a fantastic cheap eat London, Roti King is located on a random side street near Euston train station. They weirdly have some Chinese dishes, but this joint is really all about the roti, which is a flaky Malaysian bread, made by hand by the front door of the small restaurant.
#25 Royale with Cheese – Lucky Chip, Dalston
Burgers are a dime a dozen now in London, but Lucky Chip is still our top pick. They serve more of an American-style fast food burger, but with high-quality ingredients. It doesn't get much better than the 'Royale wit Cheese', topped with bacon, American cheese, tomato, onion, lettuce, and special sauce.
What do you think are the best dishes in London? Leave your comments below!