Did you know that there are over 4,000 hostels worldwide in fantastic and unique locations? Some of them are worth visiting for the sake of their low price, amazing hospitality, great design or delicious food and beautiful view. Today we are sharing Top Coolest and Stylish Sleeps that won't break your budget and provide a great experience, based on fellow travel bloggers' experiences.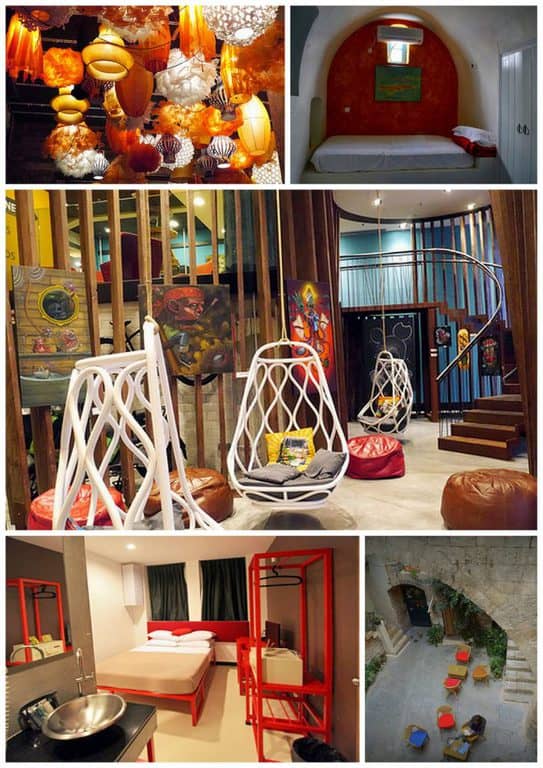 We've also got a very thorough and useful guide to finding the right accommodation where you'll learn how to make good sleeping choices.
Looking for a name for your hostel?
Many people come to this article for an inspiration. Do have a look at all the unique and often funny names below. If that fails to give you a good idea, then you might want to check out this guide on how to name your business.
The Beehive Hostel in Sucre, Bolivia.
I recently was in South America and stayed in the most amazing hostel ever! It was the Beehive hostel in Sucre, Bolivia. The Beehive hostel had a family atmosphere, with many people staying for an average of four weeks to learn Spanish. The owner of the hostel would cook everyone a meal on Sundays and we all sat together and ate and spoke about our travels. It didn't feel like your average hostel, it felt much more like a family home. They also had a great garden to relax in, with unbelievable weather, hammocks set up and some great people working there. It cost £6 per night there was plenty of room, getting a room with my five friends with a balcony. I could easily have moved here! – Tom of Spaghettitraveller.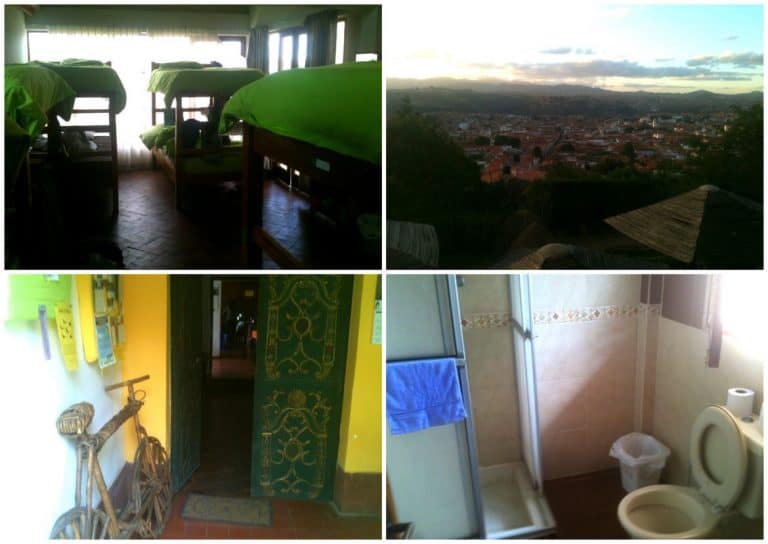 Lub D Hostels, Bangkok, Thailand.
The location is fantastic (particularly if you like shopping), being as it is right next to the Siam Centre, the world's most Instagrammed location. It's also features a totally modern, funky design, with all room types, from female only dorms through to gorgeous private en-suite rooms with all the amenities you could want. The staff are super friendly and there's free popcorn (ok, this was what really sold me). – Laurence of Findingtheuniverse.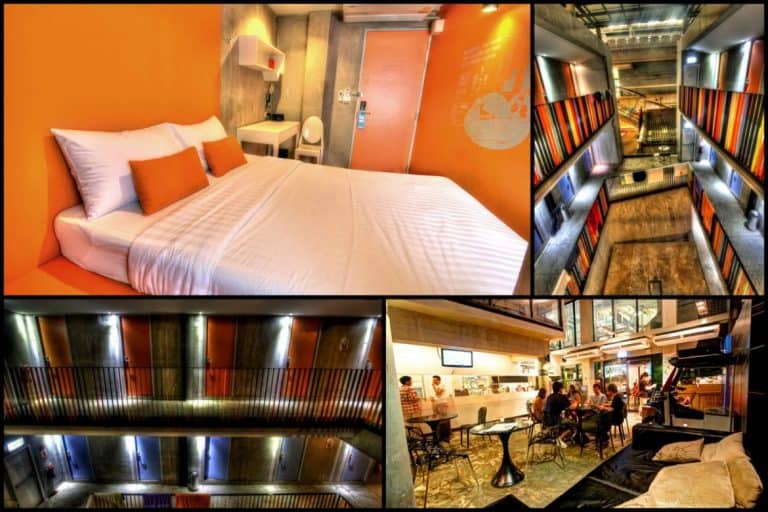 The Sydney Harbour YHA.
The Sydney Harbour YHA has got to be one of the best hostels in the world. Set in the heart of "The Rocks" area of Sydney, only a short walk from the harbour and surrounded by great restaurants, this hostel has modern, clean rooms, great common spaces and the most amazing rooftop terrace. You're literally perched between the Sydney Harbour Bridge and Sydney Opera House! The hostel itself sits on top of an archaeological dig site and was one of the first areas settled by Europeans in the city so there are lots of great artefacts on display. – Bethaney of Flashpackerfamily.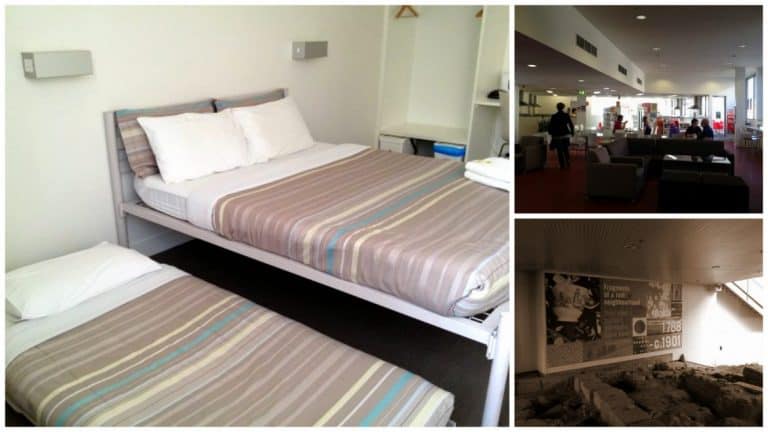 Castle Hostel, Nuremberg, Germany.
Located in the medieval city walls of Nuremberg, Germany- a brand new hostel exists in a castle! It's a modern-day structure, yet old world style with really cool design and amenities. Perfect for families- the location cannot be beat. Bed(s) in Dorm, Sheets included, Breakfast included, male/female rooms (not coed) 32.00 EUR (per night, per bed). Double Room, with shower and toilet, Sheets included, Breakfast Buffet incl. 70.00 EUR (per night, per room). For a family of 6 we paid €100 for two rooms per night. – Farrah of Thethreeunder.
Generator Barcelona, Spain.
Sometimes it isn't easy for a hostel to stand out from the crowd, especially in a city like Barcelona where there are plenty of choices of places to stay. That's why we liked Generator Barcelona so much, because they manage to provide something different, comfortable and yet affordable for any pocket. It is in fact a very trendy hostel-hotel that combines great and cool design with amazing hospitality. There are rooms for everybody, from budget travelers who don't mind sharing (dorms from €12.50) to those who may prefer to have their own privacy in a private room. What we liked the most about Generator was its outstanding design that gave the place a very fresh, young and stylish look that was easily affordable without breaking the bank. In fact from the lobby to the in-house bar it was an explosion of colors and everything was perfectly looked after, every single detail. Judge for yourself! Another bonus is it's location, Generator Barcelona is in fact in the middle of the stylish Gracia and Eixample districts with close by metro stations if you don't feel like walking. – Franca and Dale of Angloitalianfollowus.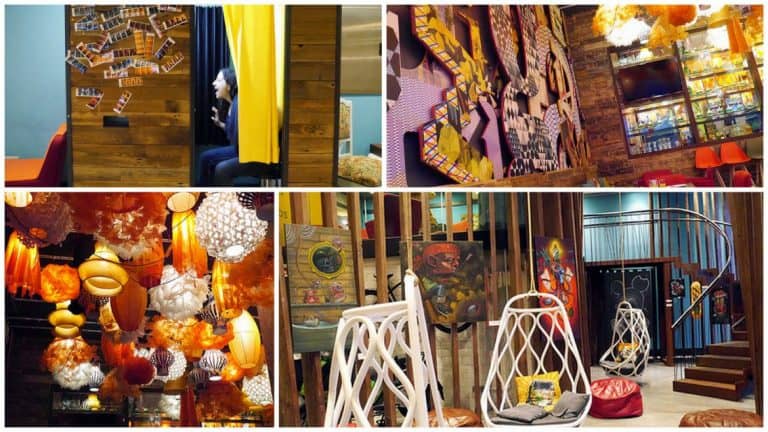 Mandalay: Yoe Yoe Yang Homestay.
I can't go on enough about this place. I absolutely love it. It doesn't have the most interesting interior, nor does it have the best location, but it does have the best staff and service I've ever experienced. The owner is so happy, and very chatty, even though her English isn't the best. She went out of her way to book night buses, and taxis for me. She had a great list of recommended places for me to visit in Mandalay depending on location, and also served me the greatest Burmese sticky rice and tofu I've ever had for breakfast! The owner of this place really made me feel welcome, and there is no doubt that she made my stay in Mandalay an extremely memorable one. PRICE: $10 for dorm REASON TO STAY: The amazing breakfast, most happiest and helpful staff! – Lily of Awaywithlily.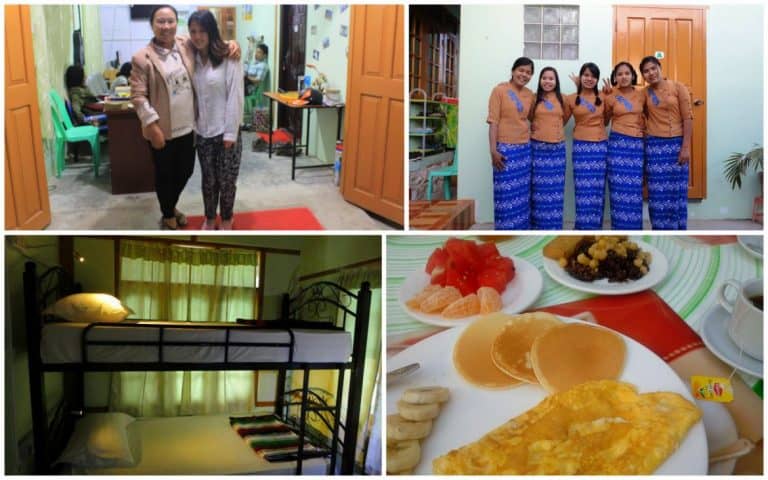 Oops Hostel, Paris, France.
Beds are 27euro/night, while private rooms come at a hefty 70 euros. In one word, Oops is quirky. With bright colors throughout, minimalistic furniture, and an upbeat vive, this is definitely the place to stay if you're looking for a trendy hostel. Being fairly new, it is very clean, and actually feels more like a budget hotel than a hostel. The hostel is centrally located in Paris (50 Avenue des Gobelins), with two metro stations (Line 6 and Line 7) and two districts at walkable distances. Staff are very friendly and accommodating, always willing to provide directions and/or suggestions for the day. The room was cleaned on a daily basis, and the breakfast of cereal, a croissant, juice, and coffee is enough to get you going for the day. Internet is available, although it doesn't work too well on the third floor. It was a great place to rest our heads after climbing up the Eiffel Tower and Notre Dame! – Jess of Apassionandapassport.
The Hostal Casona Poblana, Puebla, Mexico.
If you visit Puebla, Mexico's 4th largest city, cheap, clean and centrally located accommodations can be found at the Hostal Casona Poblana. The colonial building hosting the hostel is located two blocks from the main plaza in the historic center. Accommodation is in private rooms with a bathroom, or dormitories with shared bathroom facilities. Amenities such as Wi-Fi, continental breakfast, rooftop sun terrace, hot water, 24-hour reception and library are available to all guests. To make things better, the hostel staff is super friendly and knowledgeable. They can provide information about the main sights, places to eat and excursions to book. Price details: Private rooms are about $30 ($15 per person, depending on booking engine). A bed in the communal room is $13. – Ruth of Tanamatales.
Casa Caracol in Cadiz.
One of my favorite hostels I stayed at in Europe was Casa Caracol in Cadiz, a little peninsula in the southwest of Spain. The hostel is about a 5 minute walk to the beaches that surround Cadiz. It was a very chill atmosphere and everyone tends to go out together at night. I think my favorite part was the rooftop of the hostel. There were 3 or 4 hammocks for taking afternoon siestas and they had BBQ's up there a couple of times a week. – Nick of Nickstravelbug.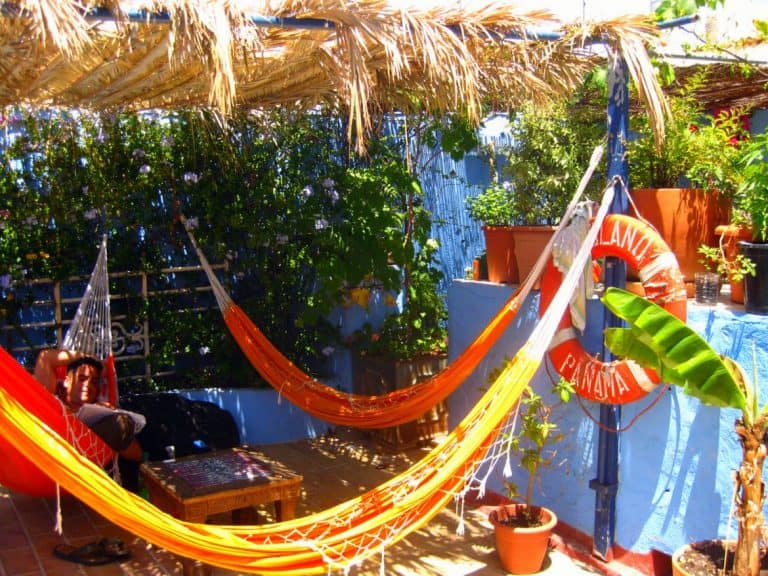 The Clayzy House in Koh Lanta, Thailand.
During my many trips around the world I have experienced all kinds of hostels, from the bed-bug infested ones in Bangkok to the comfy flashpackers hostels in Malaysia, but none of them left such intense memories as the Clayzy house community did. While searching for eco-friendly budget hostel options in Thailand, I came across an amazing mud and bamboo built hostel in Koh Lanta. Created entirely of local natural materials and hand build by the diverse volunteers that passed by, the Clayzy house is much more than just a hostel. It's a community of travelers who seek for a deep sense connection and friendship with other fellow backpackers and a total respect for the environment and local sustainability. I visited the clayzy house during the low season of 2013 and paid 100 Thb for a bed on a 8 bed dorm. Equipped with a pizza and bread mud stove, two tree house style rooms and dorms and a wonderful mud communal area, spiced up to the sound of Reggae and rock and roll music. There's a kitchen, a free bike rental, you can buy tickets and book fun, cheap tours with them. This is my most memorable experience so far, where people enjoy each other company and share their adventure stories while swinging on a hammock. I will be back soon to visit the great friends I've left behind. – Yara of Heartofavagabond.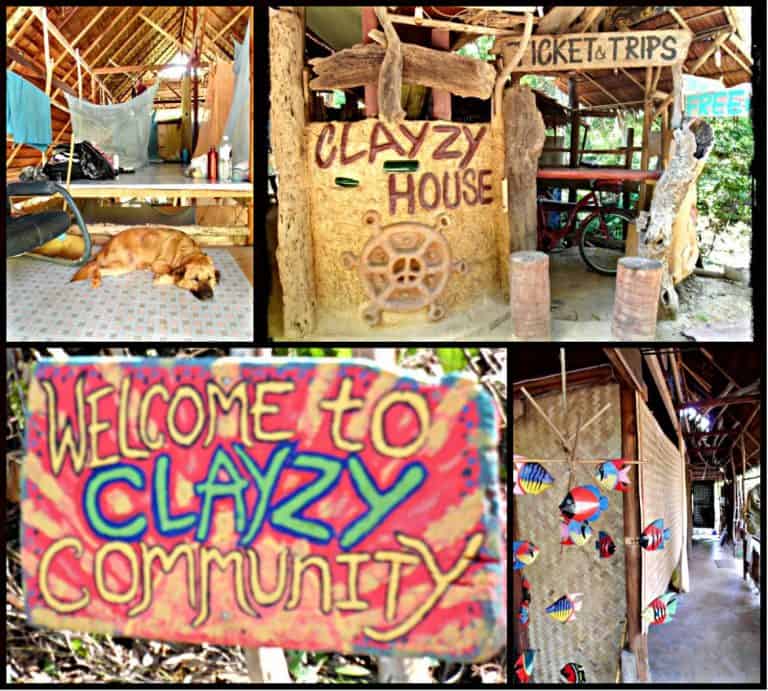 Caveland, Santorini.
Caveland is hands down the most charming hostel I have been to. It is hosted in a former 18th-century winery in Santorini. For just 15-19€ a night, depending on whether it's high season or not, you can sleep in a former wine cellar, which looks exactly like a cave. The rooms are very cozy and atmospheric, and one of the things I loved the most is the volcanic rock sprouting out of the yellow bathtub. How cool it was to take a shower there! There is plenty of space to relax: the swimming pool of course, but also the shade of the front courtyard, perfect for lazy days. There are even yoga classes in the morning once per week. The hostel is located in the quiet village of Karterados, rather than in the hectic town of Thira. I highly suggest that you visit this village, because it's another world from the overtly touristic main town of the island. Here, you can still get a glimpse of local life, while enjoying the beauty of the most famous among the Greek islands. – Stefania of Italianbackpacker.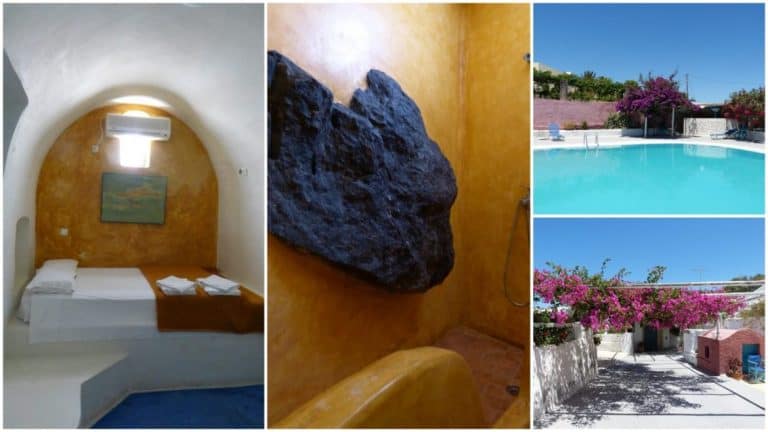 Pak Up Hostel, Krabi Town, Thailand.
The cheapest, coolest Hostel in Krabi. Dorm rooms, divided by gender or mixed are available for 300 Baht. The design of the Hostel is modern and also provide 3 main shared areas to socialize with other travelers (perfect if you are traveling solo and want to meet new friends). Top roof bar with live music and sometimes Karaoke (only for the brave/drunk hosts), Tv /Internet cafe area downstairs with comfy Sofas, Bar with pool table and music. If there is a place i would definitely reccommend in Krabi, it's Pak Up! I enjoyed my time there so much and most of the people i met there are now some of my closest travel friends. Amazing Atmosphere! – Clelia of Keepcalmandtravel.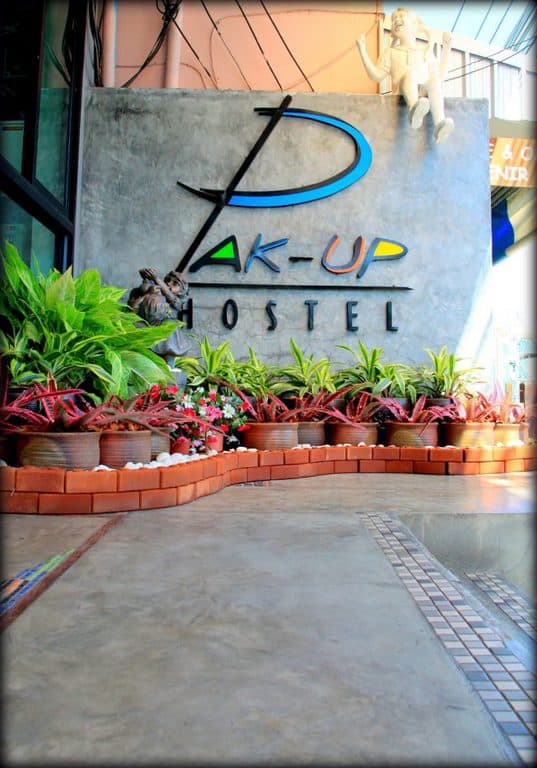 RE B&B, Guayaquil, Ecuador.
Guayaquil, Ecuador's largest city, doesn't have a great reputation among travelers as a wonderful place to visit. It doesn't have the sites of Quito or the charm of Cuenca, but it is a major transport hub, and if you're planning to visit the Galapagos, you'll likely pass through Guayaquil. We found it to have a certain charm of its own, partly due to the staying in one of the coolest budget hotels we found in Ecuador: RE B&B. At $15.75 a night for a bed in a eight person dorm, it was certainly the best value place we found in the city and the breakfast including fresh coffee, eggs to order, homemade bread and fresh fruit was lovely. The owners, Ana and Fede, an Ecuadorian couple who have travelled all over the world made us feel welcome right away and the clean, fresh, colorful design really made it stand out as one of the best hostels we stayed at in South America. – Sam of Indefiniteadventure.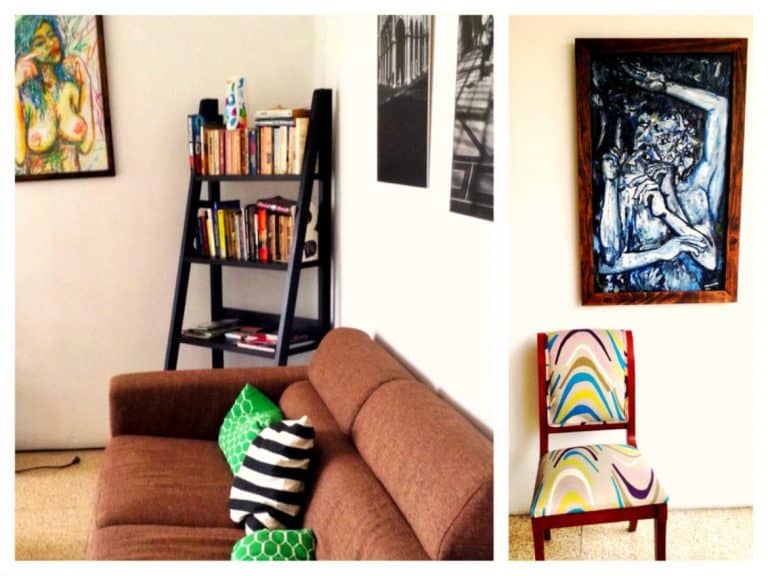 Generator Venice, Venice.
Venice is known for its pricey accommodation and even the budget options are relatively expensive. Fortunately, Generator Venice in Venice, Italy helps cushion the budget blow with several dorms, trendy decor, a cafe and reception area open 24 hours, and what is probably the best hostel bed I've ever slept in. The whole place has a fresh, clean feeling to it and looks like it was decorated by Urban Outfitters. – Alana of Paperplanesblog.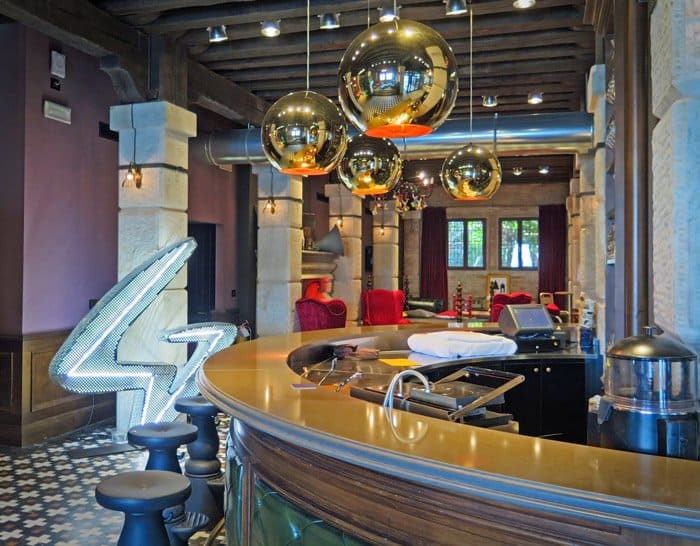 Lub-d Hostels, Bangkok, Thailand.
Lub-d Hostels in Bangkok are part of the new generation of upscale hostels that provide top notch facilities. In addition to bathrooms that literally sparkle with cleanliness, they have a laundry room, TV/movie room with hundreds of videos, free walking tours of Bangkok, and loads of computers for those who travel without laptop. Prices at their Siam Square hostel (for those who want to be in the center of Bangkok's shopping mecca) start at $23 for a 4-bed mixed dorm or 4-bed ladies dorm. Prices at the Silom hostel, which is located in the heart of the Silom business district where hundreds of excellent local restaurants can be found, start at $17 for a 10-bed ladies dorm or an 8-bed mixed dorm. Both places also offer double and private rooms.– Barbara of Wholeinthedonut.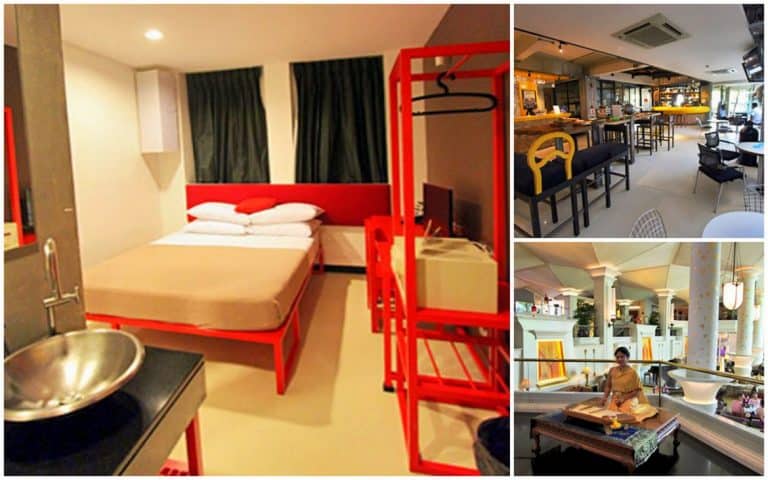 CamelBackpackers in Phoenix, Arizona – USA.
While road tripping' around the USA we made it to hot and happening Phoenix, Arizona. Over there, CamelBackpackers was our home. Before you enter this hostel, you must forget about any generic idea of "hostel" you might have had in your head before . And I mean this in a good way! More than an establishment, CamelBackpackers is a welcoming house set in a residential neighborhood. Here, travelers come to rest, hang out and spend some quality time in a friendly atmosphere. We stayed in a private room and loved the Mexican inspired decoration. Apart from this room, there are only 2 dorms, which means things never get over busy. Still, there is plenty of hanging out in the evenings. Backpackers play games, watch movies and cook in the best hostel kitchen we have ever come across. They even have baking accessories if you're in the mood to bake your own pie! How cool is that?! When the weather allows, there's a pleasant outdoor area where you can BBQ American style too. Also, it doesn't hurt that there are plenty of great eateries around. And, as a quick tip, let me just tell you the Mexican food in Phoenix is as good as on the other side of the border! Stays start at USD26/night which is not expensive considering this is the USA. A nice and healthy breakfast is provided too, including plenty of fresh fruit. And how often does one see mangoes at a USA hostel? At CamelBackpackers you'll feel at home… just way cooler! – A&Z of Backpackme.
Fauzi Azar Inn – Nazareth, Israel.
The Fauzi Azar Inn was by far one of the most unique establishments I have every stayed in. Located in the Old City of Nazareth, this guesthouse was set in an old Arab mansion that dates back over 200 years. There was a beautiful limestone courtyard with pointed archways where you could snuggle up with a book and read, the reception area had stunning hand-painted ceilings, and in the kitchen there was always an endless supply of Arabic coffee, herbal teas, and home-baked cakes for free! Not only was the Fauzi Azar Inn set in a magical setting, but they also did hospitality right, and that's what makes it stand out in my books. You'd think staying in a place like this would be hard on the wallet, but what I liked about the Fauzi Azar Inn is that it catered to all types of travelers. If you had the budget for it, private rooms were certainly an option, however, if you were traveling on a backpacker's budget, there were also dorm rooms available for as little as $25 USD. Let me tell you this from first-hand experience – in Israel, that's a fantastic deal! – Audrey of Thatbackpacker.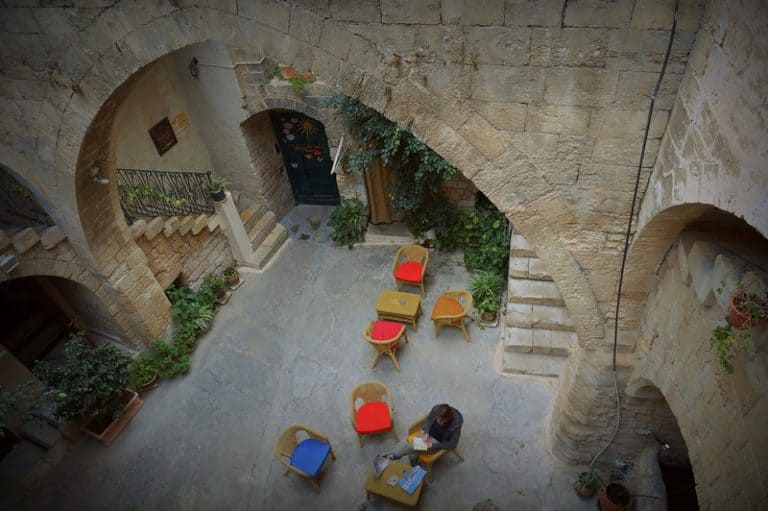 Syok at Chulia, Penang, Malaysia.
Syok at Chulia is a hostel located in Penang, Malaysia. The hostel is strategically located at Chulia street, in Georgetown, the heritage centre of Penang. The price for this hostel ranges from 50-70RM, with mixed dorms, female dorms and private rooms to choose from. Its fresh and funky design are only some of the good things you can find in this hostel, Syok at Chulia also has the friendliest staff that will help you with any travel advice around Penang. An amazing place to stay in the most gorgeous place in Penang. – Aggy of Dreamexplorewander.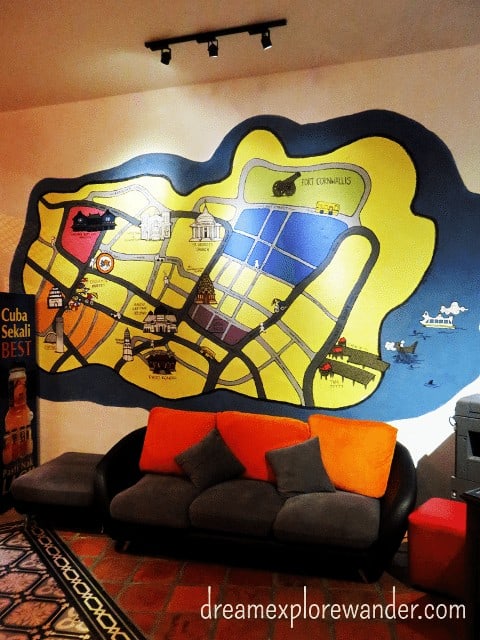 The Drop Bear Hostel, Colombia.
The Drop Bear Hostel in Colombia seems, on the surface, just like any other high-quality hostel: it's got a nice kitchen, big pool, a common room with TV, ping pong table and beanbags, and comfy dorms and privates. A dorm bed costs about $10-$15, which is standard for the area. But what makes this hostel a little more interesting is that its building used to be owned by one of the major Colombian cartels of 1980's. It has a dozen secret hiding-places for money, cryptic codes enscribed on tiles, two underground escape tunnels, and a secret basement once used for keeping contraband whiskey. If you're lucky, the hostel owner will give you a fascinating tour of the building while telling you all about the history of Colombia and the drugs trade. It's a great way to educate yourself about the country's troubled past and gain a better appreciation for the hostel's unique location. (By the way, Colombia has changed a lot and is safe for travelers nowadays!). – Mark of Indietraveller.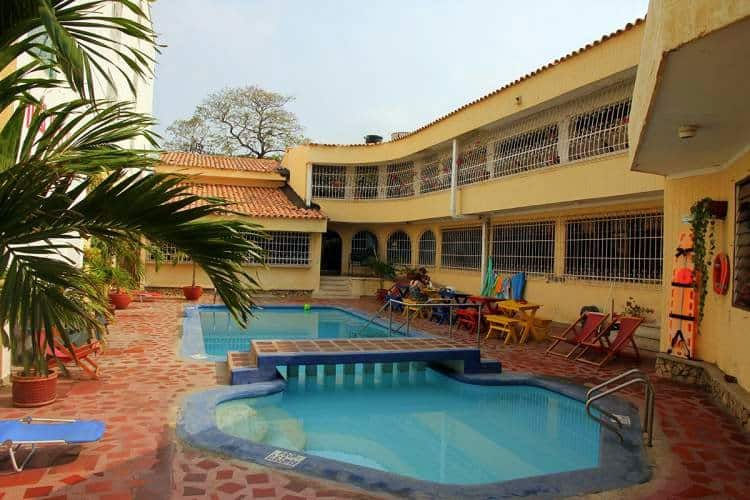 Etzz Bangkok, Thailand.
Whenever I travel through Bangkok I always stay at Etzz. It is not in the Khao San Road backpackers district but instead in the more local neighborhood of Lumphini Park. I really appreciate the chance to experience Bangkok more as a local than a gap year backpacker. – Alexandra of Fluentinfrolicking.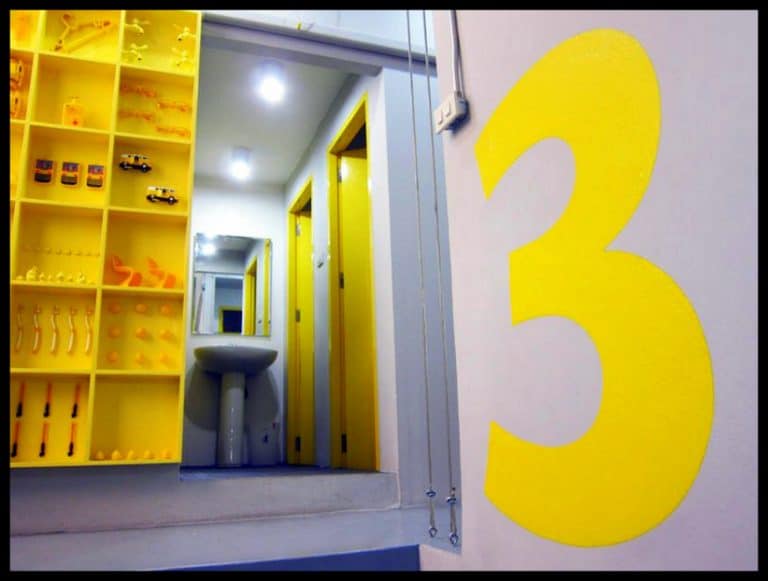 Lebo's Backpackers, Soweto, Gauteng, South Africa.
By far and away one of my favourite hostels in the world is Soweto Backpackers in Soweto, Gauteng, Johannesburg. It is not just the location and vibe of this hostel that does it for me. It is the history and the fact that you are sleeping in the Soweto township – one of the most famous townships in the world, the place where Nelson Mandela lived. Soweto Backpackers is run by local legend and entrepreneur Lebo who saw a gap in the market to allow travelers and backpackers (mainly white ones) to be able to experience at first hand life in one of South Africa's best townships. As well as having its own amazing bar, courtyard, breakfast, cosy rooms and wifi, they also offer tours. The best of these is a full guided cycle tour of Soweto. I took time to explore on my own too and visited both Nelson Mandela's House and Desmond Tutu's House. The nearby Orlando Stadium also plays host to live football and the Hector Pieterson Museum is a short walk away. Soweto Backpackers is one of the best hostels in the world. The staff also offer to pick you up from the airport or train station and bring you safely to the hostel. You will get to see the real lifestyle of a South African township here for sure. I covered it on my post on top 5 things to do in Soweto. – Johnny of Don'tstopliving.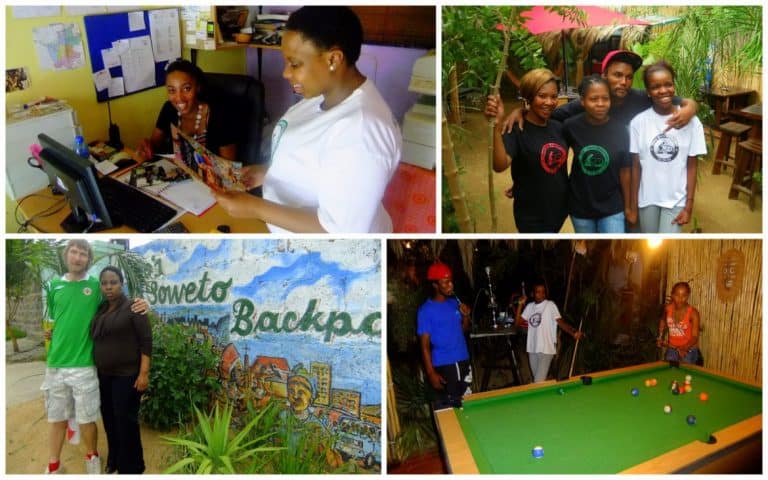 Nomadas Hostel, Merida, Mexico.
During our 4 years of traveling around the world, we've come across some pretty fantastic hostels…and some pretty brutal ones. Last month during our trip through Mexico, we stumbled upon a gem! After two weeks spent in Valladolid, we made our way to the city of Merida and checked in at Nomadas Hostel. This hostel has it all! Any amenity you could want or need is available and the staff are very knowledgable and friendly. Because of how incredible the amenities are, I have to list them: FREE salsa dance lessons every night, FREE live Trove guitar music every night, FREE cooking classes 4 times a week, FREE yoga sessions 4 times a week and FREE drinking water. The usuals like wi-fi, large kitchen, hot water, communal area and towels are also provided. The other huge bonus of this hostel is the massive outdoor pool with hammocks hanging over it, a definite must-have in the Mexican heat. The prices are fair and pretty standard for Mexico, $12 for a dorm bed and $28 for a double room (the 6th night is 1/2 price and the 12th night is free). All in all, the absolute perfect hostel. – Dariece and Nick of Goatsontheroad.
While we're in here, check out the best yoga retreats in Mexico.
Trip'n'Hostel, Tirana, Albania.
What makes this hostel great? There are two major factors which will make your stay at Trip'n'Hostel an unforgettable experience. One: the atmosphere. The hostel looks like a big and cosy hippy house. Everybody is relaxed, spending their time in the garden areas or by the bar and the low-fi electronic music pumping from the speakers is great for promoting conversations! The second factor were the owners. Gjerji and Erion are both well-travelled, likeable and funny. I observed them as they integrated with their guests, never pushy but always attentive, talking to everybody as equals, knowing everybody by their first names.
Facilities: the hostel contains 4 dormitories with a maximum capacity of 40 guests and is cheap (9-10 € a night). The ground floor is dominated by a bar and two outside areas in which to enjoy your dirt cheap beer or coffee. There is a ping-pong table on one side with more of a sitting area on the other. Upstairs are the sleeping areas with three toilet–shower combos that work surprisingly well, with hot water always working. There is no curfew, 24 hour reception, free luggage storage, free Wi-Fi and towels are provided.
How to get there: from the central square of Tirana – Scanderbeg square it takes 7 minutes on foot. Take the road between the mosque and the Opera then at the first crossroad take a left. On the first street on the right, which is Qemal Stafa street, go straight for 300 m that way till you find Lincoln Center (language institute on the right). In front of the language institute there is a tunnel. The first house on the left after this tunnel is Trip'n'Hostel.
One word of warning. It's an extremely popular hostel because it's cheap and great so to ensure yourself a bed, book in advance! If you are Tirana, forget any other hostels and head to Trip'n, you won't regret it!
If you need more information, read about our hitchhiking experience in Albania and our first impression of Tirana. – Ania & Jon of Hitch-Hikers Handbook.
Can Mocamp – Kaş, Turkey.
Situated in the lovely coastal town of Kas along Turkey's Lycian Way, Can Mocamp is a hybrid campground-hostel with a difference. You have the option to camp, though I stayed in a cabin. Alright, it was basically a painted shed with a bed, but it was perfect. It is definitely the most unique place I've stayed! Everything here is brightly colored, having been lovingly hand-painted by volunteer travelers. The pièce de résistance is the rainbow staircase leading up to the camp. Beanbags, hammocks, sunbeds, benches, bikes, BBQs? Take your pick. Can Mocamp has everything you need to kick back and relax. The included breakfast is great, and each dinnertime brings a buffet of vegetarian delights, and live music in the seafront bar. Rainbow steps, beanbags, colorful cabins and a hippy vibe make this place one-of-a-kind. With camping starting at only £5 and a cabin room £10, Can Mocamp is the perfect place for budget travelers looking for a quirky, cosy and laid-back place to crash. – Anastasia of Gallivantgirl.
Lub'd Bangkok, Thailand.
Lub'd has a ton of awards under its belt. This simultaneously makes it one of the top rated hostels in Bangkok, and one of the best hostels I have ever stayed in on my travels. The design is modern, the staff friendly, and the rooms are fantastic. Most have their own air condition, which is perfect hanging out and relaxing in Bangkok while brushing up on your Southeast Asia Travel Tips. It is also a very sociable hostel, and it is easy to make friends. The common room is separated from the rest of the rooms which limits noise pollution. Lub'd has two separate locations in Bangkok; both are equally good. – Stephen of ABackpackersTale.
The Gallery Hostel in Porto.
Located in Porto's art district, the Gallery Hostel lives up to its name by being full of artistic touches. The building was an 18th-century aristocrat's villa but has been modernized and converted into a luxury hostel. There are loads of facilities – from a bar and cinema room to a roof terrace – but it's small enough to keep a friendly feel. Freebies like guided walks around the city and the art district and a buffet breakfast are included, and they have nightly communal dinners with three courses plus wine for €10. Rooms are a mixture of four and six bed dorms as well as private rooms, each with their own bathrooms. Dorm rooms start at €20 a night in a six-bed dorm. – Lucy of Ontheluce.
Spicy Tao Backpackers, Koh Tao, Thailand.
Spicy Tao Backpackers offers an excellent alternative to the mostly bungalow/guesthouse style accommodation offered on Koh Tao. The hostel is located in a beautiful and quiet area of cleared jungle minutes walk from all the amenities of Sairee Beach, Koh Tao's liveliest district. The amenities are basic but this is island life in Thailand! I stayed for 5 weeks in August 2013 in a 10 bed mixed dorm which cost 200THB ($6.20) per night for a fan room – air con was THB250 per night. One week cost me less than $45 and this included a tea, coffee, fruit and toast for breakfast. There are few places where you can find this sort of a deal nowadays! The hostel has 10 bed mixed dorms, one girl only dorm and two 4 bed dorms (fan only). One of the best things about staying at Spicy Tao was the group activities. We went on snorkeling tours, booze cruises, full moon party trips and dinners at the sunset bar. The positive vibes between everyone meant that the atmosphere was always friendly amongst guests. The owner Jain is a cool guy who was always interested in providing guests with a Spicy experience. I highly recommend this hostel for anyone thinking of going to Koh Tao and who is looking for a cheap place to sleep. – Adam of Tropicalnomad.
Abraham Hostel, Jerusalem, Israel.
Jerusalem is fast becoming a hotspot on the independent travel scene and this hostel helps deliver on backpacker vibes. From language lessons, cooking classes, pub crawls, open mic nights and daily tours departing to various hotspots all around Israel and to other areas of the Middle East, there's a lot on offer to get to know the city, the country and the culture. – Beckie of Backpackerbecki.
Alobar 1000 – Kathmandu, Nepal.
This is a hostel you have to say Namaste to! I knew people that ended up living here for weeks and months on end because it was so homely and special. It's a fantastic budget choice in the heart of the city, although a little removed from the more established Thamel, which gives it a more local feel. If you are picky and not laid back, this isn't the place for you (Nepal is notorious for problems with water and electricity). If you want to stay in a true travelers hub that's both chilled and sociable, that's run by friendly locals and where you can plan everything from huge treks to small hikes and meditation session, this is a perfect spot to begin your exploration of Nepal and the incredible Kathmandu. – Beckie of Backpackerbecki.
Ming Palace International Hostel, Guilin.
This was an awesome hostel, located just out of the centre of Guilin. Plenty of space to chill out after a day's exploring, including a deck outside. The bunk beds were comfy and solid and each had it's own light and access to a plug socket which is very important when traveling with all your gadgets!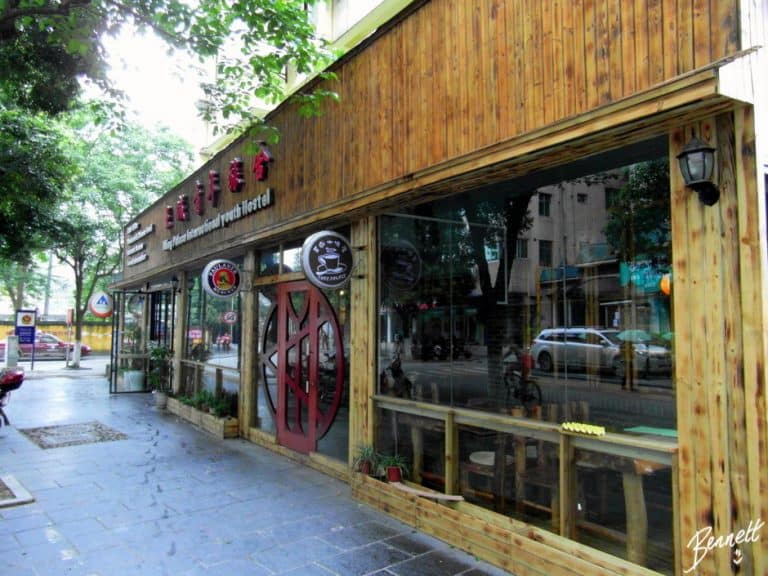 A full review of Ming Palace International Hostel
One last cool thing about this hostel was the fact that you could graffiti on the stairwells, so obviously as bloggers we were happy to make full use of this as a free promotion opportunity! – Sarah of Thefurtheradventuresofbennett.
Rethymno Youth Hostel, Crete, Greece.
I booked my Crete trip last minute and had only few hours to find the nice place on a budget when waiting for my flight to Greece. I stumbled upon Rethymno Youth Hostel where I paid only 7 euro per night. I stayed in female 8-bed dorms for 5 nights and paid only 35 euros. It's unbelievable cheap place and even more to offer to its visitors. Friendly staff (the manager of the hostel made us some free breakfast from time to time, baked some cakes and shared with us and he was always willing to give us some travel tips and advice on where to go and what to see in Rethymno). There were Big and cozy rooms (cleaned daily with air-conditioning) and a great Wi-Fi connection. This hostel should definitely be one of 20 reasons you should travel to Crete. – Agness of eTramping.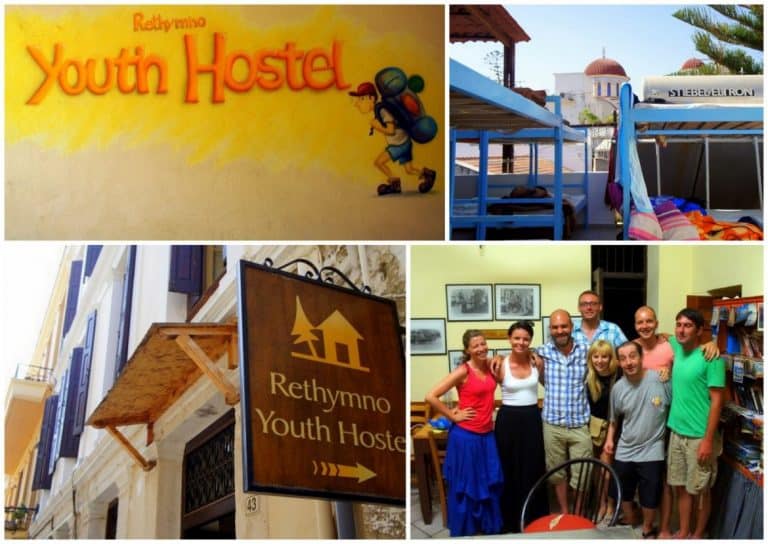 Wonder Lodge, Banaue, the Philippines.
The price was only PHP400 / $9 a night and we stayed there for two nights. The rooms were nice and clean, there was a hot water in the room and WI-FI at the reception. It was the cheapest hostel we could find around. We were not charged extra for using sockets and charging our phones (in other places foreigners were charged PHP 50/ $1 per one piece of electronics to charge). The atmosphere was amazing. The lady who owns the hostel did some washing for us and always had a chat with everyone around. The staff were friendly and amazingly hospitable. You could order both Filipino and Western food to eat in or take away. The kitchen was always open so everyone could cook their own food any time during the day. – Agness of eTramping.
Home Lisbon Hostel in Lisbon, Portugal.
In all of my travels, my all-time favorite hostel so far has been the Home Lisbon Hostel in Lisbon, Portugal. At 14 euros/night, it's quite cheap, but the biggest draw has to be the atmosphere. The hostel is designed to make you feel like you're staying in someone's comfy, yet gorgeous home and the owner's mother actually cooks an amazing dinner so you can sample homemade local cuisine for only 10euros every night, which includes an appetizer, main course, wine, dessert and a local liquor to finish off the meal. The hostel is impeccably clean and the lounge area is the best I've seen. There's a video walk-through of the hostel, as well as other Lisbon tips in my Ultimate Guide to Lisbon. – Christina.
The Superbude St Pauli, Hamburg.
The Superbude St Pauli is Hamburgs hippest accommodation and along with the sister hostel in St Georg the only 5 Star Hostel in town. It is a yellow design heaven with attention to detail and connection to the city. You will find hanging rails made of scaffolding, upcycled tables and former pushcart turned into stylish seats. Just to name a few, just keep walking and you will always find new details to admire. The accommodation actually impresses in so many ways. From design, to events, the social vibes, and last but not least their own, authentic character. The Superbude St Pauli joins different charities and they even organize own charity projects. Locals love to join the hostel ambiance as well. And you know a Hostel is an outstanding one when it gets the local stamp of approval! Talking about ambiance, when was the last time you listened to an acoustic concert – while having your breakfast? The events at Superbude Hostel are really unique and outside the box. And for the breakfast, there is real Nutella, waffles, and great coffee. The only question will be: do you really want to leave Superbude to explore Hamburg?! – Shares budget accommodation expert Matt of Hostelgeeks.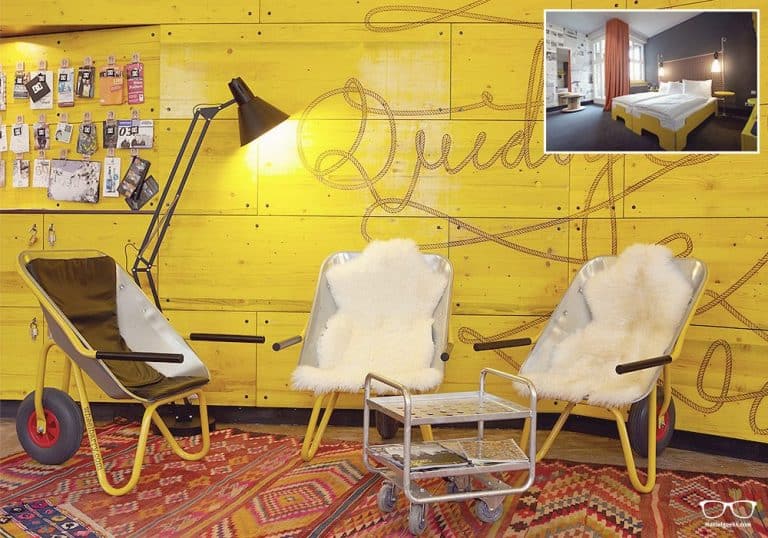 Have you been to any of these places before? If not, which one would you like to stay in?