Plymouth sits on the sunny south coast of England. With an interesting maritime heritage, beautiful nearby beaches and many family attractions, it is the perfect holiday destination.
Plymouth in 24 hours
You can take a ferry over the River Tamar to the beautiful grounds of Mount Edgcumbe, or explore under the sea at the National Marine Aquarium.
Kids and adults alike will love Dartmoor Zoo.
There are also many impressive country houses and historical landmarks. One of the most magnificent buildings in the region is Saltram House.
Now a National Trust property, the current mansion dates back to 1743 and was designed by the famous architect Robert Adam, though it stands on the grounds of a much earlier residence.
Beautifully decorated with opulent interiors and original paintings and furnishings, it also has lovely landscaped grounds to discover, with an 18th century orangery and several fashionable follies.
There are many places where you can learn more about the city's rich historical legacy.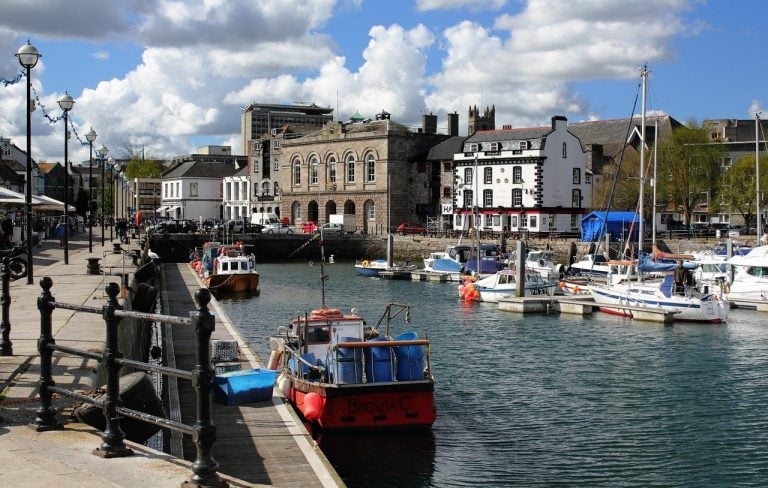 Check out the City Museum and Art Gallery and the Mayflower Museum, which charts the history of Plymouth's harbor.
For fun and relaxation, there are plenty of nearby beaches, or you could head to the waterfront Tinside Lido, with its fountains and sun terraces. Kartworld, Pitch and Putt at Central Park and Tree Surfers offer the chance for more active adventures.
5 things to do in Plymouth on the cheap
#1 Visit Jennycliff Beach.
Jennycliff beach is a very small and cozy pebble beach with rock pools. Above the beach there is a pleasant grass area suitable for picnics and games and there are fine views to enjoy across Plymouth Sound. If you feel like chilling out with friends, family or on your own, you should definitely head. It's free of charge and you can have a nice picnic there.
Price: Free.
Additional info: The yellow ferry goes from beside the Mayflower Steps across to the Mount Batten Peninsula every 30 minutes. The journey lasts 10 minutes. Once you get off the boat, walk to rocky Jennycliff beach which takes about 15 minutes.
#2 Create your very own unique bottle of gin.
The Plymouth Gin Distillery is the oldest working distillery in England. They've been making gin here since 1793, making it the world's oldest producer. The distillery offers a range of unique tours for food and drink enthusiasts, tailored to suit all tastes, throughout the year. You can easily book a 40-minute tour to overview of the history of the Distillery as well as an introduction to how Plymouth Gin is made. At the end of every tour, visitors can buy souvenirs and choose between a free miniature of Plymouth Gin or enjoy a Plymouth Gin & Tonic in the Distillery's bar.
Price: £7.00.
More info: Visit the Plymouth Gin Distillery website to book your tour or read more about its history.
#3 Have some fish and chips on the Barbican.
The Barbican is on the old part of Plymouth right next to the sea. Cobbled streets with old buildings. Walking along the cobbled stones makes one wonder about those who walked before us. You will certainly love the quirkiness of the old small buildings and the small cobbled streets that spin off like roots of a tree.
The shops are small and friendly and sell many types of souvenirs. There are pubs and restaurants and fish and chip shops, benches are available to sit on to watch the boats coming into dock.
Price: £3.50 for fish and chips and £3.00 for a pint of beer.
#4 Take a second look at Smeaton's red and white Tower.
The tower is 72-foot tall and you can soak up panoramic views from the top of Smeaton's Tower. It was originally constructed in 1759 and awarded a TripAdvisor Certificate of Excellence for 2013.
Ticket entrance: Adults £3.00, family (up to 5 members) £5.
#5 Explore National Marine Aquarium.
The National Marine Aquarium is Britain's biggest aquarium with Europe's deepest tank and is a self funded charity.The top floor is dedicated to native marine life. There is also a brand new jellyfish exhibit, the largest in Britain, and a replica WWII Walrus plane wreck which has recently been added to the largest shark tank. Plenty to see and lots of interesting facts to read and the giant turtle is fantastic too.
Price: Adults £12.38, family pack £36.90.
Additional info: It's a great spot to visit on rainy days. One bonus from your ticket is you can return as many times as you want for the year when gift aiding, would highly recommend this place If you have children awesome gifts shop, huge play are for children and a lovely cafe although that is slightly pricey. You can find more info on National Marine Aquarium website.
Plymouth has a lot to offer in terms of sightseeing and dining out. It's a very affordable place with various activities on the cheap. There are many places where you can learn more about the city's rich historical legacy, try some British traditional dishes, chill out at the beach or go for a walk across the Barbican. You will not get bored even without spending much money.
Have you ever visited Plymouth? If so, what was your favorite budget spot?