Guilin is one of the most picturesque towns in China, located in Guangxi Province. Its main attraction, Yangshuo River, makes it the most desirable place to visit (right after the Great Wall of China in Beijing) by foreign travelers. It surprises its visitors with stunning scenery of mountains, caves, lakes and river as well as rice terraces.
Guilin can be a very affordable place to explore as long as:
You don't go for any tours organised by hostels and local travel agencies (it is very easy to organise your own tour without paying much).
Sleep in a hostel instead of hotel (you can find a few decent hostels with dorms in Guilin and pay little money for it).
Eat street food (grabbing a bowl of noodles or a piece of Chinese pancake on the go from time to time is more convenient and cheaper than having a big meal in a restaurant).
Walk a lot or use public transport (avoid taxis and motorbikes in Guilin as you can easily get ripped off).
Together with Sarah of The further adventures of bennett, who we travelled with in Guilin, we decided to share some of our tips for traveling here on the cheap… while still having a great time!
Sleeping (RMB35 ($6)/night)
Ming Palace International Youth Hostel
We stayed at this hostel for 3 night and we need to admit it was a very cozy and friendly place. The dorms were cheap and very comfortable. We booked room with 10 beds in there and it still didn't feel crowded.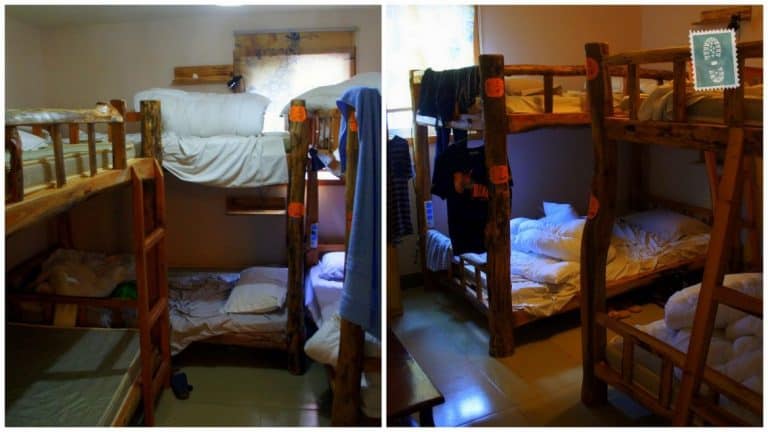 Sarah had her favourite bed she has ever had in a dorm room. The bunks were built of solid wood and were very sturdy. No rickety noises as someone on the top bunk turns over in the night! Each bunk had it's own lamp, small shelf and extension lead so you could charge your electrical items in peace. Only downside would be that the extension leads only work when a keycard is inserted into the slot, so if you're thinking about charging something during the day when you're out it's a bit more difficult. Bathroom in the room was adequate, there was a bathroom in each dorm room and one on the floor of dorms, but we felt that it might be better to have another somewhere else? A minor gripe but only because the dorm rooms are in fairly large numbers.
The social space was large and good tables and plenty of sockets for laptops and charging items whilst you socialised. There's a pool table available and a couple of computers. A covered outside terrace on the 5th floor was a welcome calm space with a good view of the mountains, especially during the storms when we were there! A laundry and drying space was also available on the top floor.
Fun thing about this hostel was that you could write on the staircase walls, so me and Sarah set about graffiti on each floor :).
There are also a couple of local shops nearby for necessities, which makes this place even better.
Eating (total of $7 per day)
Breakfast – RMB3 ($0.5)
Lunch – RMB15 ($2.50)
Dinner – RMB 20-25 ($3-4)
A short walk from the hostel we found a local Chinese breakfast shop selling tasty breakfast items. We had our breakfast there every single morning before exploring the town. The prices start from 1 RMB ($0.16) per item, so you can eat a lot and pay little. Isn't it great?
As for your lunches and dinners, there are plenty of local restaurants where Chinese food is served. It is yummy and cheap as long as you order only one dish, for example a plate of fried noodles or a bowl of noodle soup. The meal are huge so you will be properly stuffed. Try to avoid the restaurants where you can order many little plates with various Chinese dishes and then when it all adds up you will end up paying 10 times more.
Guilin noodles – best noodles ever and so cheap. Go off the beaten path. As you walk past look at what everyone is eating. We found the amazing noodles after looking at a nearly empty bowl and thinking "well, that looks like it would be good!"
When exploring Yangshuo river we found a nice and cheap place to have our dinner at. There was a great selection of food from soups to fried rice and you could actually see them all on the wall with all prices attached.
Transport
Getting to Guilin from Dongguan on the cheap ($32)
The cheapest option to get to Guilin is either to take an overnight train (standing or hard sit tickets) or bus (sleeping tickets). We have travelled by bus paying RMB200 ($32) per person. The journey took nearly 12 hours during which we could sleep.
Everyone had a separate bed, a sleeping pillow and a quilt. You need to make sure your shoes are taken off before getting into the bus. The journey was long but we could smell dirty socks of Chinese all the way!
Getting to Guilin from the airport ($3.26)
There is a bus from the airport to the Aviation Hotel from 6:30am-9:00pm. It costs RMB20 ($3.26) and takes around 45 minutes to an hour to go each way. As Sarah only had minimal luggage, it took her around 30-40 minutes to walk to the Ming Palace International Hostel from where the bus dropped her off and that was basically just following the river, so nice and easy!
Sarah took a plane from Xiamen to Guilin as she was short of time. The flight was 1 hour 25 minutes and costed RMB1000 ($160) round trip. It was a bank holiday and over a weekend so it was pretty expensive. If you are more flexible/ not peak times, you can get a return ticket for less than RMB700. She uses qunar.com.
Guilin Local Transport
Bus travel ($1- $3.26)
Bus travel is simply the best way to get around Guilin and the surrounding area. Again, there is no point getting on a tour when you can spend RMB20 ($3.26) on a bus to Yangshuo (although it can take up to 2 hours as the REALLY LOUD ticket guy wants to get as many people on the bus as possible – the return journey is a lot quicker!) We didn't even stick around in Yangshuo all that long to be honest. We'd recommend getting a RMB7 ($1) bus to Xingping (they're really regular at Yangshuo bus station) if you want to see the most spectacular scenery without spending money on a Li River cruise (RMB300 ($48) + per person depending on whether you take a raft or a bigger boat).
Bike rental ($6.50)
We rented two bikes (tandem and regular bike) for RMB40 ($6.50) total for 2 hours in Xingping. Definitely the best way to see and experience the scenery in Xingping! You have to put down a deposit (RMB200 ($32) per bike) but this is standard at all bike rental places in China. All you have to do is bring the bikes and the receipt back and getting your money back is really easy.
We must admit that riding a tandem for the first time is not easy. It was a very unstable and shaky ride for the first 20 minutes or so, but then everything went smoothly. It was a great fun, but we would recommend you to take a normal bike if you want to ride it fast.
Sightseeing in Guilin
There are plenty of things to do in Guilin from riding a bike, visiting the local parks, exploring the rice terraces to visiting the caves. It all depends on your time, budget and preferences. Here are some spots we would highly recommend to see.
Reed Flute Cave ($15)
First thing you should know about the Reed Flute Cave? You can get there for RMB1 ($0.16) each way on a public bus. No need to use a tour at your hostel which may include other places you're not so interested in and not even include the entrance fee either, which you'd have to pay extra for.
You need to take the number 3 bus from opposite the train station, which is really convenient, and takes 30-40 minutes to get to the cave itself. You do feel like you're heading out into the middle of nowhere, but it's really easy to find where to get off as you pass a big car park for the cave.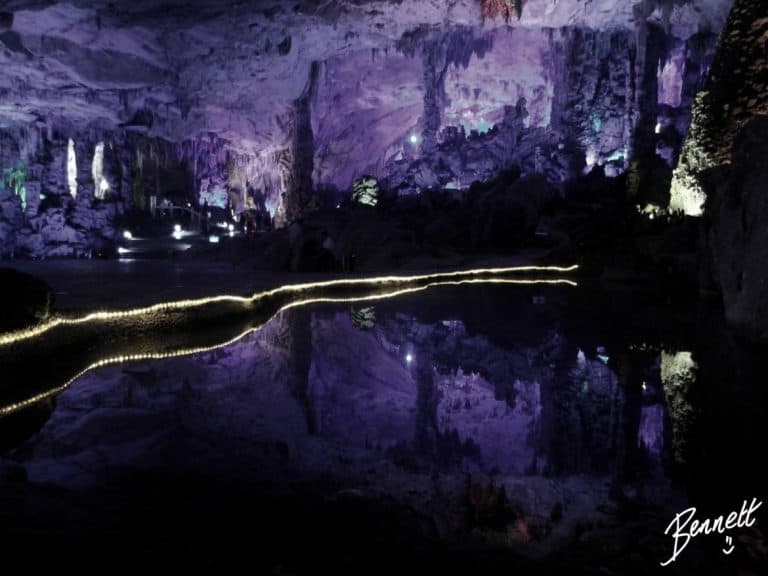 The cave ticket costs RMB90 ($15) and what happens is you queue up and are let into the cave in groups. There is a Chinese guide but each of the rock formations inside has some English translations you can giggle at. I mean, it's a cave, what else are they going to tell you? I just held back behind the group which meant I had good photo opportunities – and felt like the naughty kid on a school trip! Later on there is a chance to see an offshoot of a cave, with turtles but this is optional and you can just continue through to the end of the main cave if you wish. Around the cave area itself, there's not all that much to do but the scenery of the famous Guilin mountains is easily visible.
Parks in Guilin ($5.71)
There are several "mountains" in the centre of Guilin itself, such as Elephant Trunk Hill, Solitary Peak, DieCai Hill, FuBo Hill and Seven Star Park. You can buy a combined ticket for most combinations of them, but if your time and money is limited, buy the ticket for DieCai Hill for RMB35 ($5.71). We found this to be the most worthwhile of all the places to climb in Guilin, giving you a good overview of the city and the scenery around it. It's the furthest hill, to the north of Guilin centre, but from Ming Palace International Hostel it's only a 10-15 minute walk.
Seven Star Park is the largest park in Guilin, over the river. It's RMB75 ($12) to go in and boasts the famous "Camel Hill" and wild monkeys which steal bags of bananas from stupid Chinese tourists. Apart from that and a couple of "hills" to climb, I found it similar to most larger Chinese parks. If I had our time again, we personally wouldn't go there again, but then again we have been in China a while and have seen many Chinese parks.
Longsheng Rice Terraces ($30)
A tour including entrance fee, guide and a 3 hour stop at Longsheng from our hostel costs RMB450 ($73). We felt that we could get there a lot cheaper so off to the bus station. Try as we might we couldn't buy a ticket for a normal bus to Longsheng, despite us seeing several buses labelled like this when we were finally on our way. Outside the bus station there are many touts advertising travel to Longsheng Ricer Terraces, and this is why as a foreigner you cannot buy a Longsheng ticket at the bus station.
In the end, we took a taxi with 3 Chinese girls, paid RMB50 ($8) each for one way (RMB100 return) and RMB80 ($13) for the Longsheng Rice Terraces ticket. Our driver took us to the entrance (the terraces are around 23km away from the ticket office on windy, windy roads!) and let us explore for 3 hours. Total per person? RMB180 ($30) – massive savings! We don't know if we were very lucky though, as we returned in the car just the three of us and the driver charged us RMB50 each. It's worth checking the price before you head back as you may be charged for baoche (full car) so instead of paying RMB150 for three of you you might be paying RMB300 – just a word of caution anyway!
Yangshuo River Cruise ($13) and Xingping ($1.32)
This is the highlight of your trip in Guilin – the stunning Yangshuo river. Again, you can do it on your own without booking expensive tours. We caught a bus from the bus station located in the city centre which costed us RMB20 ($3.26). After over 2 hour ride, we got to the place where locals (mostly ladies) were trying to sell us the Yangshuo cruise. After bargaining, we got 1 raft for RMB80 ($13) and spent over 1 hours cruising. Although the weather was awful (heavy wind blowing into our faces and the rain was pouring), we still enjoyed the scenery.
If you want to see the scenery featured on RMB20 note, you should go to Xingping. It is easy to get there by bus and the ticket costs only RMB8 ($1.32). It's a wonderful and picturesque place, less busy and more charming than Yangshuo in our opinion.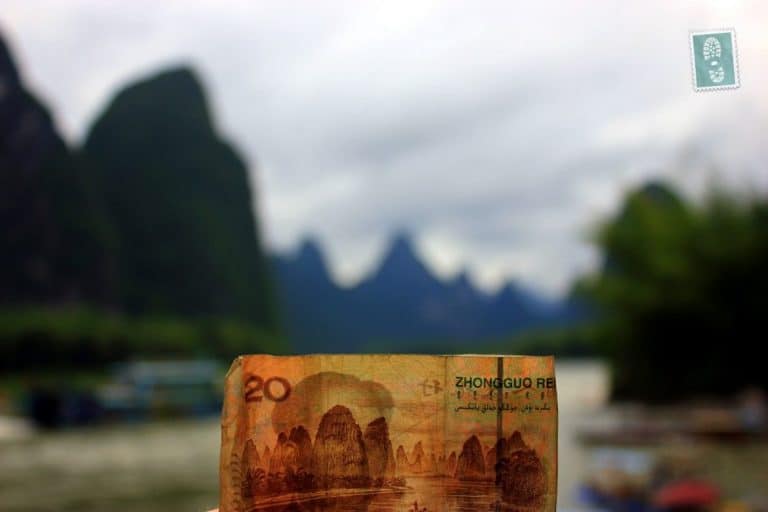 The Sun and Moon Pagodas (free)
The Sun and Moon Pagodas are located on Banyan Lake in Guilin and they just look amazing at night. The moon pagoda stands seven storeys high which is a glass tower whereas the Sun pagoda is copper decoration, consumed 350 tons of copper. You can have a wonderful walk along the lake's edge which at night is just magic and is popular with locals and tourists alike. We absolutely loved it!
As you can see, Guilin can be easy on your pocket. Although it is a typical touristic spot and it should be expensive, there is still a way to do it on the cheap. Now you can add Guilin to your bucket list!