The first destination on our Epic Road Trip (ERT) is located in France – sort of in the middle, then right a bit, then down a bit. There. That's it. Located in the Auvergne-Rhône-Alpes region and just under two hours' drive from Geneva and the Swiss border, you'll find the ancient city of Lyon.
Dating back over 2000 years, Lyon was historically prolific in the production of silk, and made a fair bit of money while it was at it.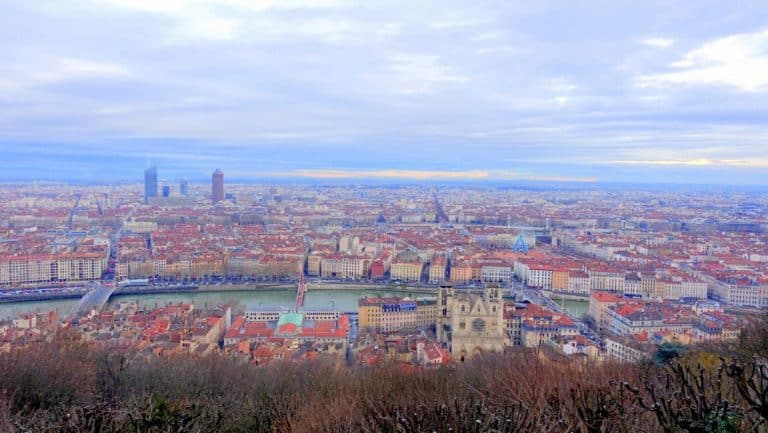 It boasts some astonishing architecture in its largely UNESCO world heritage old town, and it also has a fascinating link to the world of cinema; as this is where the cinematograph was born. Without brothers Auguste and Louis Lumière – you might never have been able to watch Sex and the City 2 at the cinema with all your mates. Just contemplate that!
Aside from such significant cultural and historical ties, Lyon holds the prestigious title as France's culinary capital, which is a high accolade indeed!
And they're off!
So, Lyon made the perfect jumping off point for our road trip given its proximity to Val Thorens, where an inspiring fellow travel blogger Lydia had recently been enjoying the slopes at the highest ski resort in Europe.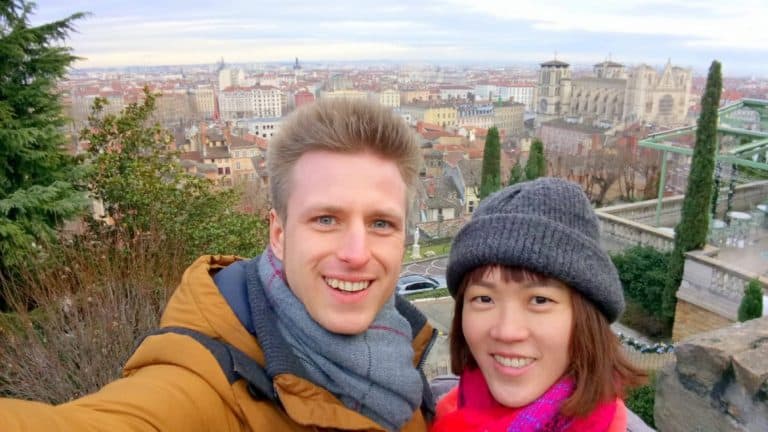 With Agness away somewhere on another continent, it was up to myself and Lydia to guide you on our epic (but short and sweet) road trip. We arrived the evening of the 28th of January and set about feeding ourselves with sushi. Yes – sushi in the French culinary capital – we were tired, ok?!
Well fed and rested, we set off to explore this fascinating city on foot the following day, and thus ticked-off the first stage of our adventure. Here, then, are some of the best things you can see in the city – in a nice, handy walking guide.
One thing to note, you can begin anywhere you like, but for argument's sake we chose the Museum of Fine Arts as a start point.
Museum of Fine Arts of Lyon
First on our jaunt through this delightful city is the Museum of Fine Arts of Lyon. The building itself is a work of art, dating back to the 17th century and restored in the late noughties.
It is the largest French museum outside of Paris, and it houses an impressive and important collection consisting of ancient artefacts and masterpiece paintings from Egypt, Rome and the wider world, displayed in 70 different rooms.
Get here early if you want to continue the walking tour!
Saint-Nizier Church
A short two-minute walk away you'll find the Saint – Nizier Church, the site of which dates back to the 5th Century. The building itself is a fine example of 16th-century gothic architecture and is well worth a visit to learn of its fascinatingly chequered and colorful history.
It's famous for its hospitality – so you'll always be welcome here.
Marché Saint-Antoine Célestins
Swing by the River Saone as you continue on your journey and take a wander through one of the largest and most popular open-air markets in Lyon. It's here that you'll find the kind of produce they're serving in the famous culinary hot-spots in the city.
Quiet in the week – it's a hive of activity at the weekend.
Place des Jacobins
Created in 1556, the Place des Jacobins is a square classified as a UNESCO world heritage site. It is one of the most famous in Lyon, as there are no less than 12 roads that lead here.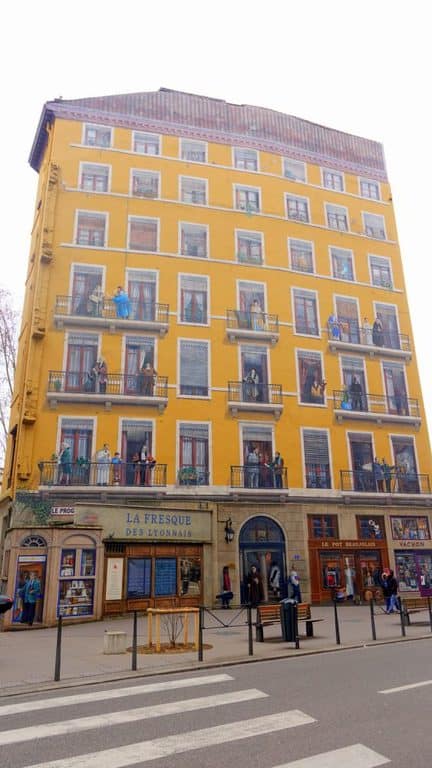 Its appearance has altered much down the centuries, but it's still a very beautiful spot and one not to miss on your tour.
Place Bellecour
Next, you'll discover one of the largest open squares in all of Europe, which is a quite an impressive and regal sight in itself. Again, under the umbrella of UNESCO, this square is a satisfyingly huge open space in the city centre, and one of Lyon's most popular spots.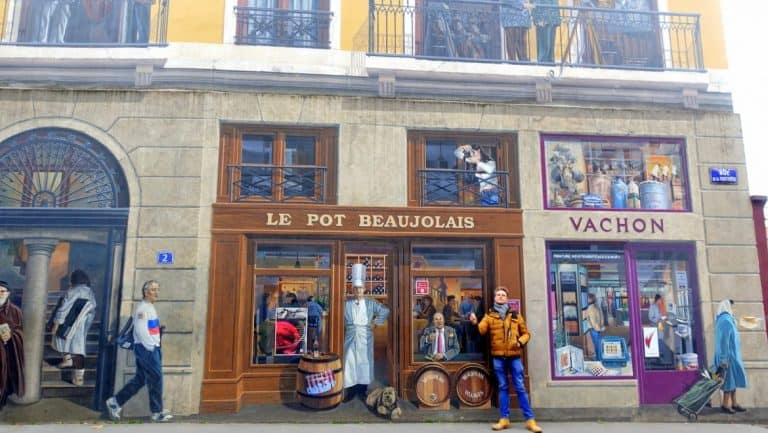 If you're really lucky – you'll visit when the famous Ferris wheel is operating for a truly memorable experience.
Lyon Cathedral
Enjoy a stroll over the river and head to the Lyon Cathedral – a Roman Catholic stronghold with roots in the 12th century.
It's a breath-taking piece of architecture to rival that of its more famous cousin – Notre Dame, in Paris. The stunningly beautiful stained-glass windows are a particular highlight, as is the 14th-century astronomical clock.
The Basilica of Notre-Dame de Fourvière
And now we must apologise – for making you climb a hill (where I nearly died missing a step on a steep stairway)!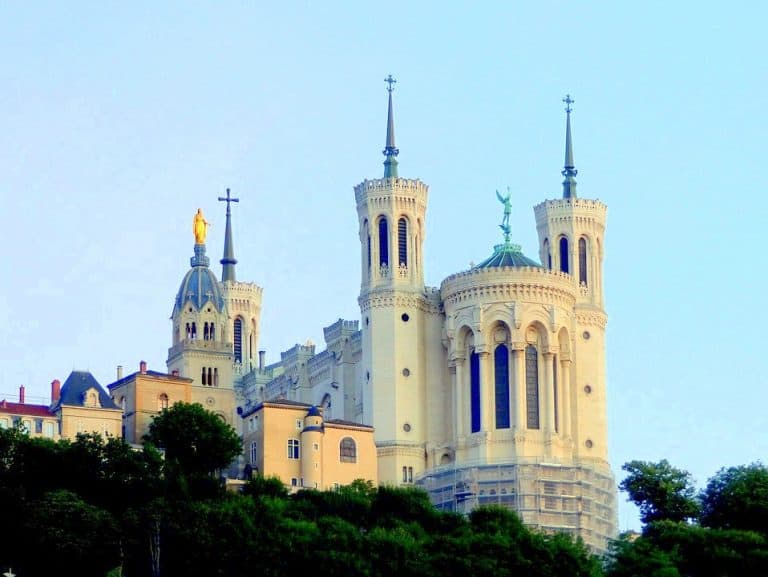 Overlooking the city is the fabulous Basilica of Notre-Dame de Fourvière, a privately funded church completed at the end of the 19th century. It is dedicated to the Virgin Mary and it's absolutely stunning inside, while it dominates the Lyon skyline with some wonderful views from the top.
Don't worry though – it's serviced by funiculars to give your tired tootsies a rest.
Vieux Lyon
Coming down the hill you can get lost in what is arguably Lyon's best attraction – the delightful Vieux Lyon.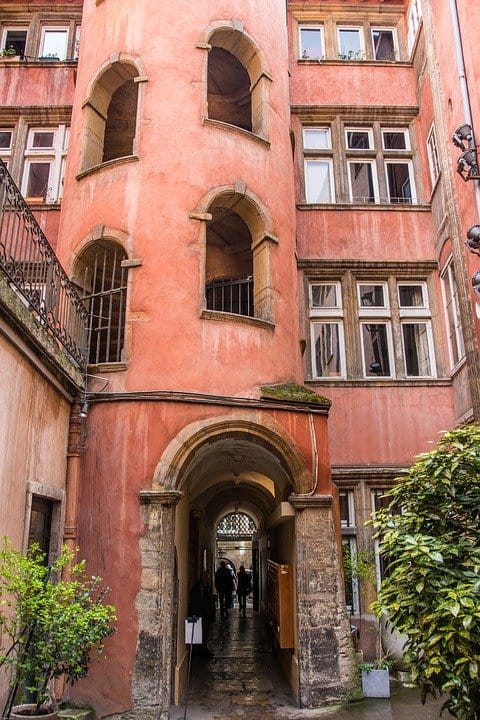 This is the city's oldest district, and it's a veritable maze of renaissance architecture, one of the largest of its kind in Europe. Here you walk in the very footsteps of the silk weavers and traders that built this city, as you explore the nooks, crannies and inevitable dead-ends in this medieval marvel. Don't miss finding the famous Traboules, an architectural feature unique to the city – tunnels that run under the houses towards the river, used by textile workers as a faster means of reaching the waterways.
Then, end your stroll at the grand Temple de Change – the former stock market in the city.
EAT!
We think after all of that you'll have worked yourself up a fair appetite – but as luck would have it, you're in the perfect place for it. Sample some of the delicacies on offer in any number of delicious restaurants in the foodie capital of France – but as we always recommend – do a little research so you're not paying over-inflated tourist prices.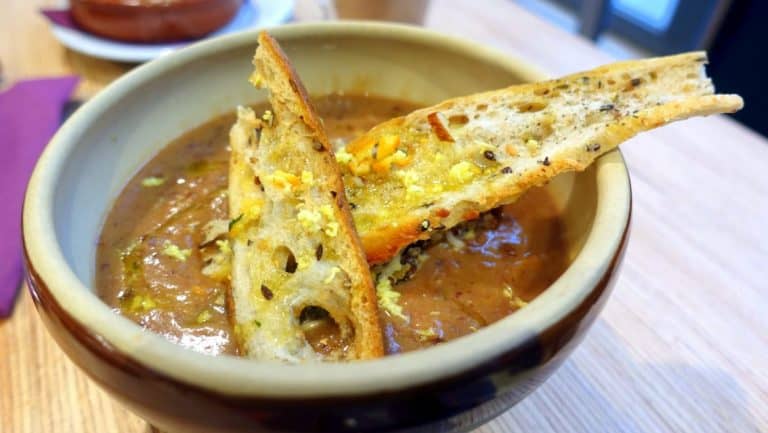 Map time!
We've put together a little map to guide you through this historic city, but feel free to traverse whatever route your heart desires. Our road trip will continue soon with the next instalment of our little/big adventure – but for now, we say cheerio – and happy walking!
Have you visited Lyon? Let us know what we missed!