Spending nearly two days on the train doesn't sound fun at all for some people. Nevertheless, going to Lhasa (Tibet) from Chongqing (China), as we are talking about this route here, might be, for plenty of reasons, one of the most exciting and unforgettable adventures in your life.
Why?
Here are some reasons:
Scenery
Just look at these photos below. I guess no comments are needed.
Taking the train to Tibet you will be able to see how diverse China is. The spectacular mountains, lakes, rivers and hills will take your breath away, that's for sure.
With no doubt, the China- Tibet railway connection is an engineering miracle. You can admire now-caped mountains and glaciers as the railways goes 5072 meter above sea level. Truly amazing!
The sky is crystal clear and you can see it from the train windows.
Health reasons
There is a reason for Tibet being called the "Roof of the World" and this reason is its height. Tibet is the highest region on earth with its average elevation of 4,900 meters. Therefore you can experience a massive altitude sickness when taking a direct flight to Lhasa (headache, breathlessness and discomfort). You can reduce the reaction to the altitude by lengthening the period of time of reaching high altitude, and traveling to Lhasa by train seems to be the best idea in this case.
Cost
The train ticket (one way, hard sleepers) costs around RMB800 whereas the flight cost is roughly RMB1.500 so you can save up to RMB1.400 on return tickets. The soft sleepers are more expensive (RMB1.100) but there is not much "comfort" difference between soft and hard sleepers though.
Making friends and getting to know Chinese
During 46-hour ride you can get to know some interesting people, make friends and interact with Chinese as well as other foreigners. Moreover, you can have a close contact with the train staff and make this long journey an sociable!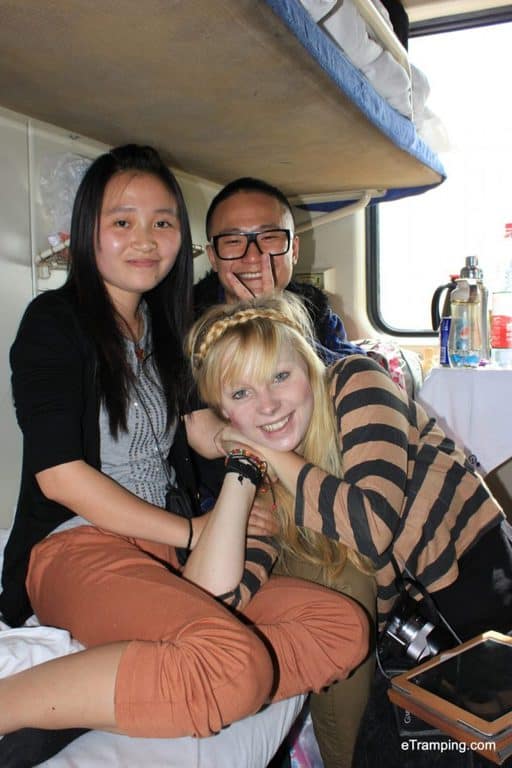 I personally had a great time on the train meeting fabulous people and having a great rest. I also saved some money and had no altitude problems (not including my cold I caught before).
If you need more tips on other amazing scenic train rides around the world, check out our recommendation of the best scenic train routes in USA.