This article is part of our North Korea section: series of articles exploring everything you need to know about visiting DPRK. Head to our main North Korea (DPRK) page for more information.
Excited just isn't the word. Ecstatic maybe? Yes, let's go with ecstatic. And definitely a little nervous! It's not every day you get the chance to visit the DPRK! As we have mentioned before, traveling to North Korea has been right up there on our bucket list since we left home all those years ago, but like most travelers who long to visit this mysteriously secretive land, we never thought we'd actually get the opportunity. Not until our friends at Tongil Tours set up an awesome itinerary for us, with an amazing guide included (Joey), and helped us to fulfill our dream of setting foot in this misunderstood nation.
Over the next few weeks, we'll be regaling you with our experiences there, but it begins as many good stories do – by packing a bag and boarding a plane.
It's going to be cold!
We began our journey in Hong Kong, before taking a flight to Beijing. Agness has just returned from Bali, and, of course, when you travel from hot climates to cold ones it can catch you unawares! You have to be careful you don't catch pneumonia! So when wheels touched down in China and we settled ourselves in our hotel, we made plans to go crazy in a shopping mall the following day. Not really – just kidding – we only needed to buy Agness a winter coat. It's cold in North Korea this time of year!
At the same time, we're balancing work with butterflies in our stomachs. North Korea is a very clandestine land, and as such, we were going to be offline for the whole time we were there. No more Facebook and no more e-mails!
What are we going to do?! But all joking aside; it was important for us to make sure everything was in place and the blog was up-to-date before departure. We were busy bees preparing for our next great adventure, glued to our laptops and working hard (as always).
Preparations in Beijing
Day two began at the RJ Brown Hotel Beijing, which is a really comfortable hotel with an awesome breakfast – much needed for the day ahead. Then it was retail therapy time. Not that we needed therapy – but it was a lot of fun anyway! Agness picked up her much-needed winter coat at Beijing's New World Shopping mall, then we managed to cram in a bit of sightseeing around the Temple of Heaven area where we were staying. In the evening we both met with our tour guide – Joey from Tongil Tours. Joey is originally from Texas but has lived in Asia for over 10 years studying the Korean language that he speaks fluently. Well, that's a relief!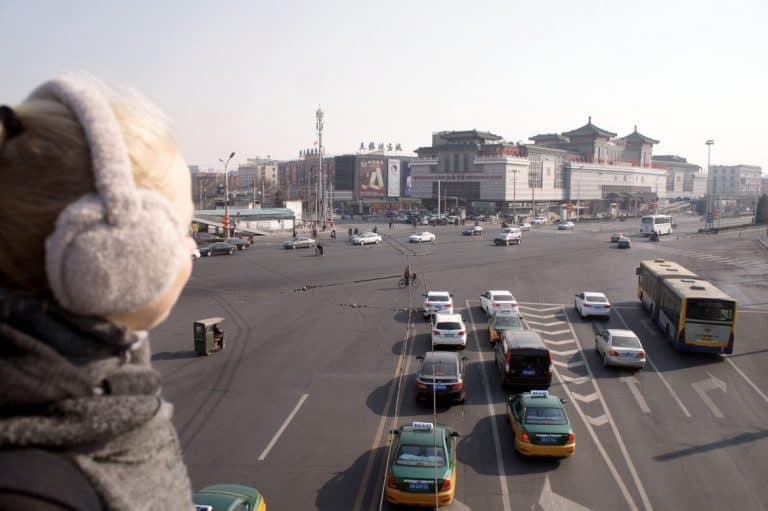 Well rested, watered and fed over Chinese dumplings and a cold glass of beer (Agness was sipping on her green tea as always) we spent a pleasant time listening to Joey's stories about the country, as well as the do's and don'ts of visiting North Korea. It was fascinating and nerve-wracking at the same time! Joey's knowledge and passion made us even more excited to visit, and following this little briefing, we began to ensure our laptops and digital devices were ready for the trip. This included deleting photographs from South Korea or any media related to the DPRK. We told you they were secretive!
Anyway, this was really unnecessary because North Koreans didn't check our luggage when we were flying in or out. Yeah, that was very surprising for us because we heard they are very strict, and they were less strict than Chinese or most of the European airport staff. But I'm getting ahead of the schedule, back to the pre-departure excitement!
Next stop – North Korea
Everything was ship-shape as we went to bed, but with so many emotions running riot we were almost too excited to sleep! Our flight to Pyongyang was scheduled for 2.30 pm the following day, but we got there around 10:30 am!
Can you tell we were keen?! We were on the cusp of going somewhere not many people go – and not many people want to go. We were looking forward to experiencing everything the country had to offer, and in our own way, reporting back to you – our readers – some of the misconceptions and misunderstandings that North Korea seems to attract. Watch this space – there's going to be some amazing stories to tell!
What would you like to read about next?