Sitting around on white sandy beaches with glorious blue skies and translucent waters might be a wonderful way to spend a holiday for many people – but we're cut from different cloth. Don't get us wrong – we did our fair share of nothing – but we're always keen to get involved in events and activities when we travel. We're not couch potatoes – so we made sure to experience some of the awesome activities offered by our hosts – Canopus Retreats – while we were on our far too short trip to the Maldives.
If we could have stayed longer, we would have done them all!
Chicken Island
Our first opportunity to get active was on the second day of our stay here when we took a speed boat out to Chicken Island.
Its real name is Viligilimathidhahuraa, but there used to be a chicken farm here – so you can understand how people would prefer to call it after pronounceable poultry!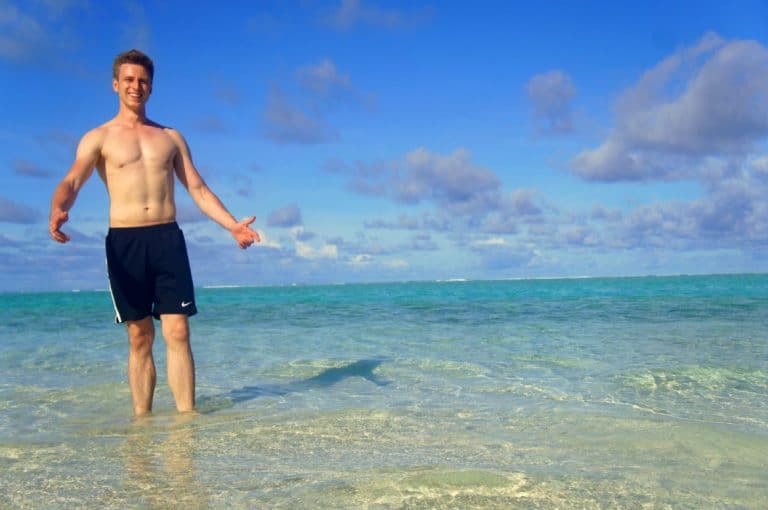 It's around 10 minutes by speed boat from our island home of Thulusdhoo, and its only occupant is a caretaker who charges $5 per person to keep the place clean and tidy.

It's a beautiful spot for sunbathing, beach workout, swimming, and snorkeling, as well as taking some great photographs of the gorgeous scenery. Although we enjoyed our first swim of the trip, what was to come would really blow our minds.
Incredible snorkeling
The following day our host Afrah took us on a snorkeling excursion.

We just have no words for this – it was quite simply the best snorkeling experience of our lives (and as you know, we've been to many of these). It was an explosion of colors the like we had never experienced before.

A brilliantly blue home to an incredible array of marine life that took our breath away – which might not be the best idea when you're under water!

Our GoPro video doesn't do it justice – you had to see it with your own eyes for the full experience. Utterly mesmerizing, peaceful, spiritual and highly recommended. It was another world.

But it wasn't only what we saw in the water, but the whole arrangement that was impressive. We were dropped off on one side of the coral reef, then taken by the current to the other side, where the boat was waiting to pick us up. Hence, we had an opportunity to see way more than if we had to stay within one small area. We've traversed 2 different reefs before heading back.
Stormy seas
We also experienced sea kayaking, but only for a limited time – which left us a little disappointed. We'd only been out on the water for a few moments when an electrical storm hit and we had to paddle to the safety of the shore.

Being exposed to that kind of dramatic and dangerous lightning would not have been a good idea. But is comes with the territory – many activities in this region are dependent on the weather and conditions. 
Big thanks to Kyle of This is Kyles Life for editing our GoPro footage from the Maldives. We will follow your journey on YouTube and Instagram! 
It was unfortunate that we didn't have time to enjoy the Dolphin cruise or scuba diving, or any other number of activities offered by Canopus Retreats, but new adventures await us in Australia.

We're pretty sure we're going to do that – and who knows? Maybe we'll be back round this way again to enjoy more activities and the incredible hospitality of Afrah and his team! Next stop – Sydney!