Some of you may be aware I recently had the opportunity to go to Marrakech and enjoy the sights, sounds, smells, and tastes of this colorful city. With one half of eTramping spending time at home base, I was a lone wolf for a short while and it was a very rewarding and challenging experience – all be it a slightly unplanned one!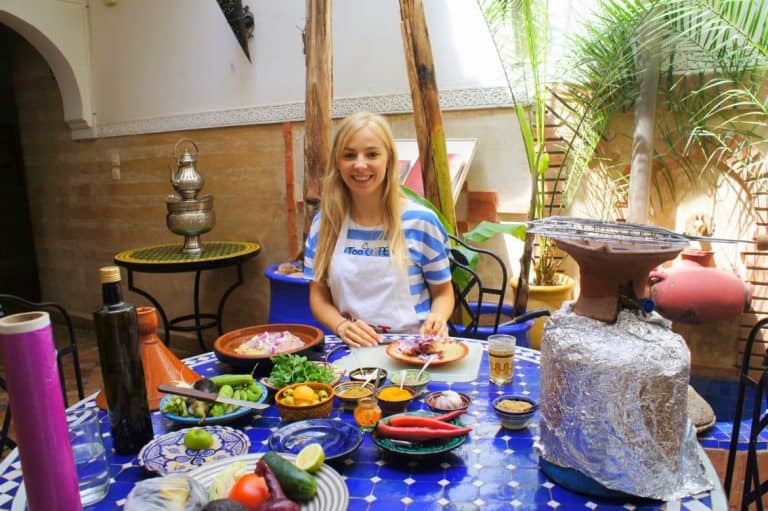 You can read more of how I came to be visiting Morocco by myself, but for now, I'd like to tell you about my truly wonderful experience taking a traditional cooking class with the help of Tinggly gift experiences and a local girl called Rita – who was extremely passionate about food and food photography. She was a woman after my own heart and we got on like a kitchen on fire – although thankfully, that didn't literally happen here!
Pass the Sunglasses
I'm a total foodie. I adore cooking and it's one of my biggest passions outside of travel and wellness (all three regularly go hand in hand), so this experience was right up my street. But before we could even begin to create a culinary masterpiece, we needed ingredients! Our first port of call was to visit the local markets to pick up some fresh meat and vegetables, all to my taste. There's no point cooking something I don't like after all!
One of the most memorable things about the markets in Morocco – known locally as Souks – is they are incredibly bright and colorful. These vibrant hubs of activity will have you reaching for your sunglasses when viewing the dazzling array of fresh fruit and vegetables while visiting such places is arguably the highlight of any stay here. Loaded up with all the goodies we needed, we made our way to the hostel where Rita works – housed in a traditional Moroccan Riad. There we set up shop to begin cooking up a storm.
Always Time for Tea
First things first though – we've got to have a cup of tea! Rita taught me how to make a traditional mint chai while explaining all the types of Moroccan herbs and spices.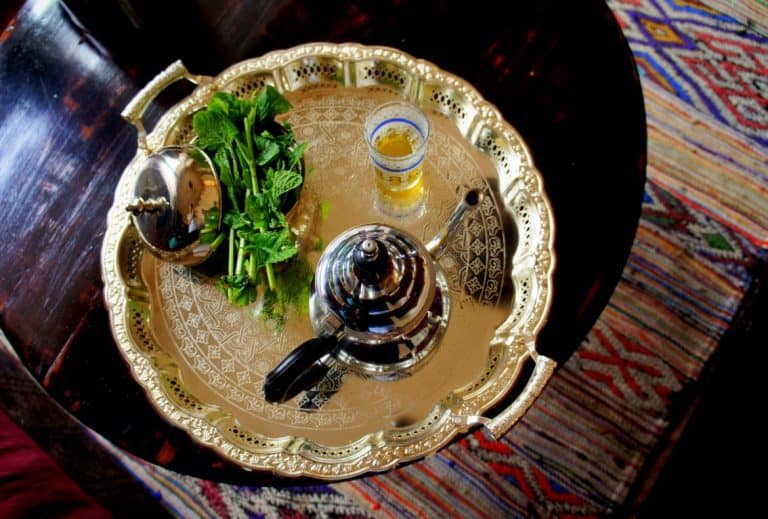 It was a lot to take in while being mesmerized at how fast and small Rita could dice vegetables! Throughout the whole experience, as well as teaching me how to make the dish, Rita was also informing me about all things Moroccan, from their way of life to their culture and even some basic Arabic to help me haggle in the markets.
To say it was an extremely informative and educational day would be an understatement!
Tantalising Tagine
With the veg all prepared and the chicken plucked, it was time for the chefs to get to work! This North African dish is synonymous with the Maghreb region of the continent, and the first known creation of it is actually from the Arabian Nights tales which date back to the 9th Century. Tagine takes its name from the earthenware pot that it is traditionally cooked in. It's a clever contraption because it requires little water to cook the ingredients and yet keep the moisture in. Handy for countries where water is in short supply.
The dish is a slow-cooked stew made with your choice of meat and vegetables. You can add all kinds of spices, fruits, and nuts too in an almost limitless combination of flavors and ingredients, but I'd chosen chicken as the base for my first tagine (which can also be writing tajine) with a hint of lemon.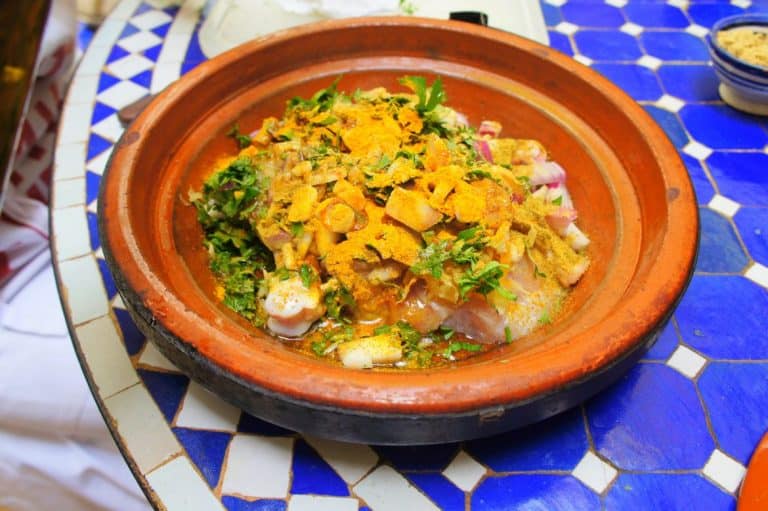 Even throughout the food prep and listening to the history of the dish, my mouth was beginning to water!
Don't be too Hungry!
And speaking of the food prep, tagine isn't a dish you can just whip up. If you're really hungry, perhaps make something else. You can't rush perfection, and while it is a relatively simple dish to make, the preparation and cooking times are lengthy.
From inception to dinner plate, I estimated that it took about two and a half hours. And with the smells that began to waft around the kitchen throughout the process, I was more than ready to chow down when Rita said it was finally done! Once we'd added a fresh salad and some bread, lunch was served. And what a lunch it turned out to be – my first ever tagine was to die for!
Another Recipe in the Locker
Thanks to Rita's expert tutelage I now have another recipe I can conjure up back home and I can't wait to make this for my family and friends. One of the best things about traveling is learning how to cook different dishes from all over the world and adding them to your repertoire. You'll never be short of dinner party guests if you're regularly making exotic delights from the far-flung corners of the globe!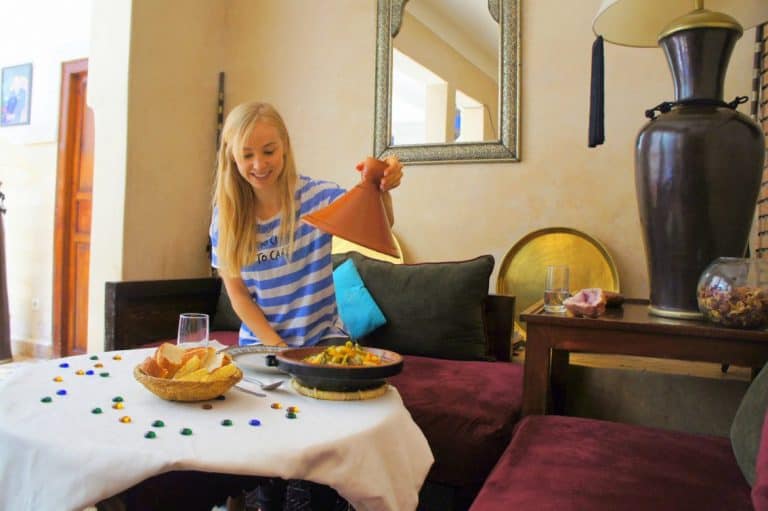 Rita gave me the recipe sheet at the end of the experience and I'll be giving it a go on my own as soon as I return home.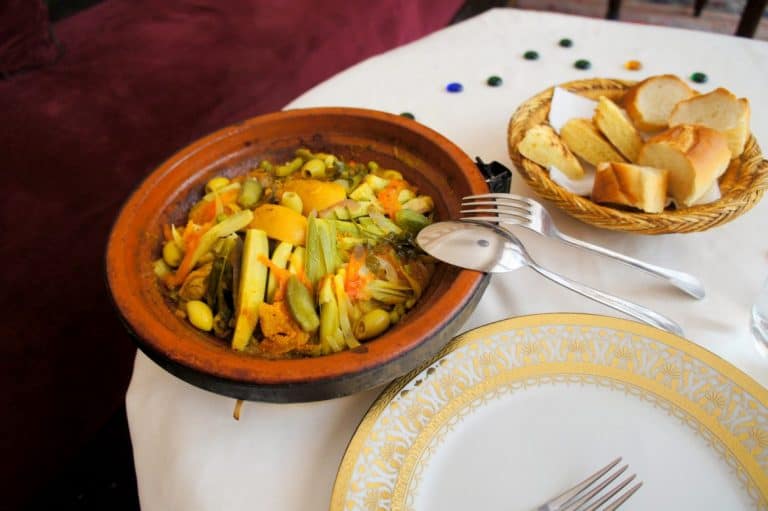 I'll probably have to make do with a casserole dish to cook it in though – so it's not going to be quite as authentic, but I hope it tastes every bit as good!
A Huge Thank You!
I would highly recommend this experience if you ever happen to be in Marrakesh and Morocco you consider doing something similar. I had a blast with my very friendly and knowledgeable guide Rita, who is an excellent cook and was a wonderful companion for the day. Thank you for teaching me how to make delicious tagine – maybe one day I'll teach you something Polish!
What exotic dishes have you learned on your travels? Let us know!