The Killarney National Park is the first national park in Ireland. At 26,000 acres, there's a lot to see, including pristine Irish countryside and some cool little villages and historic buildings.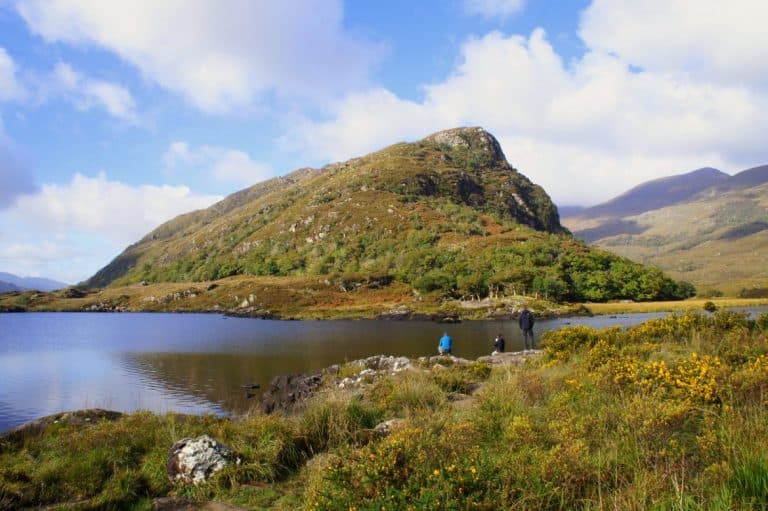 The area is located at the foot of the Macgillycuddy Reeks, which just so happen to be Ireland's highest mountain range. It might be this location, coupled with the incredible views, that led to the park being designated a Biosphere Reserve in 1981 by UNESCO. Of course, part of that was also the local wildlife and fauna.
We were recently in the area for the Travel Blog Exchange, so, when it came to exploring the local places, we knew that that the Killarney National Park was going to be our first destination. We were lucky to be hosted by Michael and Geraldine at Killeen House Hotel who, apart from being locals, love their neighbourhood and told us what to see and how. We're here to share with you what we've learned from them, and ourselves. 
Our vehicle of choice was a car, and our mission was to map the best sights to be seen, so you all know ahead of your next visit.
How to Get Around the Killarney National Park
There are a multitude of ways to get around the park. We opted for traveling by car (Cez does love driving), but you don't have to feel limited by 4 wheels.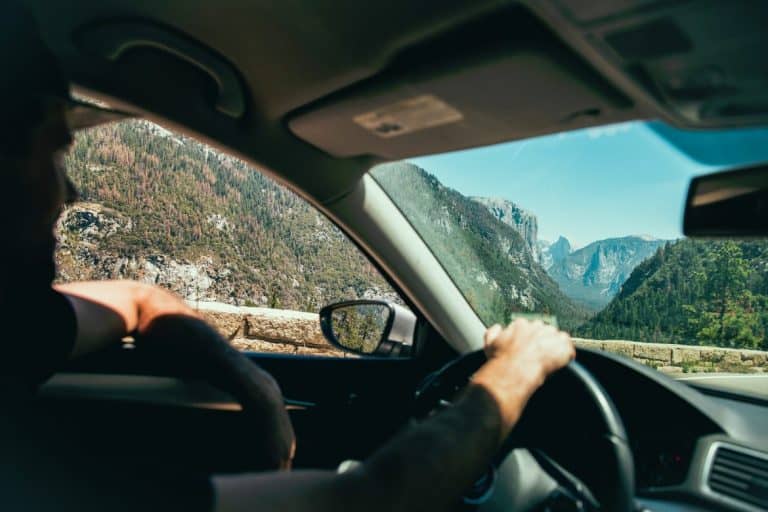 You can also cycle through the Killarney National Park. The views are great, just be careful of the narrow lanes you sometimes come across. If you're cycling, head to Ross Castle and then pop yourself (and your bike) on a boat for a tour of the lake. You can also, of course, set off on foot.
Ladies View
For any first timers to the Killarney National Park, Ladies view is probably the best starting point. You'll be able to trek down a bit to the lake and check out some of the surrounding countryside. There's even a gift shop, so you know it's not too difficult.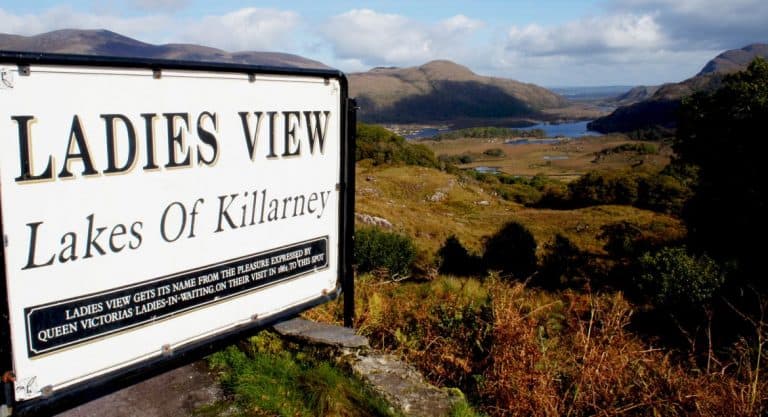 The Ladies view is also a pretty incredible view over the park and its lakes. It got its name after having been visited by the queen's ladies in waiting, who thought the view from this point was unbelievable. The views here really are good though. Don't just take our word for it.
Ladies view is pretty far from the other attractions in Killarney. It's about an hour drive from Muckross House. It is worth the effort though, especially if you're the type of person who enjoys trekking through the Irish countryside. Plus, as you're heading back to other attractions, you can always stop by at the Torc waterfall.
Torc Waterfall
A 5-minute walk from the road through incredible woodland, the Torc waterfall is a must-see site in Killarney. It's one of the main attractions in the Killarney National Park, yet unfortunately is often left off the itinerary by visitors to the area. It's best to visit the waterfall after its rained. This is when the water will be at its best.
Right next to the waterfall, you'll notice that there are some steps leading upwards. It's a bit of a steep ascent, and if it just rained it can be slippery, but the view you're rewarded with at the top is breathtaking. It definitely competes with the Ladies View. We're not sure which is better. You decide.
Muckross House
Muckross House is often considered the main 'entrance' to the Killarney National Park. So, if you're visiting the park, you can't miss the house and its gardens. The house was originally designed by a Scottish architect called William Burns, for Henry Arthur Herbert and his wife Mary Balfour. It has 65 rooms, and took 4 years to build.
In modern times though, Muckross House has become a tourist attraction. Now open to the public, entrance costs (at the time of writing) €9.00 for an adult. Inside, you'll be able to see some real Irish Killarney history, along with a several preserved pieces from when the original owners took up residence. It is free if you just want to explore the house's gardens.
You'll also find the Killarney National Park visitor center here, with information on the park and what to see. If you find you've finished the items on this list and are unsure of what to do next, then the Muchross House visitor center should be your first stop when looking for inspiration.
Muckross Abbey
Muckross Abbey is just a short drive from Muckross House, and is another of the Killarney National Park's most popular attractions. The first building at the site is believed to date back to sometime during the 6th century: the beginning of Christianity in Ireland.
The building which currently stands there – and is open to the public for viewing – is based on a 15th-century structure made by Franciscan monks. During the 17th century, these monks were forced to leave by Oliver Cromwell (obviously not the same monks that were there originally). Since then, the monastery has become one of the area's main centres of religion.
The Abbey is free for anyone looking to explore a bit of Ireland's religious history (and for everyone else, as well). The Graveyard is particularly noteworthy, where it's believed that somewhere inside the local chieftains of centuries ago are buried.
Ross Castle
Ross Castle has recently been restored and re-opened for visitors looking to see this iconic Irish landmark. Once the home of Irish Chieftain O' Donoghue Ross, the castle now stands as the testament to Ireland's rich history. It also makes for some great Instagram shots!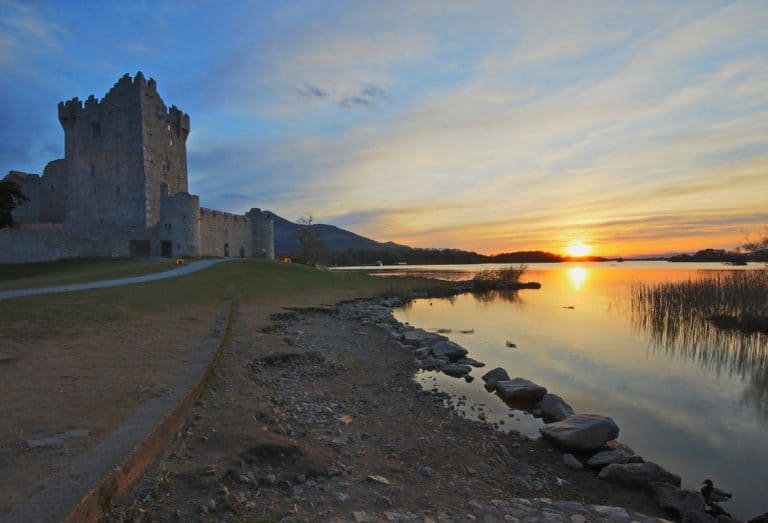 Be aware that during summer the castle can get very busy. It's one of the local area's most popular attractions, so it might be a good idea to keep it reserved for a less busy day. Ross castle is also the perfect place for anyone looking to start a boat trip around the lakes. Boats depart frequently and can take you either on a tour or to Inisfallen Island.
The Shire
Cez is definitely a lover of the Lord of the Rings. You should know that by now, especially after our trip to The Hobbiton Movie Experience. So, when we saw a Lord of the Rings themed pub called the Shire – Ireland's only, apparently – there was no doubt in our minds that we would have to stop by. With an interesting exterior and the kind of writing you only expect to see from a Lord of the Rings movie, it was a brilliant catch.
We ended up visiting this place during the day, but we can imagine that it would be the perfect place to sit down and rest in the evening, after a day of exploring Killarney National Park.
Beautiful Views, Historic Ireland
For any nature lovers out there, make sure to check out the Killarney National Park. We wish we had more free time and could have cycled through the park, but guess we'll have to leave that until next time.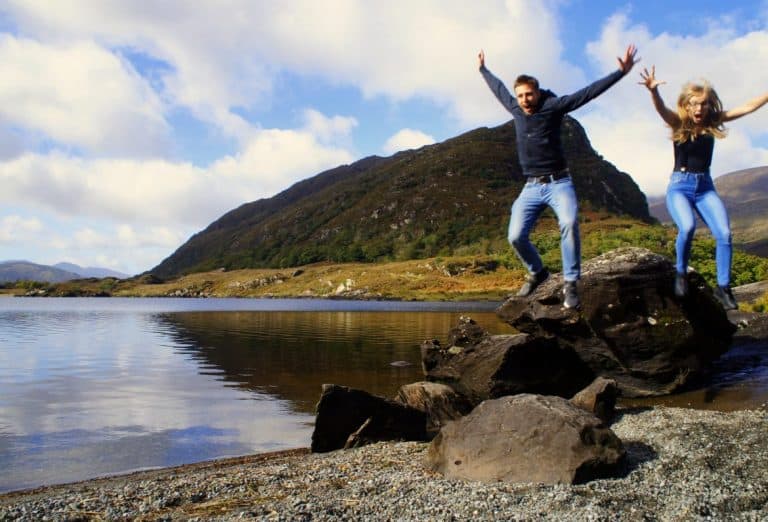 Ross Castle and Ladies View are definite highlights. They come together to create one of the best places for exploring Ireland's history and beauty. So, get your packs on, prepare yourself for some short hikes, and put your keys in the ignition. Killarney National Park is waiting.  
This post was originally published in