Hiking Death Valley National Park with kids is awesome, as long as you come prepared. This is the largest National Park in the continental US, at over three million acres. Even though it is mainly a desert, there is a vast array of landscapes and varying terrain to behold. However, this can make trying to decide on which hikes to do take all day. If you're going to go hiking in Death Valley with kids it pays to have a plan.
Things always take longer than expected, especially with kids, which makes having a plan even more important. Many locations in the park can take you all day just to get there. Most kids don't want to be cooped up in a car that long, so make sure you include time for driving around when considering where to hike. Use this guide to help make your Death Valley National Park experience the best it can be!
Going Prepared
Before I get into the best hikes to do with your kids, let me share some tips to help you go prepared. Death Valley National Park is very remote and you will find that most things are spread out pretty far. Driving a high clearance, four-wheel drive vehicle will allow you to access more of the park, but is not required to see most of the places recommended in this article. Never go anywhere in Death Valley without water, this point cannot be stressed enough. Even in the winter it can be hot in Death Valley.
The best time to plan a trip here is between late fall and early spring. Summer temperatures can easily be over 100 degrees daily. Weather can vary greatly here, not just day to to day, but hour to hour too. Bring clothes for all types of weather. It can be hot on the valley floor, but much cooler in the mountains. Wind is also not uncommon, so make sure you keep your things secured.
There are several campgrounds found within the park, as well as the Inn at Death Valley and the Death Valley Ranch, which are both private concessionaires, available for accommodations. Staying in the park is the best option because of the remoteness a day trip with kids would be very long. So, now that you're prepared, let's talk about hiking!
Hikes for Every Skill Level
A seemingly endless amount of hikes can be found in Death Valley National Park. This is great because it means there are hikes for every skill level. I will be highlighting some of the best hikes for kids and their parents. The variety of the landscape in this National Park means that surprises lurk on every hike. No two excursions will be the same. No matter where you decide to explore, something awesome awaits.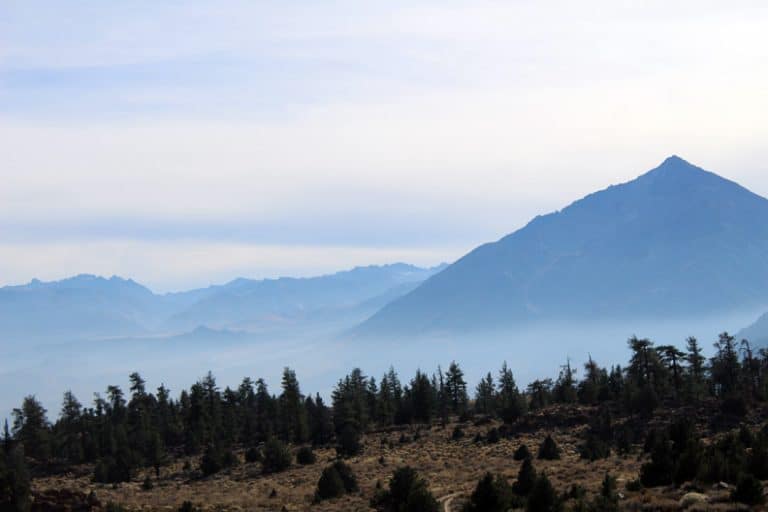 Before you start hiking stop by the Visitor Center. Here you can learn more about Death Valley National Park, get information about the hikes you're planning to take, fill up your travel water bottles, and pick up some Junior Ranger books for the kids. It's the perfect place to start any National Park adventure.
Canyon Hikes
Death Valley National Park is obviously a huge, sprawling valley. There are giant mountain ranges surrounding it on all sides. Within these mountains are canyons and each one is unique. Kids will love exploring these incredible natural formations. They will discover signs of wildlife activity, follow an old wash, or climb around on big boulders. But most importantly, they will have fun. The following are just a few of the amazing canyons that are great for hiking with kids.
Sidewinder Canyon
Sidewinder canyon is located near mile marker 31 down Badwater Road. There is a gravel parking area at the trailhead. Enter the canyon by hiking a short distance to the right of the parking area. It starts out really wide with plenty of room to run. The real draw of this canyon hike though, starts once you get into it at little over half a mile. Take the side canyon to the right, this is the way you want to go.
Once you enter, it will get darker and narrow down to where you can touch both walls of the canyon. This section is how the canyon got its name. It begins to twist and curve around like a snake. Every turn you take brings you to a wonderful new sight. The kids will love walking through the naturally formed arches. Some climbing is required once you get in a short distance, but nothing too strenuous. You can hike anywhere between three and six miles depending on how much you want to explore. There are other side canyons to hike through if you want to continue your adventure.
Golden Canyon
Golden Canyon is a very popular hike in Death Valley National Park. It can easily be accessed just a short drive down Badwater Road. There is a paved parking area with restrooms. A couple of options are available for this hike. If you are able to hike the four mile loop I highly recommend doing so. Otherwise, you can hike in as far as you'd like and then turn around. Either way, this canyon is worth exploring.
If you choose to hike the loop you will not only get some great views of the valley, you will also experience some of the variety in landscape that is found here in Death Valley. You start the hike out in the canyon and when you see it's golden walls, you will quickly understand how it got its name.
If you venture further you will get an incredible view of Manly Peak rising up in front of you. There is a steep section here which is the most difficult part of the loop, but it isn't too long. So if you can make it past here, the rest is easy. The end of the loop hike brings you out in front of the mountain where you will get sweeping views of the valley. It's a great hike that really allows you to experience the variety that is Death Valley.
Marble Canyon
This canyon requires a four wheel drive high clearance vehicle to get to. This is the only hike I recommend that needs one, although there are many others available, this one is really great for kids. Marble Canyon is worth the drive. Don't be fooled by the miles to get here though because you have to go slow on the dirt road, it took us two hours to drive to the trailhead. The good thing was that there wasn't anyone else out there.
Kids will love this hike if you are willing to make the drive. Almost right away you can look to the right and find there is a rock filled with fossils. My kids loved climbing around and pointing out all the different ones they could see hiding on the surface. There are a few places where the canyon narrows and this is where you will discover how it got its name. The walls look like they are made of marble.
If you can hike the two to three miles in, you will be rewarded with seeing petroglyphs. This little fact can help encourage reluctant or tired hikers to make the effort to keep going. There are many marks that are not from Native Americans, but if you look hard you can find the ones that are. Please remember to leave things as you find them for future visitors to enjoy. The beauty and solitude of this hike is incredible.
Easy Access Hikes and Must-See Sites
One of the great things about hiking in Death Valley National Park with kids is that for so many of these choices you can really set your own pace. Meaning you can hike as long or as short as you want. The rest of these recommendations do not require a four wheel drive vehicle. They are all easy to access, which of course makes them popular stops, but for good reason. Let me share with you my must do hikes with kids in Death Valley.
Mesquite Flat Sand Dunes
What kid doesn't love running through the sand barefoot, then tumbling down enormous piles of sand? Exactly! This is why no Death Valley adventure can be complete without hiking out into the Mesquite Sand Dunes. There is a paved parking area with bathrooms available just off Highway 190. Here is where that set your own pace thing comes into play. The sand dunes start just a short walk from the parking area, so if you want you can just get out and let the kids play or hike out as far as you want. These dunes go on for miles.
We hiked all the way to the top of the tallest sand dune and back, in a round about sort of way, and it took us about three hours. Mesquite dunes are the only dunes in the park where you are allowed to sled. We, unfortunately, did not have a sled, but we wished we did. Your kids will be saying "we just want to see what's over the next dune," again and again so don't forget your water. If you look closely at the sand you will also see tracks from all sorts of different animals, like coyote and kangaroo rats. Kids love playing at the Mesquite Sand Dunes.
Badwater: The Lowest Point in America
Within Death Valley National Park you will find the lowest point in America. This place is really cool to experience with the kids. There is a terrific sign that says your location and the elevation, perfect for snapping photos, and if you turn around and face the mountain you can look up and see the sea level marker. It is very interesting to imagine the ocean being that far above your head. Park in the paved parking area about 17 miles down Badwater Road. There are restrooms available at this site just off the parking area.
Take a walk down the short length of boardwalk and find yourself out on the salt pan. There is a packed trail that leads out to the true lowest point. You can tell where the path is worn from so many people venturing out, just to say they've been there. This trail is perfect for hiking with kids. It is fairly flat and straight, plus you can see quite a way so they can run ahead some. They may enjoy looking at the difference between the path where you walk and what's off to the sides. This walk can be very short, but the trail goes on quite far. So set your own pace and enjoy exploring Badwater, the lowest point in America.
Zabriskie Point
This might be the most popular destination in Death Valley National Park. We drove by this site several times and never stopped because it was always so busy. Until one day, we just got in the car and drove over there. The parking area is paved, but small for the amount of cars, and there are bathrooms too. A short, steep climb is required to get up to the point, but the path is paved all the way to the top. This makes it super easy, even for the little ones.
Once we reached the top, we understood why so many people stop and make the climb. The view is amazing! To the left you see hills, almost white, that look like rippling waves. Straight out you gaze upon giant mountains and to the right is a beautiful array of rocky peaks with canyons beckoning you to explore. This location makes for some really fantastic sunrise and sunset photos. Many other hiking opportunities can begin here as well. You can wander around some of the canyons by going to either the right or left of the paved trail up to Zabriskie Point. If you're up for it you can even hike all the way to Golden Canyon from here.
Salt Creek
Salt Creek is not only a perfect place to hike with kids, but a wonderful place to learn about the adaptability of the flora and fauna found in Death Valley National Park. It is a short drive down a dirt road which can be driven by most any vehicle. The parking area is gravel, but they have restrooms on site. It is a boardwalk loop trail located just past the Beatty Junction turn off on Highway 190 when coming from the Furnace Creek area.
The boardwalk section of the trail is not long, but there are several informational signs to read which help you understand the area better. There are two amazing features found here at Salt Creek. The first is Pickleweed, this is a plant that can only grow in very salty water. It is actually edible, but mostly just tastes like salt! The other cool thing you might get to see here are Pupfish. These are fish that can only live in water with just the right amount of salt. They are endangered and only a few species exist. One of them here in the beautiful Salt Creek. The conditions have to be just right, so you won't always see them, but it's fun for kids to look.
If you want to make this a longer hike, you can descend the short steps at the back of the boardwalk. This will take you out to a more challenging terrain. Be careful where you walk if you choose to explore further, the ground can be muddy. This is because the creek is constantly changing course. Also, the footprints you leave behind can stay for a long time due to the limited rainfall that Death Valley receives.
Harmony Borax Works
Death Valley National Park is ripe with history, especially mining history. Borax mines were not uncommon in this desolate landscape and there are many sites where you can still see remnants of them. Harmony Borax Works is probably the easiest site to get to and see what's left of one of these old Death Valley mining operations. The road in is paved and so is the parking area, however, no restrooms are available. There is also a great bike path from the Visitor Center to this site if you want to ride over.
From the parking area there is a loop trail that leads up to some of the ruins from the Pacific Coast Borax Company. This is an easy trail with only a slight incline. When you reach the top, there are some informational signs that explain what you see. Many people lived and worked here all year long. There are several buildings left, as well as one of the carts from the 20 Mule Team that was used to take the borax to town. After you hike the short loop, you can go explore the other buildings too. This is the perfect stop to learn about mining history and do some hiking in Death Valley National Park with kids.
So Many Ways to go Hiking in Death Valley National Park With Kids
Death Valley National Park is a place you will want to return to again and again. These hikes are just some of what Death Valley has to offer for you and your family. Hiking here with kids can be an amazing experience if you come prepared. There is so much unexpected beauty in this rugged, unforgiving place and you will find yourself wanting to explore it deeper. Bring your kids hiking in Death Valley National Park for adventures you won't experience anywhere else.
Have you ever hiked with your family/kids? If so, how did you like it? Share your experience with us in comments below.