Continuing the Epic Road Trip series, we left the gruelling, death-drive over the Pyrenees behind us and headed down towards one of the greatest cities in the world – Barcelona. However, before we were due to arrive in the Catalonian capital, we decided to take a little detour to discover the beautiful town of Cardona – and its famously imposing, hilltop fortress.
You might have thought that after passing through Carcassonne in France that we'd had our fill of medieval madness, but this was another opportunity to see an astounding construction that dated back over 1000 years. That, and it was on the way!
Lydia, my road trip companion was still buckled into the co-pilot seat and thankfully hasn't got sick of me yet. So, bright and early on the morning of the 31st January, we left our comfortable accommodation in Cercs, northern Spain, and drove the fifty or so kilometres downhill to the ancient town of Cardona – and it's unique tourist attractions.
Cardona
The town itself is a centuries-old settlement located some 90 kilometres north of Barcelona. It's a charming, medieval town with roots in Roman times. There's the 11th-century Saint Miguel church that was rebuilt in the gothic style and archaic, narrow streets and squares to explore.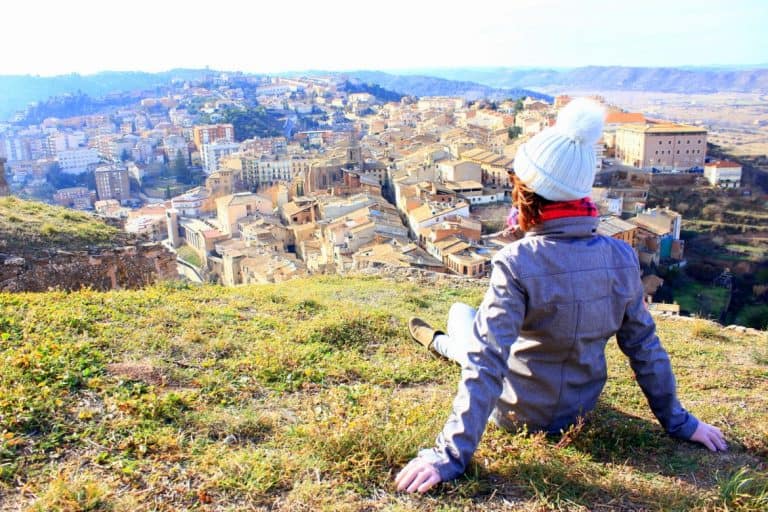 But while the region is not overflowing with attractions (there are only four of them) it does boast a couple of notable sites of interest. One, of course, is the castle we are here to see in the first place, and the other is a huge rock salt mine, visible from Cardona itself.
La Montaña de Sal
The "mountain of salt" is a huge rock salt deposit that has been mined in these parts since Roman times. Work on the site ceased in the 1990's, and now the mine attracts tourists to see the fascinating caves and salt formations.
It's 120 metres high and you can take a guided tour to descend 86 metres deep. Unfortunately, we didn't have time to visit this cultural salty park – but I've got a sweet tooth anyway.
Defenders of the Salt
The Castle of Cardona is the main reason why people visit this region, and once there you can understand why. It's a huge fortress built on a hill overlooking the town, originally constructed to guard the nearby salt rock deposits.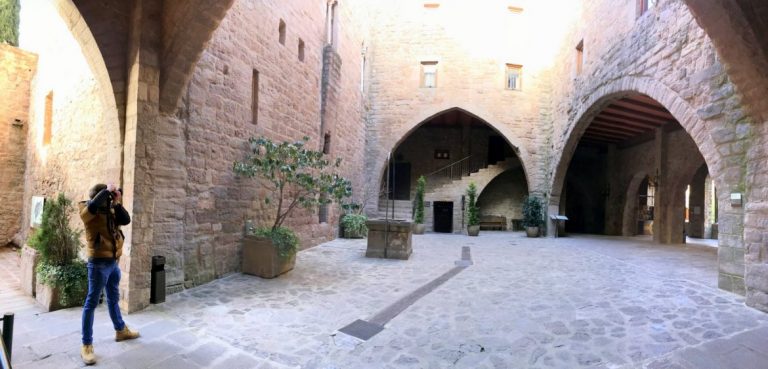 Such a commodity was worth big money in the middle ages – so they made sure nobody could steal it. As such the castle dominates the landscape and can be seen from almost any point in the region, to put off would-be salt thieves everywhere.
Wilfred the Who?!
The fortress foundations were begun way back in 886 by a gentleman known as Wilfred the Hairy – which is a rather interesting name – presumably because he didn't trim his beard. He was a Count of Barcelona, and famous for leading Christians in entanglements with Muslims, during which he eventually came off worse in 897.
His initial construction has been adapted and expanded down the years, including the fabulous Church of Sant Vicenç and the 11th-century Minyona Tower. But today, the site is predominantly occupied by the Parador. I wonder what Mr Hairy would have thought of his famous castle being used as a luxury hotel today?
King and Queen of the Castle
With us being such early risers, we were lucky to arrive at the castle with barely a soul in sight. We practically had the whole place to ourselves and set about exploring the ancient stones completely uninterrupted. There's always something particularly special about visiting a popular monument or tourist attraction when there's nobody else around. We felt like the king and the queen!
But here's a really interesting factoid for you – apparently there is an ancient decree, still in existence today, that requires every able-bodied citizen from the region to spend at least one day a year helping with the castle's upkeep. No wonder it's in such great shape!
New Year's Eve
The final moments of 2017 were rapidly approaching, and with Barcelona calling, we arrived in the city in the afternoon. As you might expect there was a buzz in the air for the New Year's Eve festivities.
Unfortunately, by then, both myself and Lydia were feeling a touch under the weather (possibly from wandering about exposed to the elements on elevated castle battlements) so we spent most of the afternoon looking after ourselves.
For the evening's debauchery, I'd booked a low-key affair at a rooftop bar, at which everyone was ridiculously well dressed. But while Lydia also looked wonderful, I was the odd man out in my casual travel attire. Maybe we should do an article on how to travel long-term with formal wear?!
Gobbling Grapes
As midnight approached and 2017 was about to be confined to the annals of history, we were handed 12 grapes. An old Spanish tradition is to eat a grape on each bell ring as the clock strikes 12. If you manage to do it, you're apparently in for good luck and posterity. It's known as "Las doce uvas de la suerte," or the "twelve grapes of luck" to those who don't speak Spanish.
We watched the fireworks over the W Hotel in the distance and with a calm New Year's Day following – it was an easy, hangover-free glide into 2018. We hope all our readers had a good one!
Beautiful Barcelona
Up next in our Epic Road Trip experience was a sightseeing tour of Barcelona – the jewel of Catalonia. Stay tuned for our escapades there and the best attractions to see in the city in a handy guide. And you can learn what destination is ahead on our itinerary, even though we're barely sure ourselves!
However, we promise there will be no more castles (I have my fingers crossed behind my back). Maybe a monastery – but that doesn't count.
We visited Carcassonne and Cardona – Which was your favourite medieval stronghold? Let us know your thoughts!