Who likes to take selfies on the road? Hands up!
We, travel bloggers, certainly do. To prove it, I've collected selfies taken in different parts of the world – from freezing Antarctica and French Alps to sunny Tanzania and the Caribbean.
There is even a selfie taken in one of Indonesian prisons and one taken in Cozumel, Mexico while diving the reef!
Instagram is full of selfies, and now you can see them on eTramping too!
Fun fact: many people are replacing their selfie sticks with selfie drones.
Let's start our selfie journey around the World!
3, 2, 1… GO!
Selfie from Niece, France by Crazzzy Travel.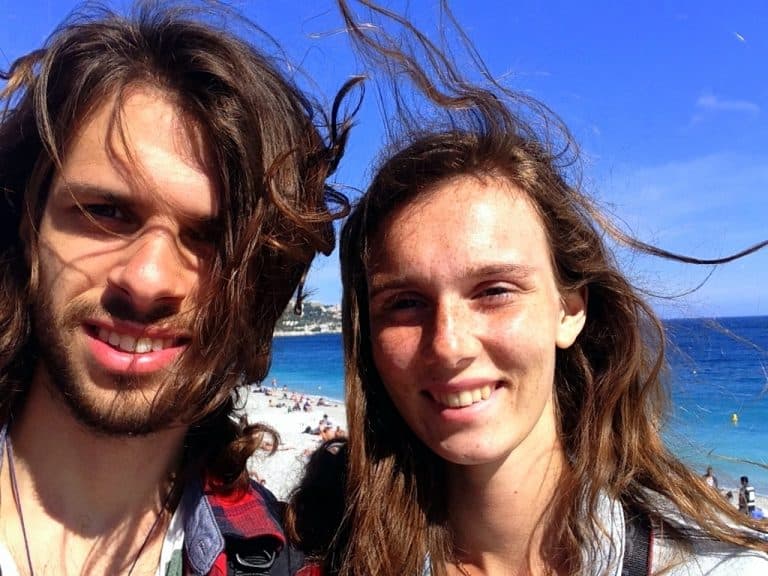 This May, looking happy in Nice, France. The wind was strong but so was the sun, we were happy to be there and enjoy a piece of a beautiful place called French Riviera. We only had one day in Nice so we spent most of the time wandering around the coastline, watching fit Françaises and luxury cars going by. Ah, those memories!
Selfie from Peru by Jessie On Journey.
This selfie was taken while hiking the Inca Trail in Peru. I had wandered away from the group for a little bit to enjoy some moments of solitude. The scenery was so beautiful, I wanted to remember myself being there forever.
Selfie from Jordan by Jessie On Journey.
This selfie was taken in Jordan's Wadi Rum, also known as the Valley of the Moon. Myself and my group were exploring via 4×4, stopping at some beautiful spots along the way to walk around, climb and take photos. This was taken while the vehicle was quickly bounding through the desert, the sun setting behind me. I was trying to capture my hair flying everywhere and just the chaos of the ride in such a beautiful place, and this is what I came up with.
Selfie from Sydney, Australia by Curb Free With Corylee.
I took this selfie at Sydney, Australia's Taronga Zoo. I had this trip planned for months and months and dreamed of seeing a kangaroo, as I'm a huge animal lover. As soon as I entered the kangaroo walkabout this rather large kangaroo was laying down within arm's reach just chillin'. I was so excited to finally meet a kangaroo that I immediately snapped this selfie and then proceeded to stare and maybe have a conversation with him (shhh!) for the next hour or so. Such an epic day! To read more about my encounters at Taronga Zoo, visit my blog.
Selfie from Phang Nga Bay, Thailand by Nomadic Texan.
This selfie was taken at James Bond Island in Phang Nga Bay, Thailand. I took it because of the movie "The Man with the Golden Gun".
Selfie from the French Alps by A World To Travel.
This selfie was taken in 2010/11 winter season. Although it was about to end tragically, our relationship with French Alps has been providing us with uncountable true happiness moments during the last 5 years. There's something about those mountains that never gets old and keeps calling your name over and over. Val Thorens was not different. Having worked there three years in a row, I can say it's one of the most fun and stunning resorts I've ever been to. Part of the huge 3 Vallees domain, you can access more than 600km of runs from there!
Selfie from the Dominican Republic by We Travel And Blog.
My husband and I at the edge of a really tall cliff in a remote part of the Dominican Republic.
Selfie from the US West Coast by Lady's Travel Blog.
While traveling solo if you want a photo of yourself in certain circumstances the need to take selfies is inevitable. So on my US West Coast Adventure there were many selfies to be had – but my favourite will forever bring a smile to my face and remind me of that moment. It all started on the top of a double-decker bus going over the gorgeous Golden Gate Bridge on a beautiful clear, warm day – but the rush comes in the form of a crazy wind that finds you on the bridge, and on a good day with long curly hair it made for a (at many times) blind ride!
Selfie from Peninsula, Antarctica by Backpacking in China.
While backpacking in the continent of extremes, other people are often too much in awe to bother asking them to help you take a photo, so I ended up taking a load of "selfies" there. I took this one half way up Cuverville Island. It's a remote island off the Peninsula part of Antarctica and is 300 metres high. We hiked all the way to the top through a blizzard and some thick. The views at the top were worth it.
Selfie from Budapest, Hungary by Traveling Hong Kong girl.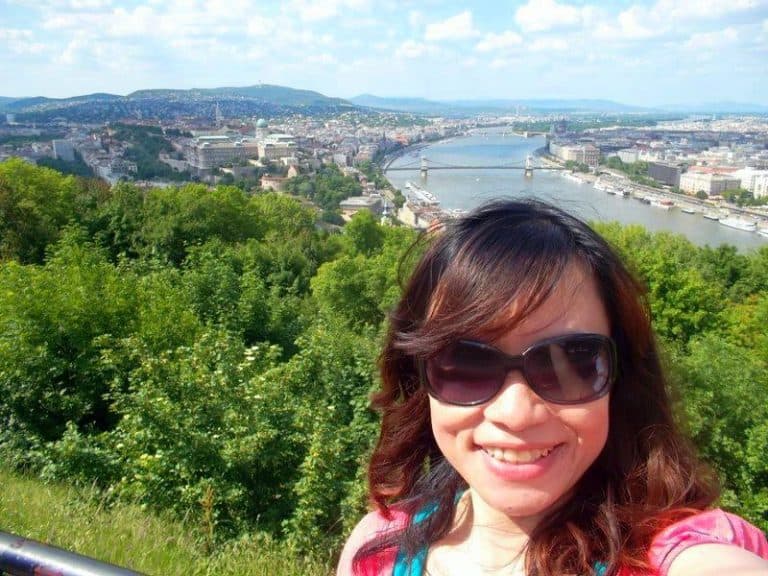 I love hiking and walking up hills to get amazing views of new cities on my travels and I have taken a lot of "selfies" like that during my world travels. The coolest recent one was up at Gellert Hill, looking down on Budapest, the capital city of Hungary! There was nobody else about so I just turned the camera on myself and snap, got a really nice image captured!
Selfie from Ella, Sri Lanka by Travel Andy.
The way up was tough to say the least and I was panting like a dog when I finally got here. But the sense of achievement was awesome as I appreciated the view from the top of Ella Rock in Sri Lanka. I had to capture the moment.
Selfie from Zermatt, Switzerland by Heynoobz.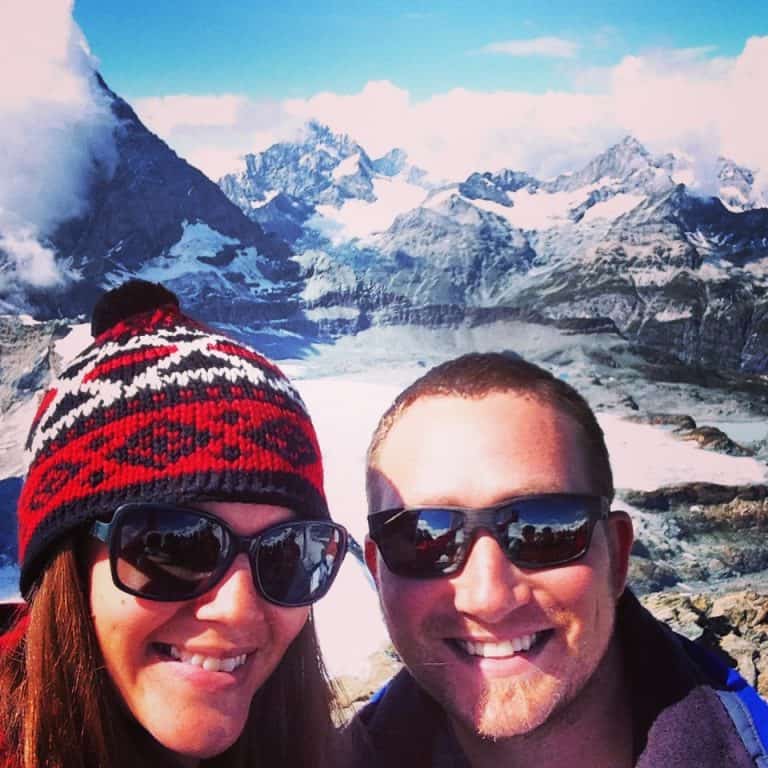 This is after taking the highest cable car in Europe from Zermatt, Switzerland to Glacier Paradise where we could take an epic selfie with the Matterhorn. We missed catching the tip-top of it when those clouds started to roll in. They sure we're fast! Being from California, home of Disneyland and the famous Matterhorn roller coaster, it was cool to see the real one in person! Well, minus the roller coaster.
Selfie from Boracay, Philippines by No Place To Be.
We were in Boracay for a few days of relaxing between swimming with Whale Sharks in Donsol and going to Malapascua Island for lots of diving. The water was beautifully clear so we started taking pictures and they inevitably ended up being of the two of us messing about.
Selfie from the Bjarnarhöfn, Iceland by On My Feet Or In My Mind.
This is one I took of myself and 'fermenting' shark meat at a place in Iceland called the Bjarnarhöfn. One of Iceland's signature foods is hákarl, which is basically rotted and cured shark meat, and this farmstead on the the Snæfellsnes Peninsula is the country's leading producer of it. I love this one because I look pretty horrified- both by the barn where the meat is hung and also by the acrid taste of it.
Selfie from Nepal by Are You Happy 1409.
The one in Nepal was taken while flying on the BudhaAir over Everest. We woke up at 5 in the morning, very cheerful, boarded a small small plane for only 18 people plus crew, the plane did not start so we had to switch to another plane which started and the flight over Everest was so exciting! We got to go into the pilots cabin and see the mountains, take pictures, dreamed that one day we will get the courage to trek Himalaya :p. Next day one tourist plane just like ours flying over Everest crushed. We thought to ourselves that we got lucky and that it must have been the will of the Indian gods we have just visited before Nepal that saved us and that we should keep traveling and take chances no matter what.
Selfie from New Delhi, India by Are You Happy 1409.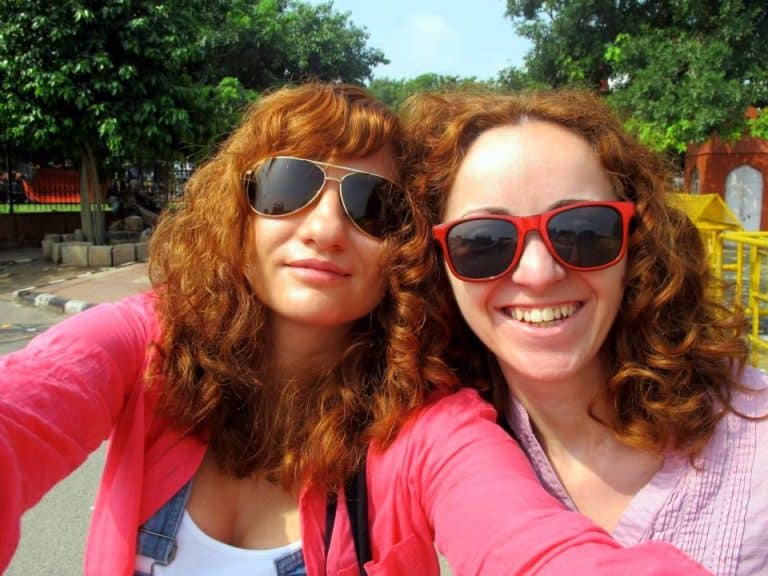 The second picture was shot in New Delhi. It was our first day during the 2 weeks trip through India and Nepal. For me it was the second time in India whilst for my friend it was the first visit. She was excited for the new adventure and I was excited hopping that she will love India as much as I did. We ended up having a blast that trip and this is how Are you happy? was created.
Selfie from Russia by Legging It.
This selfie was taken on a frozen Lake Baikal in Russia.
Selfie from Marche, Italy by Null n full.
It was taken last week in Italian region Marche while I was hunting truffles.This is an awesome activity which involves a lot of walking, staying outdoor and having the best friend with you: a DOG! The one I had was brilliant and we found like 4 truffles together! The pic shows how the typical Marche landscape is.
Selfie from Azeri desert by Hitch-Hikers Handbook.
We took this photo in a car in the middle of an Azeri desert on the way to see the mud volcanoes near Qobustan, Azerbaijan. It was a scorching day, which you can see on our sweaty faces, and a bumpy journey through the desert so that's our excuse for the horrible shot.
Selfie from Finland by Travel Experience Live.
It is taken on the Arctic Circle in Santa Claus Village in Rovaniemi, Finland. I took it after cycling there from Belgium – I did take a couple of trains too, I have to admit – and because it was an undeniably special place.
Selfie from Peru by How I Became Texan.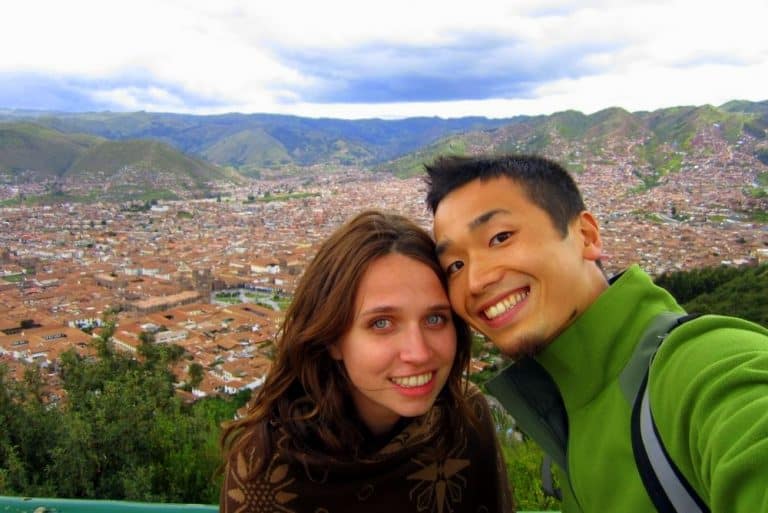 My husband snapped this selfie on top of one of the mountains surrounding Cusco (Peru) on our honeymoon. We planned to do a ten day hiking trip up Machu Picchu, but two days before the start, I was hospitalized in Cusco and underwent an emergency appendectomy. After ten days in the hospital, we didn't have enough time to climb Machu Picchu. Instead, right before we flew out of Cusco, we took a bus to the top of this mountain. It was a shame that we missed Machu Picchu, but we learned that when you travel, "plans don't always line up with reality". We also learned how much fun it is to travel with your best friend!
Selfie from Cozumel, Mexico by Escaping Abroad.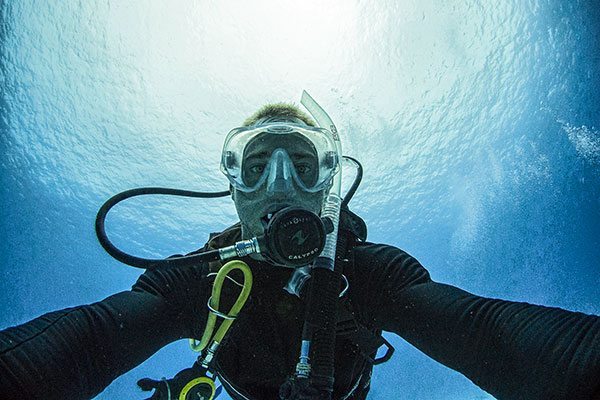 This was shot in Cozumel, Mexico while diving the reef. I wanted a photo of myself to remember the great time I had underwater that day.
Selfie from Tanzania by JdombsTravels.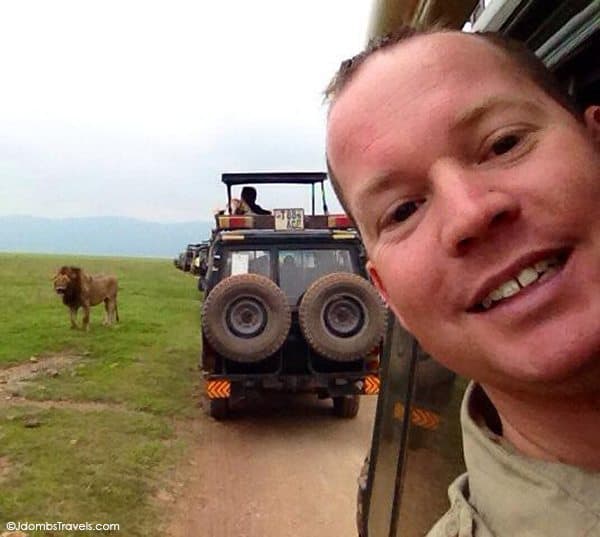 We were on safari in Ngorongoro Crater in Tanzania and came upon a pride of male lions that had taken down a Cape buffalo. Lions eat in the order of the pack hierarchy and the pride leader had been napping in the shade of all the safari vehicles. He finally got up to the delight of all the safari vehicles gathered. We rarely take selfies, but when your selfie can include a lion in the wild, you just have to take it!
Selfie at St. Peter's Church, Munich Germany.
Selfie from Batu Caves, Malaysia by Romancing The Planet.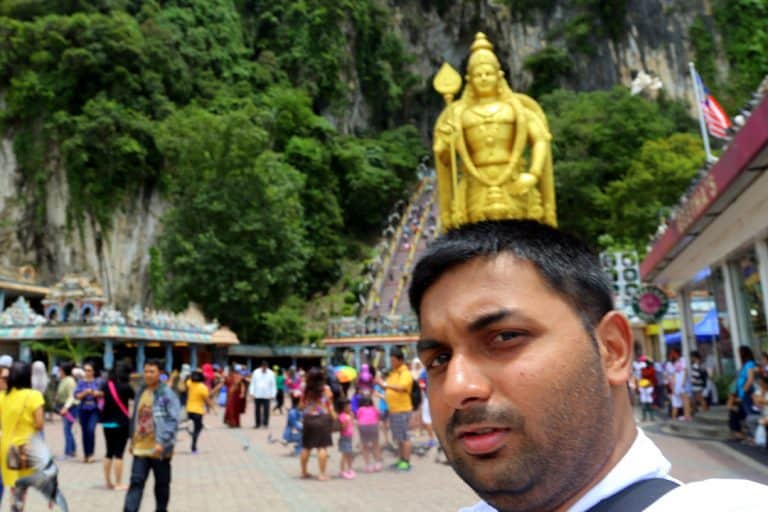 It has been, a while I have got in touch with my parents who were then in USA. All the while, they have been wondering how did I look and where was I. So, I took a selfie with an SLR and send it to them as a surprise. Not the greatest picture, but see the cause.
Selfie from Kelimutu's blue lake by Urban Duniya.
This picture is taken at Kelimutu's blue lake, a water-filled volcano on the Indonesian island of Flores. The previous day I had been very sick, and my friend and I had missed the opportunity to see the craters of Kelimutu on a clear day. After recovering the next morning, we climbed the mountain as dawn broke, but the mist refused to budge. We strained our eyes to see anything, but we had no luck. We turned to leave, and just as we passed the blue lake on the way out a puff of wind momentarily exposed the turquoise water below. While my friend was grinning with relief, I whipped out my camera and took this shot :).
Selfie from Sumatra by Jacomijns.
This year I took this one of me with the biggest flower, the Rafflesia. It is taken in the jungle near Bukittingi, Sumatra.
Selfie from Quebec by Take Me To The World.
Hi I'm Alouise I have a travel and performing arts blog called Take Me to the World. I don't take a lot of selfies, but this was one I took last year after visiting The Canadian History Museum. In this photo I'm technically standing in Gatineau, Quebec, but the buildings you see behind me are The Canadian Parliament Buildings in Ottawa, Ontario.
Selfie from Morocco by Coffee In A Cup.
In March this year I was in Morocco with a bunch of travel bloggers (great fun!) and on our last day lunch with a view was on the menu. Good food was enjoyed to the stunning backdrop of the Atlas Mountains and before we travelled back to the airport, and with little time to spare, I managed to squeeze in a selfie with this North African beaut.
Selfie from Iceland by Sole Seeking.
The photo was taken on Bláhnúkur Mountain in Landmannalaugar, Iceland. I took it because it had been quite a spontaneous decision to visit that particular place, and I was just really happy to have made the last-minute decision to jump on a bus and go there. I think that's the mentality you need to get a lot out of traveling:).
Selfie from Spain by Two Bad Tourists.
We took this selfie at Madrid Pride, the host of Europe's largest gay pride celebration with more than 2 million people attending each year. Though we're from the US, we now call Madrid home and enjoy the long sunny days and great nightlife. When we're not traveling we love exploring the city to discover the culture, nightlife (and sangria!) and gay friendly accommodations in Madrid so we can provide visitors with insider tips to plan their trip.
Selfie from Indonesia by Discover Your Indonesia.
The feeling of being able to stand on the top of Wayag Islands in Raja Ampat, Papua, Indonesia is hard to describe. The most iconic place in Raja Ampat offers you a view that can't be beaten. Though I climber with more than 10 people, the amazing view captured everyone's imagination and in no time people were busy taking photos. So taking a selfie was definitely a must!
Selfie from London by Pam goes traveling.
Strolling along River Thame is one of the best way to see London. A visit to Borough Market to fill the tummy, admire all the beautiful architectures, soak yourself in the artistic side of it, witness iconic landmarks of London and of course just embracing the moment. The symbolic Tower Bridge along River Thame is often being mistaken for being the London Bridge. It is feature in practically anywhere at the mention of London. Seeing it for myself is just incredible! (You know how people always say seeing is believing?) Yes, I am awed by its magnificence and how could I resist not taking a selfie with such a significant attraction. Of course when you are a solo traveller, selfie is the way to go!
Selfie from Thailand by Laura Explorer.
Beach selfie, taken on a random Island between Phuket & Koh Yao Noi in Thailand, on a long tail boat trip of snorkeling and island hoping with my sister.
Selfie from Saudi Arabia by Pop Culture Middle East.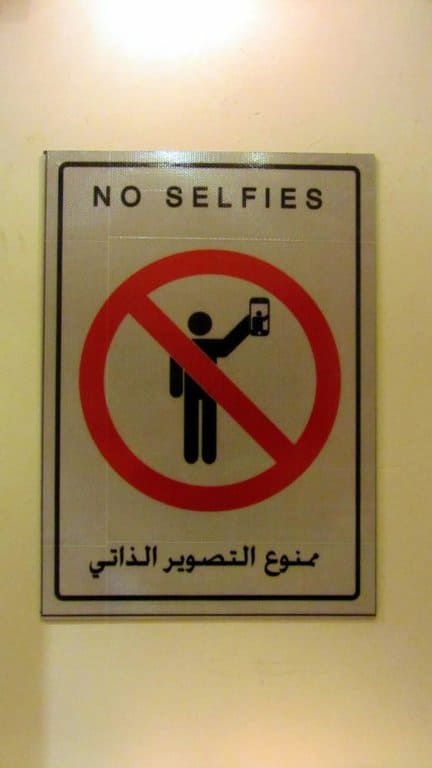 This photo I took of a sign that was posted throughout a recent gallery exhibition here in Saudi Arabia. I featured it in a recent post on my blog.
Selfie from Jordan by One Bear Travel.
Here's my travel selfie which was taken in Wadi Rum, Jordan. This was after sunrise at the Bedouin Meditation Camp Site. Some of the other tourists had signed up for a camel trek back to town and I just had to get a shot of the camels before they headed off!
Selfie from sunny Marrakech by Ad-lib Traveller.
I visited Marrakech in March 2014 as part of a girly getaway with friends. I took the photo as I wanted to capture that very moment in the city of enjoying a positive day filled with sunshine and absorbing the opportunity.
Selfie from Bruges by Ad-lib Traveller.
I was with a friend and we had decided to spend a day in Bruges after an initial trip to Brussels. Despite it being cold, we had a great day seeing the horse drawn carriages that are popular in the city lined with cobbled streets.
Selfie from Gran Canaria by Travel Hacks.
This selfie was taken in Dunas de Maspalomas, Gran Canaria, Spain. I'm not really into selfies but doing one here was something I wanted to do for a long time. Well, you don't stumble upon a small desert in the countries of European Union every day, right? So there it is. Apart from taking pictures I really liked the place so I wrote the whole post about these sand dunes. If you're in the area, don't forget to check them! (and take a crazy selfie ;-).
Selfie from Turkey by Heart of A Vagabond.
As a solo female traveler, I rarely have the chance to have a travel partner who helps me with photos or registering those magical moments around the world. This might be the reason I have so little photos of myself during my travels. Sometimes though, magic happens when I least expect and taking a good discrete selfie is the only way I can make that moment live forever. Most of my selfies are taken when I'm in the company of an incredible street animal, like this incredibly gentle cat I met at a Turkish mosque. I remember his loud purrs and long black whiskers making my day on my last evening in Istanbul.
Selfie from Cuba by Don't Forget To Move.
This selfie was taken in Havana, Cuba, on one of the rare occasions that we'd eat out at a nice restaurant. Rather than trawl the streets for the cheapest food we decided to splash out on our last night with plenty of salsa dancing and fancy cocktails.
Selfie from the Philippines by Noelimits.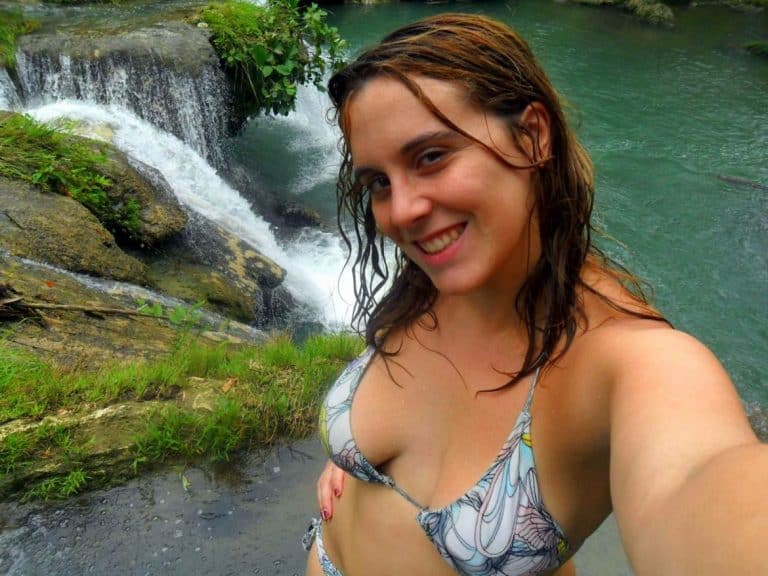 I took it in Cambugahay Falls, in the island of Siquijor, known as the mystical and magical island of the Philippines.Definitely, such a pretty place not to try a selfie :).
Selfie from Bali by Nomad Is Beautiful.
This is a photo of us and a Balinese family we stayed with in Ubud for almost one month. On this particular day, we cooked Italian pasta with eggplant and mozzarella for about 17 people. At the end, all were happy and a bit surprised by the taste but everybody finished his plate.
Selfie from Copenhagen by On the Road Again.
I usually don't take selfies in public as I feel totally awkward doing so. However the first time I visited Copenhagen I wasn't able to see The Little Mermaid as she was on World Exhibition in Asia. So when I visited Copenhagen the second time and finally got to see the mermaid, I just had to get over the fact that I was surrounded by 200 Japanese tourists and I finally took that travel selfie that I really liked in the end!
Selfie from Australia by Contented Traveller.
We took it at Moss Vale at a funny little diner on our way to the Music Festival at the snow.
Selfie from Albania by Polacos De Polonia.
We took this photo in Tirana, Albania. That was during our Balkan trip, were we were traveling mostly by hitchhiking. 8 countries all full of beautiful landscapes, amazing nature, majestic architecture, delicious food (on this photo you can see us eating burek), wonderful wine (not to mention rakija!) but above all the stunning human hospitality.
Selfie from Gobi Desert by Five Dollar Traveller.
We love this pic as it shows the not so glamorous side of travel. This was the 5th time we had broken down during our trip across Mongolia – there would be plenty more! We had flat tyres, numerous holes in the radiator with oil spewing everywhere, the van only had 3rd gear and we even broke down in the Gobi Desert for 19 hours. But we made it through and came out with the pretty epic story.
Selfie from Mexico City by World Wide Adventurers.
Sad but true we can always be entertained at a train station! So many familiar faces in this mural at Auditorio Station – Line 7 – Mexico City we just had to add ours to it! One of my latest posts is: Mexico City Don't Go there?
Selfie from an Indonesian prison by Holidaze.
I'm not a big selfie-taker…after all I know what I look like. However after I was locked up abroad in Indonesia and awaiting deportation all because of a tweet, I decided that this moment needed to be remembered. In fact I posted quite a few Instagram photos of and from my cell during the first week of my incarceration, before they took my phone and tablet away and deleted everything. Luckily this one (and a couple others) survived as they had already been uploaded to my blog for use in a post.
Selfie from New Orleans by My Hot Pink Passport.
My selfie is from New Orleans, Louisiana on New Year's Eve right before I joined the parties in Jackson Square and on Bourbon Street. In true Nola party style, I donned a ton of beads and a fun feather head piece. Nola is one fun city, especially on New Year's Eve.
Selfie from Nepal by See The World In My Eyes.
This is me trying to smile when I am actually quite scared. I love traveling and I love especially interesting local travel experiences. In Myanmar I discovered 15 Ways to travel like a local and in Nepal it was simply impossible to resist the temptation of riding on the roof of a bus. This had always looked like such fun thing to do and when I came across an overcrowded bus in the Himalayan Mountains, I simply jumped at the opportunity and climbed to the top.
As it turned out, the roof of the bus was a lot higher than expected, the edge of the road and the valley looked a lot deeper all of a sudden, the bus was shaking left and right much more on the roof than when riding inside and, sitting on a bag of rice while holding onto a flimsy rail for dear life was not quite as much fun as I had anticipated. Did I mention that I also got rained on? Well, this was definitely an interesting local travel experience. But, would I recommend that you ride on the roof of a bus as well? Definitely not. Would I do it again? Probably yes…
Selfie from Greece by Style-Island.
Selfie from the Sunsets Cafe in Mykonos, Greece watching everyone famously congregate to see the sunset.
Do you often take selfies when traveling?
Pin It For Later