The 2nd of January is always an interesting day, isn't it? The world doesn't quite know what to do with itself. Certainly, in western culture, we've just finished the crazy Christmas holidays, followed by the even crazier (yet always anticlimactic) New Year's Eve in Barcelona.
New Year's Day is invariably spent with a Chinese take away hiding under a duvet, and the 2nd is – just a bit weird! People are peeking out of their shells and realising life continues, and the world is full of possibilities and opportunities to already break resolutions.
For myself and my partner in crime Lydia, we were still smack bang in the middle of our Epic Road Trip and today – fresh as daisies – we were exploring one of the greatest cities in the world – Barcelona.
Biking Barça
The capital of Catalonia and Spain's second largest city is a hive of activity day and night and there's a wealth of sights and attractions to keep everybody happy. It has an image of a stag and hen party destination that doesn't give it credit – and there's much more to see and do than flood its beautiful streets with rivers of booze. There's a rich history here, married with forward-thinking, liberal attitudes, and since hosting the 1992 Olympic games, new life has been breathed into its bustling tourist economy.
As with most European cities of such an ilk (history, style, culture, art, architecture, old stuff) the best possible way to view it is on two wheels. Barcelona isn't small and certain sights are a fair distance from each other, so we would highly recommend hiring some bikes to see this amazing city in style and cover more ground; especially if – like us – you're pushed for time. So, here's our run-down of the best that Barcelona has to offer – all from the back of a saddle!
La Sagrada Família
One of the most famous basilicas in the world is the Sagrada Família, which as everyone should know by now – is actually unfinished. Such is the familiar sight of cranes poking the skies surrounding the spires of the structure, one wonders that when it is actually finished it won't look right!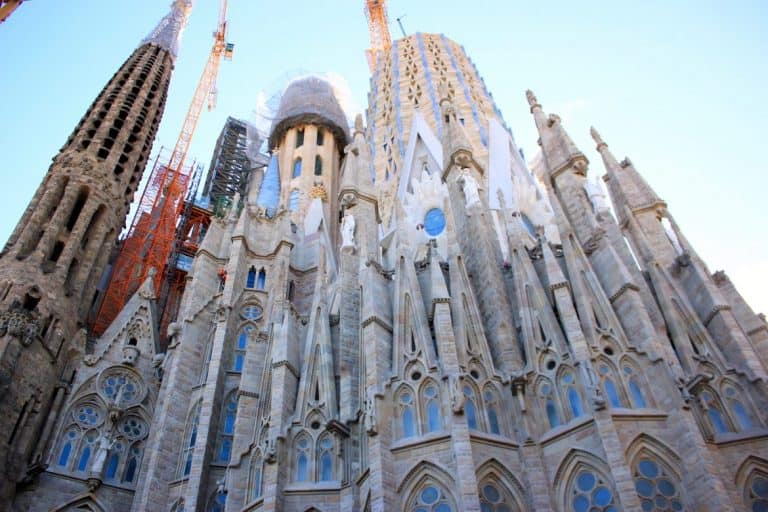 Antoni Gaudi's masterpiece was incomplete at the time of his death in 1926, and they don't show any signs of finishing it now. Apparently, 2026 is the current prediction – a century after its architect passed. We'll believe it when we see it – but we will definitely be back when the final stone has been laid.
Park Guell
Just as synonymous with Barcelona as the unfinished cathedral is Park Guell, a public garden which is filled with colorful and funky architectural elements. It's another astonishing work by Gaudi, and a UNESCO world heritage site covering his artistic talents.
Google 'Barcelona' and it's more than likely that a picture of the park is what comes up! The mosaics are stunning, but it certainly was overcrowded, so arrive early in an attempt to beat the hoards. You'll need tickets for both of these Gaudi attractions, too – and with entrance numbers limited every hour, you should book well in advance to ensure you get in!
La Rambla
One of the most famous, colorful, charming, delightful and dangerous streets in the world – La Rambla is not to be missed. Hugely popular with a tourist crowd particularly in the summer months, it's essentially a tree-lined shopping district, with a serious café, bar and clubbing culture thrown in.
But while Barcelona really comes to life here, there's also a seedy and unwanted side, including a troublesome pickpocket problem and sex workers at all hours. But don't let that put you off – just keep a good head on your shoulders – and a close eye on your wallet! Better still, you can get an anti theft backpack. You have been warned!
Barri Gòtic
The Gothic Quarter as it's known in English is the centre of the old city of Barcelona. A cultural hub, this area of the city is alive with history, art and architecture.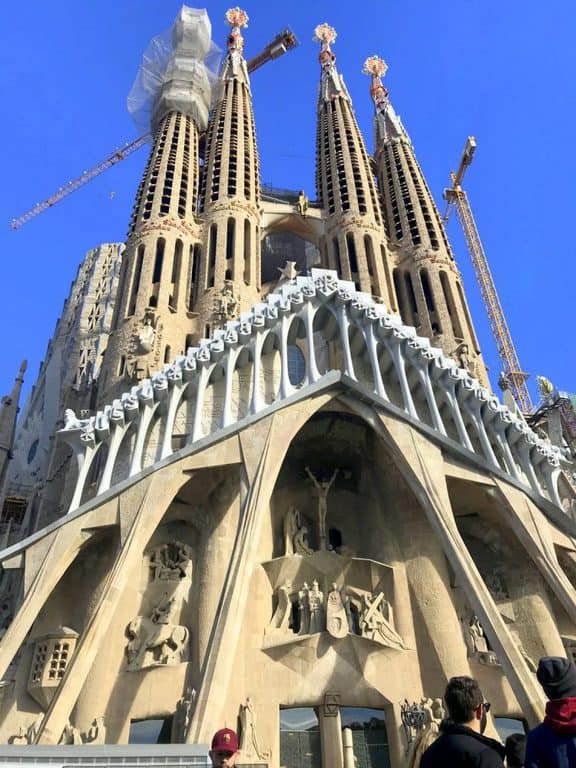 You'll naturally venture into the district from La Rambla too, so it's an easy route to your next stop. Take a wander (or cycle) down its maze of winding streets and discover hidden squares, street theater and artists, snug cafés and overpriced – but delicious – restaurants. Plaça Reial is particularly buzzing when the locals come out to play in the evening.
The Museu Picasso
You can't come to Barcelona without a visit to the museum of one of Spain's most famous sons. The Picasso Museum is home to an extensive collection of arguably the most well-known painter of all time – and certainly the most influential.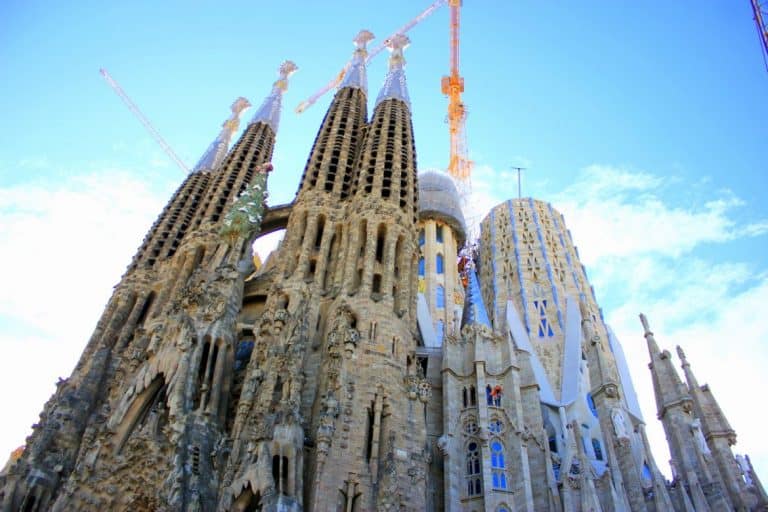 Even if you're not a fan of his cubist style, with 4,251 exhibits – you'll surely find something you like! It's still a fascinating insight into the world of this legendary 20th century painter, writer, sculptor and playwright. Interestingly, the museum was the only one opened in the artist's lifetime, first allowing the public through the doors in 1963.
Magic Fountain of Montjuïc
Located in the Montjuïc neighbourhood of Barcelona, you'll discover a real treat. The largest ornamental fountain in the city (and there's a fair few of them) Font Màgica is an audio-visual delight.
The water flows in harmony with the accompanying music, and the lights dance in a brilliant tandem to create a thrilling spectacle. Or – it's just a fountain with lights and music. Whichever way you look at it, this 1922 centrepiece is well worth a visit – and it's best to go at night.
Camp Nou
A little further afield is probably the most famous football stadium in the world, and whether you love or hate the sport – a visit to FC Barcelona's sensational home ground is well worth the experience. It is the largest stadium in Europe, with an astonishing capacity of 99,354!
And well they need the room, with the team being one of the most popular and electrifying clubs on the planet, and followers numbering into millions. You'll need to re-mortgage your house to get a ticket to a game, but the stadium tour is a close second.
Adios!
Alas, the time had come for us to once again mount our trusty steeds and gallop to our next destination. Or at least open the car door and turn the engine on. Barcelona was a delight – rightly owning its place among the world's top cities. Montserrat is next in our sights, so stay tuned again for our adventures there. Adios for now Barça – we'll be back when you finish the cathedral!
Have you been to Barcelona? Tell us what you think makes it so special!