If you plan to visit Barcelona, then you've come to the right place. Located on the northeastern coast of Spain, with its marvelous climate and sights, Barcelona makes a perfect Mediterranean destination for your vacations. You get to enjoy its views, architecture, food, and friendly atmosphere. Keep reading to find out more!
Tourist Attractions
Barcelona has plenty of sights that you'd easily admire. Being a culturally and historically rich city, there are many monuments to visit and learn about. Below, you shall find the two most common attraction buildings in Barcelona.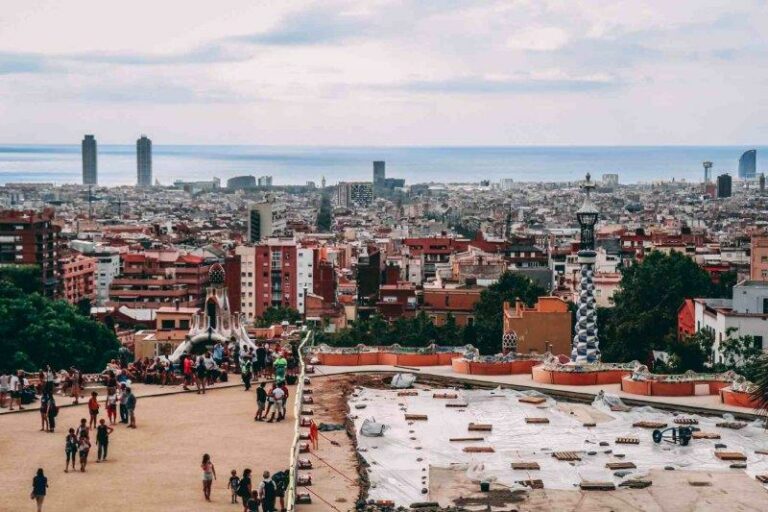 La Sagrada Familia
Also named Temple of the Holy Family is a cathedral in Barcelona that was planned by Antonio Gaudi. It is admired by the locals and tourists for its beauty, unique architectural designs, and the fact that it symbolizes the complexity and pleasantness of modernist architecture. The cathedral aims to teach people about Catholicism and portray it in the best way possible. The ticket prices vary, but you could check the official website of La Sagrada Familia and plan your tour by yourself.
Casa Batlló
Also, a monument designed by Antonio Gaudi, Casa Batllo is a building located in the center of Barcelona. In English it means "The House of the Dragon." With its vibrant colors, mixed details, and unique features, it is considered one of the best things to do in Barcelona City.
If you are willing to visit Casa Batllo, which is very recommended, you should know about it beforehand. It usually opens daily, at 9am, and you can get to it by metro, train, or bus depending on your location. The average ticket price to get into Casa Batllo is approximately $35.
Barcelona Beaches
Barcelona has some of the most beautiful and calmest beaches worldwide. Its coastline provides its locals and tourists with a safe and clean beach experience.
Barceloneta Beach
Barceloneta is the most known and popular beach in Barcelona. It is surrounded by seafood restaurants serving freshly-made dishes that'll add pleasure to your beach day. In order to get to Barceloneta Beach, you can take a metro or take a walk if you reside nearby. There are many things you could do in Barceloneta including relaxing on its golden sands, meeting new friends, riding the cable car in Montjuic, and playing volleyball with the locals, who are very friendly. If you intend to stay for longer, lucky you because there are many hotels where to stay, right near the beach. The average price per night varies between $35 and $60.
Nova Mar Bella Beach
Platja de la Nova Mar Bella is considered one of the quietest beaches in the area of Santi Mari. It's also very clean and secured so it's guaranteed you'll have fun in it and enjoy a peaceful beach day(s). It offers many facilities such as parking, public bathrooms, public transportation with reasonable prices, and there are even wooden walkways available.
If you are into sports, there are volleyball courts and drinks and ice-cream kiosks for breaks after swimming. Nova Mar Bella is also surrounded with hotels and apartments with reasonable prices.
Nightlife in Barcelona
Nightlife in Barcelona is quite the hype. Everyone gets to enjoy the city's breezy nights and its vibrant atmosphere. You get to do many things like touring the nightly markets or dancing the night away in local festivals and clubs.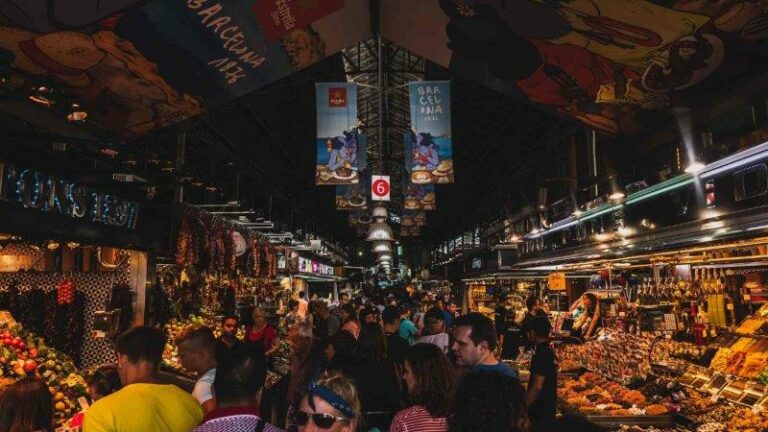 Markets
Markets are very common in Barcelona and they're a crucial aspect that the locals heavily lean on to get groceries. You would feel great belonging to the culture by being in Barcelona's markets.
At nighttime, the markets are usually available for tourists and locals and you get to have walks, buy street food, and take lots of photographs.
Sant Antoni Market, for instance, or (in Spanish) Mercat de Sant Antoni, sells many diverse goods such as clothes, home decor, souvenirs, and food. The market was mapped by Antoni Rovira I Trias at the end of the 19th century and it is even better at night. It gets less crowded in winter and you can have your nightly walks in peace.
Festivals
Festivals evidently occur in Barcelona throughout the entire year, so no matter when you plan your trip, there's a high chance you're lucky enough to attend a festival, if you're a fan of it. Possibly the most famous festival of Barcelona is Castellers de Barcelona, in which talented performers get to form a human tower that will definitely get everyone's attention.
There is also the Carnival that occurs in February and March. You can expect coloured clothes, music shows, and carts selling delicious food, snacks, and beverages for foodies!
Restaurants and Bars
Another aspect of Barcelona's beauty lies in the diversity of restaurants and pubs. Generally speaking, Spanish food is promised to be everyone's favorite from the first try. Eating in Barcelona is an exotic experience as you get to try a totally different cuisine.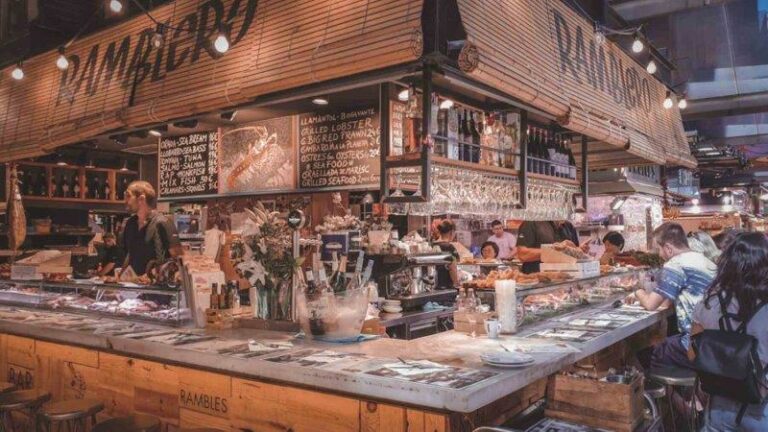 Food in Barcelona
There are many good restaurants in Barcelona so you wouldn't have to tour the entire city on a tiring day in order to eat. The top restaurant in Barcelona would be Viana Barcelona. The prices vary between $6 and $30 and it serves freshly-made Spanish authentic food. Basically, even if you are on a budget, there are many tasty dishes that you can try in Barcelona: you can also try street food such as Tortilla de Patatas, Croquetas, and Pincho De Tortilla.
Drinking Culture in Barcelona
Generally speaking, drinking is part of Spanish culture, and Barcelona's more specifically. There are bars in Barcelona everywhere serving Spanish drinks such as Clara, Vermouth, Cava, and Carajillo. Some of the most famous bars include Balius and Blu Bar. Keep in mind that Barcelona has a deeply-rooted history in winemaking so it's a perfect place for wine-enthusiasts.
Tips to Consider
Due to its centrism and attraction of tourists, Barcelona is a big city that needs enough planning before you set foot in it. In order to have a flawless journey, make sure you keep some tips in mind that'll save your time and health.
Learn the Local Language
Actually, whenever you decide to travel to a certain place, you should do your research about the local language and learn a few words. That way, you can easily find your way in the city and attempt to negotiate with buyers.
It's also considered a gesture of politeness and it proves that you care about the people's culture and are willing to learn. In addition, you need to learn a bit of the language in order to read signs and not get stuck even if you don't have your phone or your mini dictionary. Also, if you are considering studying in Barcelona, it'll make everything easier if you learn the basics of Spanish.
Book in Advance
Barcelona tends to get really busy especially as summer approaches so it'd be the smartest idea if you book in advance and secure your place, especially in hotels and residences. If you are interested in fancy restaurants too, you should check the restaurant's website and consider booking beforehand in order to not get your time wasted.
Wear Comfortable Clothes
When in Barcelona, you'd have to do a lot of walking around, especially in alleys. Think of it as your daily fitness exercise or as a creative way to explore the city and take souvenirs. That's why you need to wear your most comfortable pair of shoes, clothes, and carry SPF with you whenever you go. Weather in Barcelona can get very hot in summer so you need to re-apply your sunscreen every now and then. Also, your hat would be crucial.
Conclusion
Barcelona can be considered one of the world's quietest cities which is why it is loved by so many. It's quiet and festive at the same time, in the sense that you can have your most relaxing morning and evenings in its beaches then party hard at night. Barcelona is the destination of so many tourists worldwide due to its rich historical aspects, nightlife, and restaurants, so be sure to check it out if you get the chance.