Nestled along the Adriatic coast, Split, Croatia, is a charming city that boasts a wealth of history, awe-inspiring landscapes, and striking architecture.
With a perfect combination of culture, nature, and relaxation, Split is a great place to spend a 3-day trip abroad.
In this article, we'll share some handy tips to help you prepare for your trip to Split, as well as an itinerary that highlights some of the best things to check out during your visit. Whether you're traveling from a foreign country or just an internal domestic travel from Hvar to Split, you'll be ready to enjoy this 3-day vacation.
Day 1
Marjan Hill
Marjan Hill is a great way to kick off your trip in Split, Croatia. Marjan Park is located on top of a hill of the same name, and offers incredible views of both the city and the Adriatic Sea.
Getting to Marjan Hill is easy! You can either take a leisurely hike from the city center or catch a bus or taxi to the park entrance. As you explore, you'll find many trails and paths throughout the park, some of which lead to hidden beaches and coves.
The highlight of Marjan Hill is definitely the awe-inspiring views from the top. You can see the entire city of Split, the surrounding islands, and the stunning blue waters of the Adriatic Sea, which is perfect for taking some gorgeous travel photos. Marjan Hill is an incredible place to watch the sunrise first thing in the morning, so you can set your day off on the right foot.
Old Town
"Old Town" Split is a historic city center that's a perfect destination for history buffs. This city is a UNESCO World Heritage Site, as it's home to several fascinating historical landmarks.
While exploring Old Town, you should check out Diocletian's Palace, a giant Roman palace from the 4th century. You can climb the bell tower for a nice view, or choose to explore the lower parts of the palace like the main halls and cellars and imagine life in ancient Rome.
Though it's primarily known for its history, Old Town is also filled with many museums, galleries, shops, and restaurants for you to enjoy, so you can always find something of interest in this region.
Riva Promenade
Riva Promenade is one of the most vibrant and bustling areas of Split, Croatia. It's a long, seaside promenade that stretches along the harbor and offers stunning views of the Adriatic Sea.
This is a popular spot for locals and tourists alike. After all, who wouldn't want to enjoy taking a stroll to observe the beautiful scenery, soak up the sun, and relax?
One of the main attractions of Riva Promenade is its lively atmosphere. You'll find an array of restaurants, cafes, bars, and ice cream shops that serve up delicious local cuisine and refreshing drinks.
While you're there, be sure to rub the big toe of the statue of Gregory of Nin – it's said to bring you good luck!
Day 2
Zlatni Rat Beach
Zlatni Rat Beach is a popular beach in Croatia for both locals and tourists visiting Split. The beach is located on the island of Brač, just a short ferry ride away from Split.
The water is perfect for swimming, snorkeling, and other water sports, and there are plenty of facilities nearby for changing, showering, and renting beach chairs and umbrellas.
One of the best ways to explore Zlatni Rat Beach is to rent a kayak or paddleboard and explore the coastline at your own pace.
You can also take a boat tour and discover the hidden coves and secluded beaches along the coast. Regardless of your choice, it's the perfect way to start the second day of your trip!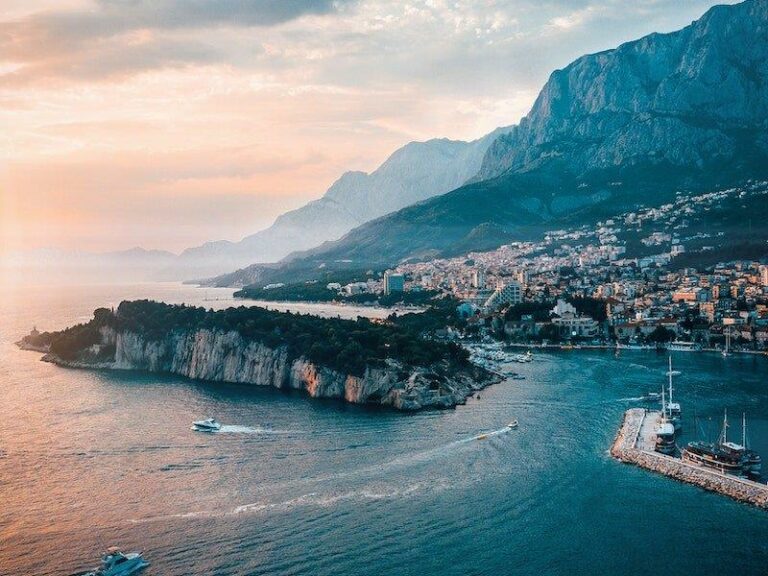 Poljud Stadium
If you love sports, you definitely need to check out Poljud Stadium during the afternoon. This famous stadium is home to the Hajduk Split Football Club and attracts thousands of sports enthusiasts every year.
Visitors can take a guided tour of the stadium to learn more about its history and distinctive architecture. The tour includes a visit to the locker rooms, the VIP boxes, and the pitch, as well as a climb up to the roof for a panoramic view of the city and the surrounding area. If you visit during football season, you can even attend a game there.
Konoba Nikola
There are many amazing restaurants in Split, Croatia that serve delicious Croatian cuisine, but one of the best is Konoba Nikola. This popular restaurant is known for its warm hospitality, traditional dishes, and stunning views of the sea.
Konoba Nikola has a luxury menu that features a variety of fresh seafood, grilled meats, and local delicacies, all prepared with the freshest local ingredients. Some of the standout dishes include grilled squid, black risotto, and grilled lamb chops. The restaurant also has a large wine menu featuring both local and international wines.
Because of its location, the restaurant has a terrace with a gorgeous view of the sea and harbor, which makes it the perfect dinner spot for romantic couples. Just remember to book a reservation in advance, as they tend to be pretty popular!
Day 3
Krka National Park
Start the last day of your trip by venturing out to Krka National Park, one of the most beautiful natural attractions in Croatia for nature lovers. Krka National Park is located about an hour's drive from Split, in the central Dalmatia region of Croatia.
Krka National Park is known for its stunning waterfalls, crystal-clear lakes, and incredible biodiversity. The highlight of the park is the Skradinski Buk waterfall, a grand waterfall that cascades over 145 feet.
You can explore the park by following its many trails and wooden boardwalks that wind through its lush greenery. You can also take a boat tour and see the park from a different perspective, or take a swim in one of the park's many lakes.
Ivan Meštrović Gallery
If you're an art lover, the Ivan Meštrović Gallery is a great place to discover. This museum is filled with the many sculptures, drawings, and paintings of Croatian artist Ivan Meštrović, along with several other exhibitions by other artists.
In fact, the Ivan Meštrović Gallery is located in a villa that was once Meštrović's home and studio!
Because his works are spread throughout the villa, you can take your time admiring his pieces as well as the distinct architecture of his home.
Sunset Cruise Along Split's Coast
To finish off your incredible trip, take a relaxing sunset cruise along Split's coast. It's the perfect way to take in the beauty of the area one last time before heading back home.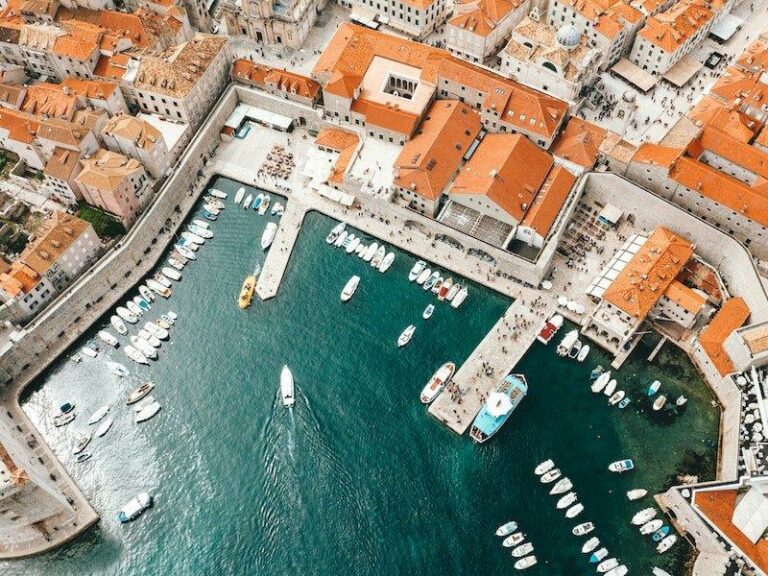 Because you're going at sunset, you'll be able to see Split in an entirely different light. Gorgeous sunset views are perfect for photography or simply admiring, especially as you dine on delicious Croatian food while onboard. Depending on the cruise you choose, you may also find yourself dancing the night away on the ship's dancefloor.
Extra Tips to Prepare for Your Trip
Before traveling to Split, below are a few key tips to consider before planning your adventure.
Research Your Destination
No trip is perfect without a good amount of research done beforehand. If you want to travel to Split, be sure to spend some time researching the city and picking some activities and locations you want to explore.
While we do have some great experiences in the itinerary below, your trip is ultimately yours. Don't be afraid to try out something new if you find something that interests you!
You should also keep in mind that while English is widely spoken in Split, Croatian is the official language of Croatia. It would be helpful for you to learn some basic Croatian terms before traveling, such as "hvala," which means "thank you," or "molim," which means "please."
Prepare Items for International Travel
Traveling abroad means gathering the proper documents for international travel. You'll need to have a passport to travel to Croatia, and depending on your home country, you may also need a visa. Be sure to check out travel restrictions for visitors from your country, and get those set as soon as possible.
You'll also want to consider that Croatia's main currency is the Croatian Kuna (HRK). You'll need to exchange your currency at a local bank or exchange office, especially since they usually provide better rates than exchange booths at tourist locations.
Pack Lightly (But Not Too Lightly)
Finally, you'll want to make sure you pack responsibly for this trip, which means avoiding over- and under-packing. If you pack too much, you could face baggage fees or not have enough space to bring home souvenirs. If you bring too little, you could end up spending more money on items you forgot to bring with you.
For travelers to Split, Croatia, keep in mind that Split has a Mediterranean climate, which means it has extremely hot summers and mild winters.
If you visit during peak tourist months (June to September), you'll want to pack light clothing that will keep you cool as you explore the city. For winter travelers, you should pack some long-sleeve clothing and a jacket to keep warm on chilly days.
Conclusion
Split, Croatia is an incredible destination for travelers looking for a perfect combination of culture, nature, and relaxation.
By following the itinerary, you'll get to experience some of the most iconic landmarks in Split, including Marjan Hill, Zlatni Rat Beach, and the Ivan Meštrović Gallery. You'll also get to indulge in delicious Croatian cuisine, explore the vibrant local culture, and create unforgettable memories along the way.
Whether you're an art enthusiast or a nature lover, remember to prepare well for your trip and get ready to have a fantastic time exploring this gorgeous city.