Alas, we have reached our final destination in Spain! Our journey towards the Portuguese border would naturally pass through the historic city of Salamanca, so it would have been rude not to pay it a visit. The old town is pretty much an open-air museum and has been a UNESCO world heritage site since 1988. But perhaps it's most famous attraction is the centuries-old university.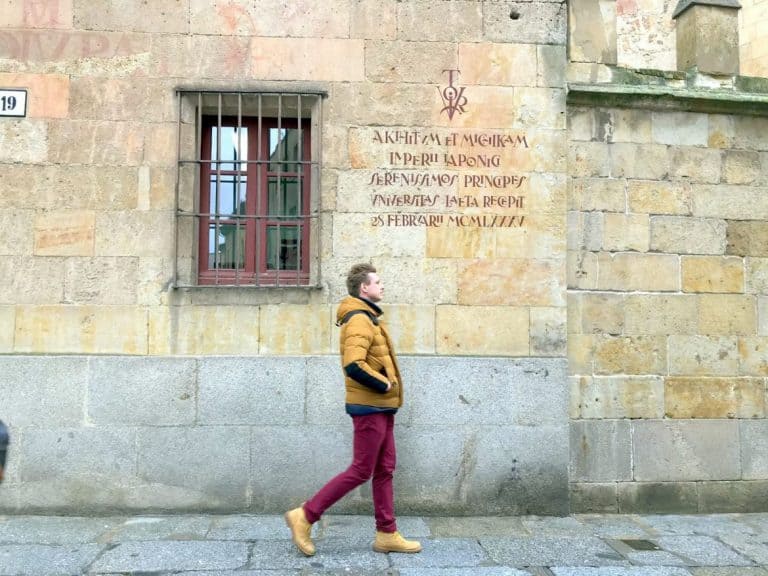 Dating back to 1134, the University of Salamanca is the third oldest in the world. It's one of the main reasons why so many students and tourists alike visit these parts. As ever, Epic Road Trip compadre Lydia was on hand to join me in following in their footsteps. But first, after driving the 235 kilometres from Madrid, we had to start the day the right way – with an outstanding tapas breakfast. Our Spanish culinary experience has been exceptional – and will be tough to leave behind. Nonetheless, having been well fed and well-watered, join us on a rather educational walking tour of this beautiful, ancient city.
University of Salamanca
If you're interested in studying the Spanish language – look no further. The University of Salamanca is the premier school in the world for learning the tongue. It has attracted students from far and wide since the 12th century.
But it's more than just a centre of learning, as it's one of the most beautiful buildings you're ever likely to see. With an incredible, ornate façade that could keep you mesmerised for hours. Don't miss the magnificent Patio de Escuelas – a renaissance and baroque courtyard at the heart of the university.
Old and New Cathedrals
Along with the university, a highlight of any visit to Salamanca is the old and new cathedrals. They are actually linked together, the eldest of which dates back to the 12th century, with the new version completed around the 1700s.
They're both a mix of architectural designs and stunningly beautiful in their own right. And don't miss their decedent and gilded interiors, including a sumptuous 15th-century altarpiece in the old cathedral. There are some wonderful city views from up here too.
Casa Lis
Built for a wealthy businessman in the early 20th century, Casa Lis is a mansion of modernist design that was saved from ruin in 1981. It is now home to a wonderful collection of decorative arts. Moreover, it boasts over 2,500 eclectic pieces, including sculpture, glassware, ivory and bronze works.
It is known today as the Art Nouveau and Art Deco Museum. The building itself is a work of art, with a marriage of iron and hundreds of stained glass panels that make it worth the price of admission alone. Closed on Mondays, the museum has free entry on Thursday.
Convento de San Esteban and Convento de las Dueñas
If you've not yet had your fill of beautifully ornate façades, then head over to St Stephen's Convent. This 16th-century Dominican monastery is sumptuously rendered and has an equally breath-taking interior with some noted sculpture and artwork.
Close by is the Convento de las Dueñas, a nunnery of Moorish-Christian design constructed in the 15th century. Both holy orders are still practising, but are open daily to visitors.
Torre del Clavero
Next on your route through the old town is a brief stop at the Tower of Clavero. It is actually all that remains of a stately home built in the 15th century.
It's definitely worth a look as you continue towards Salamanca's central square.
Plaza Mayor
Salamanca's Plaza Mayor easily rivals that of its neighbouring counterparts. With an impressive arcade that runs on all sides and a total of 88 arches. As such, it is considered by many as the grandest plaza in Spain.
It was constructed in the 18th century with a Baroque design. Today it is the number one people watch destination in the city. As you might expect, the café-culture is strong here, and it's the perfect spot to take a rest with a cup of Joe and watch the world go by.
The House of Shells
For a unique and quirky attraction, don't miss the popular House of Shells, a 15th-century building that houses the city library. Its façade is decorated with over 300 sandstone shells – as you might expect considering its name. It represents the symbol of medieval pilgrims traveling the way of St James.
There's a delightful inner courtyard you can also visit, but the building is best visited on a sunny afternoon. Then, the light plays with the sandstone decoration. Unfortunately, we were all out of luck with this weather!
Real Clericía de San Marcos
Just before you come full circle you'll discover the beautiful Clericía Basilica. It is a 17th-century baroque church which offers some wonderful views of the city from its central transept.
However, in order to see it's beautiful interior, you do need to be part of a guided tour. It was built to be an ecclesiastical school, and today serves as the HQ of the Salamanca Pontifical University.
Adios España!
Our adventures in Spain have finally drawn to a close – and this was a wonderful walking tour to go out on. Salamanca is a must visit if you're ever in these parts or even if you're not. It truly is a magical city where you step back in time.
We'll probably be back just for that tapas alone! Portugal awaits, and with it – the enticing north Atlantic coast and the little city of Aveiro, as we've finally made it to the sea! Check back in on the Epic Road Trip soon and we'll see you on the other side!
Salamanca is a beautiful, ancient city you can walk around in a day. Does it remind you of anywhere else? Let us know your thoughts!