The 10th of January saw us arrive at the seaside town of Aveiro, Portugal, our penultimate stop on the Epic Road Trip. We had crossed the border around 4 pm and arrived in Aveiro just after 8 pm, so it was a little late to be doing anything but locating our accommodation and hunkering down for the night.
Our base of operations for the next two days was to be the Aveiro Rossio Bed and Breakfast, which is such a charming little place we decided to give it an eTramping review.
As luck would have it, we just happened to be in town during a traditional festival – which is always a bonus when you're traveling – especially if you get to experience something really unusual or unique.
Guesthouse staff informed us, therefore, of the Festas de São Gonçalinho, which was taking place over the next few days. ERT companion Lydia and I were keen to find out what was going on – but first, where exactly are we?!  
Location
Aveiro is a town on the north Atlantic coast, just under an hour's drive south from Porto. We'll be exploring the city soon enough, but right now we were exploring our accommodation – which is to be found about 1 kilometre from the town centre, but right where you would want to be.
It couldn't be a better spot really, and it's a great base from which you can explore the town and its surroundings.
Décor and Staff
The B&B was bright and breezy. Our rooms were comfortable, decorated in calming, relaxing colors. As you might expect from a Portuguese coastal property, there was a nautical theme running throughout which would be great for a stress-busting vacation!
Staff were very helpful, and as previously mentioned it was them that drew our attention to the festival. We have them to thank for the interesting experience to come! They speak English, Spanish, French and Portuguese too – which covers quite a bit of the globe so you should be in good hands here.
Facilities
Each room comes with a flat-screen TV and cable channels, Wi-fi included and private bathroom with complimentary toiletries. There's a communal lounge an TV area should you wish to mingle with other guests and be a little more sociable.
For those doing an Epic Road Trip like us, free parking is available a short distance from the property but note that this is not available for reservations. Now you can understand another reason that we like traveling in winter! Fewer people, more rooms available and free parking spaces!
Services
The guest house lay on great spread each morning with something for all tastes. The selection of cold cuts, fruits, cereals and beverages is worth waking up and running down the stairs (lazing your way down the elevator) for as this start to the day will keep you ticking many times over.
Atmosphere
We didn't spend much time at home base, to be honest, nor did we much come into contact with other guests during our stay. The staff made it more than comfortable though, and it's a real cosy place that perfectly suits couples for a romantic getaway.
A party place it is not – but then that isn't what we were looking for on this occasion, so the atmosphere was just perfect.
Overall
Comfortable, clean, bright, great location and helpful staff. We'd probably book again just for the breakfast! The guest house is well worth thinking about if you're ever in these parts – especially if you're here during the festival we were about to experience.
The Feasts of St. Gonçalinho 2018
Stumbling on a festival when you visit somewhere new is always exciting and this was to prove no exception with the Feasts of St. Gonçalinho. But before we give you some insight into what went on, first, a little background is required.
St. Gonçalinho is the patron saint of Aveiro, and they hold him in particularly high regard in these parts. It was said that he had a good sense of humour and that couples would pray to him for fertility and single women would pray to find a husband.
Celebrations begin on the 10th of January each year and run for five days to honour the saint – the highlight of which is throwing hundreds dry, hard cakes from the top of a chapel to the waiting masses below!
It's Raining Cavacas!
Cavacas is the name given to these cakes – which can be pretty hard indeed, and cause quite a sting when you catch one! Year after year, people gather beneath the São Gonçalinho chapel to try to collect as many of these cakes as possible.
And each year, people find new and inventive ways to snare them, including upturned umbrellas, shrimp and fishing nets on sticks, and even hockey goals. It's not a bad plan either, considering these things rain down like stones and you're going to know about it if one catches you on the head unawares!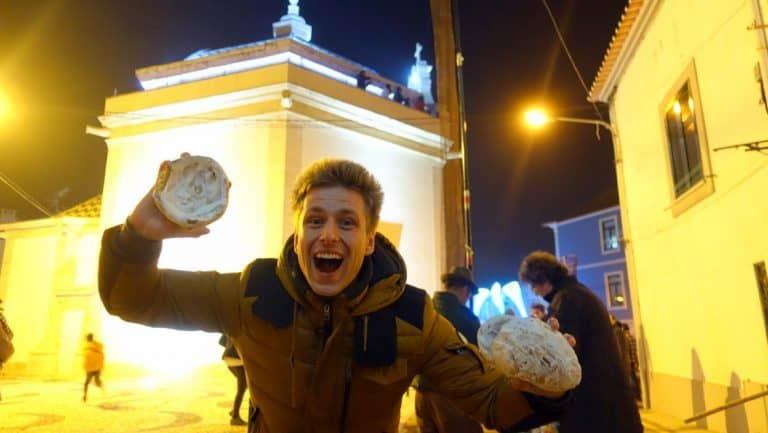 The origins of the cement-like cake throwing are unclear, but please be warned that for a religious festival – it can get pretty violent. We were happy to catch three between us, and come away with our bones intact!
All Night Long
Apparently, the festival runs through the night, which makes us wonder who gets the graveyard shift on top of the chapel throwing Cavacas down to whoever might be around at 4 am in the morning!
We didn't stay to find out – our cosy accommodation was calling, but it certainly had been an unforgettable day. Tune back in soon to see how we got on exploring Aveiro itself, and we'll probably do you a nice little walking tour to go with it!
What's the craziest festival you've ever been to while traveling? Let us know!