Western Canada is nature in its purest form.
For the ultimate discovery, opt for an RV rental in Canada and venture out in our great outdoors.
You may think 10 days isn't enough to see everything, but you could be surprised!
Here is the best 10-day itinerary for an RV road trip in Western Canada, suitable for couple travel or travelling with kids.
Day 1 – Vancouver
Welcome to Vancouver, Canada's most beautiful metropolis. It's no wonder it is ranked high on the list of the best cities to live in in the world!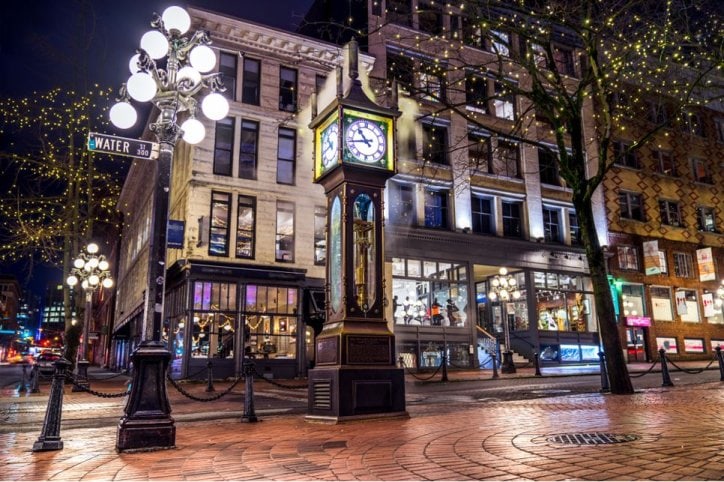 If your flight arrives early, go for a stroll in Gastown, the historic district of Vancouver. It will for sure charm you with its whistling steam clock and Victorian architecture.
Then, get a good night of sleep as tomorrow, your RV adventure begins!
Day 2 – Whistler
RV pick-ups are between 1 p.m. and 3 p.m., this will leave you some more time to explore Vancouver.
I recommend a visit to Stanley Park for Native Art, the Vancouver aquarium, or just a stroll by the water. If you are more into shopping, head to Robson Street and Broadway Avenue.
Then, pick up your RV and set off for Whistler.
Host of the 2010 Winter Olympics, Whistler is a lively and vibrant mountain resort town, offering a wide range of restaurants, boutiques, and cafés.
I suggest you start your time here with the ultimate alpine experience, the "Peak 2 Peak" gondola connecting Whistler and Blackcomb mountains.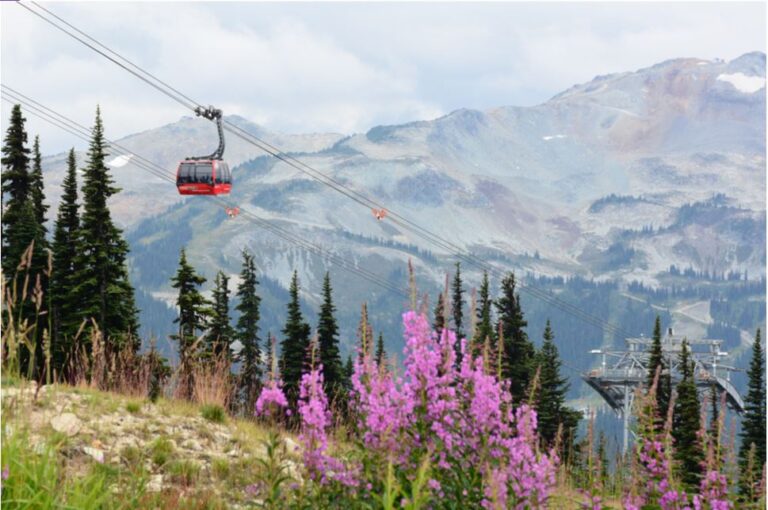 I also highly recommend Vallea Lumina, a trail enhancing the natural beauty of the landscape with a multimedia light show, by the Canadian artists of Moment Factory.
Day 3-4 – Wells Gray Provincial Park
Today will be your longest drive, so prepare to leave early.
Wells Gray Park is home to British Columbia's more rugged wilderness area. It is also known for its impressive waterfalls.
If you arrive by late afternoon, start your time here by visiting the most famous spot of the park, Helmcken Falls. The trail to reach them is only 1 km long and the falls are particularly splendid at this time of day.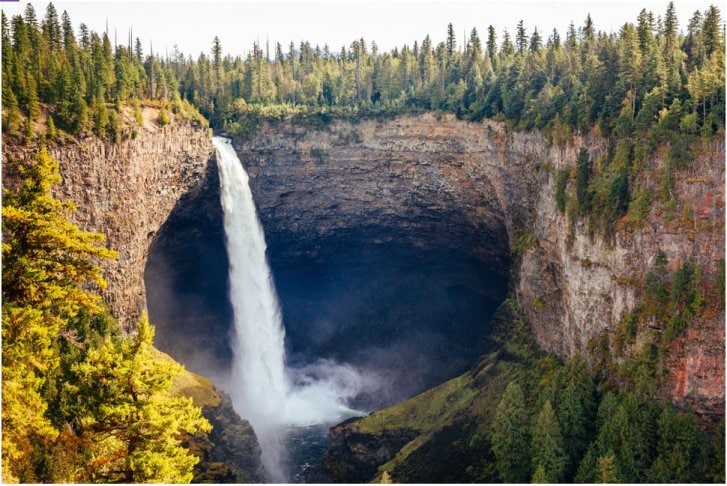 For your second day in the park, opt for a quintessentially Canadian activity, a canoe trip!
Head to the Clearwater Lake boat launch to rent your canoe. During your time on the lake, keep your eyes peeled as wildlife is often seen in the area.
If you are visiting during the months of July or August, the Trophy Mountain trail and its beautiful sub-alpine meadows are in full bloom. Do not miss it!
Day 5-6 – Jasper
It's time to set out for the Canadian Rockies!
Your first stop will be Jasper, a world UNESCO heritage site and one of the best-known national parks in Canada.
Along the way, wildlife will be present. Make sure to plan a stop at the foot of Mount Robson, the highest peak in the Canadian Rockies.
There are plenty of activities in Jasper. The most famous is the Maligne Lake Cruise, where you will be able to see the most photographed island in the world, Spirit Island.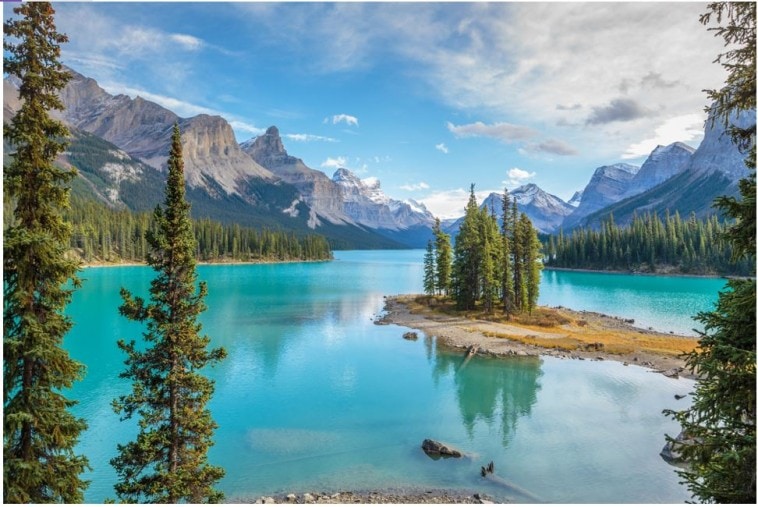 For hikers, I suggest the Mount Edith Cavell trail or Maligne Canyon. They simply cannot be missed.
If you are traveling with children, the short trail to Peyto Lake is perfect for families and the view is a big reward for this little effort.
Day 7 – Lake Louise
Your next destination is Lake Louise and to reach it, you will be driving down one of the most beautiful scenic roads in the world, the Icefields Parkway.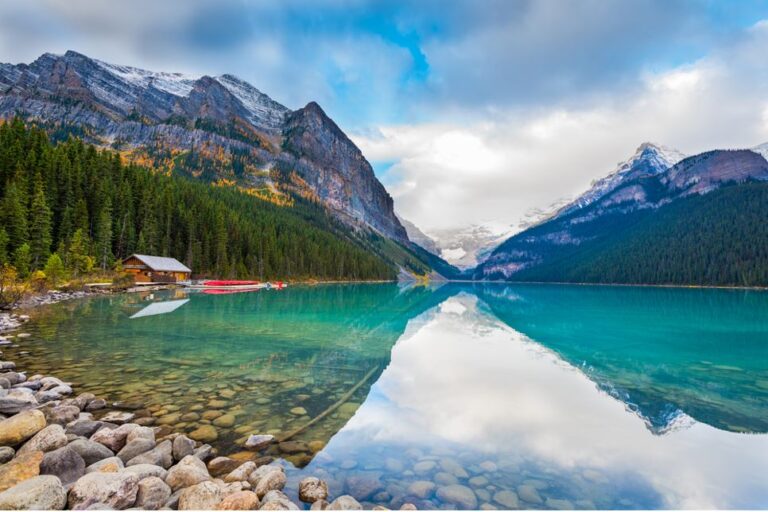 As the drive is fairly short, you can plan a few stops along the way.
I recommend a visit to the Athabasca Glacier as well as the Sunwapta Falls.
Once you reach Lake Louise, do not miss the trail Plain of Six Glaciers. The memory of this series of glaciers, vaulting peaks, and breathtaking high mountain vistas will stay with you forever.
You can also opt for the Lake Agnes Teahouse trail. This 7-kilometer walk offers a warm and welcoming treat at the end, as you can delight in a hot cup of tea.
Canoeing on the lake emerald waters is also a must!
Day 8-9 – Banff
Your route continues towards yet another famous Canadian park, Banff.
The small village of Banff is nestled in the Rockies, at an elevation of 1380 meters, while the National Park offers spectacular glaciers, mountain lakes, and impressive peaks.
It is one of the most popular holiday destinations in the world.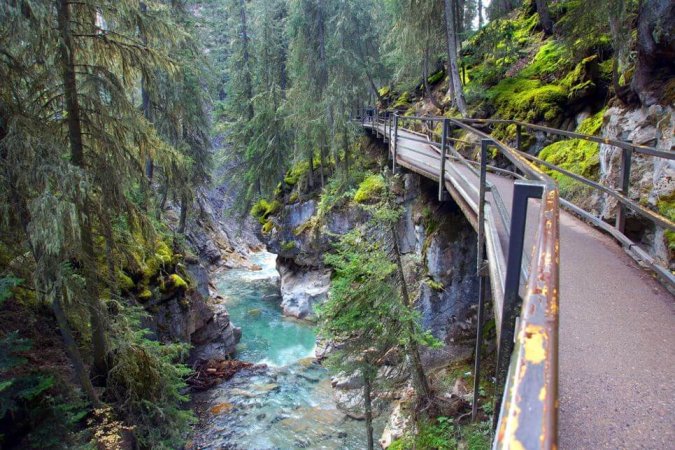 I suggest you enjoy your first night in the charming town of Banff, where you will find boutiques, cafés, and restaurants.
A visit to Johnston Canyon is a must. This short hike that is about a 1-hour round-trip is an adventure to the heart of Johnston Creek and its waterfalls. It's also family-friendly!
Hiking enthusiasts will find the 5.5-kilometer trail of the Sulphur Mountain is iconic. With an elevation gain of 655 meters, you can expect to get to the top in 2 hours.
A gondola can also get you there if you are looking for views without the effort.
Day 10 – Calgary
Here comes the last day of your Canadian adventure.
Make your way to Calgary, where the cowboy hat is as fashionable in the streets as it is on the ranch.
Drop off your RV in the morning, your head filled with memories.
Time permitting, visit the Calgary Tower, where you will get a spectacular 360° view of the bustling city, the Canadian Rockies, and the prairies.
Then, head to the airport to board your flight back home, waving goodbye to the country of lakes and rivers.
But fear not, as it is not really goodbye, it's a see you later!