Welcome to Oahu
Oahu's nickname is "The Gathering Place" because the ancient Hawaiian tribes used to come from all over the Hawaiian Islands and gather in Oahu. Today it's where Asian, Hawaiian, and American culture meet. It houses Honolulu, Hawaii's largest city, and capital. Because the island is so culturally diverse it's the perfect crossroad to Asia and/or the Pacific Islands.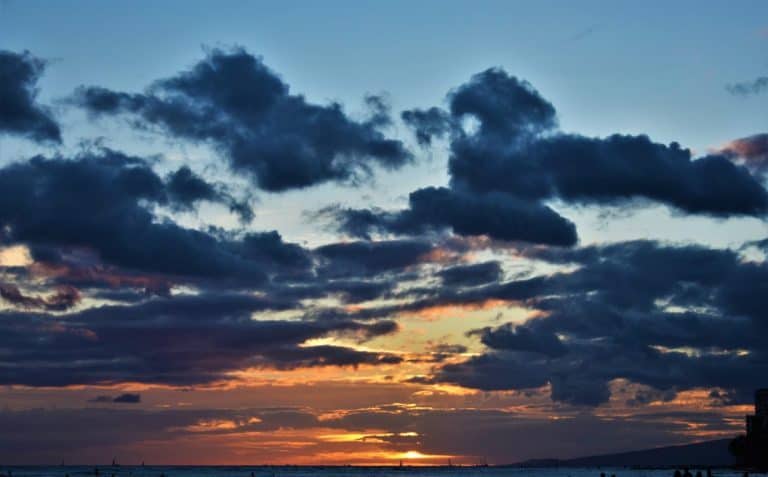 This is the ultimate guide on how to get to, where to stay, how to get around, what to eat, and what to see once you arrive on Oahu.
Getting To Oahu
Flights
The most obvious choice, since it's in the middle of the Pacific Ocean and everything. The cheapest flights to Oahu come out of East Asia (Hong Kong, Japan, the Philippines, etc.) however the United States has a few cheaper options as well coming out of Los Angeles, Las Vegas, and Seattle. If you go into Skyscanner and put in cheapest month option you'd be surprised how cheap some of the airfare can get from major cities across the US and Australia.
Boats
Cruise ships make their way to Hawaii all the time. To get to Oahu means docking in Honolulu Harbor. Cruises don't spend much time at their destination, however, meaning you would only get 12-24 hours if you're lucky at the most. That isn't enough to see the island! I suggest flying. Cargo ships are a way to travel as well. Flightless Travel explains several cargo ship options on getting around the world.
This is best if you have a fear of flying but don't want to do the touristy things on a cruise ship. The prices are about the same, unfortunately, it might be worth the long flight.
Where to Stay on Oahu
Hotels
Most of the hotels are going to be right on Waikiki Beach in Honolulu. If you love the nightlife, city lights, and party life then go for it! If you're looking for more of a getaway from the city there are a few more options in other towns around the island. Paradise Bay on the windward side of the island in Kaneohe. The Courtyard by Marriott in the sleepy town of Laie on the north shore. Also the Four Seasons in Kapolei on the west side.
If you're on a budget finding a place to stay will give you a hard time. While other places in the US have chain motels, Oahu doesn't. You'll be hard-pressed to find a hotel for less than 100 USD a night. Most places go for around 200 USD a night or more, especially if it has its own beachfront property. While on a budget in Hawaii, skip the hotels.
Hostels
Again, most hostels are in Honolulu. Many have maximum 7 night stays for some strange reason. If you're planning a two-week trip or more a hostel might not be the way to go unless you want to move from place to place while you're in the city. Along the north shore, there are also several hostels to choose from right on the beach for less than 100 USD a night. In Honolulu, they run for under 40 USD a night.
Airbnb and Couchsurfing
Oahu is full of Airbnb! They're causing such an uprising here that the hotels are actually starting to lose money and the state is getting upset over it. It's the same with couchsurfing. It's relatively easy to find a private room for under 80 USD a night no matter where you want to stay on the island. Couchsurfing is also super popular since hotel rooms are so much money. If you want to get a room that way then make sure you look far in advance.
House Sitting
If house sitting is your way of traveling you'll most likely be out of luck while on Oahu. Anywhere in Hawaii doesn't seem to be that popular with it. There isn't much to choose from (if there is anything at all on there) so you might want to go with couchsurfing this time.
How to Get Around Oahu
Renting a Car
There is the fastest, easiest way get around the entire island. Driving around the island without stopping only takes about 3 hours tops, maybe 4 if you want to go up the west side too. That's without traffic. Honolulu ranks number 1 in the country (usually neck-in-neck with Los Angeles) for the worst traffic. Most towns around Honolulu are residential only, meaning people live in them but there aren't any businesses or workplaces. This means you have thousands of people getting in and out of Honolulu at the same time. Outside of that, driving around Oahu is a breeze.
People tend to obey traffic laws, let pedestrians cross the street, and the speeds are slow because you're supposed to slow down and enjoy life. The cheapest rental car you'll get is 35 USD a day, that's a compact car, usually economic too. Larger cars go for more, if you want some kind of van, SUV, or truck it'll be closer to 100 USD a day, maybe more. The perfect car for driving around the island is a convertible that goes for at least 130 USD a day, maybe more. If you have the budget, go for that!
Taking the Bus
Oahu's bus system is quite extensive. It goes nearly everywhere on the island and is usually on time. It's 2.50 USD per adult one way. People 6-17 are 1.25 USD. Under 6-years-old are free. Each time you pay you get little transfer passes that are good for 2 transfers and 2 hours. There are 4 day passes available for 35 USD. If you're staying for a month they have monthly passes for 60 USD. At each bus stop under the sign, it'll have a little yellow sign with a number on it. Calling 808-848-5555 with that little number (ex. 406) will tell you when the next bus is coming since Google isn't always right. Getting around the island by bus without stopping would take about 5 hours, 7 if you include the west side.
Taxis, Uber, and Lyft
There are Taxis on Oahu. Most are 3.50 USD for the first 1/8 mile and 50 cents for every 1/8 mile after that. Uber and Lyft are also on the island. It is illegal for them to pick up and drop off at the airport though. If you get caught it can be a hefty fine from the state. They only want licensed taxis to go through there or the bus.
Where to Eat on Oahu
Restaurants
Oahu is the place to try authentic Asian food from China, Japan, Korea, Thailand, and other countries. It's all here. A famous Hawaiian food restaurant is L&L Hawaiian Barbeque which has a little of everything, spam, noodles, rice dishes, and burgers and it's all over the island. While in Honolulu stay away from Waikiki Beach if you're eating out.
Down there everything gets double the price and it's the same stuff as on the rest of the island! Most places charge 10 USD per meal (outside of Waikiki). Spam musubi's are a local favorite but if you find some for more than 2.50 USD it isn't worth it, go to the nearest gas station and it'll be under 2 USD, guaranteed.
Grocery Shopping
Walmart is all over Oahu. For those that don't know, Walmart is a cheap superstore that has everything, groceries, clothing, movies, make-up, and other things in one store. It's the cheapest because most things are imported from other countries for the cheapest rate. If you have a family Costco is also on the island.
Even though most towns outside of Honolulu are residential, there are plenty of small grocery stores to shop at, Safeway and Foodland are good examples of them. I suggest doing this if you're staying for a week or more, that way you can save money on eating out so much.
What to Do on Oahu
Polynesian Cultural Center
Hawaii is the only state in the United States to be part of Polynesia. In the 1960's a man built the Polynesian Cultural Center in the town of Laie to celebrate different Polynesian cultures around the Pacific.
The places represented are Tahiti, Tonga, Fiji, Hawaii, New Zealand, and Samoa. They each have their own traditional dance, history, and language to be shared. This can't be missed while on Oahu, put it in your budget!
Valley of the Temples
The entire site in Kaneohe has temples, churches, and other memorials from several different religions. There are several gravestones and plots from around the world that are placed here. The most mesmerizing place is the Byodo-In Temple, toward the back. It's a replica of a temple in Kyoto, Japan.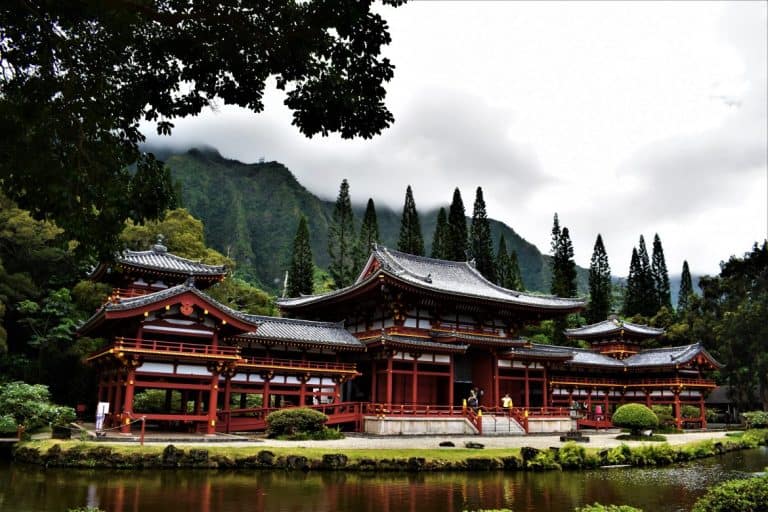 If it was a real temple they say it would be too sacred to have tourists enter. Not only is this a place of beautiful temples, but at the end of the road at the top of the hill is an amazing view!
Hawaiian Birthstones
If you want off the beaten path, this is it. Ancient Hawaiians would come here to give birth if their child could be "alii," this means royalty or chief in Hawaiian. They believed the stones would relieve the pain of childbirth. This is located in Mililani just off the roadway. There isn't much there and you definitely won't be behind a huge line of tourists to get in.
Pali Highway/Route 61 Scenic Lookout
While driving your car or riding the bus out of the Kaneohe and Kailua area and heading back into Honolulu you get some of the more scenic views ever!
Be sure to sit on the right. The bus doesn't stop, but if you're in a car you can pull over and absorb the views of steep mountains melting into the blue-green waters of the Pacific Ocean in the distance.
Kailua Beach Park
This has got to rank in top 5 beaches of all of Hawaii. The white sand is imported, unfortunately, yet it seems to match so well with the ocean. The best part is this beach is slightly difficult to get to, meaning there isn't a huge crowd of tourists (unlike Waikiki Beach). It has plenty of sand space to go around and you can rent canoes, kayaks, or surfboards and take a look around at the islands in the distance.
Be warned, this is the rainy side of the island so look into the weather patterns before you visit.
Pearl Harbor Memorial
This beautiful harbor housed the U.S. Navy's ships back in 1941 when the Japanese attacked, leaving a mark on the harbor forever. The USS Arizona is still underwater today and is completely free to view.
There are several museums and tours explaining in detail what lead up to the attacks. There is a 4 USD fee for all bags, they allow wallets and cameras though so if you don't want to pay the fee leave them in the car or where you're staying.
Helicopter Tour
All of Hawaii is made to be seen from the air and Oahu isn't any different. While the list isn't the cheapest out there (around 200 USD per person for the whole island) it deserves to be put in your budget. The way Honolulu melts into the ocean and on the other side of the island the way the mountains reach to the sky. It's just too much to describe. It needs to be done, especially if you came in on a night flight or were asleep.
Makapuu Lighthouse
Another scenic spot on the island is right next to the Makapuu Lighthouse. While getting inside the lighthouse is off limits, there is a view area in the parking lot. Getting to the lighthouse itself is a hike. From there you'll see more of the rocky shoreline, the beaches in the distance, and more mountain views. Hawaii is a place for nature lovers, that's for sure.
Puu O Mahuka Heiau State Historic Site
Although this was on a tourist map, it's a moderately difficult site to get to so there aren't many tourists that go to see it. That means you're likely to have the whole site to yourself! The actual area is a ruin of an ancient Hawaiian heiau, where the people would worship their Gods. It is said there were a few human sacrifices as well (it might be a rumor) the view from this historic site, however, can't be beaten.
You see all of Waimea Bay below and then some. It's worth the windy drive.
Bishop Museum
Ever wondered about Oceanic history? Bishop Museum is full it from the Hawaiian Islands to Australia. It's great for children too, they have interactive gaming centers all over this place. See how the different styles of clothes change from the island nation. Also, get a great view of Honolulu while you're there and see a lava demonstration explaining how the islands were formed thousands of years ago.
Iolani Palace
The Hawaiian Monarchy barely lasted 100 years, officially starting in 1810 with King Kamehameha I and ending in 1893 with Queen Liliuokalani. In the 1870's King Kalakaua built the Iolani Palace to live in and for future generations of the Hawaiian royal family to live in as well. Self-guided audio tours start every 10 minutes.
Once inside it'll explain what each room was used for and how it changed over the decades into what it is today. It's currently being restored to its original glory of when King Kalakaua ruled. It's definitely worth the price.
All in all, Oahu has many sights to see while you're on the island, whether you're on a budget or not. It's the easiest island to get around on with its extensive bus system. On Kauai, you can only see 20% of the island from the road. Oahu is the best place to visit if you're not sure how to experience Asian culture or just want to dip your toe in and not go all the way to Asia.
What did you do while you were on Oahu?
---
Today's blog post is contributed by a fellow travel blogger Leanne of Countries To Go. She is an amazing supporter of Etramping and just started her blog in June 2017. While she's working hard on gaining momentum, she has an entire world itinerary that she'll begin shortly. For now, she lives in Honolulu, Hawaii as she prepares, gains inspiration, and conquers her fears for traveling the world at 19-years-old. We're big supporters of her blogging and traveling journey and if you want to follow her on Facebook or Twitter, feel free to do so.