The Loire Valley is famous for its rolling hills, magnificent castles, and above all else its delectable wines. Earning a reputation as 'the garden of France', the area's unusual climate allows all manner of vegetation, grape varieties and wildlife to thrive.
This makes it one of the several destinations perfect for a French holiday, particularly during the warm summer months when you can be very active. Holiday operators have been quick to capitalise on this love for all things Loire, offering everything from walking tours to camping at a range of luxury sites.
With several grape varieties that are known for flourishing in the area, there's plenty to sample on a tour of the region's vineyards. As for days when you fancy something with a little lower alcohol content, there is a lot to explore in the way of sightseeing. From those famous châteaux to caves and markets, there are diversions aplenty for life in the Loire. Just remember: enjoy responsibly!
#1 Touraine
Beginning your journey in Touraine allows you to slowly work your way down the Loire river. This is particularly favoured as a starting point for cyclists, who travel the famous Loire à Vélo route. With a length of 500 miles, the route certainly isn't for the faint of heart – but the landscape's status as a UNESCO World Heritage site means it is well worth the ride.
Over a hundred vineyards in the Touraine province of France belong to the wine cellar network. The aim of this outfit is to bridge the gap between consumers and growers, meaning there's plenty of wine tasting all round.
The central town of Tours makes a good base for walkers, with plenty of hikes in the area as well as the famous VitiLoire wine festival. This yearly event brings the sleepy town of Tours to life, with stalls lining the streets showcasing the finest from a range of resident and national grape growers. Wine tasting glasses are purchased for a few euros, making sampling the local specialities a little too easy!
Head next to the small commune town of Amboise. Based in a spectacular location on the banks of the Loire River, this charming location offers all manner of historic sites to explore. Of particular note is the Clos Lucé, which contains a museum of Da Vinci's inventions. This is where the renowned inventor, artist and scientist lived for the last three years of his life.
Amboise, of course, is no stranger to the merits of its local wineries, with the Plou et Fils finding fans in both locals and tourists alike. Based an hour's walk up the picturesque Loire River, this 81-hectare vineyard offers a comprehensive range of wines, as well as English-speaking tours conducted by members of the family.
#2 Saumur
The town of Saumur, in the heart of the Loire Valley, is the perfect place to stop off on your tour-de-vin. Noted in particular for its light, sparkling wines, here you'll find grape varieties such as Chenin Blanc and Cabernet Franc.
The Caves Louis de Grenelle provide a particularly pleasing environment for sampling some local beverages. Here, you'll be given a tour of the facilities and learn in-depth about the production processes that go into making the wine. There's plenty of tasting to get through here too, as well as a rare glimpse of the head winemakers personal cellar.
A short bicycle ride from the town of Saumur lies Montsoreau. Billed as one of the most beautiful villages in all of France, here you'll find castles aplenty, as well as Le Marche des Vins de Loire. Here you can sample both vintage and brand new bottles, while the 'wine cave' itself offers an altogether unusual atmosphere for tasting.
#3 Anjou
The town of Angers is your next stop on this French wine tour. The area is particularly renowned for its zingy rosé wines – perfect to accompany grilled fish and fresh salad.
You're spoilt for choice with things to visit in this region, as visiting the vast amount of classical châteaux and French gardens is sure to occupy many hours. The Castle of Angers is a must-see, with people visiting from far and wide to admire its famous 'Apocolypse Tapestry'. As for learning about regional wine history, the Vine and Wine Museum offers a look into France's winemaking past, as well as info on grape varieties and distilling.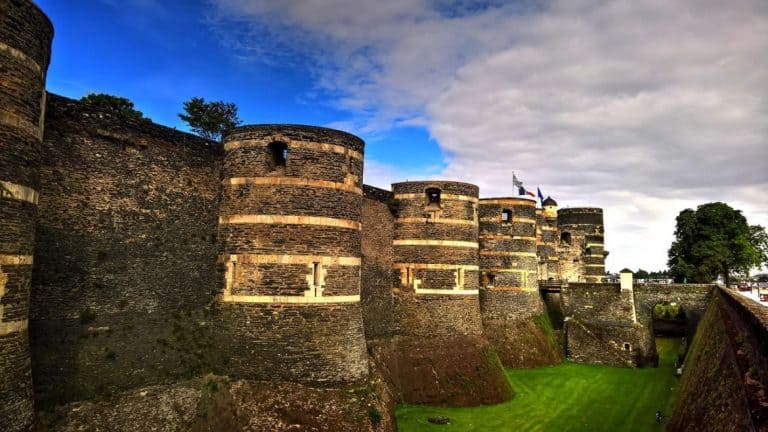 In a little departure from wine, discover an interesting excursion to the Cointreau distillery. Here, as well as learning about the various production processes behind this zesty, bitter liqueur, you'll also be treated to a tasting at the end.
Departing from the town of Angers, be sure to stop off at the commune town of Savennières. Famed for the wine that is its namesake, here you'll find vineyards such as Domaine Aux Moines, the perfect place to sample this delicate and dry white wine.
#4 Muscadet
A name many will recognise due to its associations with the dry, light-bodied wine, Muscadet more than lives up to its name. This area offers the perfect way to round off your trip through the Loire Valley, finishing on the Nantes-Saint-Nazaire estuary.
The historic city of Nantes is renowned for its high quality of life, befitting the birthplace of famous writer Jules Verne. The green spaces in the city speak for themselves, while a host of museums, castles, parks and indoor markets offer plenty in the way of sightseeing.
The city is particularly famous for its wholesome, rustic and wholly French food selection – perfect to partner with a light white or full-bodied red. The ever-popular Comedie des Vins provides a romantic atmosphere in which to sample some signature wines, French desserts and cheeses.
A short train ride from Nantes lies the commune town of Le Pallet. Here, discover Le Musee du Vignoble Nantais, a wine museum which unveils the finest from local growers. Completing your time here with a tasting, this provides the perfect aperitif before heading to a local bistro for a late lunch.
What part of the Loire Valley do you like the most? Share in comments!