Me and Cez love exploring temples, mosques, churches and cathedrals when traveling. We admired top 5 beautiful temples in Bali and explored Lama Temple in Beijing.
There is still so much to explore though. Especially with Etramping's top 30 World's Most Beautiful Temples – a great contribution from fellow travel bloggers.
Forget the temples now because today's blog post is all about mosques! Built as a holy place of worship, mosques offer a snapshot look into a civilisation's historical architecture and beauty.
Different mosques from around the world show great variation in the structure and style of their buildings. Each style representing the distinct approach of those that built them and worship within. Presented here are 7 of the most mesmerising mosques from around the world. Hopefully, they will provide you with the wanderlust to explore the world and make the most of your trip.
#1 Al-Haram Mosque
Perhaps the most iconically famous place of worship, the Al-Haram Mosque in Mecca, Saudi Arabia is visited by millions of Muslims each year, with a maximum capacity of over 400 million. Built during the times of the Prophet Ibrahim, the mosque is open year round and welcomes men, women and children alike.
#2 Al Aqsa Mosque – Jerusalem, Palestine
This mosque located in Jerusalem is a holy site for both Jews and Muslims, and is believed to be the original centre of worship for Muslims before eventually changing it to Mecca.
#3 The Blue Mosque – Istanbul, Turkey
The Blue Mosque, also known as Sultan Ahmed Mosque, is located in the historic city of Turkey. Lined with mosaic tiles, the mosque houses a school, a hospice, and a tomb for Sultan Ahmed as well as areas for worship.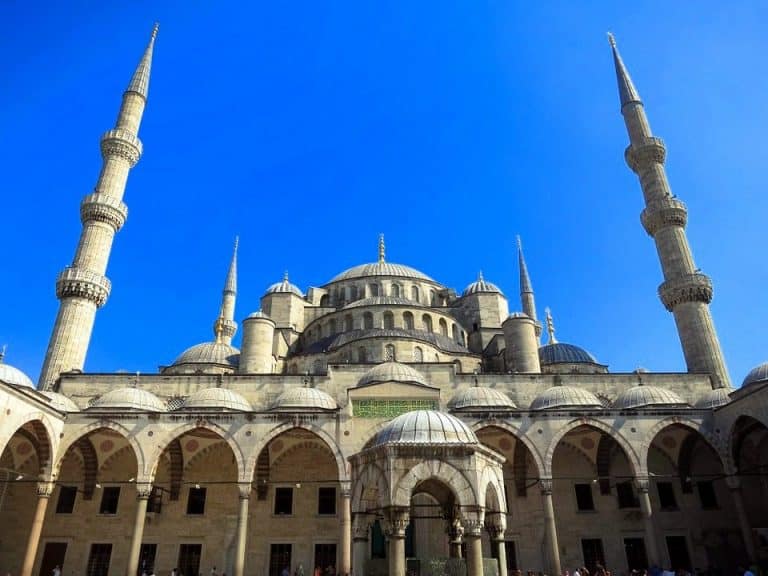 #4 Masjid-Al-Nabwi – Medina, Saudi Arabia
Built by the Holy Prophet himself, the mosque is considered one of the holiest sites of Islam, second only to the Al-Haram located in Mecca. Its iconic green dome houses the tomb of the Holy Prophet (Peace be Upon Him) himself and is visited by millions of worshippers every year.
#5 Faisal Mosque – Islamabad, Pakistan
The biggest mosque in South East and Southern Asia, the Faisal Mosque was built as a gift to Pakistan from King Faisal of Saudi Arabia. It's tall white pillars and large courtyard are an iconic sight and will take your breath away!
#6 Sultan Omar Ali Saifuddin Mosque – Brunei
With marble pillars topped with metallic gold domes, this beautiful mosque is a popular site to visit in not only Brunei but also in Asia Pacific in general. The mosque is built along an artificial lagoon and is surrounded by gardens of green and fertile courtyards.
#7 Zahir Mosque – Kedah, Malaysia
Located in Malaysia's city of Kedah, this mosque is not only the largest but also the oldest in the country. Its most iconic feature are the 5 domes built to represent that 5 most basic tenants of Islamic faith. Built over a century ago, the mosque draws on both classic Islamic as well as Indonesian heritage and architecture.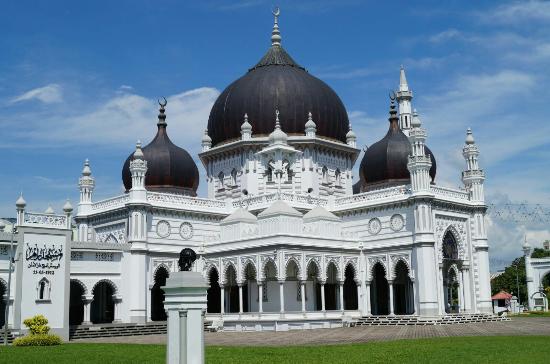 Have you visited any of these? If not, which of these 7 mosques would you like to visit first?