Located in the Czech Republic, Mikulov is a part of the region of Moravia, known for its rich history and beautiful landscapes. Driving here by car, we were able to see the Mikulov Highlands on our way in; seemingly vast stretches of beautiful rolling hills and incredible countryside. Fortunately, (because we got to see more of the incredible landscape on the way in) our car broke down, so we ended up taking quite a bit longer to get here than we had anticipated.
That's why, when we finally made it into Mikulov, we realized we needed to get moving and visit as much of the beautiful town as we could! Despite having arrived late, we managed to see practically everything the town down had to offer in a rather quick 2-hour 'drive-by' of it (the town is pretty small).
Here's our guide to what to see and do in Mikulov if you're short on time. Have fun exploring this picturesque town!
Mikulov Zámek
This 13th-century fortress (technically a chateau) was once home to the region's ruling Lichtenstein. You might recognize that name. We're not talking about the country; we're talking about the 13th-century noble family who just happened to have enough money to build the place. The history doesn't just stop there either, there was also a lot of other things to happen to this beautiful retreat over the ages. At one point during the early 19th century, Napoléon Bonaparte stayed there for a while, admiring its hallways. At another, Bismarck used the place to sign a peace treaty with Austria. Undoubtedly, the building has seen a lot during its time.
However, the building you see today is not, in fact, that building which saw most of those things. It's deceptively ancient exterior hides the truth of renovation work carried out after world war 2.
The reason for this was due to the chateau having been set on fire by Nazi SS soldiers. However, despite this small fact, the chateau is still a nice place to visit in small Mikulov.
Mikulov Square
The square itself seemed small, but it embodied everything about the beautiful Mikalov. It was quiet, it was relaxed, and it was friendly. We loved being able to just relax in the square and look around at the buildings adjoining it.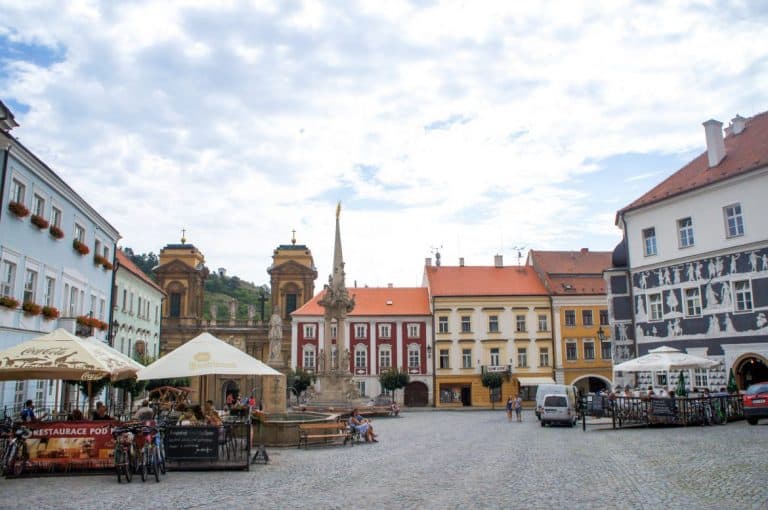 One of the best looking of them was the Graffiti House U Rytířů. Located at number 11, this house was decorated with Renaissance graffiti depicting religious scenes and historic events. At the bottom of the square, we found the Holy Trinity Statue, which seemed to loom large over everything. The statue depicts a religious scene from Christianity.
Dietrichstein Tomb
Next to Mikulov Square, there is the St. Anne´s Church. This church is home to the Dietrichstein Tomb. In case you don't know what that is, it's the place where a rich family known as the Dietrichstein's were entombed.
The church looks incredibly rustic and fits perfectly within Mikulov. It's definitely a great place to visit if you're visiting, and it's conveniently located next to the square.
Kozí Hrádek
Also known as the Goat Hill, this tower is one of three things which can be seen towering over the Mikulov skyline. This two story bombarding tower – built during the 15th century to protect the trading path running through the area – is a great sight to see within the city, and very fascinating.
More recently, the structure has become open to the public to go and have a look. It might take you a bit longer to head out there to see this (outside of the 2 hours we spent exploring the town) but for those who like castles (we know there's a lot of you!), it's more than worth it.
Galerie Efram
Located in the town, the Galerie Efram is another testament to the Jewish community in Mikulov. Located at 4 Husova, the gallery is filled with paintings from the artist Sylva Chludilova. The interesting style and form she uses to paint make them somewhat unique. A perfect place to visit before going to for a coffee and a chat at one of the local cafes. Maybe you could even head to a local restaurant to have a meal whilst talking about them.
Jewish Cemetery
The Jewish Cemetery in Mikulov is one of the most important of its kind in the Czech Republic. It's a testament to the local Jewish community since the 15th century, and to date is believed to hold more than 4,000 tombs. A perfect place to the end your trip around Mikulov.
Sweet Food and Cute Voices
We loved this quiet, peaceful Czech town. It was a really nice place to get away to, even if the car did break down on the way and we spent our first night here sleeping in the car. Luckily, our Airbnb host Pavla let us change our reservations so we could stay for a little bit longer.
The whole town took us around 2 hours to explore, that's why we think the place is perfect for anyone looking to really relax whilst also taking in some history. We especially enjoyed the square, which had a lot of coffee shops and cafes (you should know by now how much we really do love our coffee). One thing to note is that the local food actually tastes pretty darn good. We bagged ourselves a couple of baked cookies and small hard croissants filled with jam and chocolate. They were delicious and we would definitely recommend them to anyone looking to try some classic Czech pastries.
One thing which we did find funny during our trip as the accent. All the local people we met just had the cutest accents. Even when they seemed to be talking about something serious and important, they managed to make every word super cute. As a couple of Polish people, we found it pretty funny, you might too! Overall though, we definitely recommend Mikulov to anything looking to visit a more picturesque Czech Republic than Prague.
Are you planning to visit Mikulov anytime soon?