We're currently living in very unpredictable times when it comes to traveling. The novel coronavirus pandemic has dramatically altered the ability of travelers worldwide to visit various international destinations this year. We no longer can fly anywhere we want, plan a holiday in advance, and in some cases, even travel freely from home to work.
Things have obviously changed for all of us and while we love exploring the world so much, we have to take a break now. For how long? Nobody knows yet but we all hope it will happen soon.
Some countries such as Mexico, Albania, Aruba, Bahamas, Brazil, Cuba, Guatemala, Kenya, and Turkey already reopened for tourists. However, the majority of popular international destinations still remain closed and Hong Kong is no different. As COVID-19 restrictions are constantly changing, it can often be confusing whether or not Hong Kong is currently open to tourists.
Therefore, we have gathered some of the FAQs about Hong Kong and decided to answer them so that no one should have any doubts about whether it's possible and safe to go there during the current pandemic.
What are Hong Kong's Immigration Policies?
It is important to know that Hong Kong SAR has different immigration policies to the Mainland, and although your nationality may be able to travel to China during COVID-19 for tourism, this does not mean you'll be able to enjoy a tourist stay in Hong Kong. Please bear it in mind when planning your trip.
Hong Kong visa services remain suspended for many nationalities for tourism purposes, although certain foreign citizens may be granted entry to the Special Administrative Region (SAR) if they have the correct documentation. 
Can you travel to Hong Kong during COVID-19?
If you're planning a Hong Kong adventure holiday, it's important to realize that most foreign citizens are currently banned from entering the SAR for tourism purposes.
At the moment, only residents of Hong Kong that have not been outside of China, Taiwan, or Macau in the previous 14 days are permitted to enter the SAR. However, certain foreign citizens, including American passport holders, are able to enter the territory if they present some mandatory documents upon arrival at Hong Kong Airport. And these are:
A medical certificate showing a negative COVID-19 nucleic acid test, taken within 72 hours before departure for Hong Kong SAR.
Confirmation of a booking at a hotel approved by the Hong Kong authorities, for no less than 14 days beginning on the day of arrival. Mandatory self-isolation must be undertaken at this location.

If these documents are not provided, or you are arriving from a country currently on the banned list for Hong Kong, you will be denied entry into the territory.
Can I transit through Hong Kong Airport?
Even if you are not permitted to stay within the territory for significant periods of time, you may be permitted to transit through HK SAR on the way to an onward destination, as Hong Kong Airport reopened to transit passengers on June 1st, 2020.
However, transit travelers are also required to present supporting documentation to combat the spread of COVID-19 and follow strict safety protocols.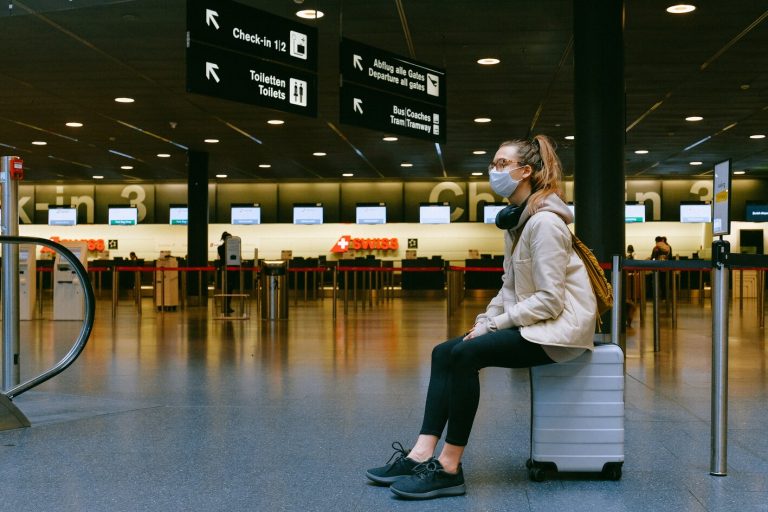 Certain foreign nationalities are also required to obtain a transit visa to pass through the territory, even if they remain within the airport transit area and will not stay more than a night in Hong Kong.
Is It Safe to Travel to Hong Kong?
At the time of writing, over 5,300 positive cases of coronavirus and roughly 100 deaths have been reported in Hong Kong, However, over 5,100 of those infected have fully recovered, meaning that the number of cases in the region is significantly lower than many heavily affected countries around the world.
However, whether or not Hong Kong is safe for tourism is another matter, as the US Centers for Disease Control and Prevention (CDC) currently advises that COVID-19 risk in the territory is high and that tourists avoid all non-essential travel to HK SAR.
Motives for essential travel to Hong Kong may include family emergencies, medical reasons or to undertake humanitarian aid work. Passengers with existing underlying conditions are advised to avoid travel to HK SAR completely, as medical resources may be scarce in the territory if you do get sick and require attention.
What is Hong Kong Travel Bubble?
While tourist travel to Hong Kong remains heavily restricted, authorities in the territory are currently working to establish 'travel bubbles' with 10 other countries that have controlled the spread of COVID-19 to a similar degree, particularly several neighboring nations in Asia.
Most notably, authorities have established a travel bubble between Hong Kong and Singapore that permits travelers to move between the 2 cities without having to undergo a quarantine on arrival. Nevertheless, passengers are still required to present a negative coronavirus test at border controls.
The government of Hong Kong is also trying to set up a travel bubble with several regions in mainland China, to allow tourism to resume between selected territories in the People's Republic.
What are Hong Kong's travel advisory and safety measures?
All tourist arrivals who are currently permitted to enter Hong Kong are required to follow the mandatory safety protocols imposed in the region in order to ensure their own safety and prevent the further spread of COVID-19 in the territory.
These include:
The mandatory quarantine on arrival.
Compulsory use of face masks in indoor and outdoor public areas and on public transportation.
Maintaining social distancing when in crowded places, at least 1.5 meters from others.

It really is important to follow these measures if you do decide to visit Hong Kong for tourism, as failure to comply is a criminal offense and can result in a fine or even jail time in some circumstances!
If you have a question regarding travel to Hong Kong during a pandemic and it hasn't been answered here, please share it in the comment section below. We'll be more than happy to update this article with additional information.