Gdansk (pol. Gdańsk) is one of the most beautiful cities in Poland. It's by far one of my favorite places in Europe and it is also exceptional for Cez as he was raised there. Located near the sea, with a varied choice of restaurants, coffee shops, architecture, old ships, and historical gems, it's an excellent spot to enjoy for a short holiday as well as a longer stay.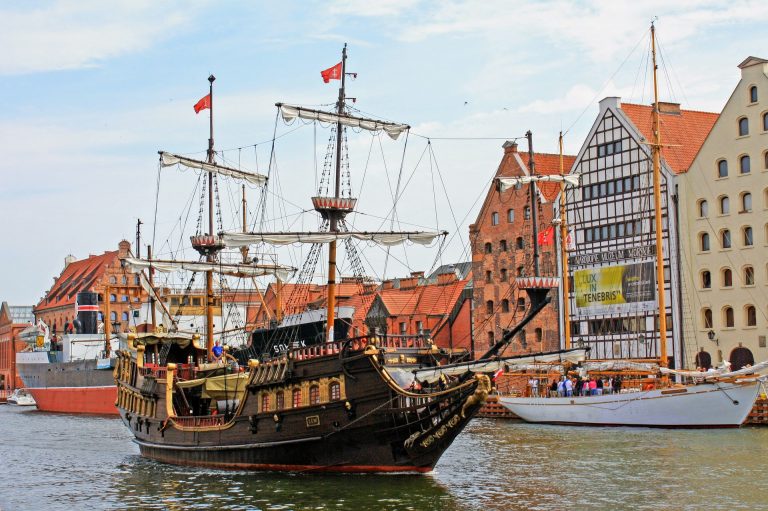 In Gdansk, you can immerse yourself in the vivid sounds of the original old town, get beautiful jewelry with the "golden" treasure of the Baltic sea, and taste coffee from around the world. If you are a fitness lover, you will definitely enjoy climbing one of the highest towers in the city. And as traveling is about freedom, you can discover how Poland became an independent country here.
If you are planning to visit Gdansk at some point during your travel, you are in the right place. Here you can find a choice of the best places to see and things to do in the city in order to fully enjoy Gdansk's vibes and feel like a local! Ready? Let's explore Gdansk together!
Where to Stay in Gdansk
Just in case you need help finding the right accommodation, I have prepared a quick help for you. You can browse the map below to find somewhere to stay, either a hotel or VRBO, if you haven't booked anything yet.
With that out of the way, let's see what the city has in store for you!
Stroll Around Main Town
It's a brilliant spot to start off your trip. The main historical complex of Gdansk is located in Główne Miasto (Main Town). Gdansk doesn't have the main square like the ones that can be found in other Polish cities, such as Kraków. Instead, the old town is spread through numerous charming, cobblestoned streets i.e. Długi Targ.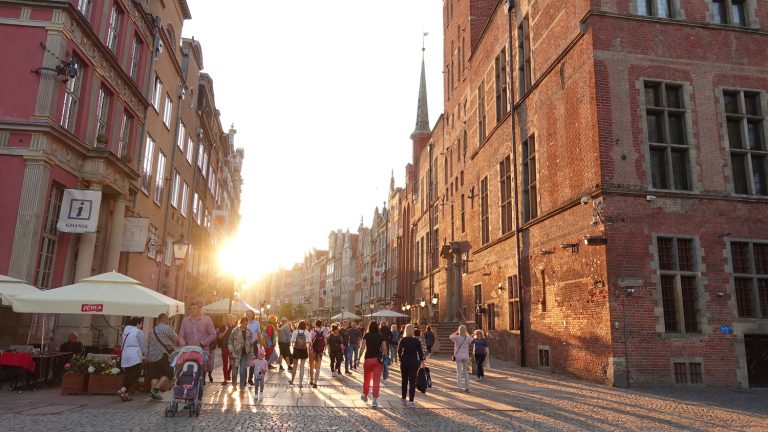 At Długi Targ Street, you can still relish in old merchant properties with richly decorated facades. They grace the area, giving it a unique character.
The most important building in this district is Town Hall, located on Długa 46. It's a perfect example of architecture that connects the gothic and renaissance styles. The 83-meter tower can be seen from many points in the city and is often used as an orientation point.
While wandering around, you can't miss the 17th-century fountains that represent the god of the sea, Neptune. One of the most important and spectacular buildings of the neighborhood is the Artus Court. In the past, it was a center of social life and a meeting point for local merchants.
Pro Tips: If you have limited time, simply enjoy a stroll through Main Town. When you don't need to hurry, visit some of the numerous museums and old properties to immerse yourself in history.
Admire Amber on Mariacka Street
Next on our must-see places is the famous Mariacka Street. This street runs from St. Mary's Church to Motława River. Similar to other places in Gdansk, it was destroyed during the war. However, instead of being recreated with new building materials, salvaged debris from around the city was used.
You can admire stunning buildings with Spewers (pol. Rzygacze) here. The Baltic Sea is famous for amber and Gdansk is a perfect place to find some quality jewelry made of this mineral.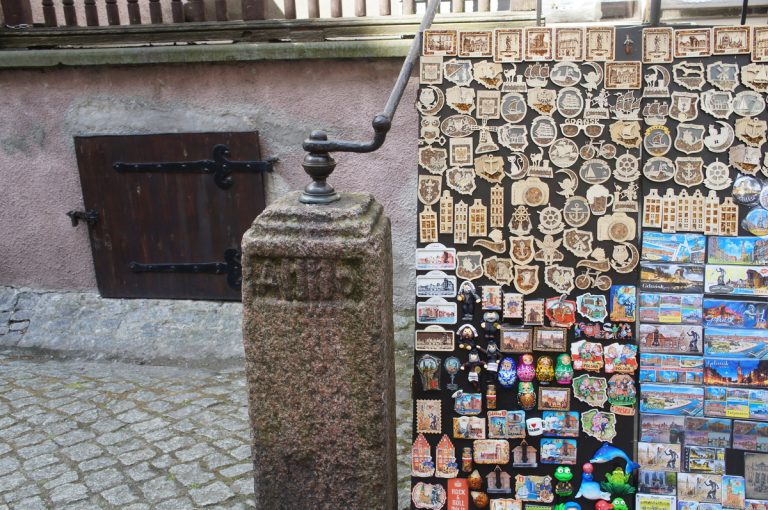 On Mariacka Street, you can find a lot of galleries that offer amber products. Some of the most popular and appreciated ones are: Salonik Pod Skrzydlatym Aniołem and Amberstyl. Don't forget to visit some of Gdańsk's best cafés located here.
Enjoy Coffee at Drukarnia Café
There is no doubt that while visiting Gdansk, you'll need a break for an energizing coffee and maybe a sweet cake. Drukarnia is one of the best cafés you can find in this city. Located on Mariacka Street, it gives a historic vibe from the outside. Its name commemorates the previous thing that was located here, a Printing House.
When you get inside the place, you'll know it's all about modern and minimalistic design. The interior was designed by graduates of the Gdansk Art Academy.
You can choose from various coffees from around the world and decide how your drink is going to be brewed. And if you fall in love with the taste of a drink that you had, you can buy more in the café's store and take it with you.
It's a perfect place to chill out or spend a bit of time working on your laptop. Drukarnia is also a spot loved by Instagrammers.
Opening Hours: Every day, 10:00 a.m.- 9 p.m.
Pro Tips: Drukarnia organizes art exhibitions, so if you are lucky, you will be able to admire some good quality designs.
Climb 400 Steps in St Mary's Church Tower
Attention to all climbers and active travelers, the next stop might be right up your alley.
This church is one of the best examples of Gothic architecture in Northern Europe. The works on this massive building started in 1343 and lasted for 159 years. The church is 105.5 meters long and 66 meters wide. It can host around 25,000 people.
Inside, visitors can admire multiple works of art from the 15th, 16th, and 17th centuries. That includes Gdansk's Astronomical Clock.
You can climb the church's tower. To get to the top of it leads you over 400 stone and wooden steps. The panoramic view on Gdansk from this spot is simply stunning. If it's a sunny day, you even have a chance to see the Baltic Sea from there.
Opening Hours: Monday to Saturday 8:30a.m – 5:30 p.m. Sunday: 11 a.m – noon, 1 p.m – 5:30 p.m. It's impossible to visit the church during celebrations.
Entrance fee: You can visit the church for free. The entrance to the tower is 10 PLN per person.
Have a Walk on Długie Pobrzeże and Learn the History of the Crane
Długie Pobrzeże (Long Embankment) is a promenade by Motława river, perfect for a small stroll. The five gothic water gates that led to the old city are located there. The most recognizable is the so-called Żuraw (Crane).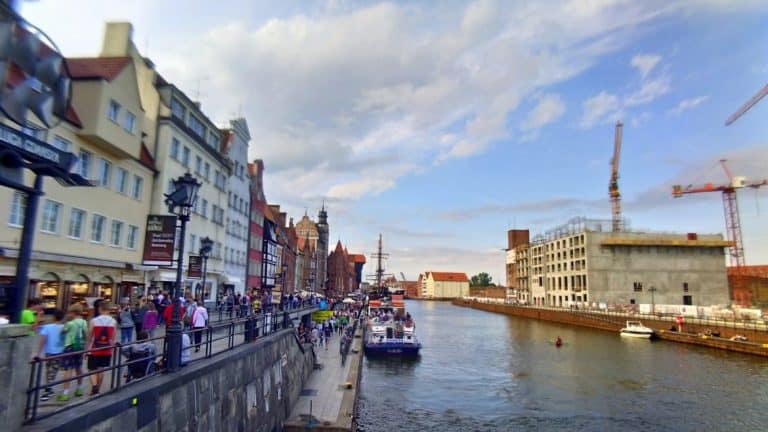 The Żuraw was created in 1442-1444 and inside the lever mechanism was installed. It was used to pack goods on ships.
The brick part of the gate played an important military role until the 17th century. Then, in the brick towers, small flats and craft shops were located.
As the Crane construction was burnt by the Red Army in 1945, the one you can see now is a reconstruction from the 50s. Nowadays, inside the Żuraw you can visit an exhibition about the port and the people who worked there.
Opening Hours: Tuesday to Sunday, 10 a.m.- 3 p.m.
Tickets: 8 PLN.
Immerse in the History of the European Centre of Solidarity
As the Polish history of freedom is inseparable from Gdansk, be sure to visit this place. It commemorates a peaceful revolution led by Solidarność.
The museum is located in the old shipyard in which the revolution against the Communist regime started. You can visit it with a person who will introduce you to the history, or use an audio guide.
The European Centre of Solidarity is interactive. In such an environment, visitors can easily immerse themselves in history and learn about the freedom movement in Poland from the 80s.
Opening hours: Every day, 10 a.m. – 6 p.m.
Tickets: 9 PLN.
Pro tips: To see the whole exhibition carefully and without rushing, you are going to need three to four hours, so be sure to take your time.
Admire Murals in Gdansk Zaspa
If you are a fan of street art, you shouldn't miss this place. This neighborhood full of block buildings is an open art gallery with numerous murals. You can visit it with a free walking tour or print your map and go for a walk yourself.
ProTip: You can find more information and a printable map here.
Buy Some Unique Souvenirs in Emalia Store
Gdansk was always a place where business thrived. If you want to feel the vibes of an old, retro store with antiquities, visit Emalia.
Located on Wajdeloty street, this shop attracts people with its unique climate. You can buy everything here, starting from used books, beautiful Polish porcelain, chandeliers, old clocks, and high-quality paintings. Of course, all of this in retro style.
Emalia shop is considered one of the most Instagrammable places in the city, so whether you want to get a unique gift or a cool picture, don't miss this spot!
Eat a Perfect Meal at Królewski Spichlerz
Gdansk is full of good quality spots that will satisfy even the most demanding foodies. You can enjoy different types of cuisine and pick modern or classic interiors. The choice is really enormous.
If you want to savor delightful Polish cuisine and enjoy an original place, Królewski Spichlerz is the best choice. The restaurant is located in a former granary on the bank of the river.
The chefs from Królewski Spichlerz can prepare unique versions of classical Polish dishes served in modern and elegant ways.
Opening Hours: 7 a.m. – 10 p.m.
Address: Ołowianka 14, 80-751 Gdansk.
Pro Tip: Królewski Spichlerz offers a tasting menu. You can choose a set of three, five, or seven dishes, and savor different Polish tastes.
Explore Sopot and Gdynia
Gdansk is a part of a tri-city complex that includes Sopot and Gdynia. If you have time, try to go there too and enjoy what those places have to offer. Don't forget that you are right next to the Baltic Sea, so give it a go and admire it from many spectacular beaches.
Who knows? Maybe you are going to be lucky and spot some beautiful amber hidden in the sand.
Would you add Gdansk to your bucket list when visiting Poland? If you have already visited Gdansk or another Polish city by the sea, let us know what your experience was!