In today's post, we're taking you with on a bus ride that will take us through various locales in Manhattan and some parts of Brooklyn and The Bronx to discover the best spots in New York. Since you're here you know that there are things you simply must see and you also know that you're not going to be here long enough to see everything you want to. That's true even for people who live here!
So take a tip from us. Here are 10 iconic buildings that you absolutely must see.
We're talking deluxe bucket list!
#1 The Empire State Building, 350 Fifth Ave. at 34th St.
Once the tallest building in the world, the Art Deco, 102-story Empire State Building features observation decks, exhibitions, and oh yeah, offices. It remains not just one of the iconic buildings in New York, but in the whole world.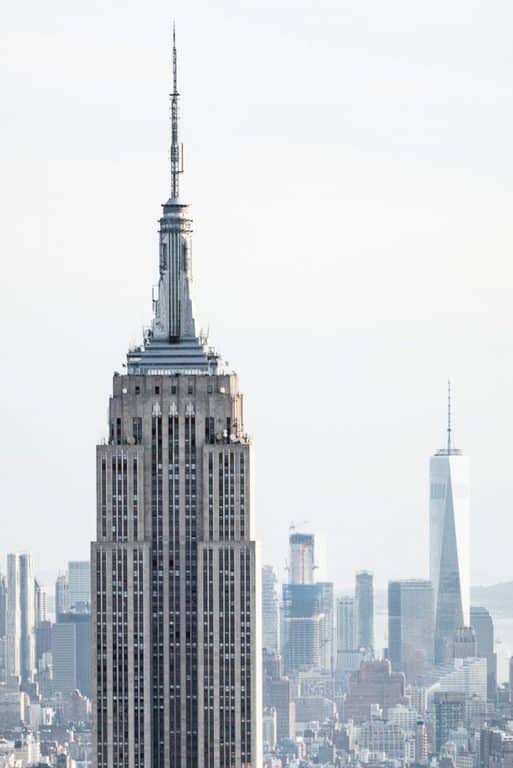 The most amazing thing about it was that it took only two years to build, between 1929 and 1931.
#2 The Chrysler Building, 405 Lexington Ave. at 42nd St.
The Chrysler Building was the tallest building in the world for a few months until the Empire State Building replaced it. This beautiful Art-Deco-style skyscraper is the favourite building of a lot of native New Yorkers, with its stainless steel with gargoyles that resemble hood ornaments and a spire decorated with enormous hubcaps. When the setting sun hits it, there's nothing more beautiful.
#3 Grand Central Station, 89 E. 42nd St. at Park Ave.
New Yorkers owe Jackie Onassis for saving this railroad station from the fate of the Pennsylvania Station across town. The huge Beaux-Arts Grand Central Station has carvings of Greek gods and a giant clock facing Park Avenue and a 470-foot long main concourse with a 150-foot high vaulted ceiling inside. At the top of the ceiling, you'll find the constellations of the Zodiac. They're backwards, but who cares?
Home of the famed Oyster Bar, there are also plenty of shops, bakeries, and, of course, a Starbucks.
#4 Lincoln Center for the Performing Arts.
Broadway starting at about 61st St and stretching to about 65th St.
Lincoln Center is a complex of many buildings, where you can enjoy theater, opera, the symphony, dance, film and exhibitions and festivals. Created by a battalion of architects, each building is a little different, even though they are all clad in cream colored travertine. There's Avery Fisher Hall, the New York State Theater, the Metropolitan Opera House and the famous Juilliard School of Music. None of these buildings is particularly sexy until you get inside, but the effect they make together, coupled with that fountain out front, is astounding.
#5 The Ansonia Hotel, 2109 Broadway at 73rd St.
This great Beaux Arts wedding cake of a building with turrets, overwrought wrought-iron balconies, a mansard roof and all kinds of crockets, wreaths and perhaps cherubs has sort of an off-beat reputation.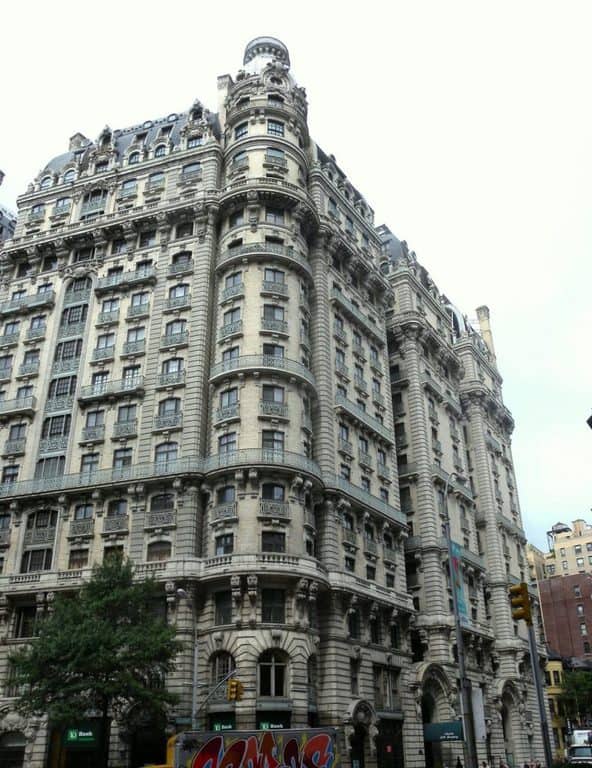 Fun Fact: The Ansonia once had a little farm–with chickens, ducks, goats and a small bear–on the roof, until the Department of Health found out and shut it down. The Ansonia has been home to Babe Ruth, Natalie Portman and musicians such as Toscanini and Enrico Caruso.
#6 The Equitable Building, 120 Broadway between Pine and Cedar St. in the Financial District.
This building is known more for the history it inspired, than its looks.. When this building was built in 1870, it blotted out so much of the sunlight on lower Broadway that the city passed zoning ordinances calling for tall buildings to have setbacks–which is why we now see the silhouette of the Chrysler and Empire State Buildings and other skyscrapers raised after World War I.
#7 Rockefeller Center, 48th-51st. St. on S
ixth Ave, facing Fifth.
Like Lincoln Center, Rockefeller Center's soaring buildings were designed by several architects, yet everything pulls together rather better. Stroll through the channel gardens on the lower plaza until you get to the skating rink with its statue of Prometheus.
In early December some poor huge tree is sacrificed to be raised over the rink and decorated with thousands of lights for Christmas. Watching it lit is a wonder.
#8 The Woolworth Building, 233 Broadway.
The building finished construction in the early 20th century and was, for a while, thought of as the tallest building in New York. Designed by architect Cass Gilbert and commissioned by the man who founded the famous five and dime, The Woolworth Building is a steel building that includes Gothic ornamentation on the building 's inside and outside. (PS–there's a portrait of Frank W. Woolworth in the lobby.)
#9 Guggenheim Museum, 1071 Fifth Ave. at 89th St.
This great lovely spiral was designed by Frank Lloyd Wright, and it is one of the most renowned architectural icons of the 20th century. The Guggenheim is such an unusual looking edifice that some people visit it for its architecture as much for the artwork that it holds. Inside. The interior of The Guggenheim has a six-story rotunda under a skylight. The spiral ramp leads you past all the modern art.
#10 One World Trade Center.
Yes, you have to visit here. This is the building that was raised to replace the Twin Towers. It has 104 floors, though only 94 stories are usable, an observation deck and is now the tallest building in NYC and the sixth tallest in the world.
It was deliberately made to be 1776 feet high as a reference to the year the Declaration of Independence was signed. Be sure to visit the 9/11 Memorial & Museum located just south of the building.
Which of these buildings would you add to your epic NY bus ride trip?