The time for talk was over. Put up – or shut up! The day of our skydive experience had finally arrived during our visit to Costa Brava, an excursion which has already seen us enjoy kayaking, mountain biking, and rock climbing. But they all felt like a warm up to the main event, a terrifyingly thrilling pursuit that has long been on my bucket list. Throwing myself out of a plane at 10,000 ft!
Now, I'm not going to lie, I might need a change of shorts at some point. It has been a dream of mine for a while now though, to conquer that initial fear and be able to enjoy one of the most exhilarating and memorable experiences possible. The adrenaline was already rushing as we made our way to the airstrip, to meet the instructors (and new best friends) we would be securely strapped to at Skydive EmpuriaBrava!
The Skydive Professionals
Located in Empordà, the centre has been operating since 1985 and has become one of the best locations in the world to enjoy the sport. It's the largest of its kind in Europe and has hosted over 2 million jumps since it began! It looks like they know what they're doing – which is extremely reassuring at times like these!
We travelled just under an hour from our home base in Girona to the airstrip, as ever accompanied by our friend and fellow blogger Lydia. While the two girls were more than relaxed and calmer than monks doing yoga, I don't mind confessing I was a nervous wreck. You wouldn't have thought that this was my idea, would you?!
Our New Favourite People
Naturally, when you've never done a skydive before you'll be doing a tandem jump. You need to do several of these before you can dive solo, which involves being strapped to an instructor that you are paired up with for the duration of the experience. It helps to steady the nerves when these guys are really easy to get along with, experienced and knowledgeable. You're trusting them with your life after all!
Agness' instructor was called Mira, a skydiver from the Czech Republic who was every bit as calm as she was – so they clicked right away. All our instructors explained every step of the jump procedure in great detail (safety first as always) and did a lot to ensure we felt very comfortable. Although my stomach was doing backflips, the preparations for the jump were a lot of fun and the guys kept us laughing the whole time. All harnessed up and ready to go, we boarded the light aircraft. There was no turning back now!
Up, Up and Away!
Taking off in one of these little puddle jumpers is almost as terrifying as the imminent prospect that we were going to throw ourselves out of it! Thankfully, at that height, you don't get vertigo because there is no visual reference to the ground. It does look really, REALLY far away though! Once we leave the aircraft we will be in freefall for around 30-60 seconds, traveling at 200 kmph!
I was the first to disappear out of the open hull door!
Into the Great Blue Yonder
The conditions were perfect with the cloudless, brilliant blue firmament, which is one of the main reasons this region is famous for skydiving in the first place. Securely harnessed to my instructor, we edged towards the exit and waited for the green light (ok, there was no actual green light, but you know what I mean). This was it, heart racing a thousand miles per hour and my stomach in knots, but there was no way I was backing out. Then, in a second, we were free falling out into the land of the sky.
It felt like a bucket of cold water had been thrown on my face as the wind surged around us, picking up speed to reach terminal velocity. Freefalling is the most exhilarating part of the parachute jump, and once the initial shock of leaving the plane disappeared, any fear I had was gone with it.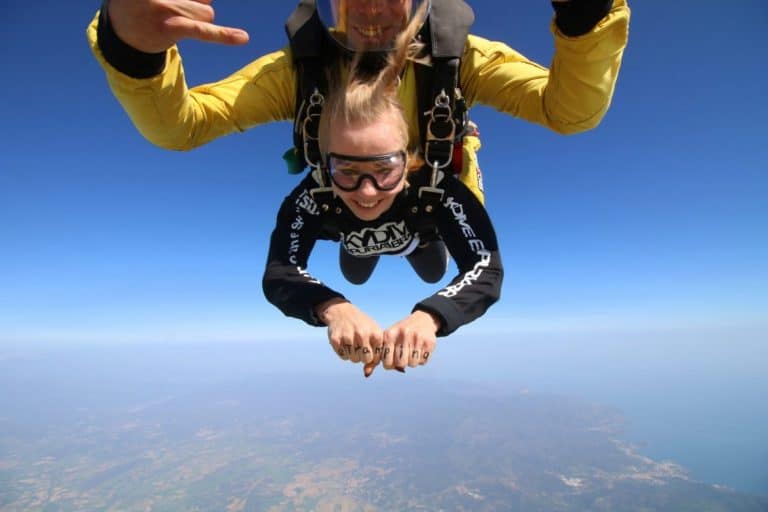 I was now left to enjoy the thrilling sensation of falling through the air, before reaching the height of our chute deployment. It was one of the most incredible experiences of my life!
Coming into Land
Once the shoot opened, your speed drops to around 20 kmph and my instructor allowed me to take the controls during the drift down to earth. Steering was a really cool moment, and of course, that immediate relief that your parachute has opened successfully was pretty awesome too!
Agness found the skydive itself to be very peaceful and relaxing, which unexpectedly is also my conclusion! However, we were both nervous when it came to touching down. In spite of her apprehension, Agness made a near textbook landing, but I couldn't quite keep my legs up and as a result, the grass stains on my jeans are likely to never come out!
Now – it's Your Turn!
Our Spanish friend Ruben suggested writing on our fingers and T-shirts for the jump, which worked really well as we were lucky enough to have an expert videographer capture our experience on film. And what an experience it was, a terrifying (for me) thrilling, exhilarating, adrenaline rush that will stay with you long after you're back on terra firma. A huge thank you to all the team at Empuria Brava. If you've not tried this yet, you simply haven't lived!
Who has been skydiving? Where did you do it and how was it for you?!