Alas, our last day for exploring the delights and activities of Costa Brava and the Pyrenees and its surroundings had finally arrived. When they say time flies when you're having fun – they weren't kidding. It has been a thrilling, educating, eye-opening experience full of highs and…well, all highs really! Especially considering how high we've literally been! The skydiving and rock-climbing are two undeniable highlights we won't forget in a hurry, but we had one final chance to get the adrenaline pumping before we departed.
With Agness sitting this last activity out, it was up to myself and ever-present travel companion and rock-climber extraordinaire Lydia to scale the heights of our second Via Ferrata; this time in the municipality of Ribes de Freser. Following our first experience of such an enormously fun pursuit, we were keen to strap on the harnesses and try it once again. So, without further ado, let's get climbing!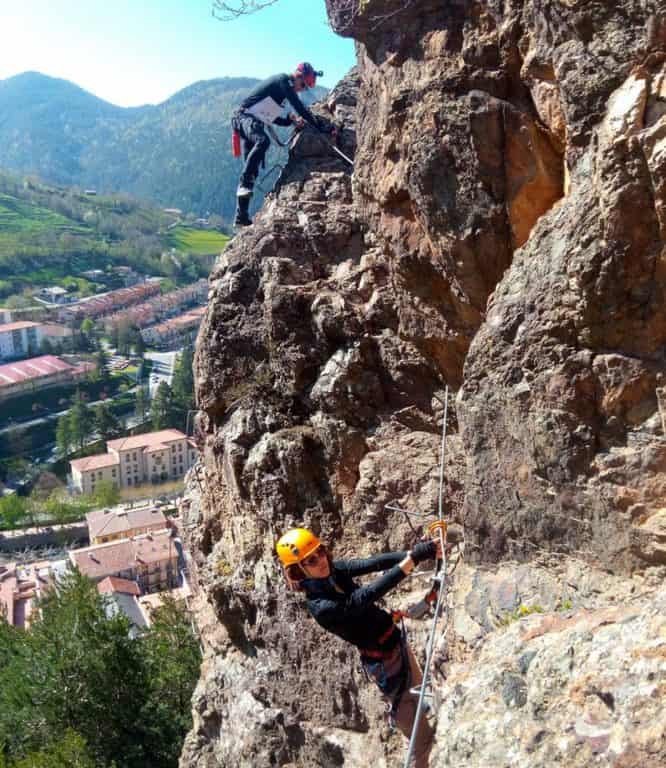 Remind Me Again…?
For those who didn't tune in to our very first Via Ferrata earlier in this series, allow me to explain. It translates from Italian as "iron path," a protected, man-made rock-climbing route that you can find predominantly in the Alps, but also in most mountainous regions of the world. It consists of iron ladders fixed into the rock face, with a steel cable running alongside that you use a special kit to attach yourself to. It's great for youngsters, beginners, or the more timid members of your party, as it makes climbs significantly easier.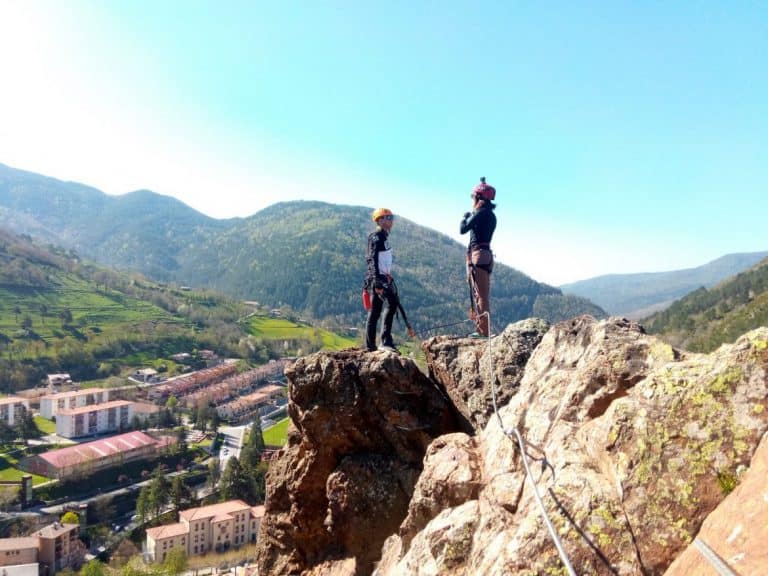 However, as with all rock-climbing routes, they're graded when it comes to difficulty. After our moderate climb at the only Via Ferrata on the coast in Europe, this one was a little more challenging as we were much higher up. It also consisted of a more vertical climb, with steeper inclines and the iron ladders going straight up and down. The views were fantastic though so it was well worth the effort!
Ribes de Freser
It was the furthest we'd ventured from home base in Girona, just over one and a half hours travel north, towards the base of the Pyrenees Mountains. It's an area of outstanding natural beauty and extremely popular with outdoor enthusiasts who flock here during the winter for skiing and in the summer for hiking. Ribes de Freser is a quiet, historic town that is the perfect jumping off point for exploring the natural surroundings.
The town itself is famous for natural springs and mineral water, as well as paper production and milk products. Three rivers converge in the town and there are two medieval castle ruins to be discovered – although like many ancient fortifications in this region there isn't much left of them. Regardless, there's plenty to see and do should you pay the area a visit.
One Final Guide
Seeing us safely through the trials and tribulations of this course was yet another wonderful guide – honestly, we've been really lucky with who we've met in the region – they certainly know what they're doing when it comes to friendly, professional chaperones! Jaume was no exception, a really cool guy born and raised in nearby Camprodon. He's been a mountain man most of his life as well as a ski instructor, hiker, and all-round Bear Grylls type! He was the perfect companion for this adventure!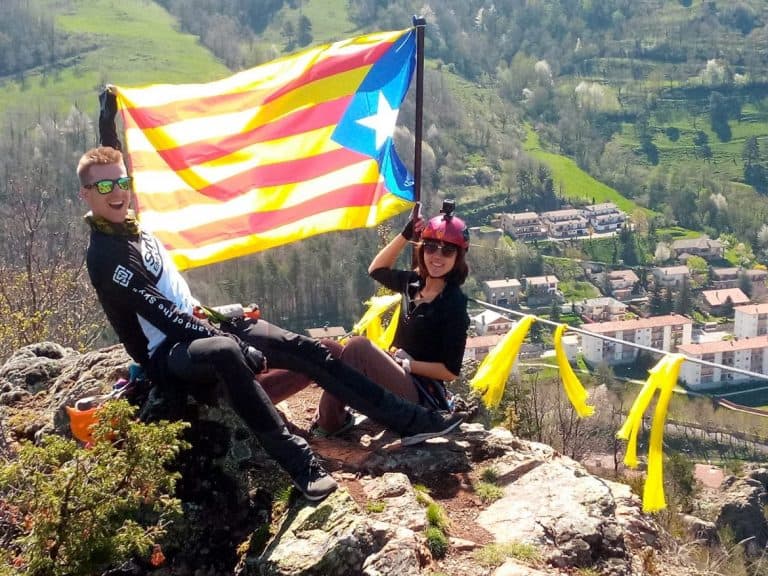 All our guides on this trip have gone out of their way to ensure we had a fantastic time and we cannot praise them highly enough. They clearly take tourism seriously in Costa Brava, that's for sure!
Proud Catalonia
We've been enjoying Catalonian hospitality throughout this trip, and the people of the region are particularly proud of their history. At several different summits along this Via Ferrata, we would come across the distinctive and colorful Catalonian flag. Its proper name is "Estelada" or "starred flag," and it can be seen decorating areas that are particularly passionate about gaining their independence from Spain.
Running the Trails
Lydia and I took turns at shooting some video with the GoPro (essential kit if you're regularly documenting outdoor experiences) and we finished our climbing excursions with a leisurely paced trail run down to the bottom of the hills. We descended from the craggy tops through green, alpine forests, while the sun glinted through tree branches to the trail floor. Anyone who enjoys running outdoors would be in their element here, and we thoroughly recommend the experience.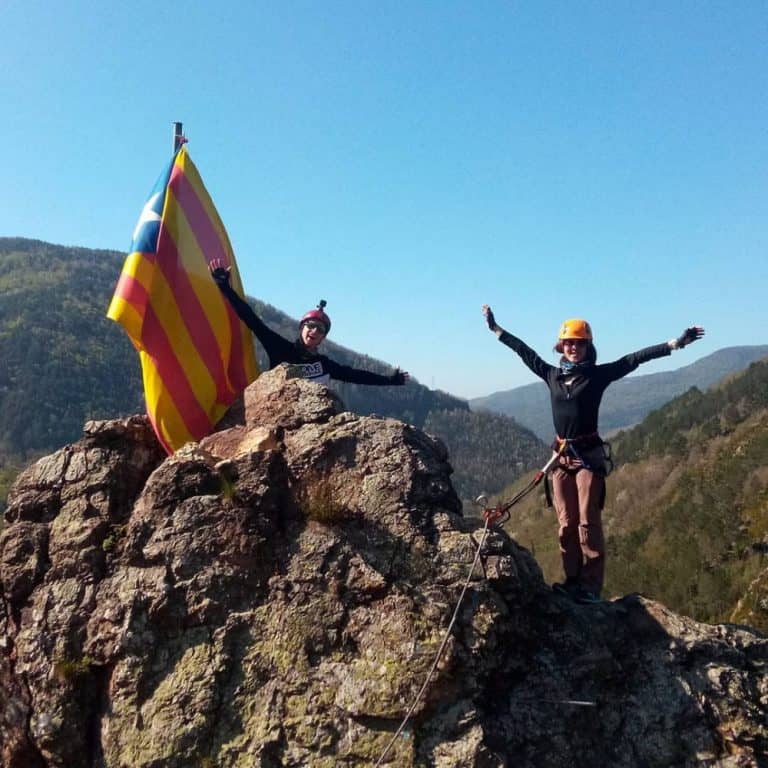 It's All Over!
As much as we dearly wanted to remain in what is arguably the outdoor capital of the country, our adventures in Costa Brava and the Pyrenees had drawn to a close. All that remained was to collect Agness from whatever mischief she was getting up to, return our (extremely useful and totally justified) car hire to Barcelona airport, and then board flights back to Poland, with Lydia in tow :D
It has been an amazing seven days filled with unforgettable moments. We will all definitely be back in this region again one day to enjoy more of its hospitality, perfect weather, world-class facilities and outdoor activities. For now, home calls, but we can guarantee we won't be sitting still for very long!
Have we wet your appetite for Costa Brava over this past week? Let us know your thoughts!