Hunters that are interested in hunting during rain or shine should invest in some rubber hunting boots. Rubber hunting boots are completely waterproof, which will keep your feet warm and dry in all types of terrain and weather. Plus, they are easier to clean than cloth boots, making them easier to maintain for frequent hunting trips. Below, we've compiled some of the best rubber boots for hunting available on the market.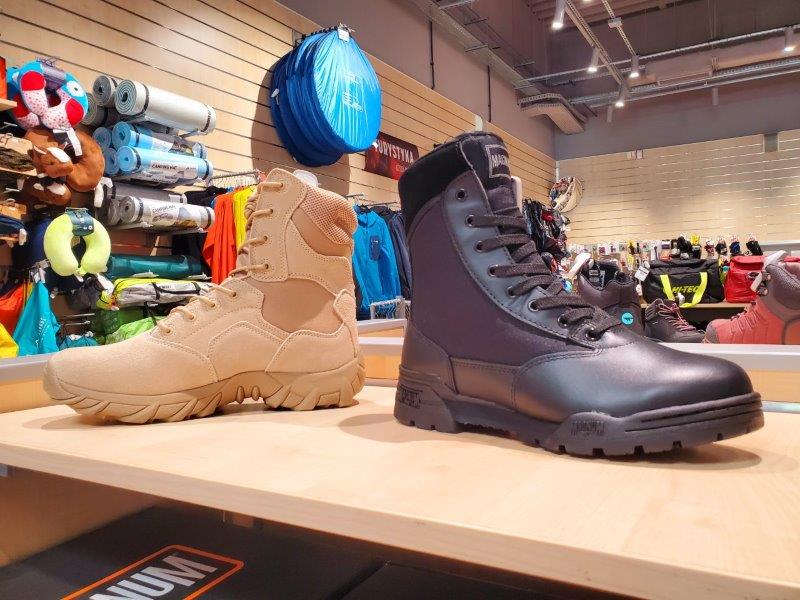 What are the Best Rubber Hunting Boots?
We have compiled for you the top 8 Best Rubber Hunting Boots in 2023. In this article we go through the products that we have used ourselves, checked what other users thought about them and we ranked them accordingly.
With years of experience with rubber boots for hunting and having used several rubber hunting boots you can trust our review.
Moreover, you can scroll to the end of this review to see our mini buying guide as well as the answers to some of the frequently asked questions about rubber hunting boots.
Specs
Price: 💲💲💲 (fewer 💲 = cheaper)
Weight: 3 pounds (1.36 kg)
Waterproof: Yes
Material: Rubber
Insulation: Yes
Muck Wetland Rubber Premium Men's Field Boots offer calf-high rubber coverage that protects the user against scratches. The boots are suited for a variety of temperatures and weather conditions as they use breathable lining material that provides ample insulation while letting some air pass through. EVA midsole is excellent for dispersing weight evenly, making these boots ideal for regular use. The shaft is easy to fold down when needed.
Although Muck Wetland Rubber Premium Boots are designed for rough conditions, they do not last long due to quality control and manufacturing issues. Some people may find it difficult to find the right size for their feet as these boots do not come in half sizes.
Pros
Calf-high rubber coverage provides protection against scratches,
Breathable lining makes these boots suitable for a wide range of temperatures,
Added comfort with EVA midsole that disperses weight,
Easy to fold down when needed.
Cons
No half sizes available,
Substandard craftsmanship means that the boots are not very durable.
Specs
Price: 💲💲💲💲 (fewer 💲 = cheaper)
Weight: 2.71 pounds (1.23 kg)
Support Height: 1.0 inches
Waterproof: Yes
Material: Rubber
Insulation: No
Snake Protection: Yes
LaCrosse Men's 4xAlpha Snake Boot offers protection and premium quality. The 16″ snake guard protects against snake bites and debris, while multilayer rubber on the toe, shin, and heel provide additional protection.
This layering also improves the durability of the boot. The mix of rubber and neoprene makes the boot robust and waterproof but lowers its breathability.
These hand-made boots can keep you warm in lower temperatures without constricting your feet. It is also flexible with good traction on all kinds of terrain.
The outsole is shock absorbent; you can cover long distances on rough terrain in maximum comfort.
Overall, this hunting boot values protection and comfort.
Pros
Snake proof boot,
Additional protection on toe, heel, and shin,
High-quality rubber build,
The rugged outsole provides good traction
Cons
They are hard to take off,
Low ventilation
Specs
Price: 💲 (fewer 💲 = cheaper)
Weight: 4.67 pounds (2.12 kg)
Support Height: 15 in
Waterproof: Yes
Material: Neoprene, rubber
Insulation: No
The TIDEWE Rubber Boots for Women Multi-Season feature a 100% waterproof exterior. They have a 15-inch shaft with a neoprene material for the upper portion and a rubber lower section for maximum protection against moist conditions. There is a steel shank between the layers of the sole to provide extra support and protection. The insole is made of a breathable mesh that helps to keep your feet cool and provide comfort when walking. The green color comes with a camouflage pattern and the pink trim option comes in all black. While they offer a great deal of comfort, the calves fit a bit tight for some. The steel shaft also causes these boots to feel quite heavy.
Pros
100% waterproof,
Available in pink and green,
Breathable and comfortable mesh insole,
High traction rubber insoles
Cons
Tight on the calves,
Heavy
Specs
Price: 💲💲 (fewer 💲 = cheaper)
Waterproof: Yes
Material: Rubber, Neoprene, Ethylene Vinyl Acetate
Insulation: Yes
Snake Protection: No
The TIDEWE waterproof rubber boots come with 6mm Neoprene insulation. These not only keep your feet warm but also keep the water out. The air mesh layer does its best to remove sweat and moisture from your feet.
The boot itself is comfortable for long and rough hunting sessions and highly durable. While the sole is a bit heavy, you won't have trouble keeping up with your hunting dogs. The boot includes back tabs to assist you in taking off the shoe. Additionally, the calf of the boot is wide enough to fit the average person, and you can tighten it using an adjuster.
Overall, the boot performs its functions well.
Pros
Breathable air mesh lining for humid weather,
Rubber and neoprene combination for toughness,
Toe and heel protection included,
Easy to put on and take off
Cons
Trap some moisture,
Sole is heavy
Specs
Price: 💲💲💲 (fewer 💲 = cheaper)
Weight: 2.4 pounds (1.09 kg)
Support Height: 16 inches
Waterproof: Yes
Material: Denier CORDURA, EVA, rubber
Insulation: No
Snake Protection: Yes
The Rocky Men's Lynk Hunting Boot has a 15-inch shaft from the arch with a durable snakebite proof material. They are lightweight at barely over 2 pounds. The lace up design allows for an adjustable fit. There is an inner zipper to assist in getting your foot in the boot. The top and heel are reinforced for added protection. The footbed is made of a Terra Suspension material that provides ample comfort while walking throughout various terrains. These boots run true to size which makes ordering easy. However, the waterproof liner tends to get caught on the zipper easily. Also, the heavy duty material can be hard on the ankles before they get broken in.
Pros
Lightweight material provides comfort,
There is 16 inches of snakeproof material,
They are waterproof to keep feet dry,
They have a lace up design for an adjustable fit
Cons
Zipper gets stuck on liner easily,
Stiff material can be hard on ankles
Specs
Price: 💲💲💲💲 (fewer 💲 = cheaper)
Waterproof: Yes
Material: Neoprene, Rubber
Insulation: 7.0mm Neoprene
Snake Protection: No
The LaCrosse Men's AeroHead 18″ hunting boot will keep you warm in the biting cold temperature of 30F with its 7mm neoprene insulation. While it is well-insulated, the boot is not too heavy due to the lightweight soles. It also provides a comfortable fit from calf to toe.
These hunting boots are highly comfortable due to the AeroFoam technology used for the soles. It also includes a liner for moisture-wicking purposes, but it might separate after some time.
Additionally, the boot offers plenty of support due to the polypropylene shank and sturdy construction. The shank also includes an adjuster to adjust to fit.
This boot might be a good choice for hunters and trackers alike as you can move freely in them.
Pros
7mm neoprene insulation for cold weather,
Has durable outer construction,
Moisture-wicking technology included,
Easy to put on and take off
Cons
They have a bulky look,
Inside lining might separate
Specs
Price: 💲💲 (fewer 💲 = cheaper)
Weight: 4 pounds (1.81 kg)
Support Height: 16 in
Waterproof: Yes
Material: EVA, rubber
Insulation: No
Snake Protection: Yes
The Rocky Men's 16 Inch Snake Boot has a 16-inch shaft of durable material that keeps your feet and legs protected from snake bites. There is a zipper on the side to help with getting the boot on and off. The material is also waterproof to protect your feet from getting wet when walking outdoors. They come with a mossy oak pattern to help blend in outdoors. Be sure to follow the size chart and order a size up if needed as they can run small. The snug fit of these boots provides a decent level of support. If you are walking outdoors in an area where snake bites would be a concern, these boots would likely be a good choice.
Pros
Waterproof material keeps your feet dry,
Sturdy and well made snakebite proof material,
Inside zipper allows for easy on and off,
Easy to clean
Cons
These run small,
The zipper tends to get stuck
Specs
Price: 💲 (fewer 💲 = cheaper)
Weight: 2.7 pounds (1.22 kg)
Waterproof: Yes
Material: Rubber, Neoprene
Insulation: 1000 gram Thinsulate
Snake Protection: No
The Rocky Men's midcalf boot delivers comfort and support for versatile tasks. From hunting to everyday wear, these boots perform well. The heavy insulation on the boot offers protection from the cold without constricting your calf.
The rubber outsole is aggressive enough to provide good traction on rougher terrains, making them a bit heavy. However, the main issue with this boot is the thin neoprene sides lowering the boot's durability. The boot performs best in milder terrains and everyday chores. They are comfortable for long walks despite their bulkiness. Overall these shoes are highly functional for outdoor activities in the winter.
Pros
Scent-proof boots for camouflage hunting,
Easy to slip on and take off,
1000G insulation for extreme weather,
The rugged outsole provides good traction
Cons
The sides of the boot are of thinner neoprene and might tear,
Boots are on the heavier side
Verdict
To summarize, we have gone through dozens of rubber hunting boots and decided that 8 are worth your consideration. Out of these, the absolute Best Rubber Hunting Boots is Muck Wetland Rubber Premium Men's Field Boots which we highly recommend as our overall best.
If money is not an issue, you can consider LaCrosse Men's 4xAlpha 16 Inches Snake Boot as this is our Premium Pick.
Otherwise, there's no shame in spending prudently, TIDEWE Rubber Boots for Women Multi-Season is the Budget Option.
Our other reviews you may find useful in your research:
What You Should Know Before Buying rubber hunting boots
Stability in wet conditions
The rainy or snowy season can make things a little challenging in the outdoors. The last thing you want is to constantly slip on the wet ground or have your feet soaked by stepping in a puddle.
To get around this, invest in shoes with rubber outsoles. Not only does the rubber provide good traction, it keeps the water out, keeping you warm and steady.
If you are in a bind and need your slippery boots to get a grip, you can use a hack as a temporary solution. We recommend applying double-sided tape or adhesive bandages on the ball and toe of your shoe.
Boot material
The type of materials used in crafting your boots determines their comfort and durability. You will find all kinds of boots made from different materials like neoprene, rubber, and leather. Each serves their own purpose, and the right material depends on what use you have for them, all year round.
If you plan on buying hunting boots, you can either opt for field boots or rubber boots. Both have their merits depending on the situation and the terrain and climate you are walking in. If you're looking for breathable boots, field boots (leather boots) are the way to go. But if waterproofing is what you want, get rubber boots.
Neoprene
Neoprene is a synthetic rubber commonly found in the linings of wet suits. You will also find many boots made from neoprene. The material is like that of rubber boots, but better. Neoprene is more durable than rubber and will keep your feet warm in the harshest winter. This material is efficient in performing its function of keeping the cold and water out and warmth in. Not only that, but it also makes for comfortable boots for long days of walking and hiking. The outsole on these boots is usually slip-resistant – ideal for snowy and icy conditions.
Rubber
Rubber boots are also a popular choice among hunters. Why? Because it is waterproof, easy to clean, and durable. Moreover, rubber boots don't have a scent which makes it ideal for hunting and staying camouflage. While rubber boots do a good job of keeping your feet dry, it is better to get some that have an insulation lining. The lining can be made of fabric or padding – which adds to the comfort of the boot.
However, if you plan to walk steep, rough terrains or long distances, you might find these rubber boots uncomfortable. But if you're going to be walking shorter distances and prioritize a lack of scent in your shoes, rubber boots are a good option.
Boot price range
You can find boots at just about any price range. The cost comes down to the material, build, and purpose of the boot. You can probably find a pair of boots that suit your needs for less than 100 dollars. But, they won't last long and be as comfortable either. Boots in the 100-200 dollar range will be more durable and comfortable. The better the boot material and manufacturing, the higher the price.
Additionally, the more features the boot has, the more it will cost. Features like waterproofness, breathablity and level of padding can all affect the pricing.
The best thing you can do is outline the kind of boot you want and for what purpose, then set a budget and search your preference within your defined range.
Questions and Answers About rubber hunting boots
How can I make my rubber boots more comfortable?
Rubber boots are a popular and feasible choice but they can be uncomfortable at first. Here are a few tricks you can use to make your rubber boots more comfortable. First, if the boots are too tight, you can use a hair dryer to loosen the rubber material a little. Set the heat to high and keep the hair dryer at least 6 inches away from the boots. Keep heating until you feel them loosen up as needed. The second thing you can do is get a cushioned insole if the boot doesn't already have one. Lastly, dry your feet properly before wearing the boots, as wet feet in rubber boots can lead to blistering.
How long should hunting boots last?
High-quality hunting boots, albeit expensive, can last a lifetime. Even if the hunting boots aren't exactly top tier, a good pair can last a decade. In the end, it depends on the quality, maintenance, and frequency of usage. However, proper care and storage is required to keep the hunting boots in good condition. You might have to replace the sole from time to time.
Do rubber boots shrink?
Some people might find that their rubber boots have shrunk. It is not common for rubber boots to shrink – but they can. Repeated use and wear and tear of the rubber boots can damage the material causing it to become hard or stiff. This hardening can cause the boot to shrink a little. However, you can always apply mild heat to loosen the boots as the elasticity remains intact to some extent.
How many grams of insulation do I need for hunting boots?
The amount of insulation needed depends on the season and your activity levels. If you're going to be trekking through the snow, then you will need at least 1000 grams of insulation on your hunting boots. If the weather is cold, 400- 600 grams will keep you warm. Boots with 200 grams of insulation will be suitable for cool temperatures or if you plan to be very active.