It's been a while since I have written something more substantial in here and I think it's about the time do to so. After spending just over three weeks in Laos, there are few things I'd like to share with you fine folks. Firstly, have you heard of such country as Laos at all?
I'm sure most of you have, but it wouldn't surprise me if you didn't know that a country called Laos ever existed. Myself, had you asked me 3 years ago I wouldn't have a clue…
Laos is an unique country with tragic history, which was mostly caused by its geographical location. Similarly to Poland during the II World War, being between two much stronger countries – Vietnam and Thailand had its bearings on the lives of civilians. Most of the damage was caused by US army during the Vietnam war and now Laos is claimed to be the most bombed country in history.
Now, the country is scarcely populated and even though wars ended decades ago, people still die every day from unexploded ordnances (UXO). With over 80 million scattered across Laos, many kids and farmers stumble upon them every day.
Cluster bombs are still a huge problem and there are a few organisations clearing them and helping victims. One of them, called COPE, helps people who lost their limbs by stumbling upon one of the bombs. During my time in Vientiane I have not visited their free museum and I really feel guilty about it. I hope to get another opportunity.
When I finally came to see Laos I was greeted with laid back attitude of both locals and backpackers. My path through the country focused on the most touristy places, and I think it was a mistake. I have been to Don Det, Pakse, Vientiane, Vang Vieng and Luang Prabang. I met amazing people, did thing I have never done before and seen sceneries that seem like taken from some kind of fantasy movie, but I apart from two occasional have not felt the kindness from local people .
It has to be said that Laos became some kind of "Backpackers' Heaven", but we're talking here about young people wearing backpacks and getting drunk every day. Vang Vieng, which up to few months ago, was a world's capital of insanely stupid parties, attracts a lot of people looking just for this. Local people stopped smiling and started counting, treating newcomers the way you would treat ATM – with nothing but but the mere request for more money. Although this has spread to most touristy places, thankfully it's not everywhere.
I had a great opportunity to meet amazing people both traveling and living their whole lives in Laos. I had the best moments with local people when a group of guys spontaneously invited to join their party in Vientiane, and when I was hitch-hiking my way from Pakse to Cambodia. Not a long distance, but when you change a tractor every few kilometers it takes time and allows you to speak (or try to) with many good people.
My observation is simple: when there's a lot of "backpackers" around you in Laos, no one will smile to you, but once you're on your own, something clicks and changes, for the better.
In terms of prices, Laos is more expensive than Cambodia. Cheapest dorm in Vientiane costs 30,000 Kip ($3.7), Luang Prabang 35,000 Kip ($4.40) Vang Vieng 20,000 Kip ($2.5), and bungalow in Don Det 30,000 ($3.75). Food prices start at 10,000 Kip ($1.25) but in some places you will be lucky to find something at this rate. For those who like to drink, beer Lao (the most popular) costs 10,000 Kip or more, but you can find it for 9,000 Kip. Lao Lao, a local whiskey, seems to be cheaper than water, but I'm not sure what are the effects of consumption on health. When in Laos, bring with you a travel water bottle as most, if not all, guest houses offer free refills.
For whatever reason you're going to Laos, beauty of its scenery is hard to describe.
I simply fell in love with the mountainous areas of Northern Laos. I'm scared of heights and lately of sand on the road (after a crash on Koh Phangan), which makes the journey from Vang Vieng to Luang Prabang a scary journey. I feared for my life and couldn't get my eyes off the bus window at the same time. Of course there was no apparent reason to worry. The roads are in good state, and although bus zigzags its way in the mountains, most drivers are experiences and now equipped with better vehicles than few years ago.
What have I done that I have never done before? Well, I have never before done rock climbing or tubing.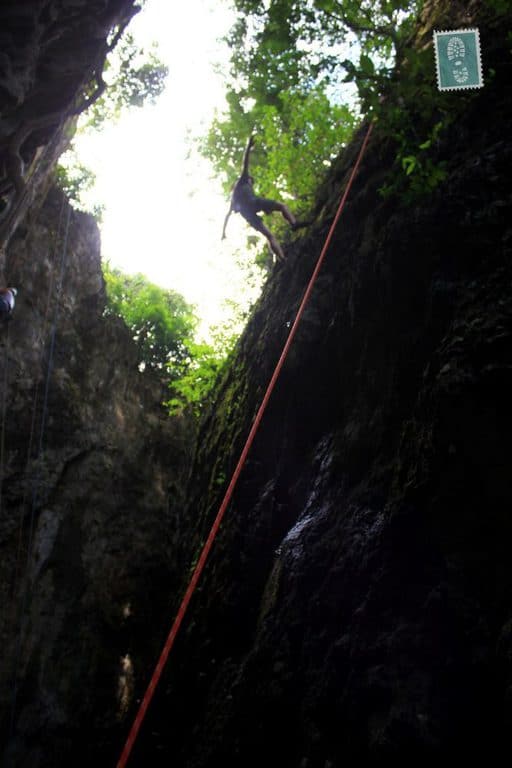 While the latter was nothing special apart from meeting great people, the former gave me an experience I did not expect. Rock climbing is not an easy sport, physically demanding and dangerous. I have mentioned before that I have fear of heights, so climbing to the top is one thing, and the other is getting back down. Once on the top, I had to let go of my grip to the rocks and just trust the instructor. Looking down below me didn't help. I've done it once, then another time, and in total 5 times. I can't wait to do it again and to go there with Agness to see whether she likes it too. If she does, then maybe we can start training this together :D!!