Once you visit Greece, you will fall in love with its stunning golden beaches, light and healthy cuisine that prevails in seafood, extremely friendly (but sometimes too pushy) locals, beautiful weather, amazing landscape, rich history and culture and most importantly budget prices. Yes, Greece is one of the cheapest travel destinations in Europe nowadays, therefore it is getting more and more popular among backpackers and budget holiday makers.
Once you finally make it to Greece and you need a cheap island to stay on for a few days, don't hesitate to visit Rethymno in Crete. It's not only affordable place, but also extremely charming and chilled out. Believe me or not, but you can easily stay here for less than 20 euros a day without being stressed and obsessed with your budget (although you should still keep an eye on it, just in case). How? Here is the answer:
Accommodation
Stay at Rethymno Youth Hostel where you will pay only 7 euro per night. I stayed in female 8-bed dorms for 5 nights and paid only 35 euros. It's unbelievable cheap place with many advantages such as:
Big and cozy rooms (cleaned daily with air-conditioning)
Huge kitchen (where everyone could prepare their own meals) and massive fridge (where we could keep our food)
Free Wi-fi (everywhere, including your room)
Plenty of showers and big toilet (there was never a queue to the bathroom)
Friendly staff (the manager of the hostel made us some free breakfast from time to time, baked some cakes and shared with us and he was always willing to give us some travel tips and advice on where to go and what to see in Rethymno)
Cheap food and drinks – you could order a breakfast (two fried eggs, toast, jam and butter) for 1 or 2 euros, the beer bottles costed less than 2 euro and water was for 1 euro. It is cheaper than in local supermarkets.
Great location (8-10 minute walk to the Old Town)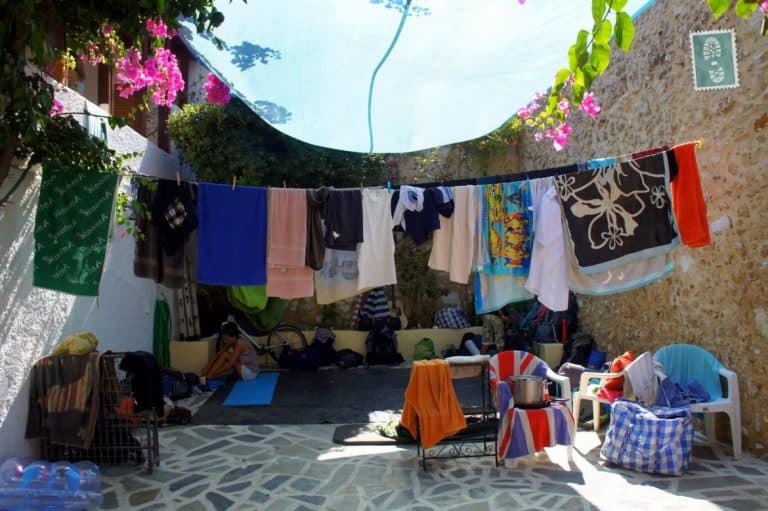 There were also a few disadvantages:
The manager of the hostel drank a lot and he smelled of alcohol. He got really aggressive when girls refused to go out with him (not a big deal, but still be careful not to make close friends with him)
There were no lockers neither safe and all documents and valuable things had to be kept in a wooden drawer in the kitchen to which only manager had the key (everyone could easily grab it and go when manager was busy drinking)
Overcrowded – The place was extremely busy. People were leaving and others were coming every second. Some travelers were sleeping on the ground or in the yard as there were not enough beds in the hostels (they enjoyed it a lot though as  it was nice and chilly at night)
Food and Drinks
Rethymno can be as cheap or as expensive as you want it to be. When it comes to dining out, the prices depend on two factors – the location and the type of food you order. If you stop by at a typical Greek restaurant located in a touristy place such as Venetian Harbour or the center of Old Town, don't be surprised to pay 3 or 5 times more than you would pay when eating in a small local milkbar far away from tourists. The food and drinks you select also play a major role. When having a Greek salad, go for a small size or share a plate with someone as it goes with bread and butter or some baguettes so it might be too much food for one person. Additionally, don't buy alcohol in restaurants, the beach bars are much cheaper and you can get some beers from a supermarket or a hostel for less money (1 or 2 euros per bottle).
During one day in Rethymno you can enjoy a Greek yogurt with fruits and cereal for a brekfast (2,5 euros), a greek salad for a lunch (4 euros) and grilled fish with veggies for your dinner (5 euros). Next day, you can try a frozen yoghurt with chocolate (3 euros), fresh fruits from the local market (1 apple, 1 mango and a handful of grapes for 2,5 euros) and some grilled pork if you are a meat lover (5 euros). In this way, your food will not cost you more than 12 euros a day which is going to your biggest spending of the day.
Sightseeing
Here the good news start. Most of touristy spots in Rethymno are free. Beaches are free of charge unless you want to have your own lounge chair with umbrella which costs 5 euros per day. There are plenty of beautiful and interesting historical spots such as Venetian Harbour and Old Town which you can explore without paying for it. If you are a hike lover you definitely need to visit Mili Gorge, if you prefer cycling, go rent a bike for 5 euros and bike everywhere you want to.
Are you a big fan of museums and ancient history? There are some museums of art and history, free of charge for students! The only one tourist attraction I had to pay for was the Fortezza of Rethymno which costs 4 euro per entrance and you can stay there all day long till 7 pm.
Let's sum up
Accommodation: 7 euros
Food: 11,50 euros
Sightseeing: 4 euros
Total: 22,50 euros
Would that suit your budget?