Manaslu is an area in Nepal that borders some of the best trekking regions in the world. Why then would you want to trek here, and not next door, in those 'best trekking regions'? I'll address this through my travel guide. I'll talk about nature and culture. Mountains and Buddhism. But I'll also talk about more practical stuff that you need to know before setting off.
First off, a quick overview.
Basic Facts
Time required: 14 days (Kathmandu to Kathmandu)
Distance hiked: Approx 178 km
Highest Point: 5,167m
Difficulty level: Demanding
Required permits: 3 of them!
Average cost: USD 64 per day
Accommodation: Basic teahouses
Biggest thrills: Manaslu Base Camp, Larkya Pass, Birendra Lake
What's so Special about the Manaslu Circuit Trek?
Like I say, trek sees fewer trekkers than some other trails. Which makes it spectacular: great views of Himlung (7,126m) near Tibet and Kang Guru (6,981m) and Annapurna II (7,937m) all to yourself! Thundering glacier rivers, forests of pine, bamboo and rhododendron and probably snow on the high pass. Wildlife includes the snow leopard and the highest living mammal, the pika. These are the things adventure is made of.
The Larkya La Pass at 5,167m is perhaps the most demanding day. Not least because you need to get up in the middle of the night to cross. But the views! Mountains and a massive glacial cirque make it worth the Herculean effort.
Speaking of Herculean efforts, you might be interested to know there are some incredibly fit, perhaps a little crazy, people out there who participate in a trail race across the region!
The Manaslu Trail Race takes place over 7 days where participants run a 130 km over high passes to Manaslu Base Camp. If you think this is something you can achieve check it out. And start your training now. Good luck!
Then there is the cultural and spiritual side of the trek. For many visitors to Nepal seeing Tibetan Buddhists first hand is something in itself. On this trek there are gompas (Buddhist temples) to visit, monks to share tea with, and a scattering of mani (prayer) walls and prayer flags.
The sight and sound of fluttering flags sending prayers to the heavens set against the backdrop of snow mountains has always fascinated me. Im sure you will be touch by this sight too.
You can check out the whole Manaslu Circuit Trek itinerary and get more details of the this fabulous, restricted area trek.
Extending your trek to a Hidden Valley of Tsum
If you have more time – extend! Particularly if you like even more remote areas.
The Tsum Valley is a hidden valley to the east of the main trail. You can easily add this 5 day hike onto the Manaslu Circuit Trek.
You might ask why. With more fine monasteries and Tibetan culture and even less tourists, this area deserves its hidden valley name.
Best Time to Go to Manaslu Circuit
September to November: Great time to go, some might say the best! Great weather, great views. On the downside – the Restricted Area Permit cost is higher at this time. But hey, what is $25 per week more for perfection? And I recommend this time of year.
Mid March to May: The spring flowers are out in full along the trails! Downside is it's hot and humid at the lower altitudes.
June to September: No real reason to go at this time of year. Unless it's the only vacation time you have. This is monsoon. The trails will be muddy and the pass will be blocked. This means doubling back on part of the route.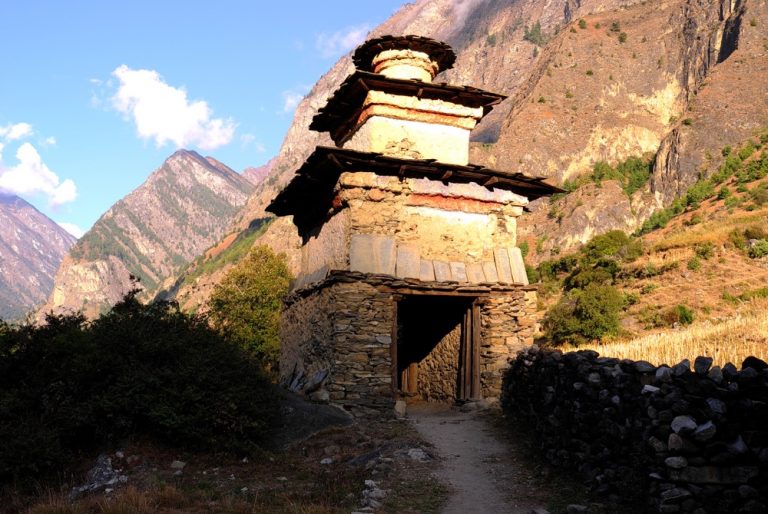 How the Manaslu Circuit Trek Compares to Others?
As I mentioned at the start of this post, the Manaslu Circuit trek lies next door to the famous and well established Annapurna Circuit. The latter is definitely one of the most popular treks in Nepal and sees a lot of trekkers throughout the year.
What appeals to many trekkers about Manaslu is the dramatic changes in culture and scenery on the way. From paddy fields, subtropical forests, to high mountain passes, arid cliffs and the world's deepest gorge, this is breathtaking. And educational.
Then there is the mountains. The Annapurna Massif, Dhaulagiri, Tilicho Peak and Manaslu are just a few you will see.
While there are other fabulous treks in Nepal, such as the Annapurna Circuit and Everest Base Camp, those two trails, like many others, are always very crowded.
And this is why I chose the Manaslu Circuit Trek over the more popular treks every time.
I prefer open spaces with few other trekkers on the trails. I love meeting the locals and love the views. But more, I love the sense of real adventure. That feeling of an expedition trek that I get on Manaslu.
How to Hike the Manaslu Circuit?
This is a restricted area trek. This means you are venturing into an area where few others go! While this creates the setting for 'great adventure, 'path less trodden', and other such well-worn phrases, it actually really means one important thing. You cannot trek alone. You must go with a trekking company on an organized trek. There is no choice.
Organized Manaslu Circuit Trek
No two trekking companies are the same. Choose well.
How Can I Tell the Good from the Bad?
First off think what you expect from your trek and your trek provider. Consider:
Safety
Budget
Level of facilities (accommodation)
Language
Experience
I suggest before booking, you check the following. And remember a conscientious trekking company will not mind you asking questions:
Safety: Trekking is not dangerous in general but accidents can and do happen. Is the guide carrying a GPS tracker? Has your guide had training in emergency situations? Helicopter rescue?
Registration and license: Seems obvious right? But not all trekking companies are scrupulous, so check. You can check with TAAN Nepal.
Testimonials of others: Check their reviews. Using their website but also check Lonely Planet, TripAdvisor etc.
Length and breadth of experience: How long have they been running? Which areas do they specialised in, if any? How long have their guides been with them?
What does your money buy: Ask exactly what you get for your dollar! In general, if it seems too cheap, what you get may not be up to standard. Example – does the cost include airport pick up and drop? Are they using a private vehicle to drive to the trek start point? Or a public, and generally uncomfortable, bus?
Porter safety: How does the company treat its porters?
Your guide: Request to meet your guide as soon as possible when you arrive in Kathmandu.
How Much Does Manaslu Circuit Trek Cost?
There are basically three costs involved in your trek.
The amount you pay the trekking company. This covers your transport, accommodation, food, guide fees, and porter fees.
The amount you pay for the trekking permits.
Miscellaneous costs. Such as beer, snacks, hot showers, recharging your phone or camera, tipping the guide and porter, etc.
Package Rate
The complete, all inclusive package rate for 14 days on the Manaslu Trek ranges from USD 800 to USD 1700. The price will depend on the experience of the trekking company. The transport used and the accommodation. Also keep in mind accommodation is pretty much the same. No luxury lodges on this trek. Remember too that expensive doesn't always mean best. Homework required!
Price of Trekking Permits
This cost goes to the authorities. It does not go to the trekking company. In brief it will cost you USD 135 to USD 160 for permits. Depending on the time of year.
Miscellaneous Costs
Drinking at altitude is never a good idea! But realistically, you are going to want a beer or two. Drinking water is not included so you need to budget for that also. Unless you are providing your own method of sterilizing the water. Hot showers and battery charging are not included. If you want chocolate and snacks, best buy them in Kathmandu.
Overall, you could budget for USD 20 per day extra. It's always good to have a bit extra for emergencies (Like that second beer)!
Speaking of Food…
Aside from any injury or illness, there are two things that can spoil your trek. The first is the guide. Which is the reason you want to meet him first. You need to be somewhat on the same page. And it helps if you speak the same language!
The second is the food!
Food on some of the more popular treks is pretty amazing! On the more remote trails or those which see less trekkers the food can be more repetitive. And it's only as good as the lodge owner's/ lodge owner's wife's skills in the kitchen!
What to Expect at Mealtimes?
Breakfast
The standard breakfast in any of the teahouses (lodges) you stay in will be eggs and bread. Chapattis, Tibetan bread, toast. Porridge and pancakes may be also on the menu.
Lunch
Lunch will be taken on the trail. Probably dal bhat (rice and curry).
Dinner
At the end of the day you will be hungry! So anything might seem good. Again it is probably dal bhat. On the more popular trails there is a huge variety of pseudo-European items on the menu. Not so here in Manaslu. Noodles, chapatti, vegetable curry, egg curry, fried rice, fried potatoes, momo (delicious packets of meat or vegetables) are standard.
Drinks
Tea is widely available. Instant coffee is also available as is hot lemon. Hot chocolate may be on the menu if you are lucky. (Maybe bring your own?) Soft drinks such as coke and fanta are widely available. Bottled water may be available in some teahouses, but if not, they will boil water for you at a cost. Beer and tumba (fermented millet local hot drink) are normally the only alcoholic drinks available.
Logistics
Trekking Permits Needed for the Manaslu Circuit Trek
Three permits are required:
Manaslu Conservation Area Project (MCAP) Permit
Annapurna Conservation Area Project (ACAP) Permit
Manaslu Restricted Area Permit

USD 100 per person for one week from September to November
USD 75 per person for one week from December to August
Insurance
You are required to provide your own insurance coverage from your home country. This should be valid for high altitude trekking and helicopter rescue.
Tips to guide and porter
The guide and porter will expect a tip. This can reflect your overall satisfaction but it should be in the region of USD 150 for the guide, USD 100 for a porter. This amount is shared between the trekkers in your group.
Safety
You have already done the groundwork regarding the safety record of the trekking company, and you have bought your insurance. The guide will be carrying a first aid kit. But we recommend you also carry your own, particularly if there are special medicines you require. Probably the most common injury on a trek is a sprained ankle or sunburn!
But you should also take into consideration altitude sickness.
Altitude Sickness
This is not something we can predict. It is not known why some people suffer while others do not. It has nothing to do with age or fitness level. Pushing ahead too quickly, climbing too high too fast can result in problems.
What you Need to Know
AMS or Acute Mountain Sickness occurs when we ascend too quickly. Normally at altitudes 3,000m/ 9,840ft or over.
What does it feel like? Headache, shortness of breath and light-headedness. These are also related to being dehydrated. Stay hydrated and your body will most likely adjust to the altitude itself.
What if it gets worse? If the symptoms continue, tell your guide. Especially if you are suffering from:
Difficulty in sleeping.
Need an unusual amount of sleep.
Loss of appetite.
Vivid dreams.
The need to rest/ catch your breath frequently, especially above 3,500m/ 11,483ft.
Runny nose.
Need to pee more.
Dizziness.
Altitude sickness can vary between mild symptoms and more serious stuff! Mild symptoms should clear up themselves with drinking lots of water, walking slowly and taking rest. More sever symptoms are a sign you must descend immediately. This is explained by CIWEC Clinic in Kathmandu.
Getting to Manaslu Circuit Trek
Good news if you don't like flying in small planes – there are none! You have to reach the starting point of this trek by road.
Your trekking agency will organize either local bus or a private jeep to take the 6 or 7 hour drive to Soti Khola.
If there is a choice. Go for the private jeep. For one thing you will be picked up at the door of your hotel in Kathmandu.
The local bus will involved two buses and going to the bus station in the early morning. Local buses are also less than comfortable. On the bright side, you will see a lot of local color.
Packing Tips for Manaslu Circuit Trek
Sometimes I forgot that first time trekkers or those who don't go hiking very often might need a little help in the packing department. Some tips then!
Buy it or Hire it?
If you think you are going to trek regularly, then buy your own gear. If you are not going to be using very often you might want to think about hiring stuff.
Boots
I highly recommend you buy your own trekking boots at home and wear them. Repeat: wear them! Before you arrive in Nepal. These are the most important things you need for your trek. Buy the wrong type and your trip could be hell! Make sure they are:
The right size – with wiggle room and remember you will be wearing thick socks.
The right grip. A good sole for rocky trails.
Waterproof. Need I say more?
Good quality. In this instance cheap is definitely not recommended
Clothes
Layers are best for areas which are warm at lower altitudes but cold at higher levels. And also at those higher levels, cold in the mornings and evenings but possibly t-shirt weather during the day.
Good thermal underwear. The stuff that will draw the sweat away from your skin.
Clothing that insulates your body. Such as a fleece.
Outer clothing that will keep you dry and keep out the wind.
These can include:
Cotton and then woollen socks or hiking socks.
Trekking pants. That dry quickly.
Lightweight hiking shirt. That also dries quickly.
Fleece vest.
Fleece jacket.
Hiking hat – one warm and one to keep off the sun.
Gloves.
Rain poncho. You might want to get water proof pants also depending on the time of year.
Good sunglasses.
Sleeping bag. If you like peace of mind (think hygiene) and extra warmth bring a sleeping bag! These can be hired freshly laundered in Thamel.
The majority of these items can be bought in Thamel, Kathmandu. You can also hire clothing. I do not recommend hiring clothing in general. Except for a down jacket, unless you can get a budget down jacket.
First Aid Kit
Your guide will be carrying a first aid kit but it is always useful to have your own. I suggest:
All purpose pain killers like paracetamol.
Imodium for upset stomachs.
Rehydration salts.
Handiplast/ Elastoplast.
Bandages.
Antiseptic cream or iodine.
Any medicines you normally use. I suggest you carry extras also.
Toiletries
Sunscreen.
Body lotion for dry skin.
Face cream.
Toothbrush and toothpaste. Obviously!
Lip balm.
Mosquito repellent.
Soap. The type that can be used as a shampoo and body wash as well.
Hand sanitizer.
Deodorant. If you really can't do without it!
Sanitary items for woman.
Toilet roll/ tissues as they might not be available.
Accessories
Life straw or water bottle with a filter.
Hiking poles.
Small towel or microfiber travel towel.
Swiss Army Knife.
Notebook and pen.
Chocolate and snacks.
Devices
Keeping in mind you will have to pay to recharge devices and in some places this might not be possible. You can consider getting a solar backpack to charge your electronics on the go.
Don't forget to bring a trekking map of Manaslu. You can buy it online example from amazon or from any store in Thamel, Kathmandu.
See you on the Trail!
I hope you enjoyed this post and it has made you excited to come to Manaslu. See you on the trail!