Of all the Korean holidays, Chuseok —or Hangawi— is one of the country's most loved festivities. Also known as Korean Thanksgiving, Mid Autumn Festival, or Harvest Festival, Chuseok celebrates the autumn harvest and is taken as an opportunity to honor elderly family members.
What Happens During Chuseok?
Koreans who live in Seoul return to their villages for the 3-day long family celebrations. Relatives —and especially elders— are given symbolic presents during the full moon to wish them a healthy flow in work and life.
When visiting parents or other relatives for Chuseok, South Koreans dress up in fancy traditional clothes known as Hanbok and bow before their ancestors to show them their respect.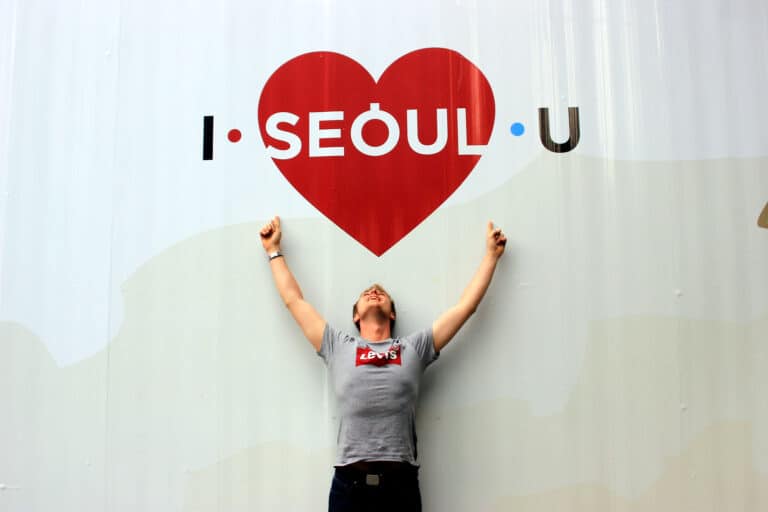 The Chuseok celebrations revolve around a large meal prepared by the eldest son or daughter of a Korean household.
Traditional Chuseok Food
If you are traveling around South Korea during Chuseok celebrations, you should definitely try the amazing food that is traditionally served during this time of year.
Songpyeon
Our favorites were some fragrant little rice cakes known as Songpyeon that are steamed over pine needles. Some were filled with nuts, or sesame seeds, and others with beans. I think it must have been the pine scent, but they were absolutely incredible!
Jeon
We also tried some Jeon Korean pancakes filled with kimchi and found them so delicious! They were crisp to perfection and covered delicately with sesame seeds.
If you're lucky enough to be invited to celebrate with Korean friends and their families, make sure to take presents with you.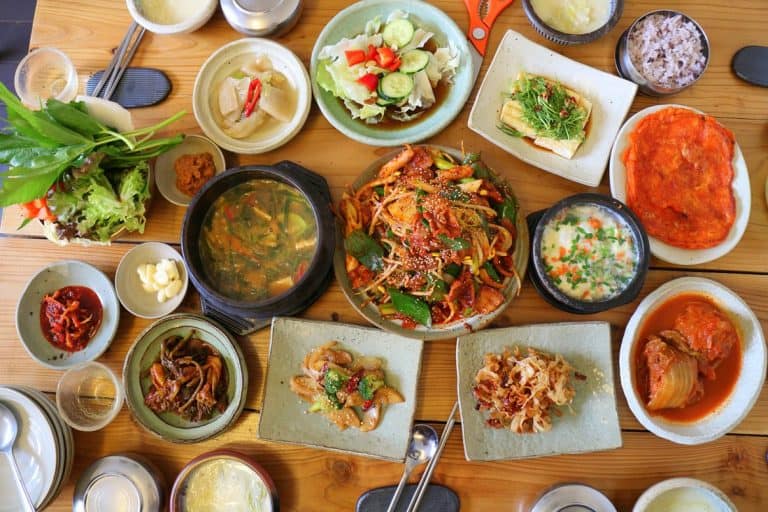 What to Gift (or not) During Chuseok?
When attending Chuseok with South Korean friends, it is as important to know what they would enjoy receiving as what might offend them, so as to avoid an uncomfortable moment.
South Korean etiquette and a culture that values modesty make locals feel obligated to reciprocate presents they receive with a gift of comparable value. As a result of this, it is considered of poor taste to give South Koreans expensive gifts for Chuseok.
Other items you should avoid gifting in South Korea include knives and scissors since these are symbolic of cutting off the relationship between you. Items with red writing on them and presents in sets of 4 (think 4 candleholders, for instance) are associated with death, and are, therefore, a terrible gift idea for Koreans on Chuseok.
Some typical gifts shared amongst more traditional Korean families for Chuseok include ginseng, high-quality cuts of beef, fish, fruits, and oil. Meanwhile, more modern South Korean friends may enjoy receiving snacks or personal items as a gift.
The idea is to show appreciation through a meaningful yet modest present —this is Korean Thanksgiving you're attending after all.
Are Shops Open During Chuseok?
Speaking of buying gifts, you must be wondering whether everything is closed during Chuseok.
If you'd like to go shopping, a few malls in Seoul remain open during Chuseok —Coex, Myeongdong, and Itaewon, for instance. Many shops close for Chuseok festivities, though.
Although most are closed since locals will be eating at home, some restaurants stay open during Chuseok — mostly to cater to foreigners.
All in all, it would be best to do your Chuseok shopping before the 3-day celebrations begin. A good idea would be to pick something up at duty-free upon arrival if you're landing in South Korea just a few days before.
How Do You Say Happy Chuseok?
You must be wondering how to greet people for Chuseok if you are joining friends for this celebration.
So, how do you wish someone a happy Chuseok? South Koreans would say "추석 잘 보내세요!" which sounds sort of like "Chew saw gel bonnie say oh", in case you're curious.
Here's a video demonstration of how to pronounce Chuseok.
Traveling During Chuseok
Remember how we said all locals living in Seoul flocked out en masse right before Chuseok to spend time with family in their hometown? Imagine what the traffic jam looks like when that happens!
If you are visiting South Korea around Chuseok and intend to travel around the country around those dates, try to leave Seoul well before or after the celebrations are over.
You can book tickets well in advance, since buying train or airplane tickets to leave Seoul around Chuseok is nearly impossible.
Our best advice would be to either plan around it or to enjoy having Seoul practically to yourself.
Staying in Seoul During Chuseok?
Think about it this way: You will have a unique opportunity to take pictures of typically crowded monuments with no people around you. Chuseok offers visitors a chance to leisurely stroll around a deserted city.
Some tourist attractions you'll definitely want to check out during Chuseok, include Gyeongbokgung Palace, and Deoksugung Palace —which, incidentally, holds musical and traditional dance events for the holidays.
Other sites offering traditional games and performances over Chuseok include the Korean Folk Village and Namsangol Village.
Leaving Seoul For Chuseok?
If you'd rather spend Chuseok outside Seoul, here are a few other places you can enjoy. We cannot stress enough the importance of booking transport and accommodation ahead of Chuseok celebrations.
Haeundae Beach in Busan
Haeundae Beach in Busan is the perfect place to relax on the beach and eat delicious seafood. Several shops and restaurants in Haeundae Beach remain open during Chuseok.
Jeju island
You could also head to Jeju island. Pack a backpack, and go for a hike on the extinct Halla Volcano for an absolutely breathtaking view or visit the Love Land Park and Museum if you're in a naughty mood.
You can use a free and comprehensive travel guide to Jeju Island on our blog.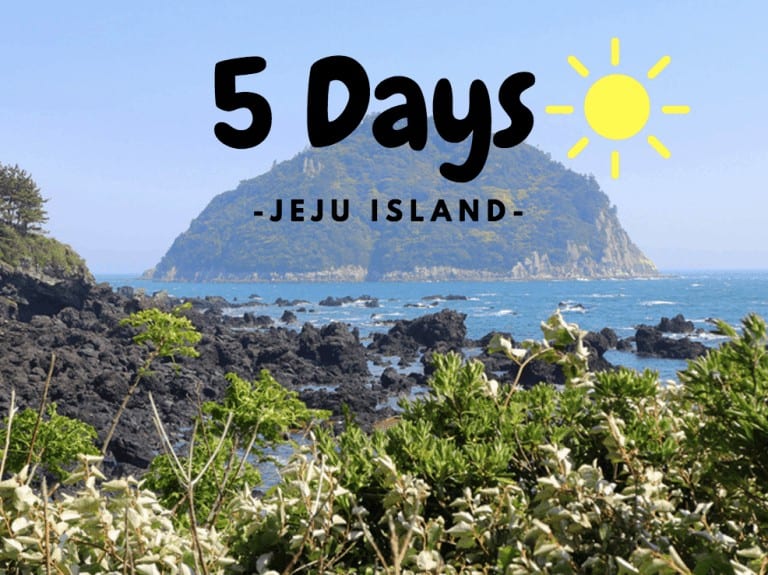 Chuncheon
Foodies absolutely love visiting Chuncheon, the capital of Gangwon Province. Aside from its tourist attractions such as the Soyang Dam and the Status Park, make sure to head to Dakgalbi Street —which boasts a dozen excellent restaurants with different variations of the local traditional dishes.
Now that you know where to go, what to eat, what to gift — and what not to — for Chuseok, you must be wondering when these festivities take place.
When is Chuseok?
Chuseok festivities coincide with the Chinese Mid Autumn Festival. The date is set according to the local calendar, and Chuseok celebrations take place on the 15th day of the 8th month of the lunar calendar.
In 2020, Chuseok falls on Thursday, October 1st according to the western or Gregorian calendar. Public holidays for the Harvest Festival start on Wednesday, September 30th, and continue until Friday, October 2nd.